"The only confirmed Frank Lloyd Wright-designed home within Detroit city limits is the Dorothy Turkel house on West Seven Mile Road in Palmer Woods. The L-shaped, 4,300-square-foot residence is distinctive for its concrete-block construction and windows set into pierced block." Photo via peterbeers.net. Architizer
Stumbling upon an abandoned Frank Lloyd Wright in their neighborhood of 25 years, Norman Silk and Dale Morgan had a vision to restore the mid-century gem to its once Mad Men-esque grandeur. Set among Tudor Revival, Neo-Georgian, Mediterranean, Modern and Craftsman homes in a Detroit enclave, the house was originally commissioned by Dorothy Turkel in 1954 but had been abandoned and fallen into disrepair.
That is, until Silk and Morgan bought the house in 2006 with a determination to remain faithful to Wright's original intent.
Interview excerpt and images below; click over to Curbed for the entire Q&A with the owners.
Curbed National: How did you bring your design aesthetic into the home?

Norman Silk: We wanted it to look like 1955. We didn't want to change anything. You could do many things with this if it was just a regular midcentury house but we wanted this to be like Mr. Wright intended it. Except for a new bathroom so that we could have some modern amenities.

CN: So the design really held up?

NS: I would say so. We have an original photograph of the music room being used when Ms. Turkel was here and we've had parties just like that.
vía Architizer Blog » Blog Archive » Abandoned Wright Rescued in Detroit.
Turkel House: Detroit, Michigan
UPDATE (3/25/06): Click HERE for some new interior photos and information on the Turkel House.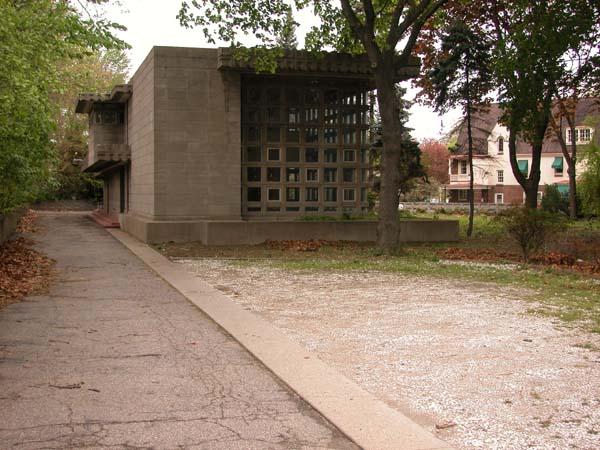 Driveway and living room wing. www.peterbeers.net
The Turkel house was built in 1955 for Dorothy Turkel.  The home was built by Sol Raikow of Raikow construction. I've exchanged e-mail with Mr. Raikow's grandson and he's told me that working with Mr. Wright on this project was a great source of pride for him.  The home is built on an oddly shaped lot and is pushed up close to the lot line.   The narrow driveway skirts the very edge of the property, and as is visible from the photo below the home is butted up against the driveway… even having one section cantilevered out over the driveway.
Frank Lloyd Wright 1955
Dorothy Turkel Residence
Detroit, Michigan — 1955
Frank Lloyd Wright, Architect
America's most famous architect Frank Lloyd Wright designed this 4300 sq ft all concrete house in 1955. This house has always been known as the home of Dorothy Turkel, for it was truly hers, a building she loved and championed.
ARCHITECTURE
Detroit's Turkel house drips with history
Detroit's Palmer Park area is a stately neighborhood of architectural showoffs. The area is the pride of the city's leading citizens, with English and colonial revival residences and bright green carpets of manicured lawn that command attention. But those who drive slowly down West Seven Mile Road, easing to a crawl on the busy thoroughfare, are treated to one of Detroit's architectural curiosities. Up a narrow driveway, screened off by foliage, is the Frank Lloyd Wright-designed Dorothy Turkel house. Where Palmer Woods' homes stand drawn up in all their finery, this house turns its face away from the street like a wallflower at a debutante's ball.