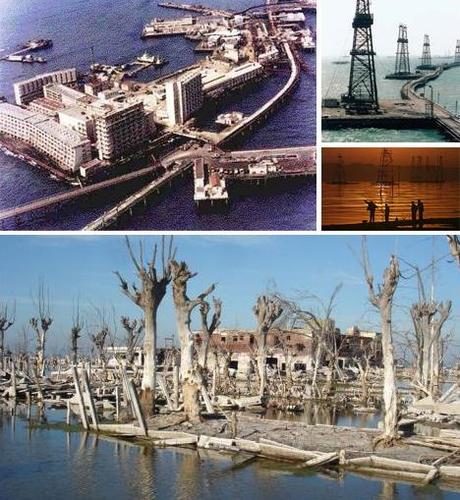 Deserted Floating City of Oily Rocks. Foto: WebEcoist
Deserted Floating City of Oily Rocks, Azerbaijan

Off the coast of Azerbaijan sits what remains of one of the strangest organically-evolved cities in the world. Oily Rocks started with a single path out over the water, built on the backs of ships sunken to serve as foundations. This system of paths grew and evolve to serve the oil-drilling industry and eventually were widened to create space for houses, schools, libraries and shops for the workers and their families. Today, most of it sits abandoned and some paths and buildings have sunk back under the surf never to be seen again.
vía 24 Tales of Ghost Towns and Abandoned Cities Deserted Floating City of Oily Rocks, Azerbaijan – WebUrbanist.
Oily Rocks, Legend and Reality
by Seyyad Ibrahmov, Azerbaijan International
THE EARLY DAYS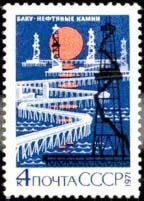 A Soviet Stamp commemorating Oily Rocks, the first off-shore oil project in the world. Azerbaijan International.
It was the stuff of legends, that night of November 7, 1949. Out there on the trestles hovering over the depths of the sea, nobody could sleep that night. If their calculations were correct, it would be the historical night everyone had been waiting for, the culmination of years of work. There, off the coast of Azerbaijan, would mark the first time oil had been recovered from depths in the sea.
And just as predicted, it happened. Oil was struck at a depth of 1,100 meters beneath the Caspian. And when that black, thick fountain started to pour forth, no one could contain their excitement and exuberance. Everyone rushed to feel it, to put their hands in it and smear it all over their arms and faces, hugging each other and shouting for joy. Their hard work had finally proved successful.
A new name was coined that night: no longer would the place be known as "Black Rocks." The source of the "black" that passing ships had noted even a hundred years earlier, had finally been confirmed. Henceforth, it would be called "Oily Rocks" (Neft Dashlari).
Members of that first expeditionary team often used to recall that night that took place nearly 50 years ago. The group was led by Aghagurban Aliyev, a geologist and Yusif Safarov, Deputy Head of the Exploration Drilling Trust, who was responsible for determining exactly where they should drill. Mikhail Kavyorochkin headed up the Exploration Drilling Trust.
The small town of "Neft Dashlari" (called also the "Oily Rocks" area) is situated along the Caspian sea, east of Baku and is the world's first offshore oil field.)
Neft Daşları (also, Neftyanyye Kamni and Nerftekamni; in English, Oil Rocks) is a settlement in Baku, Azerbaijan. The settlement forms part of the municipality of Çilov-Neft Daşları in Əzizbəyov raion.[2]
The Oil Rocks Drilling Platform is located in Neft Daşları. A full town on the sea, it was the first oil platform in Azerbaijan. It was built in 1947 as an exercise of Soviet and Azeri ambition. The Oil Rocks lies 45–50 km (28–31 mi) offshore on the Caspian Sea and extracts oil from the shallow water portion of the Absheron geological trend. The most distinctive feature of the Oil Rocks is that it is actually a functional city with a population of about 5,000 and over 200 km (120 mi) of streets built on piles of dirt and landfill. Most of the inhabitants work on shifts; a week on Oil Rocks followed by a week on the shore. The small city includes shops, school and a library. After almost 60 years the Oil Rocks is still quite unusual as Azerbaijan's first and largest oil platform.
Oil Rocks (Neft Dashlari, Neftyanyye Kamni), oil city in the Caspian sea, Baku, Azerbaijan
| .Azerbaijan, Industrial Facility

View Larger Map
The Rock of Ages
Once the pearl of Azerbaijan's industry, the Oily Rocks rig teeters on the brink of ruin — even as the region ushers in a coming oil boom. Is there a future for the world's oldest drilling platform, and for its workers?Marcel Theroux reports from the Caspian Sea.
By Marcel Theroux
Pennzoil Pays Dues at Oily Rocks
By Thomas de Waal
BAKU, Azerbaijan — The men from Pennzoil refuse to say they got burned in Azerbaijan, but they do concede that doing business there is a long haul.
"Business is not a sprint here, it's a marathon," said Paul Justice, Pennzoil's vice president for public affairs.
The Houston-based company now has a 10 percent stake in the international consortium exploiting three Caspian Sea oil fields. But they have also been involved in a natural gas project that has run less smoothly. The project is now up and running, but Pennzoil has not yet been paid the $150 million it is owed for it.