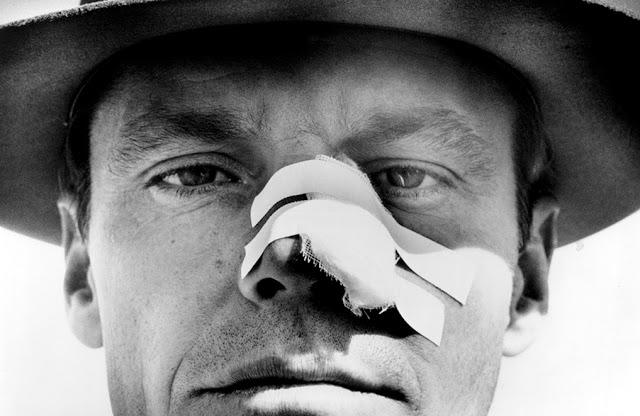 El Sindicato de Guionistas de cine y televisión de Estados Unidos (WGA) reconoció en este año a Argo con el premio al mejor guion adaptado y a Zero Dark Thirty con el de guion original. Ahora, pasada la resaca de los premios, el gremio ha actualizado su famosa lista de los mejores guiones de la historia. El resultado: 101 títulos entre los que se encuentran algunas de las películas más famosas de la historia como Casablanca, El Padrino o Lo que el viento se llevó. Un ranking en donde encontramos la ópera prima más famosa de la historia del cine: Ciudadano Kane, varios títulos de Billy Wilder o Woody Allen, así como solo unos 
pocos guiones escritos por mujeres.
¿Quieres conocer el Top Ten? ¿Qué te parece el listado?
1.CASABLANCA
Escrita por Julius J. & Philip G. Epstein and Howard Koch. Basada en la obra de teatro "Everybody Comes to Rick's".
2.EL PADRINO (THE GODFATHER)
Guion de Mario Puzo y Francis Ford Coppola. Basada en la novela de Mario Puzo
3.CHINATOWN
Escrita by Robert Towne
4.CIUDADANO KANE (CITIZEN KANE)
Escrita por Herman Mankiewicz and Orson Welles
5.EVA AL DESNUDO (ALL ABOUT EVE)
Escrita por Joseph L. Mankiewicz. Basada en el relato corto "The Wisdom of Eve".
6.ANNIE HALL
Escrita por Woody Allen y Marshall Brickman
7.EL CREPÚSCULO DE LOS DIOSES (SUNSET BULEVARD)
Escrita por Charles Brackett & Billy Wilder y D.M. Marshman, Jr.
8.NETWORK (Un mundo implacable)
Escrita por Paddy Chayefsky
9.CON FALDAS Y A LO LOCO (SOME LIKE IT HOT)
Guion de Billy Wilder & I.A.L. Diamond. 
10.EL PADRINO II (THE GODFATHER II) Guion de Mario Puzo y Francis Ford Coppola. Basada en la novela de Mario Puzo
Sigue leyendo para conocer el resto de títulos de la lista

11.DOS HOMBRES Y UN DESTINO (BUTCH CASSIDY AND THE SUNDANCE KID)
Escrita por William Goldman
12.¿TELÉFONO ROJO, VOLAMOS HACIA MOSCÚ? (DR. STRANGELOVE)
Escrita por Stanley Kubrick, Peter George y Terry Southern. Basada en la novela "Red Alert" 
13.EL GRADUADO (THE GRADUATE)
Escrita por Calder Willingham y Buck Henry. Novela de Charles Webb.
14.LAWRENCE DE ARABIA
Escrita por Robert Bolt y Michael Wilson. 
15.EL APARTAMENTO (THE APARTMENT)
Escrita por Billy Wilder & I.A.L. Diamond
16.PULP FICTION
Escrita by Quentin Tarantino. 
17.TOOTSIE
Guion de Larry Gelbart and Murray Schisgal. 
18.LA LEY DEL SILENCIO (ON THE WATERFRONT)
Budd Schulberg (Artículo: Malcom Johnson)
19.MATAR A UN RUISEÑOR (TO KILL A MOCKINGBIRD)
Guion de Horton Foote. Adaptación de la novela de Harper Lee
20.QUÉ BELLO ES VIVIR (IT'S A WONDERFUL LIFE)
Frances Goodrich & Albert Hackett & Frank Capra. 
21.CON LA MUERTE EN LOS TALONES (NORTH BY NORTHWEST)
Escrita por Ernest Lehman
22.CADENA PERPETUA (THE SHAWSHANK REDEMPTION)
Guion de Frank Darabont. Relato Stephen King
23.LO QUE EL VIENTO SE LLEVÓ (GONE WITH THE WIND)
Guion de Sidney Howard. Novela de Margaret Mitchell
24.OLVÍDATE DE MÍ (ETERNAL SUNSHINE OF THE SPOTLESS MIND)
Escrita por Charlie Kaufman. Historia de Charlie Kaufman & Michel Gondry & Pierre Bismuth
25.EL MAGO DE OZ (THE WIZARD OF OZ) 
Noël Langley, Florence Ryerson, Edgar Alan Wolfe (Libro: Frank L. Baum)
26.PERDICIÓN (DOUBLE INDEMNITY)
Billy Wilder y Raymond Chandler. Novela de James M. Cain
27.ATRAPADO EN EL TIEMPO (GROUNDHOG DAY)
Danny Rubin y Harold Ramis. Historia de Danny Rubin
28.SHAKESPEARE IN LOVE
Escrita por Marc Norman y Tom Stoppard
29.LOS VIAJES DE SULLIVAN (SULLIVAN'S TRAVELS)
Escrita por Preston Sturges
30.SIN PERDÓN (UNFORGIVEN)
David Webb Peoples
31.LUNA NUEVA (HIS GIRL FRIDAY)
Charles Lederer. 
32.FARGO
Escrita por Joel Coen & Ethan Coen
33.EL TERCER HOMBRE (THE THIRD MAN)
Graham Greene (guion, historia, y relato original) 
34.CHANTAJE EN BROADWAY (THE SWEET SMELL OF SUCCESS) 
Ernest Lehman & Clifford Odets
35.SOSPECHOSOS HABITUALES (THE USUAL SUSPECTS)
Escrita por Christopher McQuarrie
36.COWBOY DE MEDIANOCHE (MIDNIGHT COWBOY)
Guion de Waldo Salt. Novela de James Leo Herlihy
37.HISTORIAS DE PHILADELPHIA (THE PHILADELPHIA STORY)
Guion de Donald Ogden Stewart. Obra de teatro de Philip Barry
38.AMERICAN BEAUTY
Escrita por Alan Ball
39.EL GOLPE (THE STING) 
David S. Ward
40.CUANDO HARRY CONOCIÓ A SALLY (WHEN HARRY MET SALLY)
Escrito por Nora Ephron
41.UNO DE LOS NUESTROS (GOODFELLAS)Nicholas Pileggi, Martin Scorsese (Novela: Nicholas Pileggi)
42.EN BUSCA DEL ARCA PERDIDA (RAIDERS OF THE LOST ARK)Lawrence Kasdan (Historia: George Lucas & Philip Kaufman)
43.TAXI DRIVER
Escrita por Paul Schrader
44.LOS MEJORES AÑOS DE NUESTRA VIDA (THE BEST YEARS OF OUR LIVES)
Robert E. Sherwood. Adaptación de la novela "Glory For Me" de MacKinley Kantor
45.ALGUIEN VOLÓ SOBRE EL NIDO DEL CUCO (ONE FLEW OVER THE CUCKOO'S NEST)
Guion de Lawrence Hauben y Bo Goldman. Novela de Ken Kesey
46.EL TESORO DE SIERRA MADRE (THE TREASURE OF THE SIERRA MADRE)
John Huston. Novela de B. Traven
47.EL HALCÓN MALTÉS (THE MALTESE FALCON)John Huston (Novela: Dashiell Hammett)
48.EL PUENTE SOBRE EL RÍO KWAI (THE BRIDGE ON THE RIVER KWAI)
Carl Foreman y Michael Wilson. Novela de Pierre Boulle
49.LA LISTA DE SCHINDLER (SCHINDLER'S LIST)
Steven Zaillian. Novela de Thomas Keneally
50.EL SEXTO SENTIDO (THE SIXTH SENSE)
Escrita por M. Night Shyamalan
51.AL FILO DE LA NOTICIA (BROADCAST NEWS)
Escrita por James L. Brooks
52.LAS TRES CARAS DE EVA (THE LADY EVE)Preston Sturges (Teatro: Monckton Hoffe)
53.TODOS LOS HOMBRES DEL PRESIDENTE (ALL THE PRESIDENT'S MEN)
Escrita por William Goldman. Basada en el libro de Carl Bernstein & Bob Woodward
54.MANHATTAN
Escrita por Woody Allen & Marshall Brickman
55.APOCALYPSE NOW
Escrita por John Milius y Francis Coppola. Narración de Michael Herr
56.REGRESO AL FUTURO (BACK TO THE FUTURE)
Escrita por Robert Zemeckis & Bob Gale
57.DELITOS Y FALTAS (CRIMES AND MISDEMEANORS)
Escrita por Woody Allen
58.GENTE CORRIENTE (ORDINARY PEOPLE)
Alvin Sargent. Novela de Judith Guest
59.SUCEDIÓ UNA NOCHE (IT HAPPENED ONE NIGHT)
Robert Riskin. Historia de Samuel Hopkins Adams
60.L.A. CONFIDENTIAL
Brian Helgeland & Curtis Hanson. Novela de James Ellroy
61.EL SILENCIO DE LOS CORDEROS (THE SILENCE OF THE LAMBS)
Ted Tally. Novela de Thomas Harris
62.HECHIZO DE LUNA (MOONSTRUCK)
Escrita por John Patrick Shanley
63.TIBURÓN (JAWS)
Peter Benchley y Carl Gottlieb. Novela de Peter Benchley
64.LA FUERZA DEL CARIÑO (TERMS OF ENDEARMENT)
James L. Brooks. Novela de Larry McMurtry
65.CANTANDO BAJO LA LLUVIA (SINGIN' IN THE RAIN)
Betty Comden & Adolph Green. 
66.JERRY MAGUIRE
Escrita por Cameron Crowe
67.E.T (E.T. THE EXTRA-TERRESTRIAL)
Escrita por Melissa Mathison
68.STAR WARS
Escrita por George Lucas
69.TARDE DE PERROS (DOG DAY AFTERNOON)
Frank Pierson. 
70.LA REINA DE ÁFRICA (THE AFRICAN QUEEN)
James Agee y John Huston. Novela de C.S. Forester
71.EL LEÓN EN INVIERNO (THE LION IN WINTER)
James Goldman. Obra teatral de James Goldman
72.THELMA & LOUISE
Escrita por Callie Khouri
73.AMADEUS
Peter Shaffer
74.CÓMO SER JOHN MALKOVICH (BEING JOHN MALKOVICH)
Escrita por Charlie Kaufman
75.SOLO ANTE EL PELIGRO (HIGH NOON)
Carl Foreman. Relato corto de John W. Cunningham
76.TORO SALVAJE (RAGING BULL)
Paul Schrader y Mardik Martin. 
77.ADAPTATION
Charlie Kaufman y Donald Kaufman. Adaptación del libro "The Orchid Thief" de Susan Orlean
78.ROCKY
Escrita por Sylvester Stallone
79.LOS PRODUCTORES (THE PRODUCERS)
Escrita por Mel Brooks
80.ÚNICO TESTIGO (WITNESS)
Earl W. Wallace & William Kelley. 
81.BIENVENIDO MR CHANCE (BEING THERE)
Jerzy Kosinski.
82.LA LEYENDA DEL INDOMABLE (COOL HAND LUKE)
Donn Pearce y Frank Pierson. Novela de Donn Pearce
83.LA VENTANA INDISCRETA (REAR WINDOW)
John Michael Hayes. Relato corto de Cornell Woolrich
84.LA PRINCESA PROMETIDA (THE PRINCESS BRIDE)
William Goldman. 
85.LA GRAN ILUSIÓN (LA GRANDE ILLUSION)
Escrita por Jean Renoir y Charles Spaak
86.HAROLD & MAUDE
Escrita por Colin Higgins
87.8 1/2
Federico Fellini, Tullio Pinelli, Ennio Flaiano, Brunello Rond. 
88.CAMPOS DE SUEÑOS (FIELD OF DREAMS)
Phil Alden Robinson. Libro de W.P. Kinsella
89.FORREST GUMP
Guion de Eric Roth. Novela de Winston Groom
90.ENTRE COPAS (SIDEWAYS)
Alexander Payne & Jim Taylor. Novela de Rex Pickett
91.VEREDICTO FINAL (THE VERDICT)
Guion de David Mamet. Novela de Barry Reed
92.PSYCHO
Guion de Joseph Stefano. Novela de Robert Bloch
93.HAZ LO QUE DEBAS (DO THE RIGHT THING)
Escrita por Spike Lee
94.PATTON
Francis Ford Coppola y Edmund H. North. 
95.HANNAH Y SUS HERMANAS  (HANNAH AND HER SISTERS)
Escrita por Woody Allen
96.EL BUSCADOR (THE HUSTLER)
Guion de Sidney Carroll & Robert Rossen. Novela de Walter Tevis
97.CENTAUROS DEL DESIERTO (THE SEARCHERS)
Guion de Frank S. Nugent. Basada en la novela de Alan Le May
98.LAS UVAS DE LA IRA (THE GRAPES OF WRATH)
Guion de Nunnally Johnson. Adaptación de la novela de John Steinbeck
99.GRUPO SALVAJE (THE WILD BUNCH)
Guion de Walon Green y Sam Peckinpah. Historia de Walon Green y Roy Sickner
100.MEMENTO
Escrita por Christopher Nolan. Basada en el relato "Memento Mori" de Jonathan Nolan
101.ENCADENADOS (NOTORIOUS)
Escrita por Ben Hecht