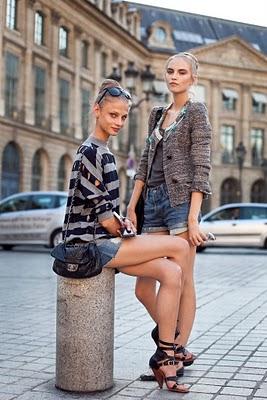 Tengo mil cosas que contaros, por eso no os voy a hacer un resumen de la pasarela de alta costura de Paris pero no podía dejar de mostraros los mejores looks de los asistentes, looks que me inspiran y que creo que os van a gustar. / I have so much to tell you and write about, that's why I won't make a resume about Paris Haute Couture but I have to show you the best looks of the guest, looks that inspired me and that I believe you are gonna love.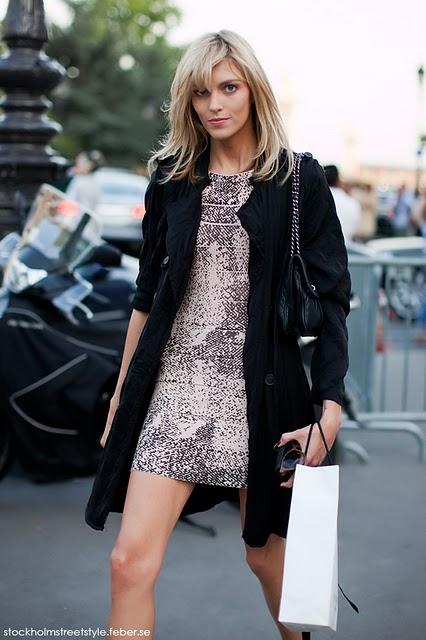 Anja Rubik está monísima. Mini vestido jaspeado en negro y blanco, trench negro y bolso negro de cadena. Un look muy sencillo, lleno de estilo. /  Anja Rubik looks great. Short flecked black and white dress, black trench and black handbag with a chain as a handle. A easy look, full of style.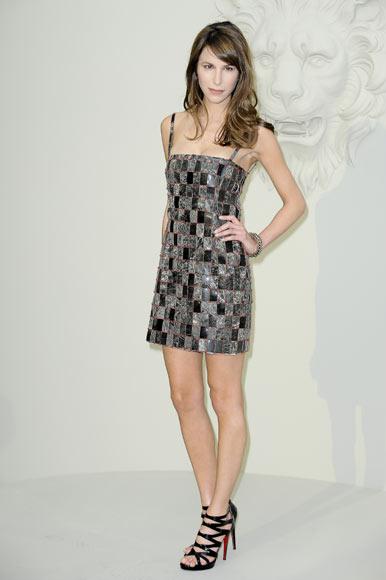 Un look perfecto para salir de fiesta o a tomar algo a una terrazita. / A perfect look to go party or seat outside on a bar.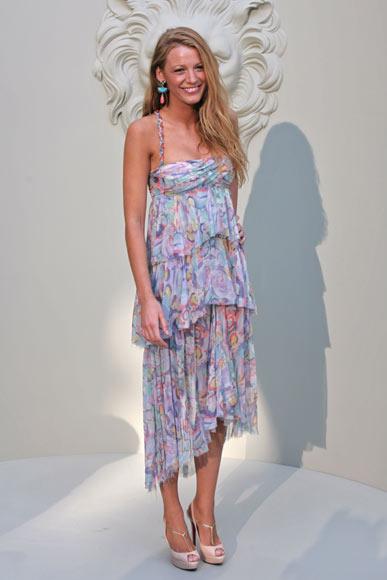 Blake Lively sorprendió a todos con su presencia en el front row de Chanel. Para la ocasión llevo un vestido de flores de Chanel Resort 2011 muy veraniago, que  combinó con sandalias color maquillaje firmadas por Louboutin. / Blake Lively surprise everyone by showing up at Chanel catwalk. For the occasion she wore a flower Chanel Resort 2011 dress, very appropieted for summer, and she mix it with nude sandals signed by Louboutin.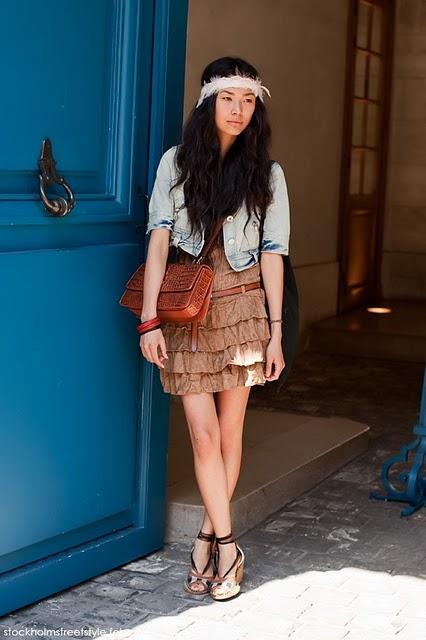 Los looks que podemos encontrar en las calles de Paris, son impresionantes, como lo es este de aquí arriba. Vestido marrón con volantes, chaqueta corta denim, cartera marrón y alpargatas. ¡Un look sencillo pero con mucho encanto! / The looks we can find at Paris streets are gorgeous, as the one adove. Brown flounces dress, short denim jacket, brown bagg and espadrilles. A easy look, full of charm!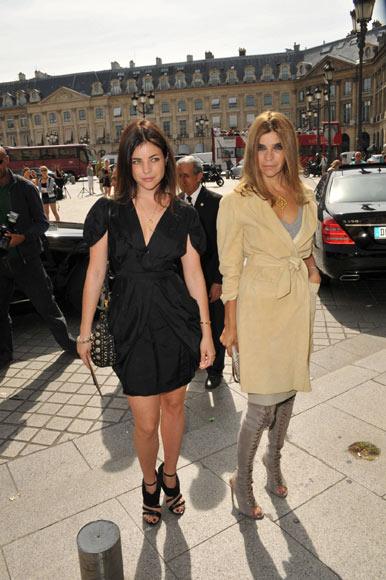 Julia Restoin-Roitfeld y su madre Caroline Roitfeld. Julia llavaba un mini vestido negro a juego con sandalias multitiras del mismo color. Caroline va mucho más moderna, vestido gris, abrigo primaveral en crudo y botas mosqueteras peeptoe grises de ante. / Julia Restoin-Roifeld and her mother Caroline Roitfeld. Julia wore a mini black dress mix with strap sandals of the same color, Caroline goes more modern, grey dress, spring coat in nude and over-the-knee peeptoes suede boots.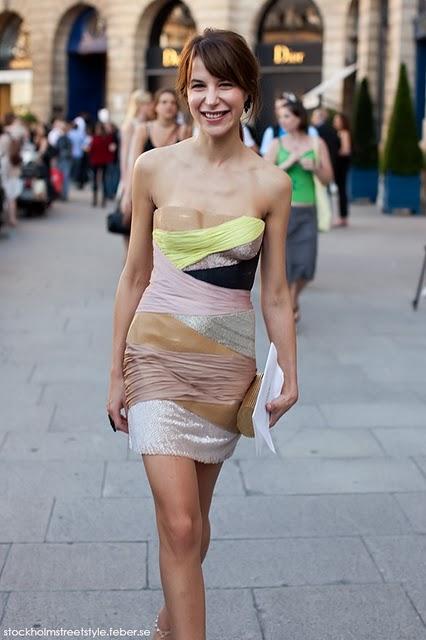 Caroline Sieber llevo este vestido palabra de honor multicolor. / Caroline Sieber wore a small strapless dress full of color.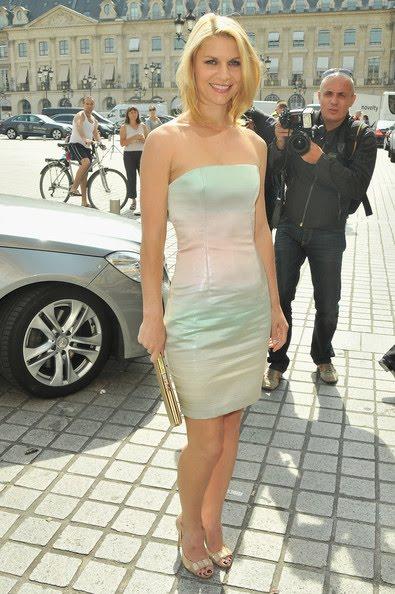 Claire Danes llevo un vestido palabra de honor, muy ajustado al cuerpo en tonoso verdosos y rosas de Armani Privé Primavera 2010, para combinarlo escoge el dorado en el clutch y las sandalias. El look no es uno de los mejores. / Claire Danes wore a strapless tight dress in green and pink signed in Armani Privé Spring 2010, and to mix it she chose gold in clutch and sandals. The outfit is not one of the best.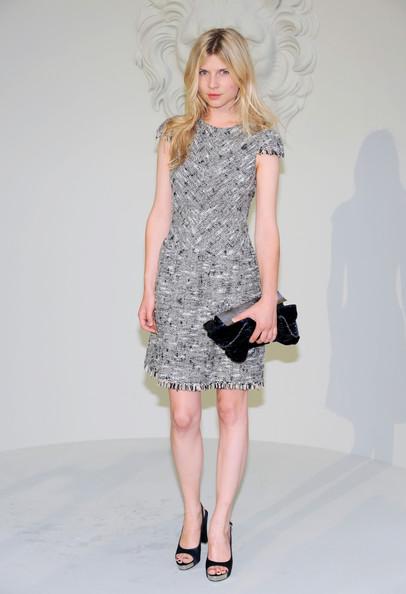 La actriz francesa Clemence Poesy vestía muy clásica y elegante con un vestido gris de tweet firmado por Chanel. / The french actresse Clemence Poesy was so classic and elegant with a grey tweet dress signed by Chanel.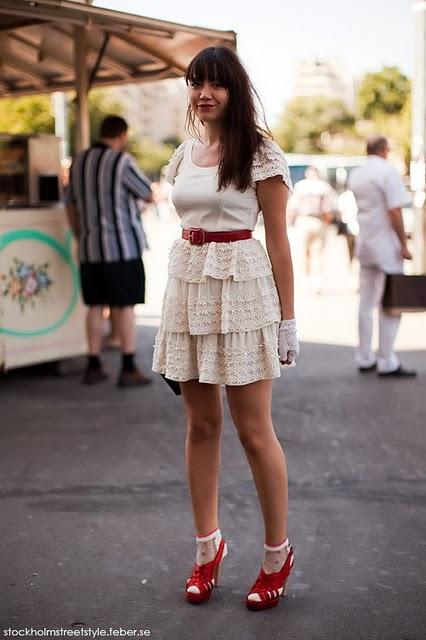 No cabe duda, el encaje esta de moda, y París nos lo vuelve a confirmar. Y si te lo pones con cinturón serás lo mas de lo mas. / There is no dude, lace in on fashion, and Paris keeps telling us that. And if you wear it with a belt you will be so trendy.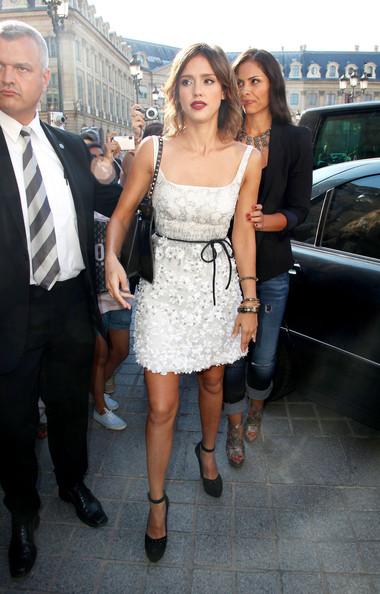 Jessica Alba también sucumbe al encaje, y lo hace con este minivestido blanco de Valentino que combina con cinturón de cordón negro, bolso negro y zapatos del mismo color. El vestido es muy mono pero no me convence nada su estilismo, es una pena llevar un Valentino y lucirlo de esta manera. / Jessica Alba gets on the lace trend and she does it with a short white dress by Valentino, and mix it with black belt, black bag and shoes of the same color. The dress is so cute but her look doesn't convince me, is a petty to wear a Valentino and mix it that way.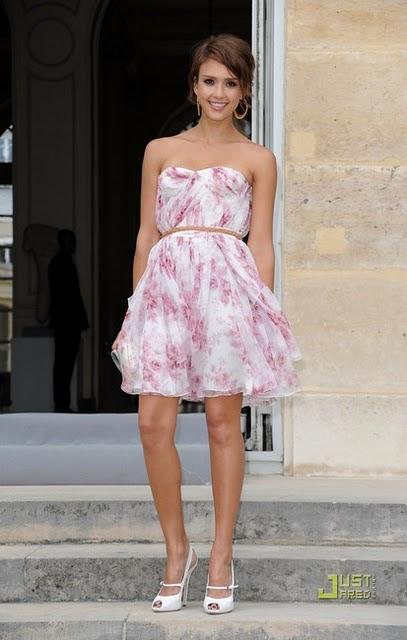 De nuevo Jessica Alba que en esta occasion acudió al desfile de Christian Dior con un vestido lady palabra de honor estampado fimado por Dior, que combinó con peep toes blancos de Mary Jane. El vestido es muy femenino y lady pero combinado con esos peep toes se carga todo el conjunto. / Again Jessica Alba that this time went to Christian Dior catwalk, with a strapless lady print dress signed by Dior, and mix it with white peep toes by Mary Jane. The dress is so lady like but she rune it with those peep toes.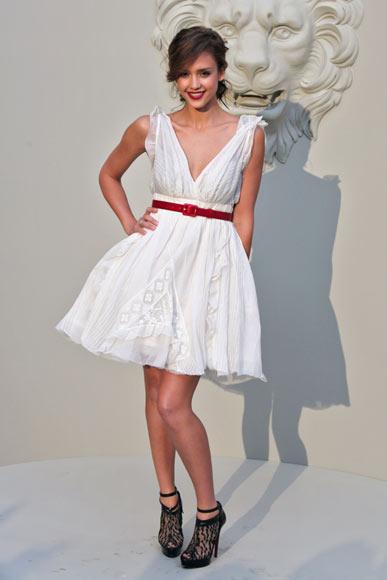 En el desfile de Chanel Jessica Alba lucio un vestido blanco con escote en pico y mucho vuelo de Chanel Primavera 2010, que combinó con zapatos negros de Christian Louboutin. Esta vez, ocurre lo mismo, el estilismo deja mucho que desear; el vestido es muy mono pero combinarlo con esos botines y encima en negro hace que el vestido pierda todo su encanto. / At Chanel catwalk Jessica Alba wore a white v-neck dress, with a full skirt from Chanel Spring 2010, that mix it with black Christian Louboutin booties. This time it happens the same, the style leaves much to be desired; the dress is so cute but with the booties and in black make it loss the grace of the dress.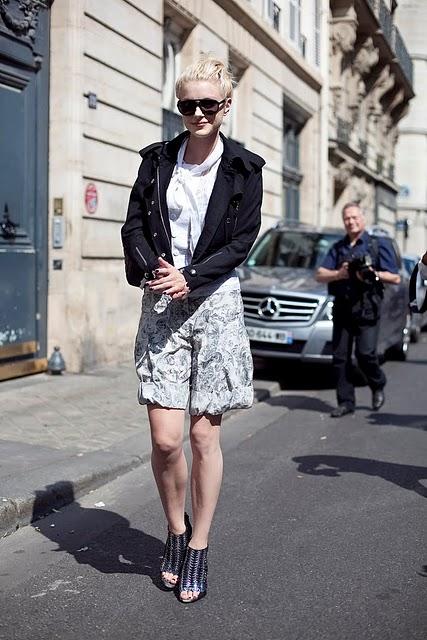 En las calles de Paris nos encontramos con la modelo Jessica Stam, que vestía chaqueta negra de entre tiempo, blusa blanca, bermudas anchos de algodón, y botines peep toe. ¡Me encanta el look tan desenfadado y las bermudas! / On Paris we find the model Jessica Stam, that wore spring jacket, white shirt, wide print Bermuda shorts in cotton, and peep toe boties.The best is teh free and easy look and the bermudas short!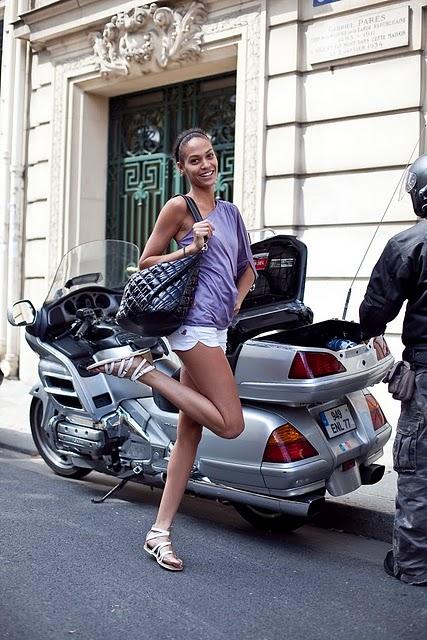 Joan Smalls nos de una idea para un look muy veraniego, apto para los días de tanto calor: camiseta asimétrica morada, shorts blancos, sandalias romanas blancas, y maxi bolso negro. ¡Un look para no tener que pensar que te pones! / Joan Smalls give us ideas for a very summer look, perfect for those hot summer days: asymmetric purple t-shirt, white shorts, white roman sandals and oversize bag. A look to not think what you are going to wear!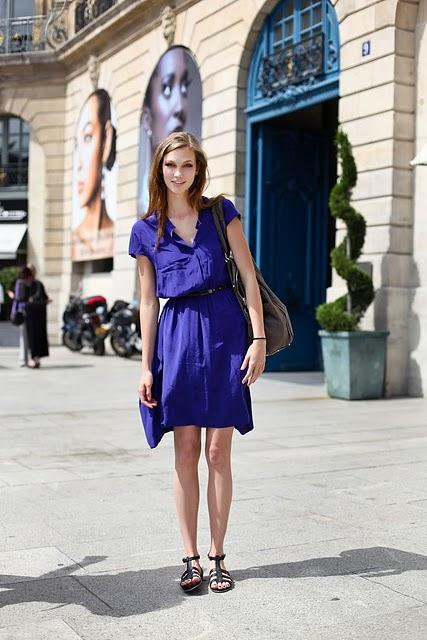 Karline Kloss con un vestido azul añil, que combina con cinturón negro y sandalias planas también en negro. ¡Un estilismo fácil, cómodo y con mucha clase! Zara tenía un vestido similar en un tono parecido y en verde, que por cierto, en rebajas ha desaparecido. / Karline Kloss wore a blue dress mix with black belt and flat sandals. A easy, confotrable and stylish look! Zara had a similar dress in a similar blue and in green, that by he way is sold out.

Leighton Meester tampoco quiso perderse el desfile de Chanel, aunque su look era la antitesis del que llevó Blake: vestido negro, muy de invierno, con manga larga, detalles dorados en costuras de los hombros, cuello, mangas y bajos del vestido, y tejido de cuero perteneciente de Chanel Pre-otoño 2010, que por cierto, le sienta como un guante. A juego botines peep toe negros de Christian Louboutin, que combinaban a la perfección con el vestido gracias a los detalles de los botones dorados que los adornaban. / Leighton Meester didn't want to miss Chanel catwalk, however her look was the opossite of Blake's; black leather dress, very winter style, long sleeve, gold details on the seams, neck, sleeves and bottom of the dress. The dress was part of Chanel Pre-Fall 2010, by the way, fits her perfectly. For that she chose black peeptoe booties by Christian Louboutin, that match so perfect due to the gold bottoms that decorate de booties.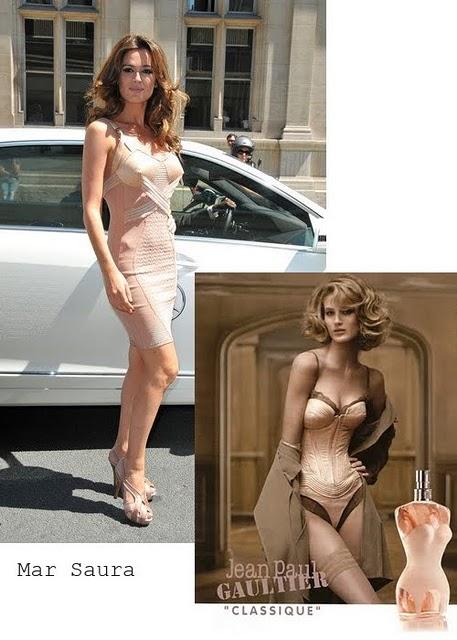 La española Mar Saura lució en el desfile de alta costura de Jean Paul Gaultier un look que esta entre al del frasco de la fragancia "Classique" del diseñador y los diseños que hacía esta para Madonna en los años 80; un vestido en rosa palo y crudo con la zona del pecho enfundada en un corsé. Creo que no hace ni falta que os diga de quien es el vestido. / The spaniar Mar Saura went to the Haute Couture Jean Paul Galtier catwalk with a look that isi between the bottle of the perfumem "Classique" by the designer and the models he create for Madonna on the 80's; a light pink and nude dress with corset design. I belive there us no need to tell you how designed the dress Mar wore.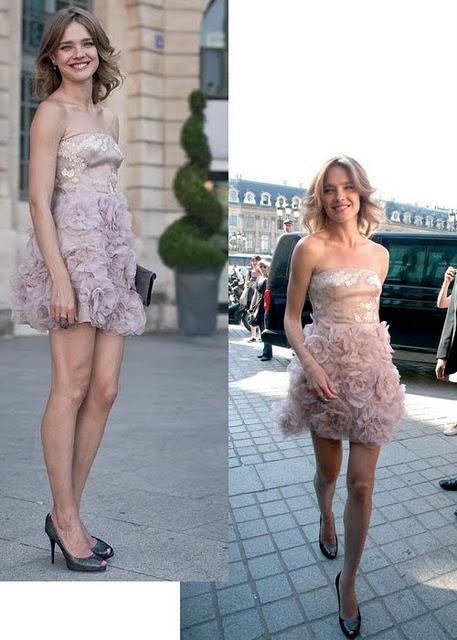 Natalia Vodianova, con un vestido palabra de honor drapeado en rosa y falda de volantes firmado por Valentino. / Natalia Vodianova, with a strapless draped pink dress and flounces skirt signed by Valentino.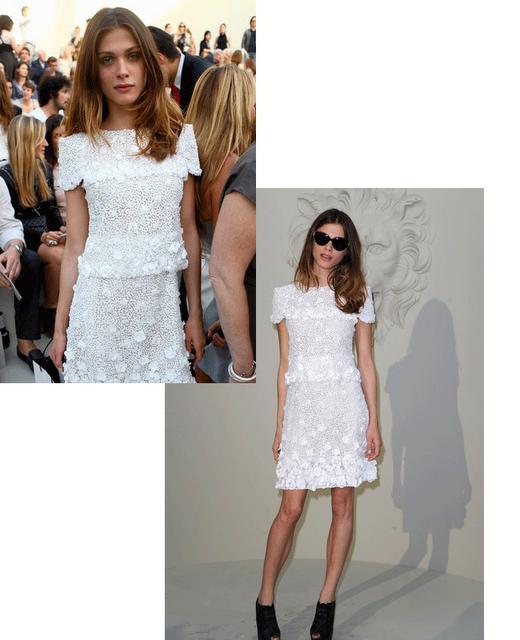 Un look muy chic llevó Elisa Sednaou, vestido blanco de manga corta por encima de la rodilla con encaje y detalles bordados, y botines peep toe en negro. ¡Ideal! / A very chic look wore Elisa Sednaou, short sleeve white lace dress adove the knee with embroiment details and black peep toe booties. Gorgeous!

Olivia Palermo, como siempre protagonista, con un mini vestido nude de encaje firmado por Valentino Primavera 2010. A juego stilettos color cereza de Christian Louboutin y clutch plateado. ¡Uno de los mejores looks! / Olivia Palermo, always is one of them, with a nude lace short dress by Valentino Spring 2010. Matching with Christian Louboutin cherry pumps and silver clutch. One of the best looks!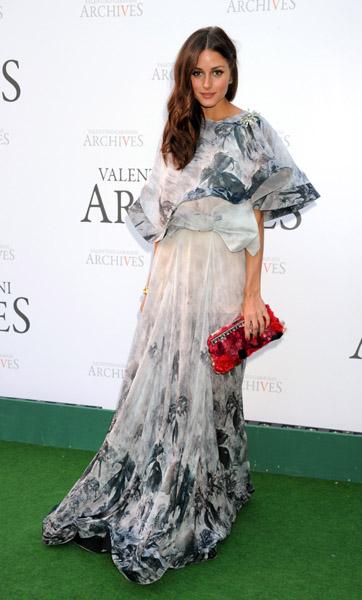 Para la cena de gala de Valentino, Olivia escogio este precioso vestido estampado en blanco y negro de Valentino Primavera 2010. Que combinó con un clutch rojo para llamar la atención. / For the Gala Valentino Dinner, Olivia chose a gorgeous black and white wather print dress by Valentino Spring 2010 gown. She mix it with a red clutch to call attention.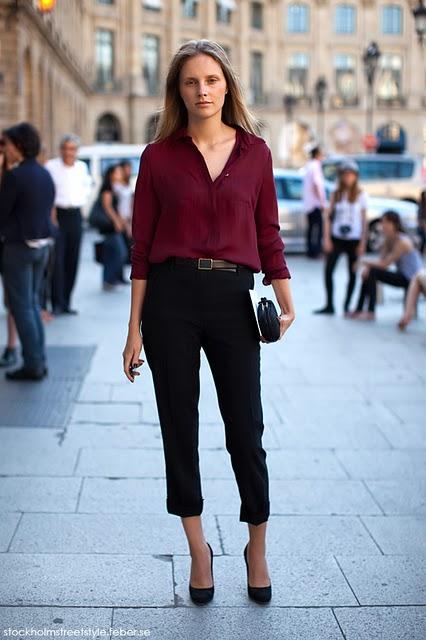 También hubo invitadas con looks más básicos, como este que es muy estiloso y queda perfecto para ir a la oficina. / Also were more basic looks adove the guest, as this one, that is stylish and perfect to go to the office.
Special thanks to: Zimbio, style.com, Just Jered., Altamira Models of Dutty.