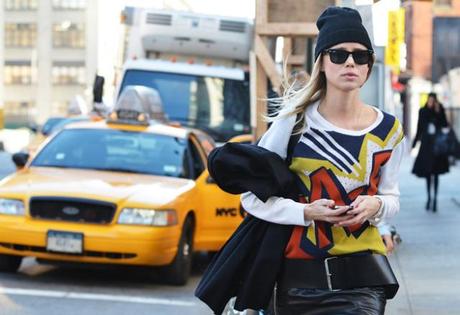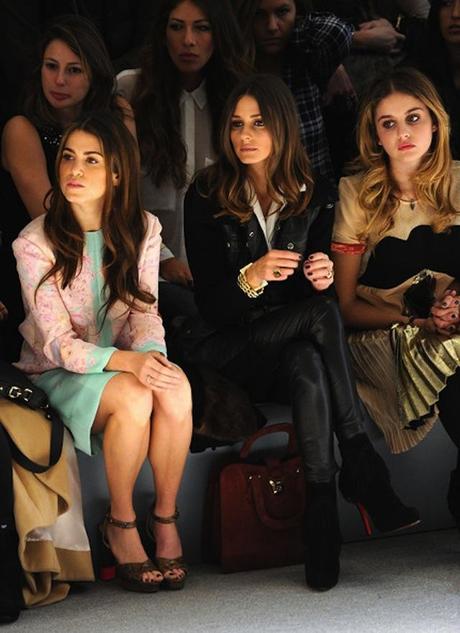 Looks, looks y mas looks, ya sabes que soy adicta a ellos, pero seguro que tu también lo eres. Nos dan ideas de  como vestir, de lo que se lleva, de lo que se va a llevar, y son una referencia clara para los diseñadores, y firmas de moda. / It's all about looks, yes I am adicted to them, but I am positive you are too. They gave us ideas of how to dress, the trends that are coming, and are a clear reference for designers and fashion brands.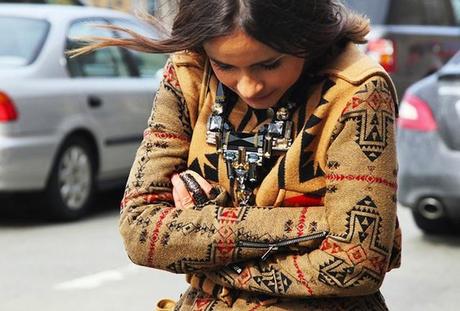 Podria enseñarte mil colecciones, pero para eso ya tienes style.com o vogue.com. Eso no quita que en algun momento decida sacar un post al respecto, pero los street style nos dan ideas para el dia a dia, y nos acerca a las tendencias por lo que son mucho mas interesantes. / I could show you many collections, but for that you have style.com or vogue.com. That does not mean that at some point I could decide to write a post about any catwalk, but street style gave us ideas about fashion and how to dress, and bring us closer to the trends, that is way is more interesting. 
1. Miroslava Dumas, fue una de las mejor vestidas de la Semana de la Moda de Nueva York; siempre atrevida, sentando tendencia. Divina!!! /Miroslava Dumas was one of the best dresses of New York fashion week; always sassy, setting trends. Gorgeous!!!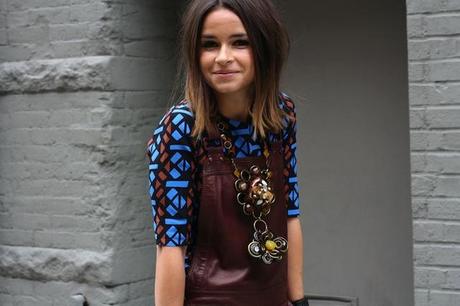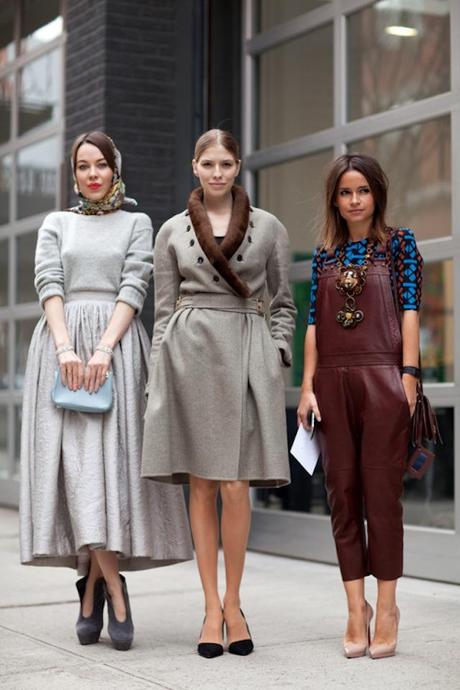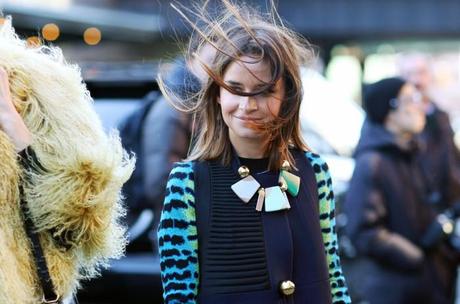 2. Una de las asistentes mas vips que estuvo muy presente en una gran mayoría de desfiles fue Olivia Palermo. Olivia esta temporada ha optado mas por el pantalón que por los vestidos, algo a lo que no nos tiene acostumbrados, pero desde este otoño, el pantalón se ha convertido en su prenda fetiche. ¿Como te gustan mas los looks de Olivia, con vestido o falda, o con pantalón? / One of the most popular guest that went to many catwalks was Olivia Palermo. Her closet has change this season and is full of pants, we are not use to that but this season pants has been her must have. Do you like more Olivia wearing dresses or skirts, or you rather chose her looks with pants?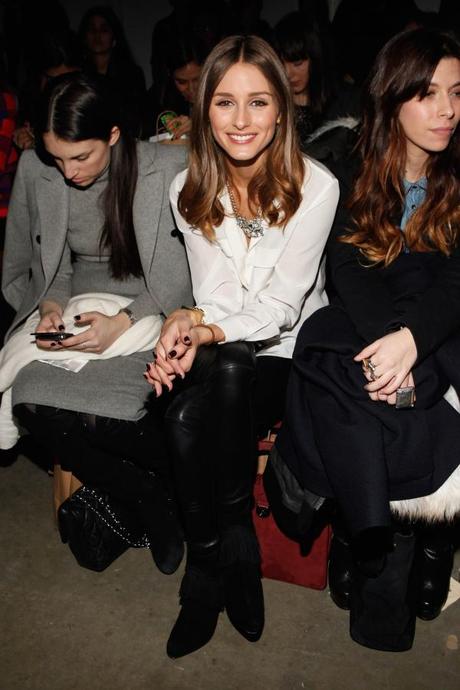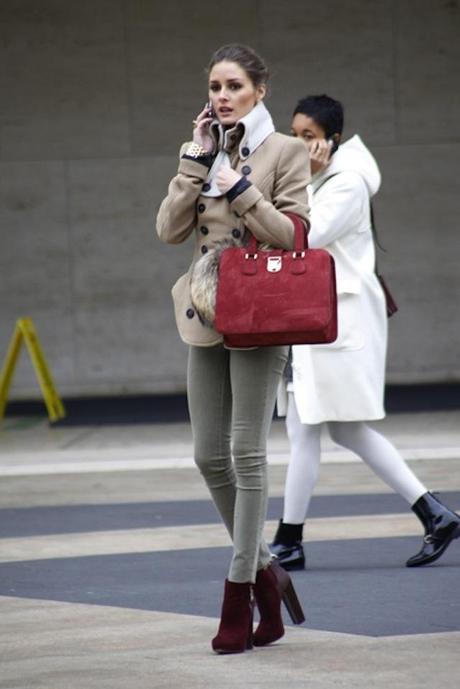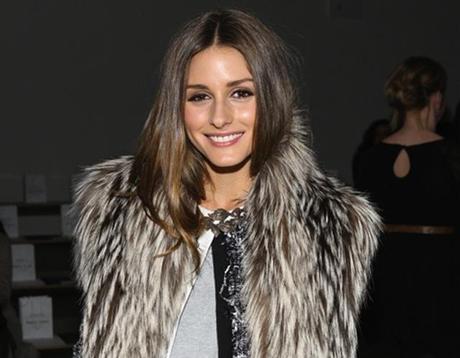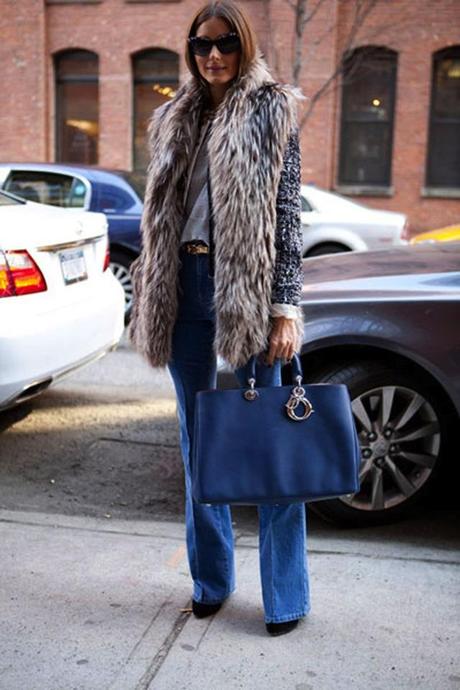 3. Blanco y morado eléctrico en las calles de Nueva York. La mezcla de los tres tonos, queda ideal. / White and electric purple at New York streets. The mix of the three color looks great.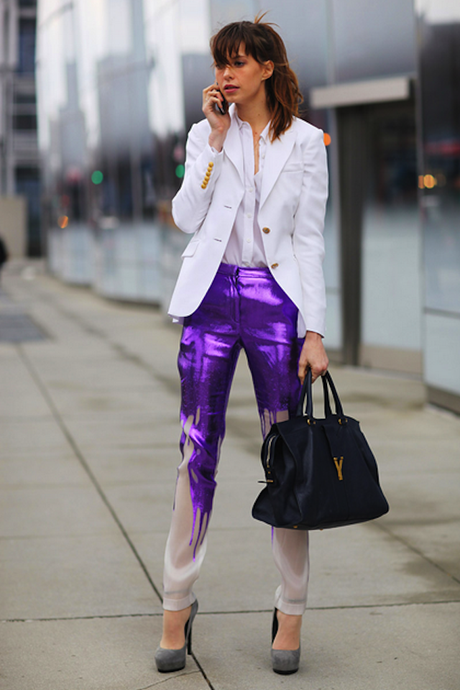 4. Los colores fuertes fueron el must have de Taylor Tomasi Hill. ¡Esta chica siempre va ideal! Si quieres saber mas de su estilo, aquí. / Strong and flour colors are Taylor Tomasi Hill must have. This girl always looks great. If you want to know more about her style click hear.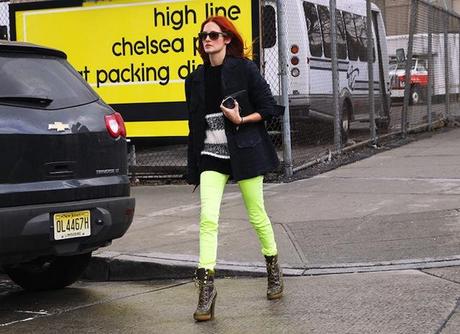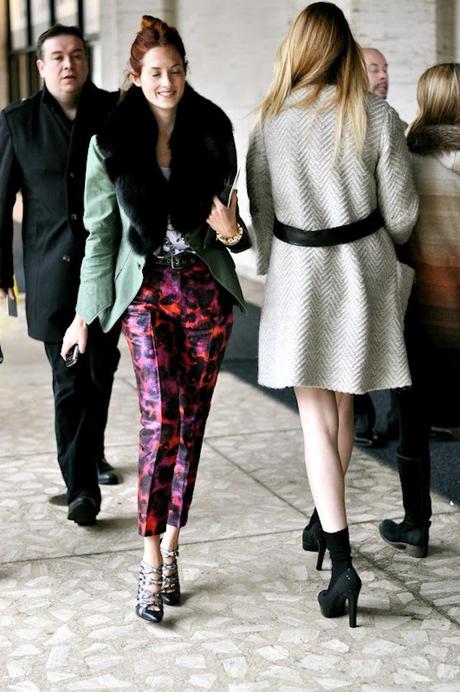 5. La blogger Natalie Suarez de Natalie of Dutty opto por el negro y el cuero, con abertura en los laterales, lo que le dio un toque muy trendy y claramente de una blogger a su estilismo. / Natalie Suarez from Natalie of Dutty chose black and leather, with openings on the sides, which is very trendy and of course proper for a blogger looks.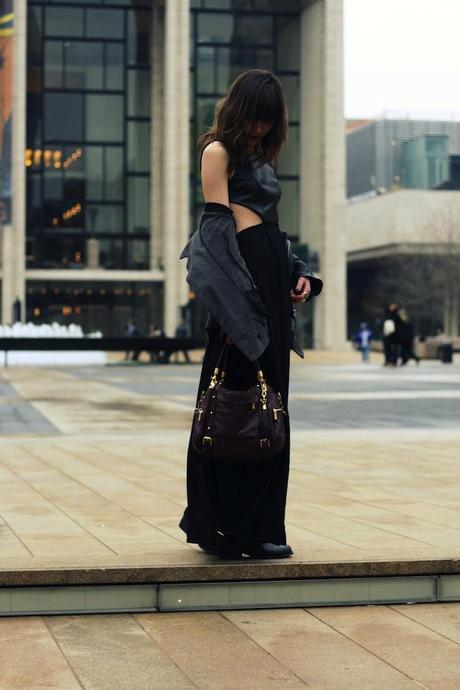 6. La modelo y cantante Leigh Lezark fue una de las pocas que opto por los vestidos.  Los dos primeros modelos son ideales; uno sexy con aire famme fatal, y el otro casual chic muy al estilo Lacoste (desfile al que acudió con dicho outfit). / The model and singer Leigh Lezark was one of the few that have chosen dresses. The two first models are great; one sexy as a femme fatal, and the other casual chic so Lacoste (catwalk she went wearing it).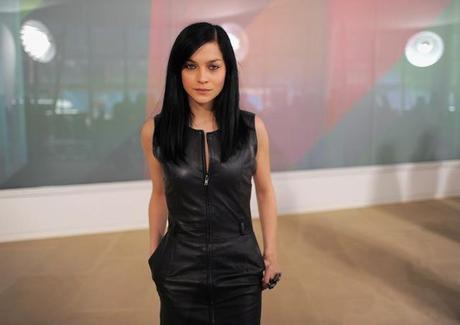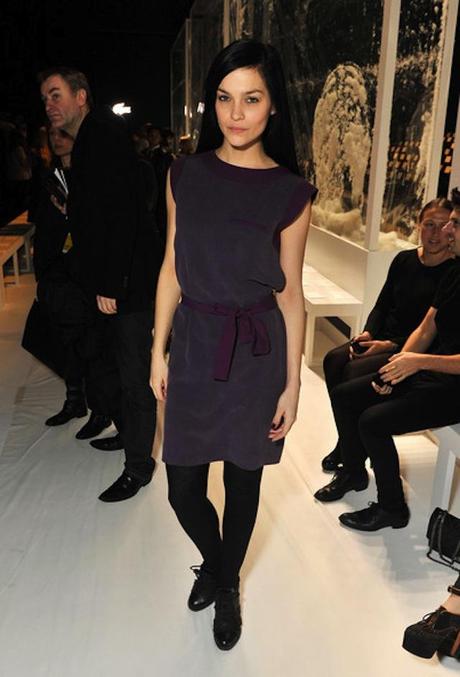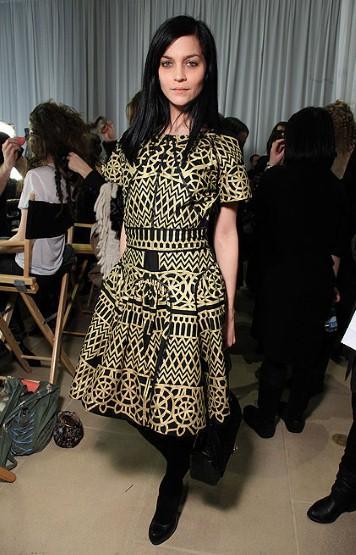 7. En las calles el color mas visto fue el negro, pero no el total look, sino generalmente combinado con algún otro. Una de las mezclas mas populares fue con el color oro.  / On the streets black was the most seen but not the total black, usually mix it with other tone. One of the most popular combination was with gold.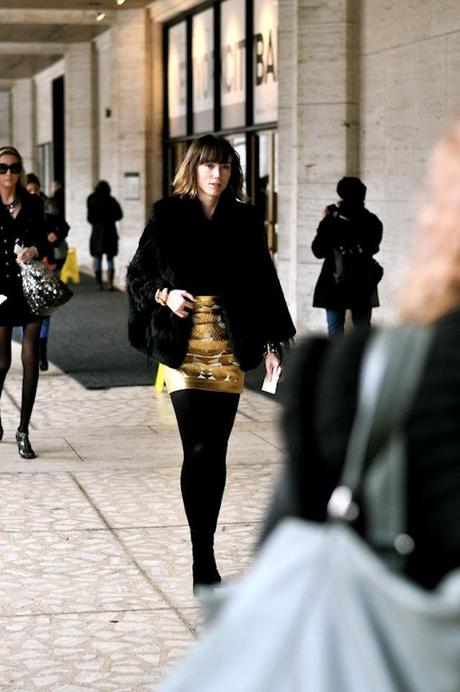 8. La modelo Erin Wasson eligió los pantalones anchos, de estilo chandal que combino con un blazer y botas con plataforma y taconazo para conseguir un estilismo mas chic. / The model Erin Wasson chose wide pant, they did look as sweat pants, but she mix them with a blazer and platform heel boots to get a chic outfit.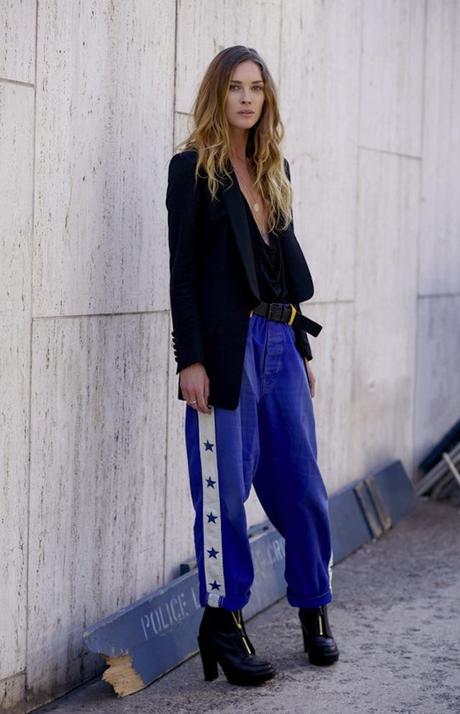 9. La piel sigue siendo tendencia, y claro con esos días tan fríos en Nueva York, es una de las opciones mas acertadas. / Fur still be trendy, and within one of those cold New York days, its the best choice.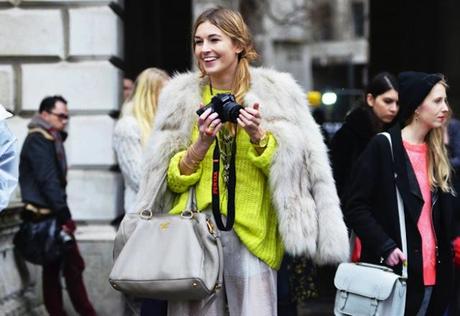 10. Un buen estilismo para ir a la oficina; trendy pero a la vez clásico. / A great outfit to go to work; trendy but classic.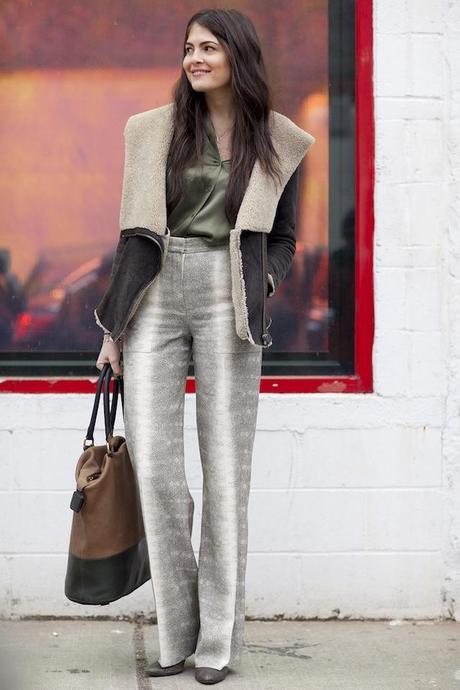 11. Las faldas plisadas están de moda, no te olvides de ellas esta Primavera. / Pleated skirts are in, don't forget them this Spring.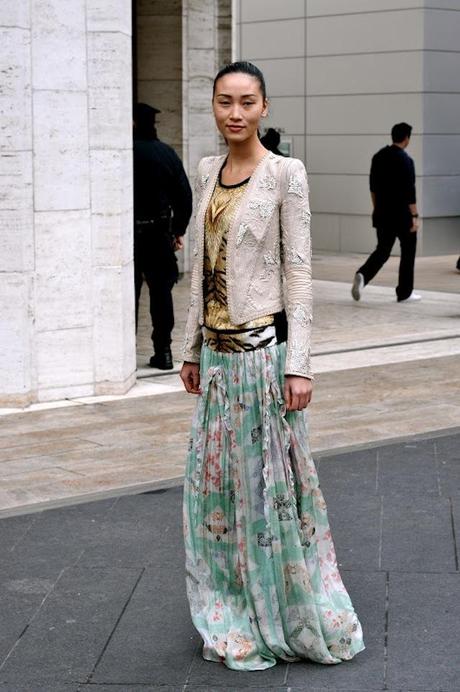 12. Otra de las imprescindibles de este evento es Alexa Chung, aunque su estilismo no tiene mucho que decir. / Another of the indispensable of this even is Alexa Chung, although her outfit does not have much to say.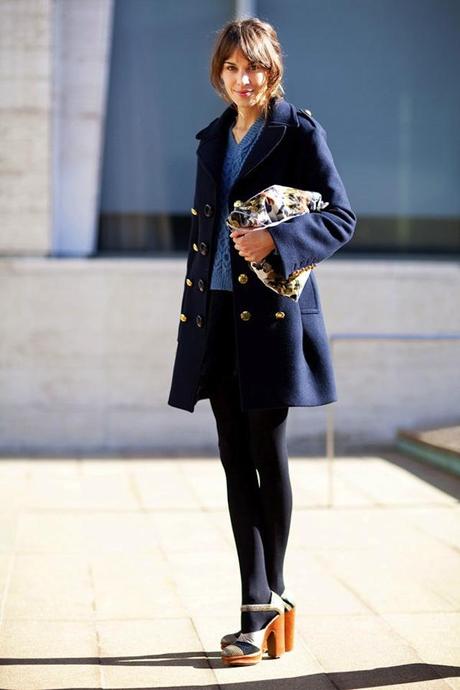 13. Hay veces que un look casual es perfecto para asistir a los desfiles, eso si, que no se te olviden los taconazos. / Some times a casual look is perfect to attend to a catwalk, but don't forget the high heels.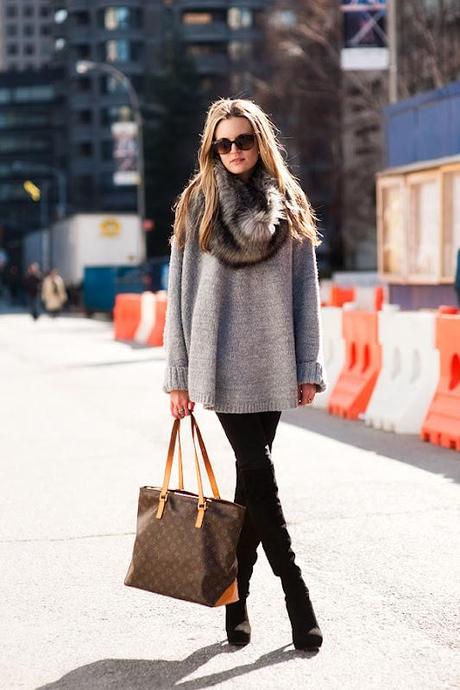 14. Cindy Van Der Heyden de Come on over to the dark side, tiene mucho estilo. Suele llevar looks casuales entre los que destacan los vaqueros pero siempre va ideal. / Cindy Van Der Heyden from  Come on over to the dark side have style. She usually wears casual looks where skinny jeans highlight but she always looks gorgeous.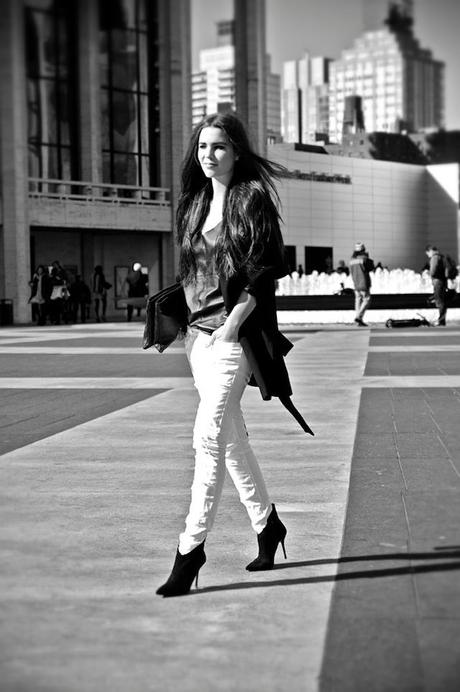 15. La it girl Caroline Sieber, opto por un look primaveral donde las rayas son las protagonistas. No es uno de sus mejores estilismos, esperemos que en Paris nos deslumbre de nuevo. Si no puedes esperar hasta entonces, aqui tienes todo sobre su estilo y su armario. / The it girl, Caroline Sieber chose a spring look where we could find strips all over. It's not one of her greatest looks but let's hope to be surprise at Paris Fashion Week. If you can't wait, hear you can find everything about her style and wardrobe, click.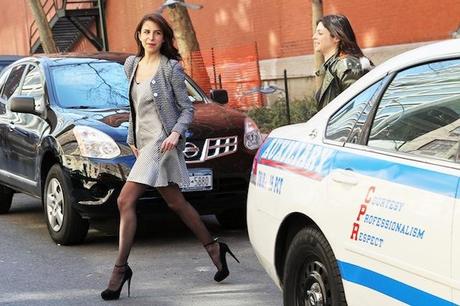 ¡Como vuela el tiempo! La semana de Nueva York ya termino, y la de Londres lo ha echo hoy. Ahora queda Milán y París, y quiero contarte tanto... / Time fly! New York Fashion Week end up, and London Fashion Week has finished today. Now is time for Milan and Paris, and I have so much to tell you ...
Muack!!! Mia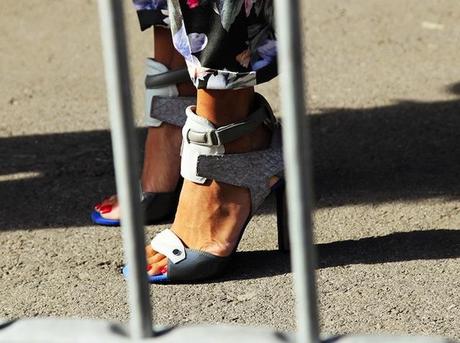 Sources: Zimbio, Oracle Fox, Natalie of Duty, Tommy Tom for style.com, Come on over to the dark side, Streetfsn, Vanessa Jackman, Face Hunter, After drk, Cest classique, Harpers