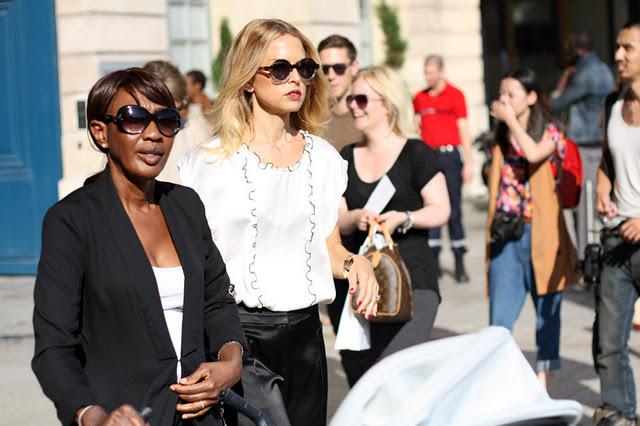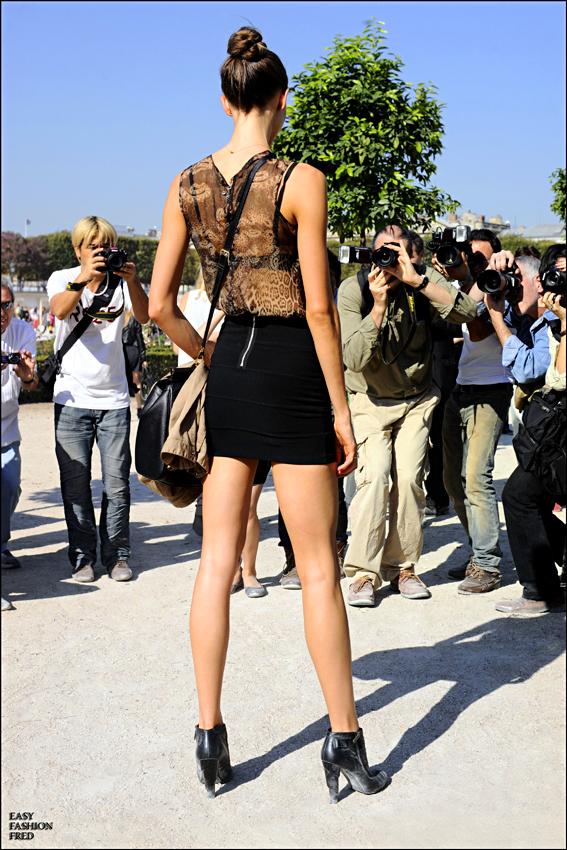 Como os prometí, sigo mostrándos algunos de los looks que llevaron las invitadas a la Semana de la Moda de París. Espero que os gusten y os sirvan de ayuda para inspiraros a la hora de vestir, y mas ahora que con el tiempo que hace ya no sabemos que ponernos. /

As I did process, I keep showing you a few looks that wore the guests of Paris Fashion Week. Hope you enjoy them and that they can be helpfull when it came to dress, and more now that with the weather we got we don't know what to wear. 


12.  Un look totalmente en blanco con un toque de color en los pies. El resto de los complementos son negros; cinturón y bolso. /

A total white look with a touch of color on the foot. The rest of the accessories are black; belt and purse.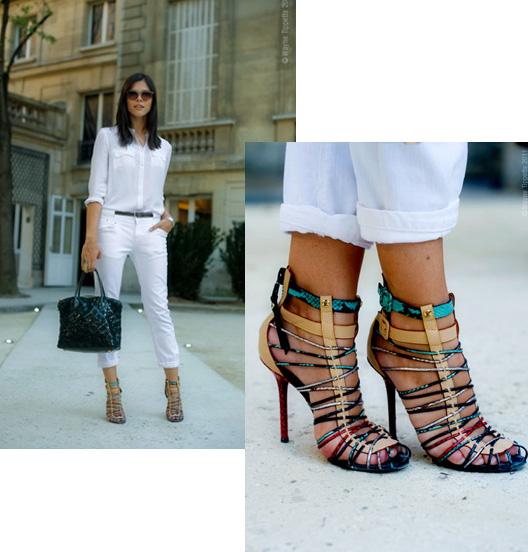 13.  Julia Restoin-Roitfeld, hija de Caroline Roitfeld, es siempre una asidua a las pasarelas parisinas, En esta ocasión opto por un conjunto en blanco y negro de chaqueta y falda, y plataformas con taconazos. / Julia Restoin-Roitfeld

, daughter of Caroline Roitfeld, its a regular at Paris catwalk. This time she wore a black and white set of jacket and skirt, and high heels platforms.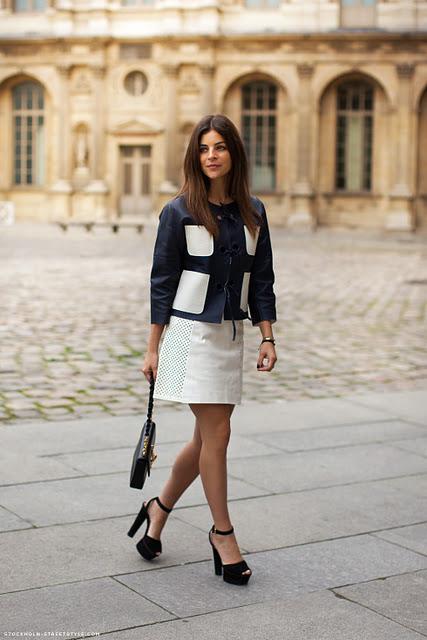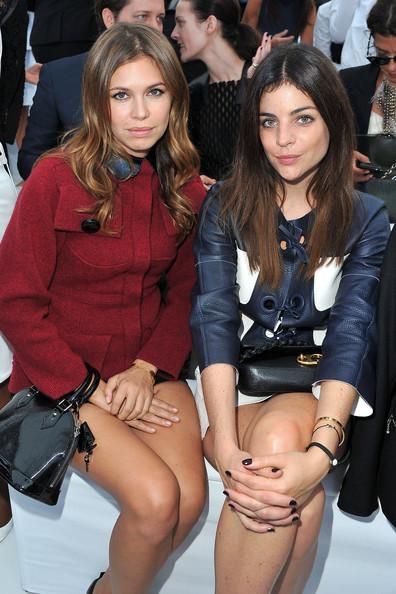 14. La modelo Sara Blomqvist llevo un look muy casual por las calles de París. Camisa bicolor, falda de cuero con un poco de vuelo, gorra marrón, bolso y botines marrones, Que os parece este look tan casual? /

The model

Sara Blomqvist

wore a very casual look at Paris. Two color shirt, leather skirt, brown cap, bag and brown ankle boots.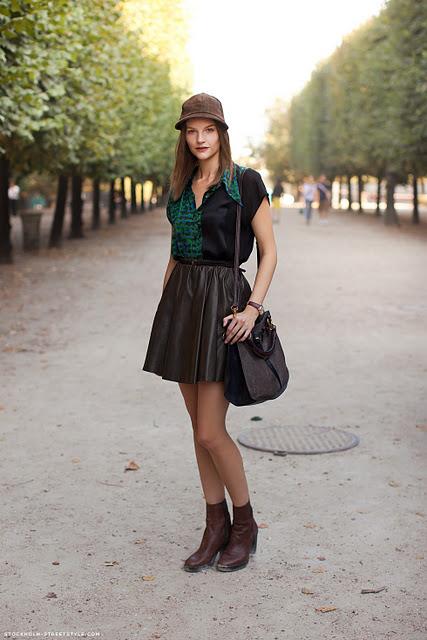 15. La modelo Natalia Vodianova con dos looks muy distintos pero eso si siempre estilosa. Es estupendo poder jugar con la moda de esta manera. /

The model

Natalia Vodianova

with two different looks but always so stylish. Its wonderful to be able to play with fashion this way.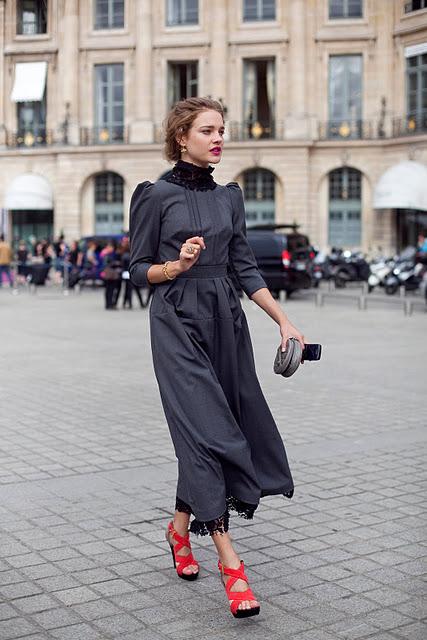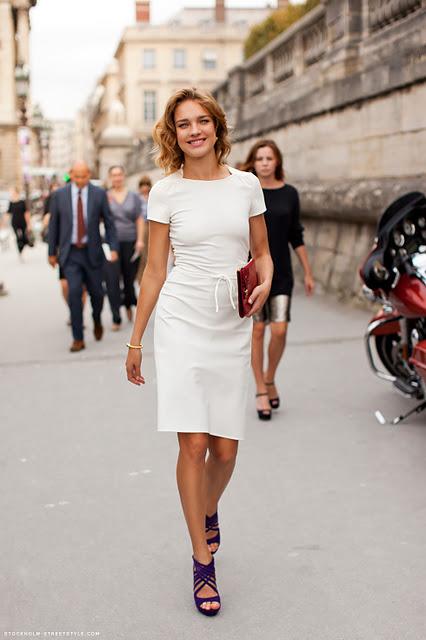 16. Neon en las calles de París. Top llamativo, pantalones de cintura alta, y sandalias planas./

Neon at Paris streets. Striking top, high wasted pants, and flat sandals.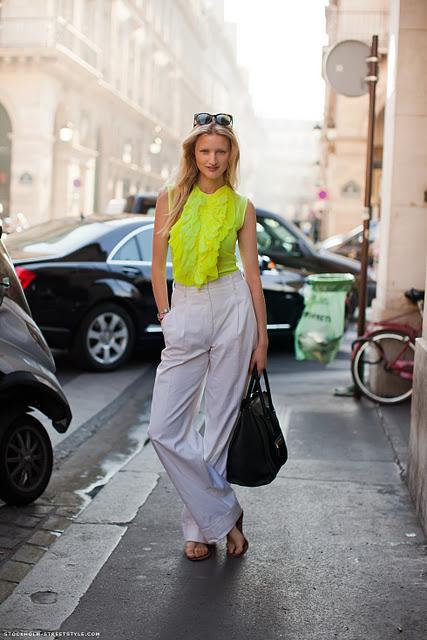 17. La modelo y socialite Poppy Delevigne, opto por los pantalones. En un look la vemos con pantalones ajustados con un estampado que imita la piel de serpiente, y en el otro con pantalones pitillos negros. El look que mas chic es el de los pantalones negros, que es el que llevo al desfile de Chanel. / The model and socialite, Poppy Delevigne, chose pants. In on look we see her with tight snakeskin pants and on the other, with balck cigarrette pants. The most chic look is the one with the black outfit, which is the model she wore at Chanel catwalk.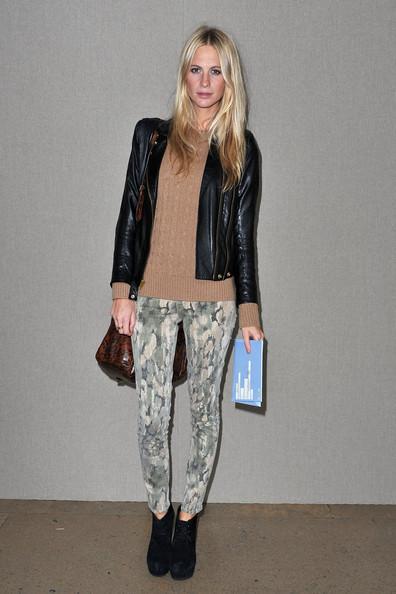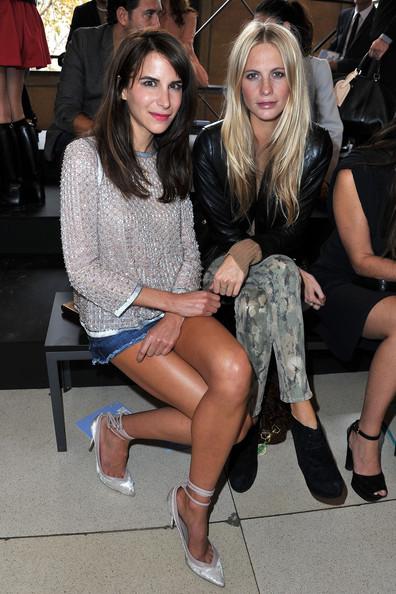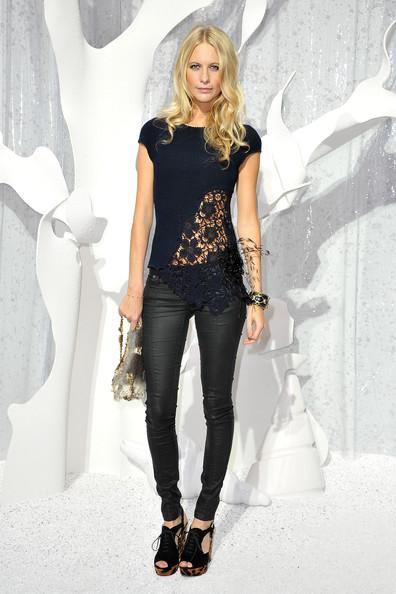 18.  El vestido, siempre es socorrido. /

A dress is always useful.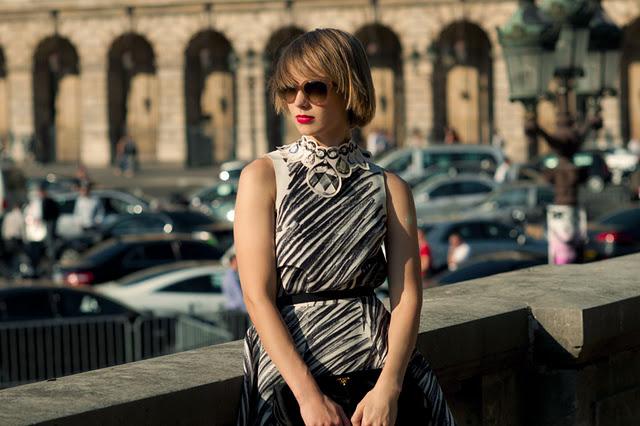 19. Uma Thurman. El primer look es muy clasico, esta firmado por Chanel: vestido y chaqueta de tweed. El segundo look, vestido y cinturón fajin de Louis Vuitton. / Uma Thurman. The firts look is a classic, signed by Chanel; tweed's dress and jacket. The second one, dress and belt are by Louis Vuitton.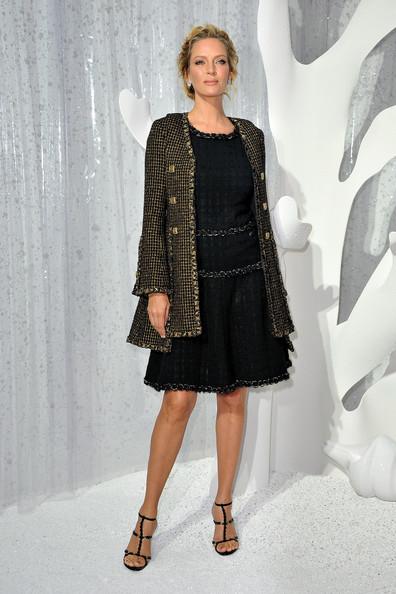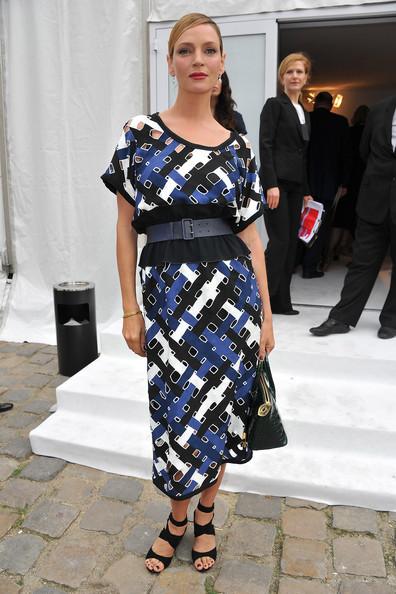 20.  Simple e ideal.  Camisa blanca XXL medio metida, medio sacada lo que le da ese toque tan chic; cinturón de cadena dorado; shorts denim rotos; y sandalias de Zara. /

Easy and gorgeous. White overside shirt half inside the shorts, half outside which get that chic touch; gold chain belt; reaped denim shorts; and Zara sandals.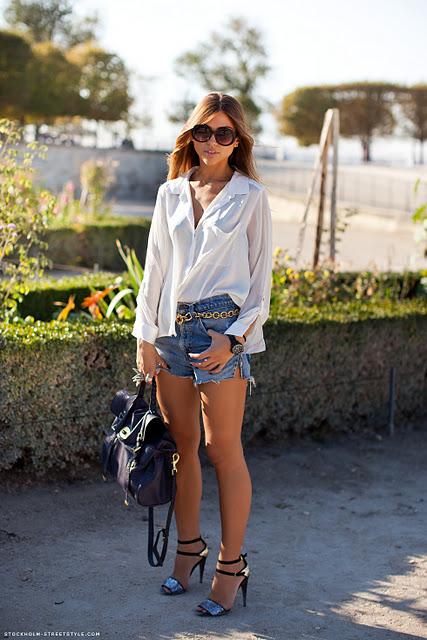 21. Miroslava Dumas. Esta ni

ña

es divina, y vaya donde vaya siempre desprende clase y estilo. En París, con dos looks muy distintos. El segundo es de lo mas estiloso, me encanta. / Miraslova Dumas

. This girl is divine, where ever she goes, she chad style and class. Hear you got her looks at Paris, both are very different. The second one is more stylish, I love it!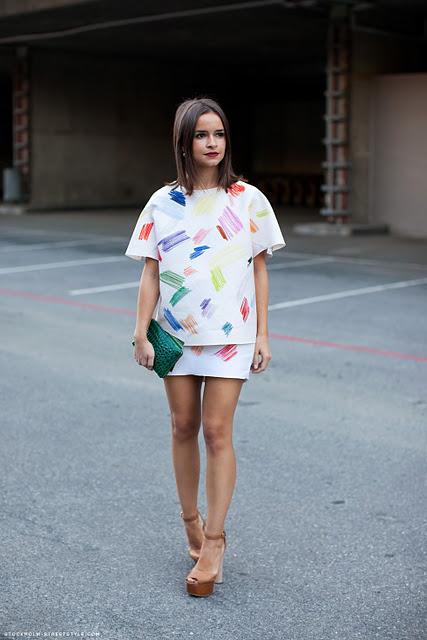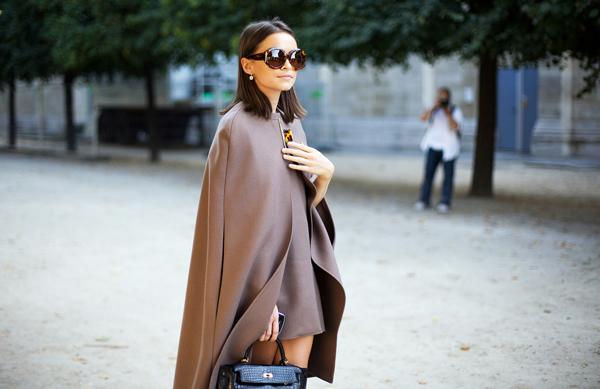 22. Oro, una de las tendencias para este invierno... y como no, París fue uno de los primeros sitios en demostrarnoslo. /

Gold, one of this winter trends... and of course, Paris was one of the first places to show it.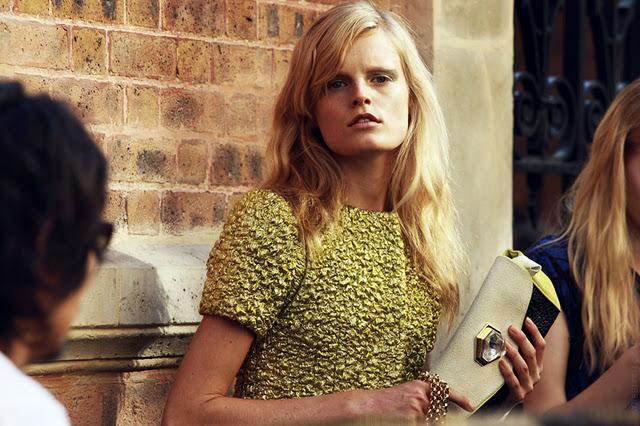 23. La modelo de Victoria Secret, Miranda Kerr, iba ideal con un top estampado, falda negra de cuero y salones. Es la segunda vez que vemos,  un look con parte de la camisa por fuera, parte por dentro, sera tendencia? Espero que si porque me parece una idea estupenda, es ideal. / The Victoria Secret model, Miranda Kerr

, was great with a leopard print top, black leather skirt and pumps. It's the second time we see someone with half of the shirt inside, half outside, is cool, but will be a trend?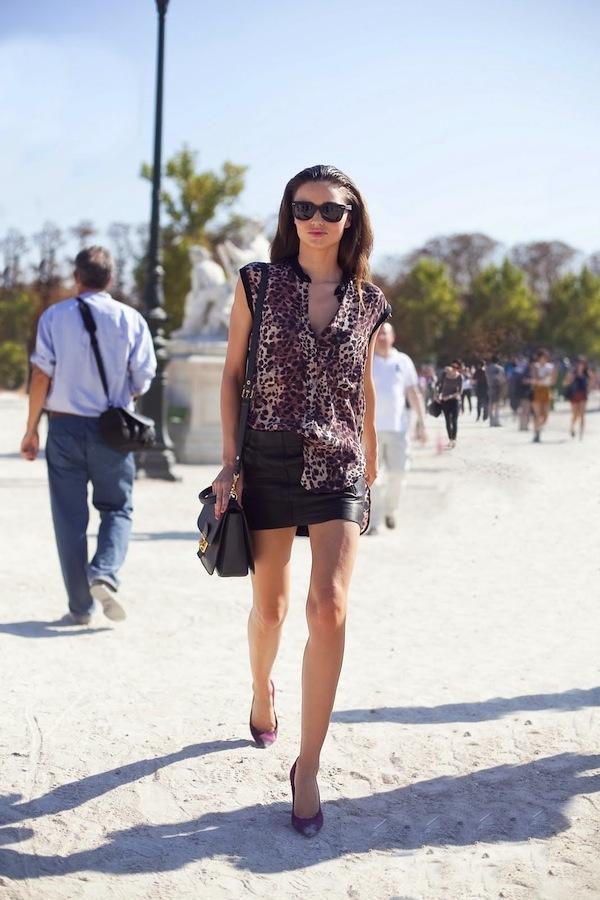 Y hasta aqui... las semanas de la moda.. pero aunque el tema de looks se ha alargado, merecia la pena verlos. Espero que los hayais disfrutado...  /

And hear comes to and end the fashion weeks... even the looks part has been a little bit late, it was worth it to see the. Hope you had enjoy them.


Que tengais un estupendo fin de semana. Muack!! /

Have a great weekend. Xoxo.


Mia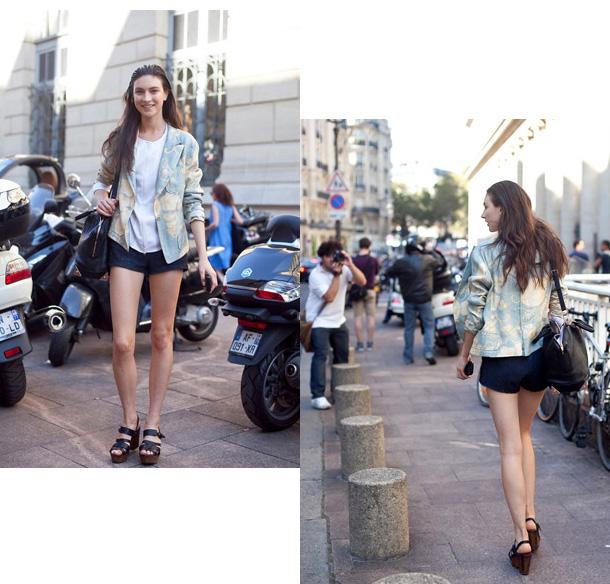 Sources: Zimbio, Stockholm Street Style, Streetfsn, Easy Fashion, Altamira Models of Dutti,