The new library across from the Pacific Design Center strikes an appealingly upbeat tone, borrowing from various architectural influences to become one of the most impressive public pieces in the region in a decade.
By Christopher Hawthorne, Los Angeles Times Architecture Critic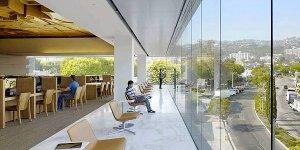 The new West Hollywood Library features a top level with floor-to-ceiling glass and views of the Hollywood Hills. (Benny Chan / Fotoworks / September 28, 2011) www.latimes.com
The new West Hollywood Library, set to open to the public Saturday on a curving stretch of San Vicente Boulevard across from the Pacific Design Center, is a building that offers a freewheeling tour through centuries of architectural history. Explicitly or implicitly, it points back to the work of Charles Moore, Pierre Koenig, Frank Gehry and even Michelangelo.  The library includes long expanses of floor-to-ceiling glass, in the great California midcentury tradition, as well as bands of marble and generous helpings of architectural ornament.
Along with computer terminals and shelves full of actual books, it incorporates a pair of parking garages, rooftop tennis courts, murals by the street artists Shepard Fairey and Kenny Scharf and new chambers for the West Hollywood City Council.
Whatever you want to call its style (the first local stirrings of a postmodern revival, maybe?), it sounds altogether too busy and too stuffed with architectural influences to succeed. And yet it does succeed — beautifully.
Designed by Steve Johnson and James Favaro of the Culver City firm Johnson Favaro, the library is one of the seven or eight most impressive pieces of public architecture to open in Southern California in a decade.
vía Architecture Review: West Hollywood Library among top works – latimes.com.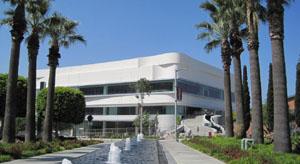 Foto: www.johnsonfavaro.com
West Hollywood Park/Library Parking Structure Opens
NEW WEST HOLLYWOOD LIBRARY
After two years of construction and many years of planning, the City of West Hollywood is nearing completion of Phase I of the West Hollywood Park Master Plan which includes the building of the highly-anticipated new West Hollywood Library located at 625 N. San Vicente Boulevard (at Melrose).
Phase I of the West Hollywood Park Master Plan is one of the major components of the City's 25th Anniversary Capital Project which also includes development of the West Hollywood City Hall Automated Garage and Community Plaza Project and implementation of the Plummer Park Master Plan.
Jackie Collins to Speak at New West Hollywood Library Dedication and Grand Opening – October 1, 2011
MuralWatch: Shepard Fairey Going Up on the New WeHo Library
Shepard Fairey, street artists brighten West Hollywood library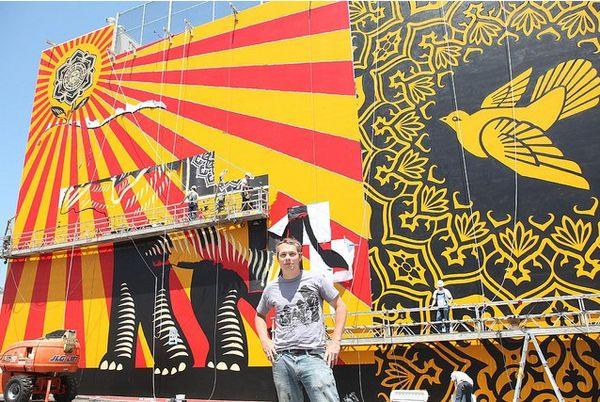 The outdoor murals are a joint project by the artists, the city of West Hollywood and the Museum of Contemporary Art. latimesblogs.latimes.com
El Proyecto en la web de Johnson Favaro
Follow @arquitectonico
* – * – * – * – *
La noticia de hoy en ArquitecturaS (vía Twitter) @arquitectonico