Carretera "Route 61" rota por el calor del carbón ardiendo debajo, en Centralia. Foto: Wikipedia
Centralia es un municipio en el condado de Columbia, Pennsylvania, en los Estados Unidos. En 1981 había más de 1.000 habitantes, pero la población disminuyó a 12 como resultado de incendiarse (y no apagarse desde entonces) una vieja mina de carbón que arde debajo de la ciudad. En la actualidad es el pueblo con menor población del estado de Pennsylvania.
Centralia sirvió de inspiración del videojuego Silent Hill.
De Wikipedia
Centralia is a borough and ghost town in Columbia County, Pennsylvania, United States. Its population has dwindled from over 1,000 residents in 1981 to 12 in 2005[1] and 9 in 2007,[2] as a result of a mine fire burning beneath the borough since 1962. Centralia is now the least-populous municipality in Pennsylvania, with four fewer residents than the borough of S.N.P.J..

Centralia is part of the Bloomsburg–Berwick Micropolitan Statistical Area. The borough is completely surrounded by Conyngham Township.
All properties in the borough were claimed under eminent domain by the Commonwealth of Pennsylvania in 1992 (and all buildings therein were condemned), and Centralia's ZIP code was revoked by the Post Office in 2002.[1] However, a few residents continue to reside there in spite of a failed lawsuit to reverse the eminent domain claim.
vía Centralia, Pennsylvania – Wikipedia.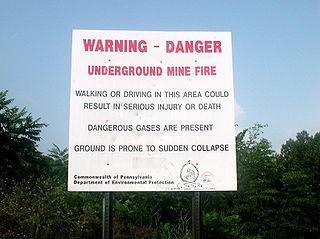 Señal de advertencia sobre el peligro del lugar. Foto: Wikipedia
Centralia Pennsylvania
…truth is stranger than fiction.
A Pennsylvania community consumed by
an underground mine fire.
If you were driving north on route 61 in the heart of the Anthracite coal region in Pennsylvania in recent years, you may have come across a detour of 61 at the top of a hill in a community called Ashland. Thinking nothing of it you would have followed the detour signs that took you around some possible road construction or a bridge being worked on. You're then reconnected with Rt. 61 again.
Tras haber visto Silent Hill, justo he encendido la radio y han comentado algo en Milenio 3 que ha llamado mi atención… Se trata de un pueblo de Pennsylvania llamado Centralia, el cual inspiró al de la película Silent Hill… He buscado un poco de info…
Written by Alan Bellows on 29 March 2006
No one knows exactly how it started, but a coal vein has been burning under the Pennsylvania mining town of Centralia since 1961. Some trace it back to careless trash incineration in an open pit mine igniting a coal vein. The fire crawled, insidiously, along coal-rich deposits far from the miner's pick, venting hot and poisonous gases up into town, through the basements of homes and businesses.
Centralia, Pa., coal fire is one of hundreds that burn in the U.S.
The underground coal fire that has slowly consumed Centralia, Pa., isn't unusual. Many such fires burn around the world.
The fire burning deep below Centralia, Pa., is just one of numerous coal fires burning in at least 20 states today, with thousands more worldwide. They gobble up resources, spew dangerous emissions, and scar the land. Yet little is known about their impact on climate change or human health due to carbon dioxide and mercury emissions, say experts.


Filed under: Ambiente, City, Ciudad, Riesgo Tagged: arde debajo de la ciudad, Centralia, condado de Columbia, municipio, Pennsylvania, Sitios fantasma, videojuego Silent Hill, vieja mina de carbón