Que coincidirá con la celebración del capítulo número 100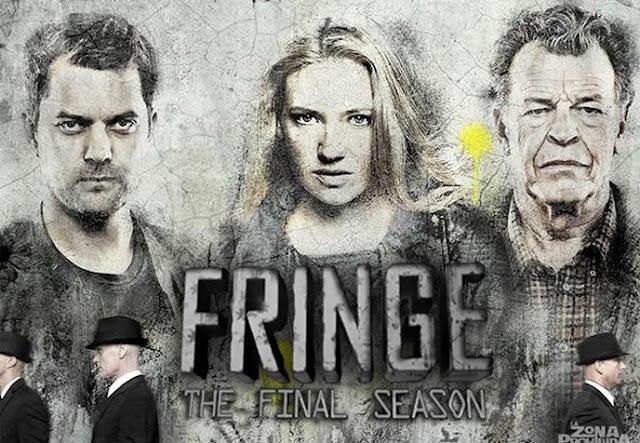 Mediante una solemne nota de prensa con declaraciones del productor J.J. Abrams y el
showrunner
J. H. Wyman,
FOX
no solo ha revelado la fecha del último episodio de
Fringe
, el 18 de enero, sino que ha confirmado que será una entrega doble para conmemorar de una tacada el final de la serie y el episodio número 100. La cifra, que parece más un número conmemorativo, fue crucial para que el canal tomará la decisión de otorgarle a Peter, Walter y Olivia una temporada 5 ya que le permite sindicar la serie para vendérsela a otras cadenas estadounidenses, como ya ha hecho con Science Channel.
De momento y a falta de 8 episodios para la conclusión, la tercera entrega de
Fringe
se
mantiene
estable con audiencias cercanas a los 3 millones de telespectadores aunque con un notable bajón de ritmo argumental que, dicen, mejora en el capítulo emitido ayer viernes 2. 
Os dejo el comunicado completo en inglés -vía
CS
-, tras el salto.
As the Fringe team fights for humanity's future in the fifth and final season, the imaginative journey toward the end of the acclaimed series will culminate in a climactic conclusion during the two-hour final-two-episodes event Friday, Jan. 18 (8:00-10:00 PM ET/PT) on FOX. This milestone date will also celebrate the series' 100th episode.
Series Co-Creator and Executive Producer J.J. Abrams reflected on the show's run: "It has been an absolute honor to have been a part of the weird and wonderful world of FRINGE. I will always owe the cast and crew for pouring their hearts and souls into every dimension of this series. Creating the show with Bob Orci and Alex Kurtzman was a joy, but watching it evolve over the years into such an imaginative, insane and heartbreaking ride is nothing less than a thrill. I am grateful to our blessed fans, and to Kevin Reilly and Peter Rice and everyone at the glorious Fox network for allowing FRINGE to reach its bittersweet conclusion."
Executive producer and showrunner J. H. Wyman said, "Above all else, from the bottom of my heart, I would like to personally thank everyone involved with FRINGE. From the most amazing fans, to our incredible cast, writers and crew, and our wonderful partners at FOX and Warner Bros. - we would not be here without you. It simply cannot be overstated how grateful I am for the ongoing and unconditional support we have received over the past five seasons. It has been both mind-blowing and humbling. I've always been a fan of science fiction, and to be able to tell this story about a family - a family that, through everything, fought together for survival - has been a highlight of my career. As we approach the final chapter, I can hardly believe it, and I'm just truly thankful for this unparalleled experience."
"FRINGE has truly imagined the impossibilities over its five seasons and will go down in the books as one of FOX's most riveting and creatively brilliant series," said Kevin Reilly, Chairman of Entertainment, Fox Broadcasting Company. "It has been a blast to work with J.J., Joel and their masterful creative teams, as well as with Anna, Josh and John and the rest of the most talented cast and crew in the business."
Throughout FRINGE's thrilling five seasons, the series has followed Special Agent OLIVIA DUNHAM (Anna Torv), enlisted institutionalized "fringe" scientist WALTER BISHOP (John Noble) and his globe-trotting, jack-of-all-trades son, PETER (Joshua Jackson) as the Fringe team explored mysterious occurrences linked between parallel universes, doppelgängers, Observers and unimaginable threats. The unlikely trio supervised by Special Agent PHILLIP BROYLES (Lance Reddick) and assisted by ASTRID FARNSWORTH (Jasika Nicole) - often led them to science and technological corporation Massive Dynamic, founded by WILLIAM BELL (guest star Leonard Nimoy), and its enigmatic chief executive, NINA SHARP (Blair Brown).
The fifth and final flash-forward season of FRINGE is set in 2036, when the "Observers" have become ruthless rulers of a dystopian society. As the battle for the world's future continues to unfold, the Fringe team is in the midst of making its final stand to save humanity. In the aftermath of the devastating loss of Peter and Olivia's daughter, ETTA (guest star Georgina Haig), the intensity escalates as the combat continues and Peter makes a pivotal and game-changing move in the all-new "An Origin Story" episode airing tonight (9:00-10:00 PM ET/PT) on FOX.
Created by J.J. Abrams, Alex Kurtzman and Roberto Orci, FRINGE is produced by Bad Robot Productions in association with Warner Bros. Television. Abrams, Bryan Burk and J.H. Wyman serve as executive producers, while Akiva Goldsman is a consulting producer.