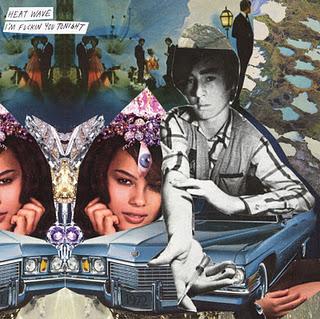 Collonut! Sensacional mixtape para el sello Deep Tapes de Alex Gray,que ha estado acompañando a Sun Araw en gira. Muchas veces , estos recopilatorios alcanzan un nivel de perversión y de personalidad que consiguen ser algo más que una anécdota muy inspirada, para acabar alcanzando categoría de obra propia y además, a tenor de los resultados, imposible  pasar por alto.Mejor explicado en la referencial web tinymixtapes:
Heat Wave's latest mix, already the fourth this year, is called I'm Fuckin You Tonight. Primarily pitting R&B/soul samples, pitch-shifted and treated, against synth noises from dimensions heretofore unimaginable, the music reveals itself to be at once forward- and backward-sounding — progressions smeared into regressions (and back again); linear time compressed into pointed yet fleeting moments; chronology shattered, smashed, steamrolled; opposing forces producing a state of equilibrium. And as soon as there's any hint of teloi, the music is either abruptly cut off or looped. It's no wonder his first mix was called Stasis 1: Heat Wave steps into the past/present/future, eternally. While the samples — which include 70s R&B group Sly, Slick & Wicked's "Confessing a Feeling" ("Forever More"), a cover of Bread's "Make It With You" ("Many Waking Eyes"), and R. Kelly's "Sex in the Kitchen" ("Some of That Chicken") — are mostly chopped up and served in a bubble bath of EQs and distortion, there seems to be a level of respect for the source material. His treatments never sound violent.
tinymixtapes


IM FUCKIN YOU TONIGHT by HEAT RAVE


http://soundcloud.com/heat-rave   En la web además, podreis descargar un heat wave vs Sun Araw,bastante explicativo del chamanismo   http://heatrave.com/   También este video para "Stasis",otra mixtape, sigue en la línea tremenda   Heat Wave 'Stasis 1' Video from deeptapes on Vimeo.