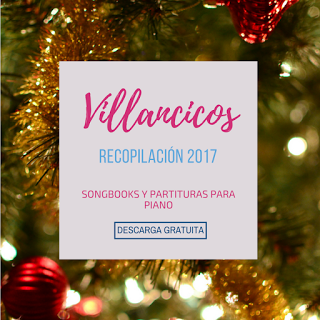 Os presentamos la recopilación del material para Navidad que hemos creado para estas navidades 2017. No solo tenemos las partituras tradicionales en todos los niveles, sinó también canciones navideñas modernas. Espero que os guste!
Alan Menken - My Christmas Tree (Solo en Casa 2)
Huge Martin - Have Yourself a Merry Christmas
John Williams - Christmas Star (Solo en Casa 2)
John Williams - Merry Christmas, Merry Christmas (Solo en Casa 2)
Natasha Bedingfield - Shake Up Christmas
Owl City - Christmas Song
The Piano Guys - Where Are You Christmas
We Wish you a Merry Christmas
Wham - Last Christmas
SONGBOOKS
A Rockin' Christmas (Vocal + Piano + Guitar)
David Lanz - Christmas Eve

An Angel at Midnight
The Angel King
Angel of Comfort
Angel of Hope
Angel of Joy
Angels We Have Heard on High
A Brush of Wings
The First Noel / Christmas Eve Waltz
God Rest Ye Merry Gentlemen
'I Saw the Path of the Angels'
Joy to the World
O Come All Ye Faithful
O Come, O Come, Emmanuel
O Holy Night
O Little Town of Bethlehem
Silent Night
What Child Is This

Jim Brickman - Christmas Themes

Joy To The World;
Hove Yourself A Merry Little Christmas;
If You Believe;
Greensleeves / Carol Of The Bells (Medley);
Silent Night;
O Holy Night;
The Gift;
Even Santa Fell In Love;
Do You Hear What I Hear?;
Silver Bells

Jingle Jazz by Phillip Keveren
Martha Mier - Christmas Jazz

Joy to the World
Good King Wenceslas
Deck the Halls
Away in a Manger
Up on the Housetop
We Three Kings of Orient Are
Jolly Old Saint Nicholas
Fum, Fum, Fum
Good Rest Ye Merry, Gentlemen
Jingle Bells

Mariah Carey - Merry Christmas

All I Want for Christmas Is You
Born on This Day
Christmas (Baby Please Come Home)
Hark The Herald Angels Sing / Gloria (In Excelsis Deo)
Jesus What A Wonderfull Child
Joy To The World
Miss You Most At Christmas Time
O Holy Night
Santa Claus Is Comin' To Town
Silent Night

Merry Christmas Songbook
Si alguien quiere aportar enlaces que los deje en comentarios y los añadiremos a la lista.