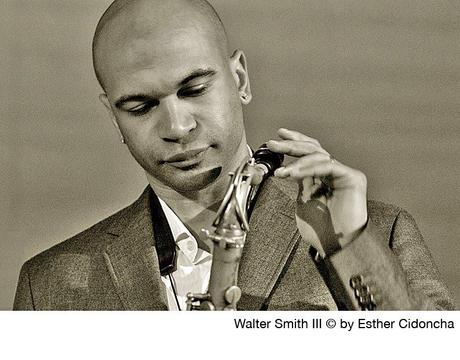 The rich airy transparent sound is what identifies rising modern tenor saxophonist Walter Smith III. His music explores the many different avenues in jazz and introduces a new melodic perspective. When he plays, his creativity is made apparent through his ability to incorporate new musical ideas and  uncover a unique relationship between harmonic and rhythmic composition. The development of his ideas can only be described as a journey that never ceases to lose momentum.
Growing up, Walter Smith III started playing the saxophone when he was 7 years old and has become one of the most recognizable musicians in this generation. His influences include John Coltrane, Wayne Shorter, Sam Rivers and Ornette Coleman along with Joe Lovano and Myron Walden. Receiving various scholarships and prestigious jazz awards like the Presidential Scholar in the Arts, Walter Smith has traveled around the world playing at various festivals and jazz venues. As a band leader and group member, Walter has played with many notable artists such as Terence Blanchard, Roy Haynes, Christian McBride, Christian Scott, and Ambrose Akinmusire.
His first debut album, Casually Introducing Walter Smith III, incorporates a variety of original compositions as well as unique arrangements of traditional songs like "Duke Ellington's Sound of Love". No matter what piece Smith plays on, his deep understanding of swing and hard-bop creates remarkable energetic musical moments. In his most recent albums, Walter Smith-Live in Paris and III, Walter Smith III adapts a more sophisticated sound. It is evident that he has grown as a musician and broadened his musical perspective. The tunes that really stand out harmonically and melodically are "Moranish", "Byus", and "Capitol Wasteland". In "Moranish", the piano starts off with a cadenza in which develops into a song where Walter Smith III plays over a reoccurring rhythmic piano line. As for "Byus", the song highlights a different rhythmic understanding with an intricate drum feel and playful melody. Lastly, "Capitol Wasteland" exposes Smith's warm yet powerful saxophone tone that creates a musical phenomenon.
Whether it is playing the blues or tackling a complicated deep modern song, Walter Smith III has redefined jazz. His tender sound and mature understanding of composition identifies him as a forefront and leading tenor saxophone player of this generation.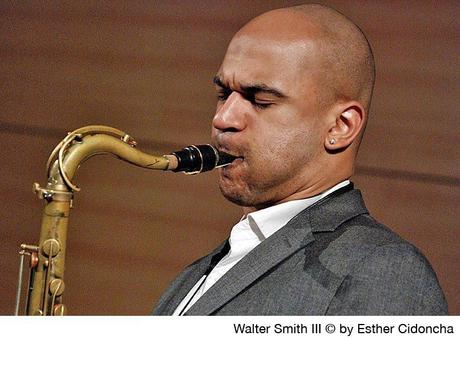 Photo © Esther Cidoncha

   Walter Smith III & Mark Small – Bronze