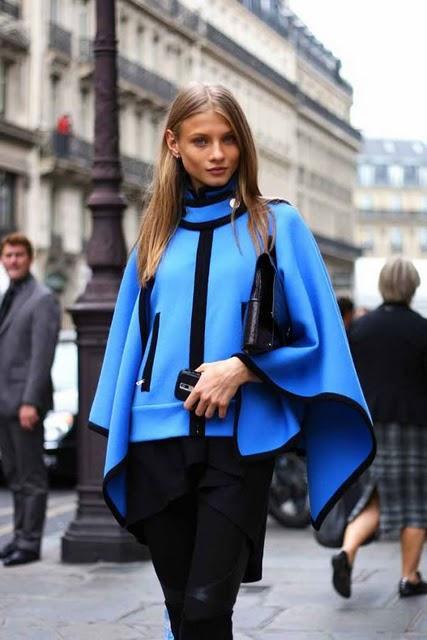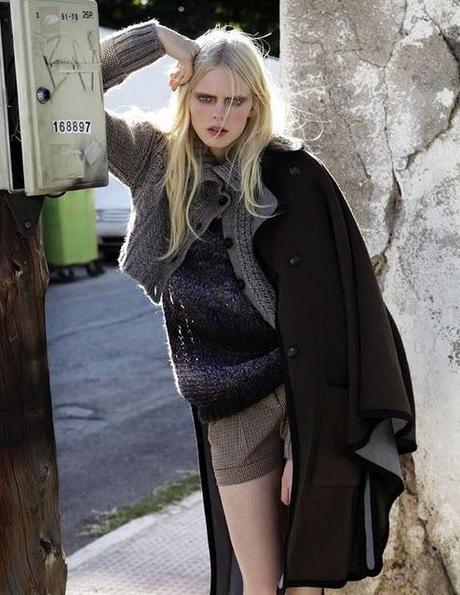 Todavía recuerdo mi infancia, con una capa gris marengo de lana, y con cuello negro, que teníamos mi hermana y yo, bueno, cada una la suya. Era un regalo que nos hizo alguien y que venía de Portugal, y nos pasamos años con ellas. ¡Me encantaba! quizás porque me sentía como un pájaro cuando giraba y giraba sobre mi con ella puesta, ¡era genial! Así que al enterarme de que iba a ser tendencia para el otoño-invierno 2010-2011, lo tuve claro: tenía que escribir sobre ellas, y obviamente añadir una a mi fondo de armario, y es aquí cuando empieza este post. /

I still remember my childhood, with a wool grey cape and black collar, that my sister and I had, well each one our own. It was a gift that someone did to us and that came from Portugal, and we spent years with them. I love it! Perhaps because I felt like a bird when I turned and turned around me wearing it, it was great! So when I knew that capes were going to be a trend for fall-winter 2010-2011, it was clear: I had to write about them and of course add it to my wardrobe, and hear it is when this post begins.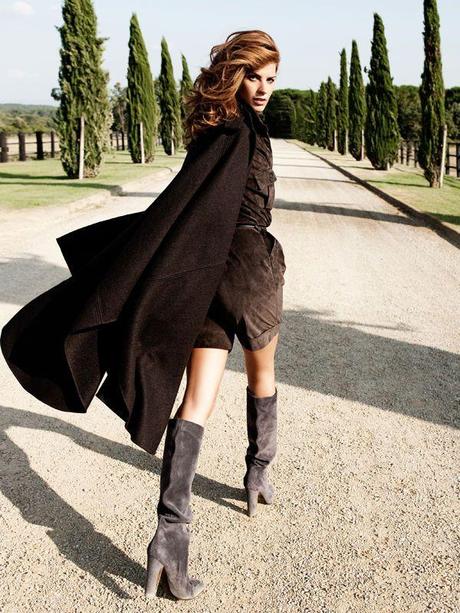 Llevo meses, de verdad que sí, buscando buenas fotos y leyendo sobre capas para poder hacer un buen post, y bueno era ahora o nunca, así que sólo espero que os guste. /
It took me month, truly is, searching for great images and reading about capes to be able to make a great post, and it was now or never, so I only hope you like the post.
Las capas ya dejaron buen sabor de boca en las pasarelas con las colecciones de otoño-invierno 2009 pero en esta temporada han vuelto con más fuerza. Son pocos los diseñadores que no han incluido alguna entre las piezas de sus colecciones, pero además se han visto a la saciedad en las street setters, y bloggers.  
/

Capes already left good taste on the catwalks of fall-winter 2009 but this season they have come back stronger. Few designers haven't included any among their collections, but also they have been seen on street setters and bloggers.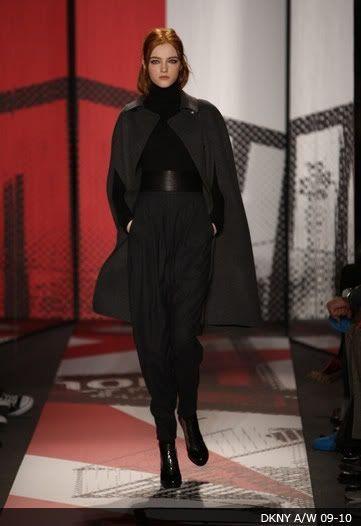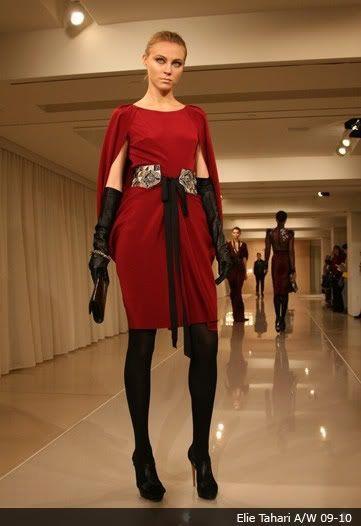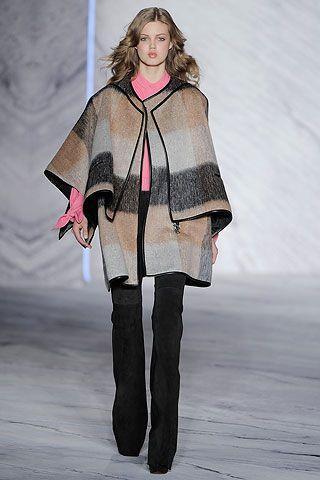 3.1. Philip Lim Atum/Winter 2010-2011.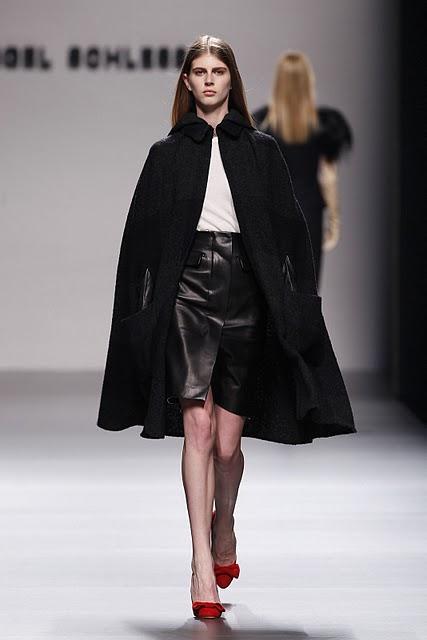 Angel Schlesser Atum/Winter 2010-2011.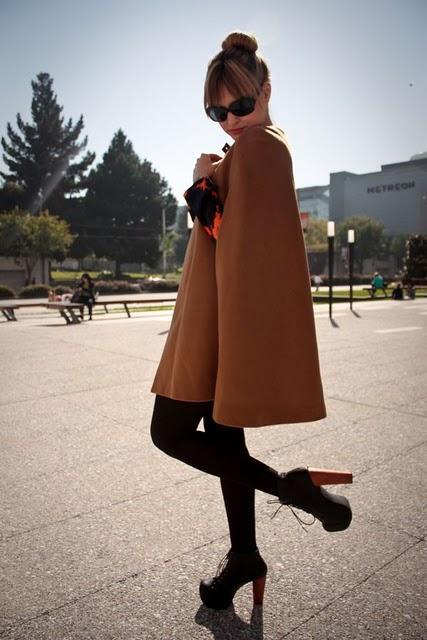 La capa en la historia. / Cape in history.
Si le pedimos a alguien ajeno al mundo de la moda que nos diga que le viene a la mente al mencionar la palabra capa, un 90% nos dirá que le recuerda a los superhéroes; Batman, Superman, etc. Pero las capas forman parte de nuestra historia. Fue en la Edad Media, cuando se hicieron más populares, eran unas especie de mantos largos con capucha. Han formado parte de uniformes militares, de prendas del clero, de varias unidades de la ley y el orden, e incluso han servido para protegerse de la lluvia y en las trincheras de algunas de las guerras del siglo XX.  
/

If we ask someone  outside the fashion world to tell us what come to his mind when we mention the word cape, the 90% will tell us that remind to superheroes; Batman, Superman, etc. But capes are part of our history. It was in the Middle Ages, when they become more popular, they were sort of long hooded robes. They have been part of the military uniforms, of clergy outfits, of some units of law and order, and even they have been use to get protect from rain, and in the trench of some of the 20th century.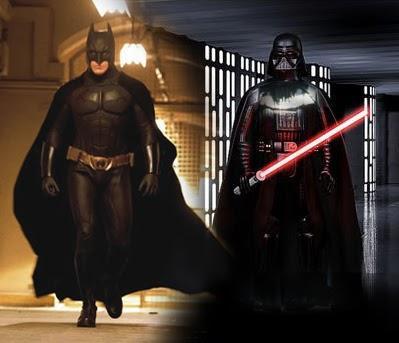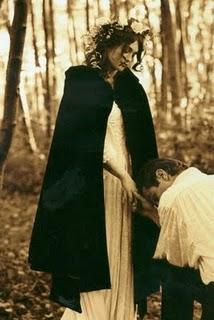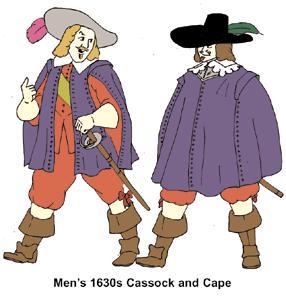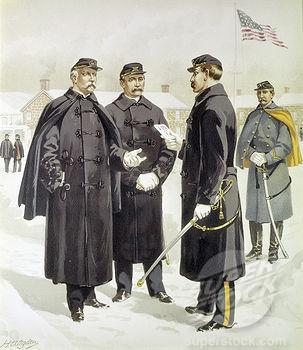 Pero en lo que se refiere al mundo de la moda, que al fin y al cabo es lo que más nos interesa. A finales del siglo XIX se convirtieron en prendas elegantes utilizadas por las señoras para vestir de noche. Estas prendas de noche se caracterizaban por ser de dos tamaños: tipo estolas, cortas para poner sobre los hombros o cintura, o largas que tapaban toda la vestimenta para protegerla. /

But when it comes to fashion, that after all is what we are interested.
In the late 19th century they become stylish clothes for ladies to wear at night. These evening wear were characterizing by two sizes: short over the shoulders or the waist; or long that cover the whole figure to protect the dress underneath.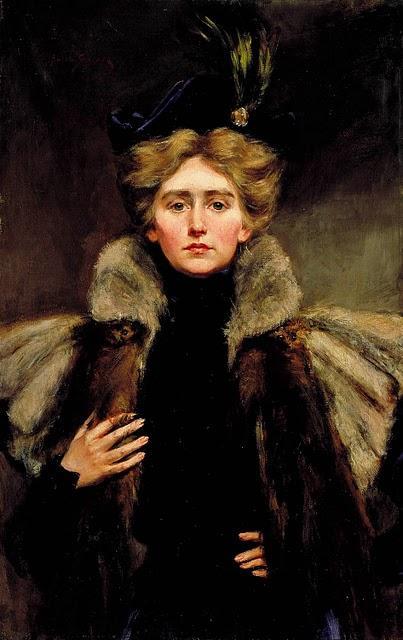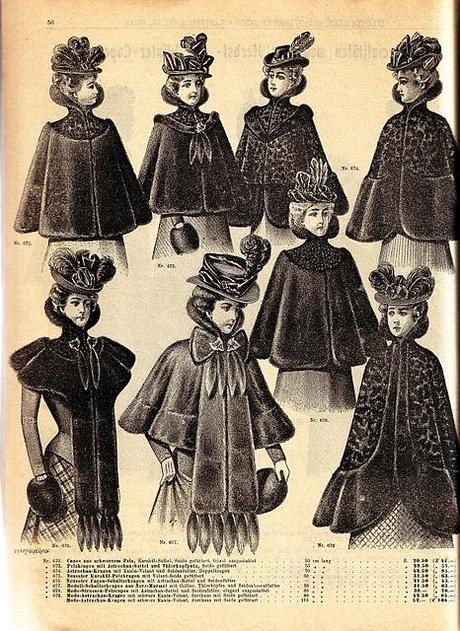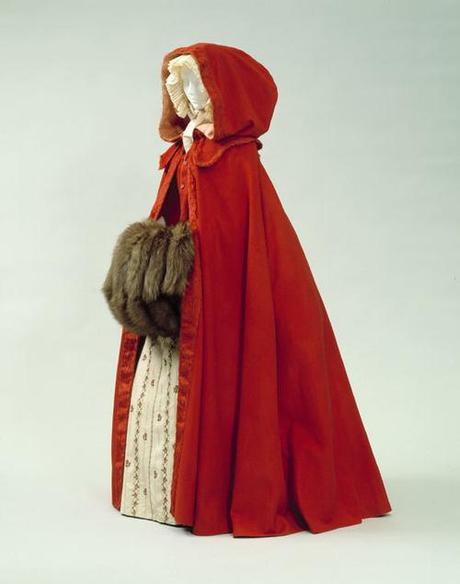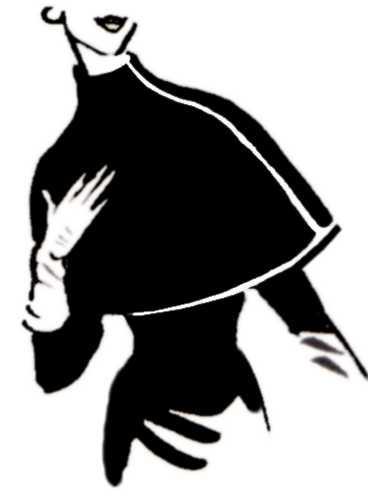 Descripción.  /
Description
La capa es una prenda de abrigo que se abre en la parte delantera, tapa los hombros y no tiene mangas. Esta prenda dota un aire elegante a cualquier look. Esta temporada, predomina la clásica años 70 pero han aparecido otros diseños que van desde la trenca, al estilo militar, pasando a los ponchos estilo hippie.  El truco para llevarlas: que sea siempre tamaño XXL y para que te abriguen, mejor de lana. /

The cape is a outwear piece that opens in the front, covers the shoulders and has no sleeves.
This piece proves a elegant touch to any look. This season, dominate the classic 70's style but other designs have emerged from the knit, to military style going to a poncho remind us to hippy style. The trick to wear them: it has to be oversize and warm, so better if they are from wool.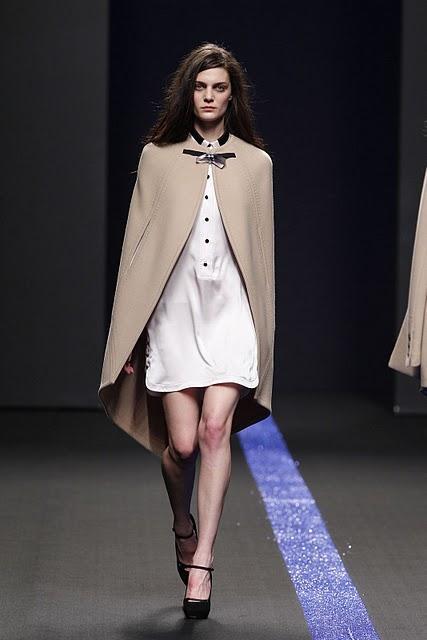 Miguel Palacio Atum/ Winter 2010-2011.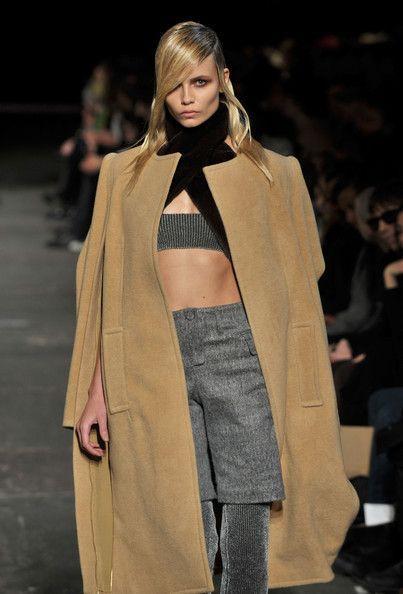 Alexander Wang atum-winter 2010-2011.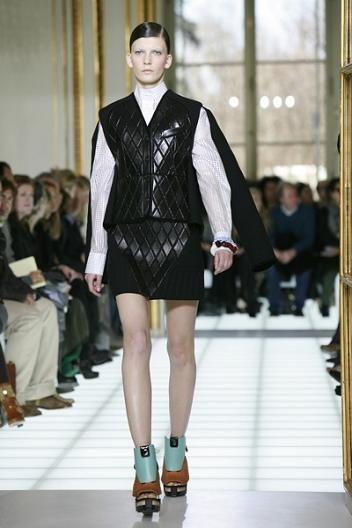 Balenciaga atum-winter 2010-2011.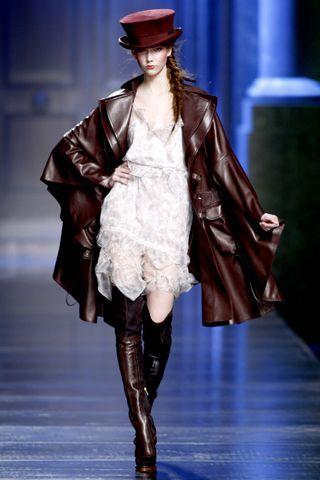 Dior atum-winter 2010-2011.
¿Como me la pongo? / How should I wear it?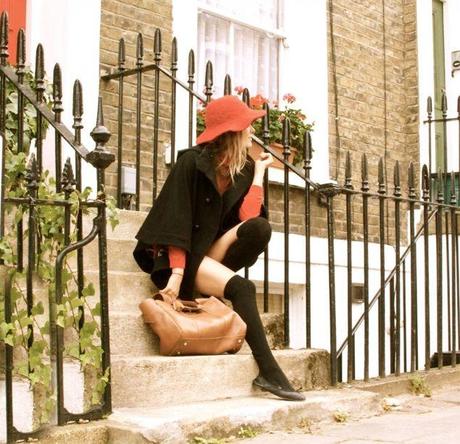 1. Con un look elegante. / With an elegant look.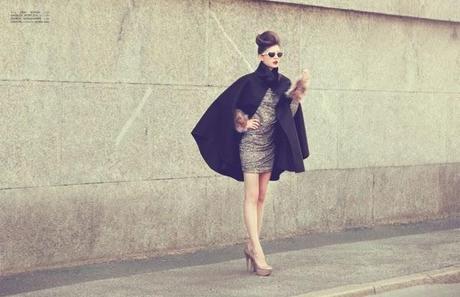 No hay tejido más elegante que la piel, la seda o el terciopelo, busca una capa de este tipo para combinar con un vestido de fiesta. ¡Irás divina! /

There is no more elegant fabric than fur, silk or velvet, get a cape of this fabric and wear it with a party, wedding or any elegant look. You will look gorgeous!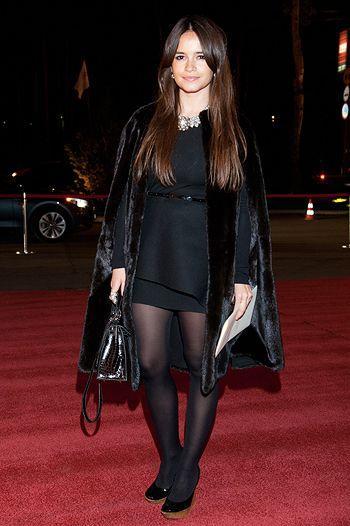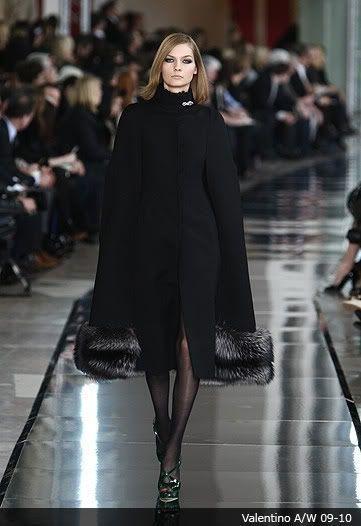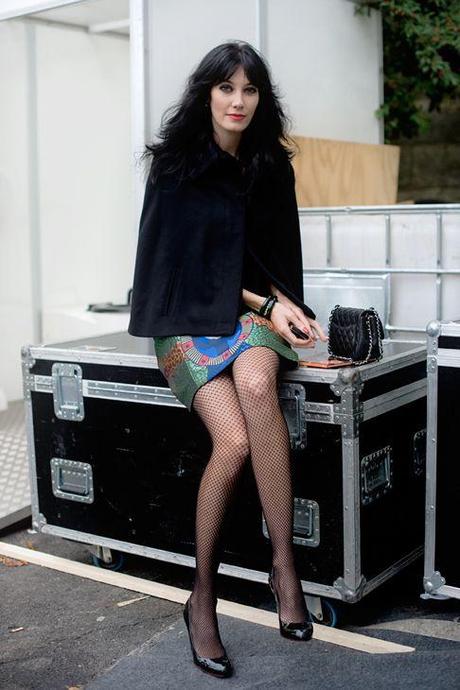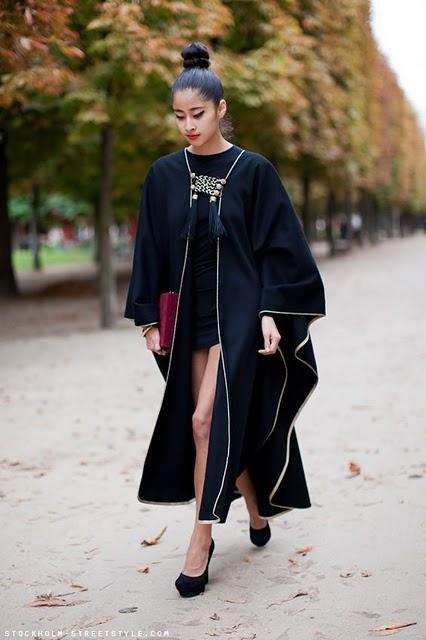 2. Para trabajar. / To go to work.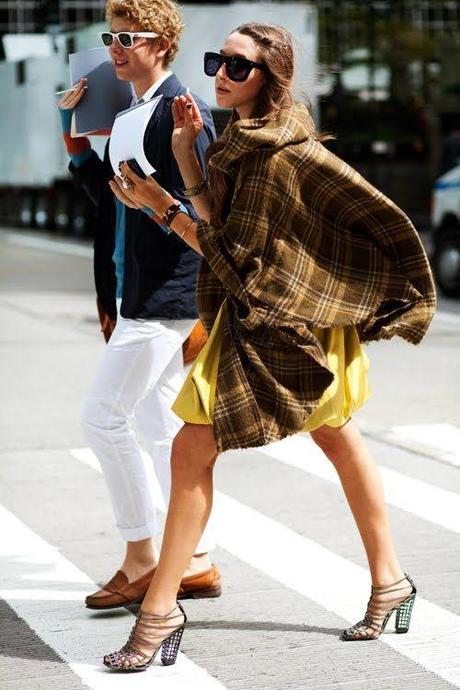 ¿Por qué no? Irás divina, y muy apropiada. /

Why not? You will look divine and so properly.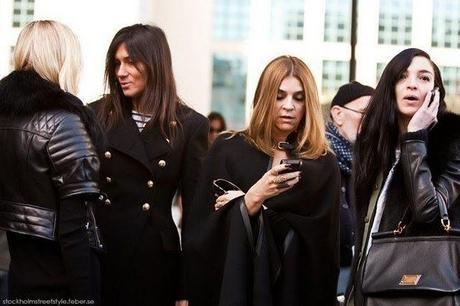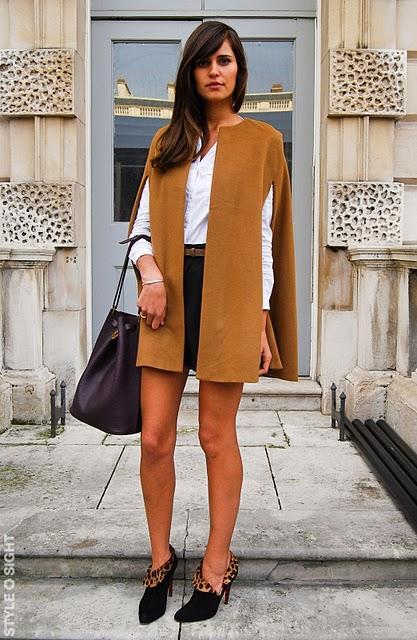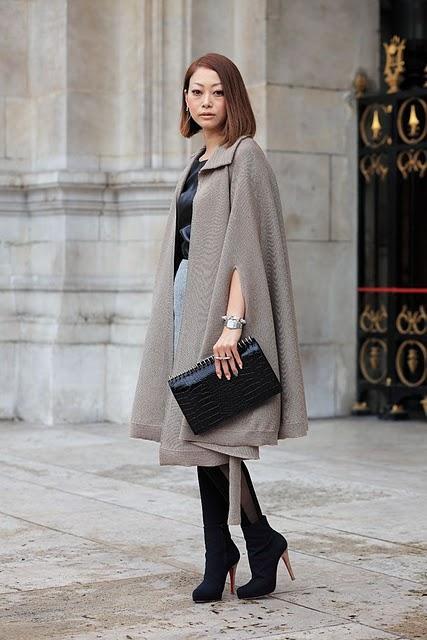 3. Con un look casual. / With a casual look.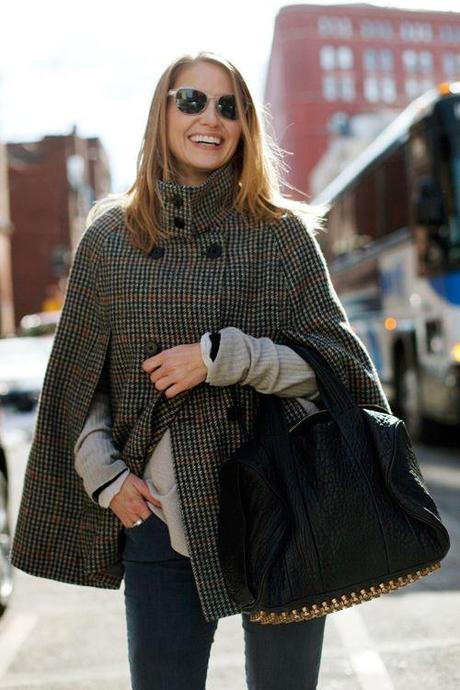 La capa le dará un pequeño toque de elegancia a ese look casual que tanto te gusta. Además, es genial para esos días de… ¡uf! hoy que  no me apetece arreglarme, o ¿qué me pongo con estos vaqueros? te hechas la capa por encima y listo. /

The cape will give a elegant touch to that casual look you like so much. Plus is great for those days… ugh! I don't feel like dressing up or what I wear with these jeans? Place the cape above and you are ready.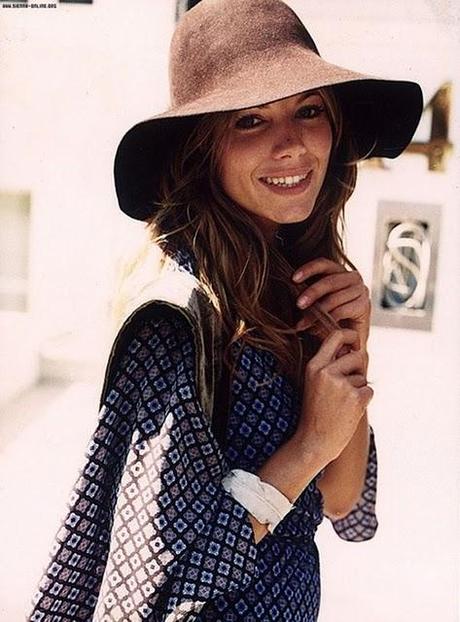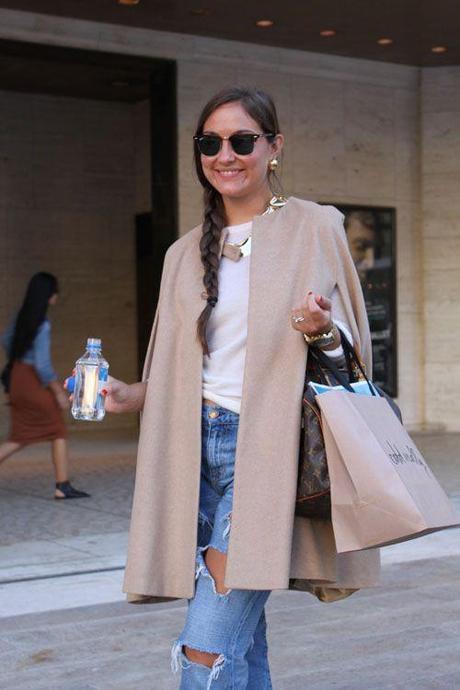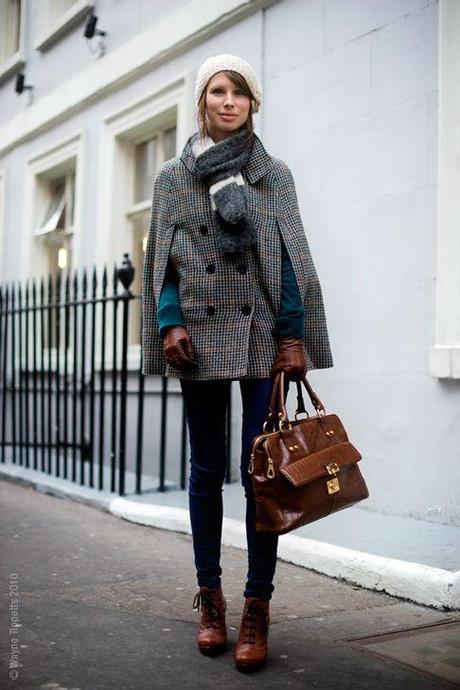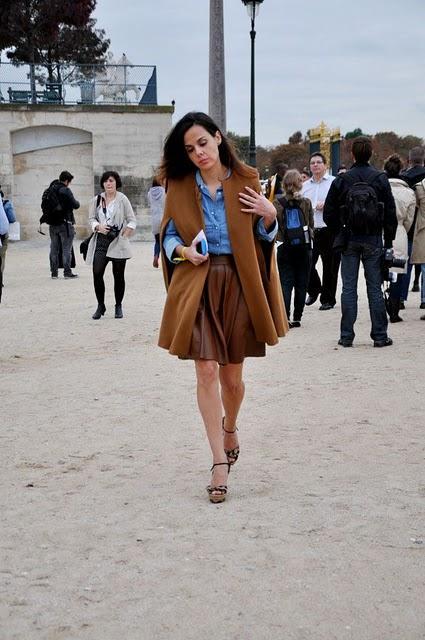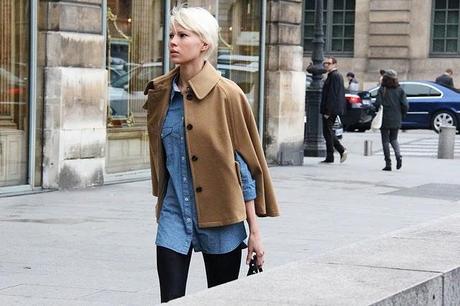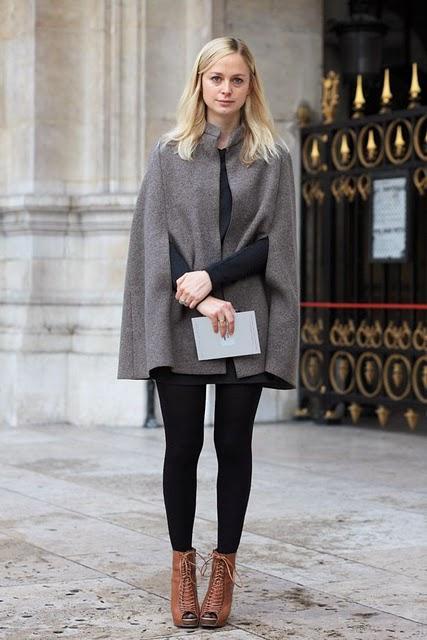 4. Dale un aire
estrafalario
/ Give a quirky touch.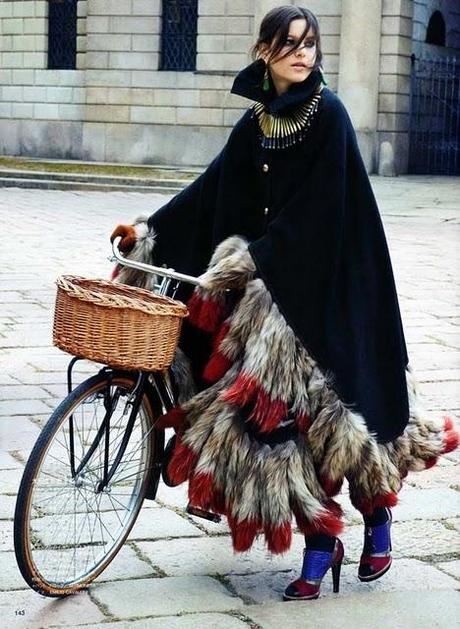 A veces es divertido jugar con la moda. Así que si eres atrevida, anímate y pásatelo bien. Eso si: no apto para aquellas a quien le gusta pasar desapercibida. /

Sometimes is fun to play with fashion.

So if you are bold, go ahead and have some fun. Be aware: not suitable for those who like to be unnoticed.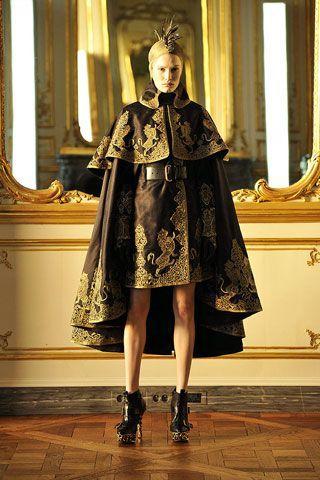 Alexander McQueen A/W 2010-2011.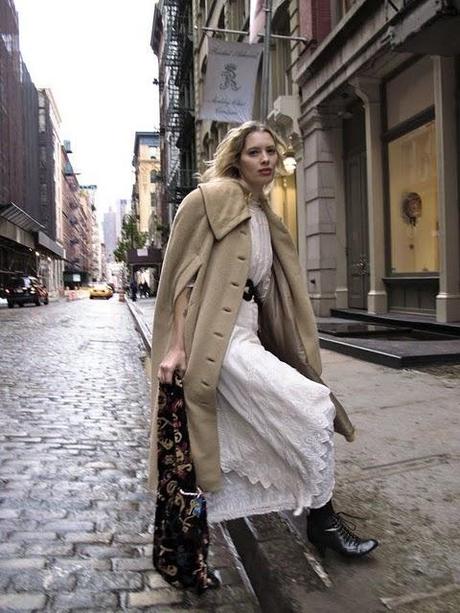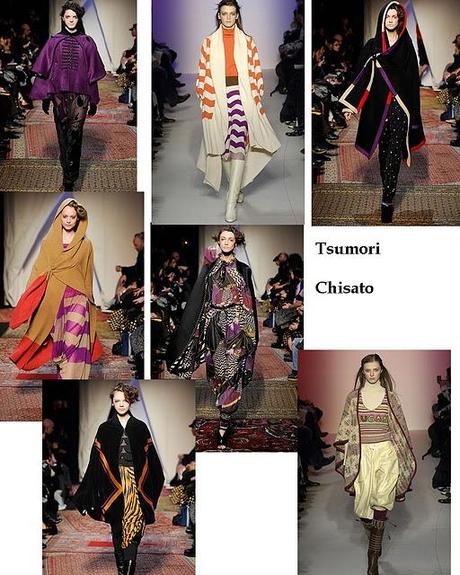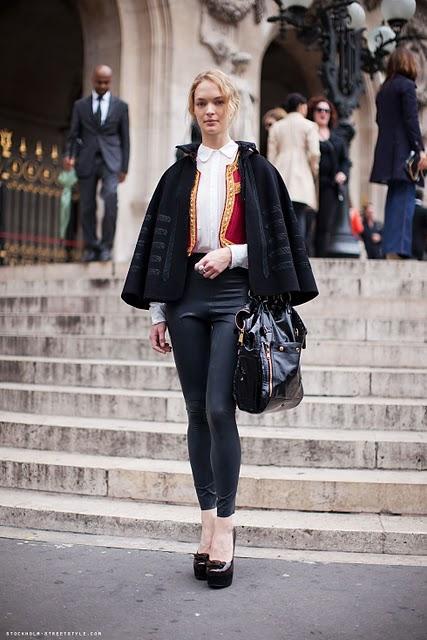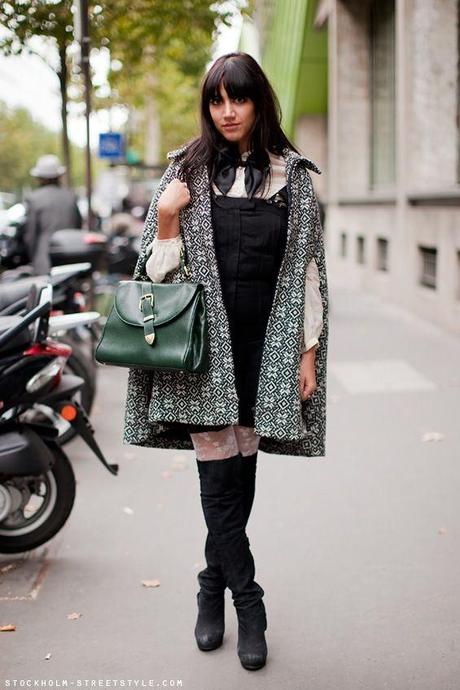 5. Póntela con un blazer. / Wear it with a blazer underneath.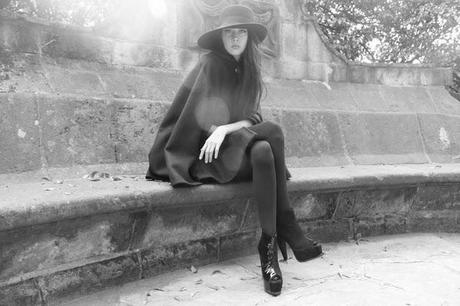 En pleno invierno llevar un blazer es casi imposible porque nos congelamos, pero ¿y si le ponemos una capa encima? Esto te permitirá, por un lado, quedarte con el  blazer en el lugar al que vayas, y por otro, protegerás los brazos que quedan descubiertos cuando llevamos una capa. /

In Winter wearing a blazer is almost impossible, because we freeze, but what if we wear a cape on top? This will let you, on one hand, stay with the blazer at the place you go, and on the other hand, you will protect your arms that get discovered when we wear a cape.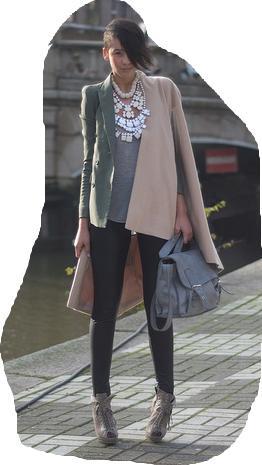 6. Con botas. / With boots.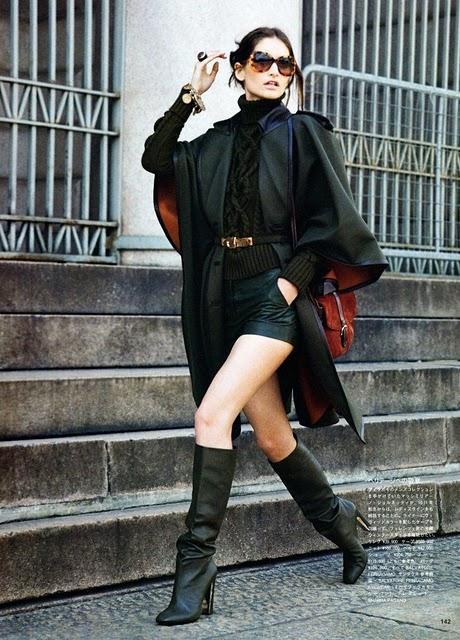 Para quitarle seriedad, póntela con botas.
¡Quedará de lo más chic! /

To rest seriously, wear it with boots. They will look so chic!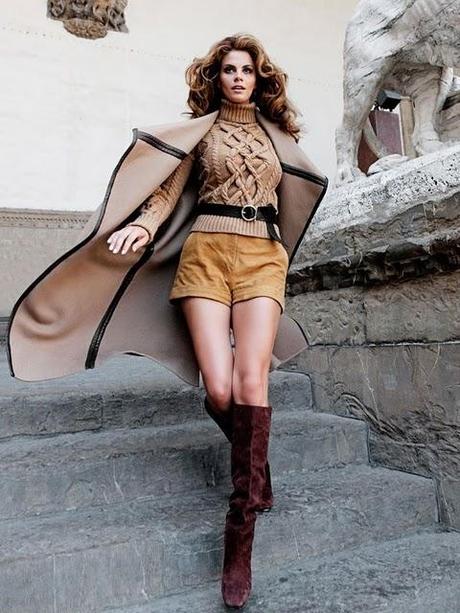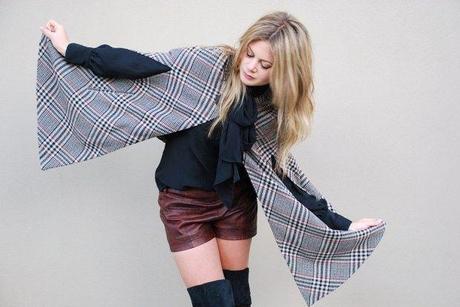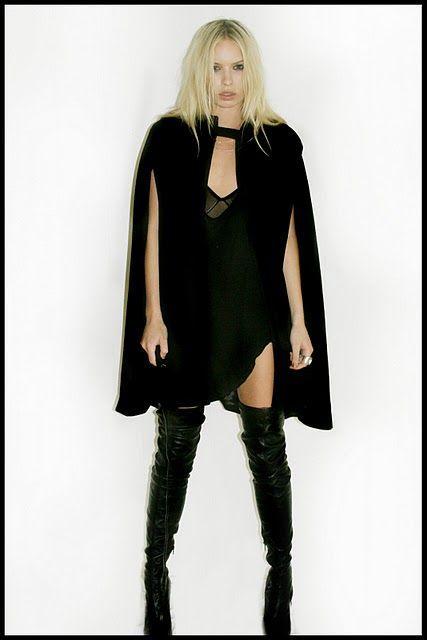 7. Pasa del abrigo camel, mejor que sea capa. / Forget about camel coat, better a cape.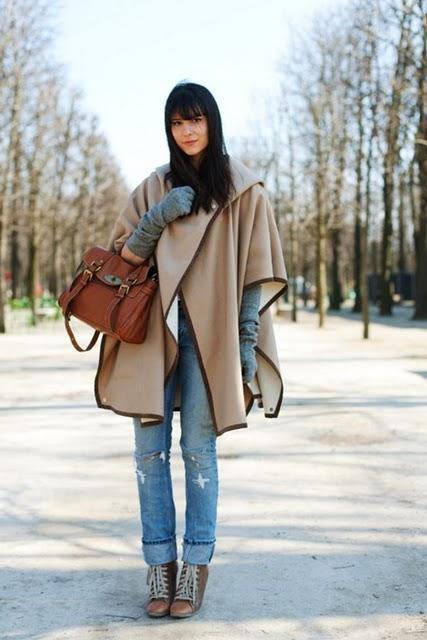 Este invierno todo el mundo lleva un abrigo camel, bueno todos, menos algunas, que no hemos sucumbido a la tendencia.  Sino quieres ir como las demás pero te gusta este tono, pasa del abrigo camel y opta por una capa en este tono. Irás
a la moda y trendy pero evitarás ir como las demás. /

This winter everyone wears a camel coat, well not all because few of us haven't got into the trend. If you don't want to dress like the rest but like this
color, forget camel coat and chose better a cape. You will go trendy but won't dress as everyone.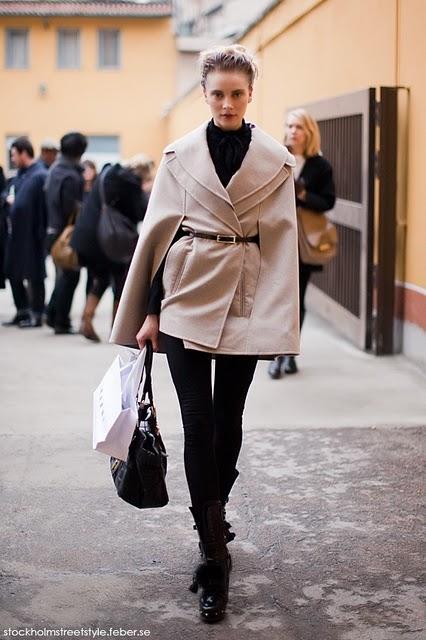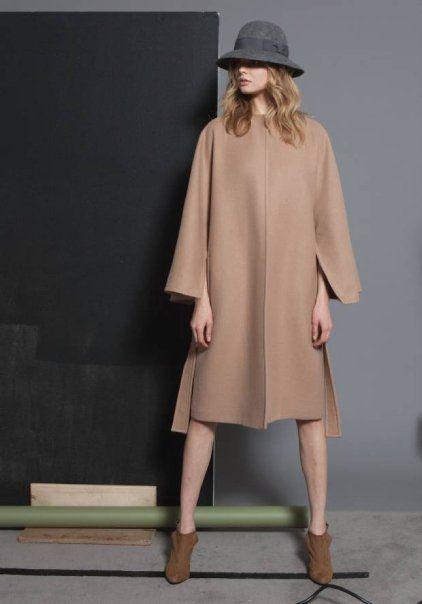 Capa de Stella Mccartney. / Stella Mccartney cape.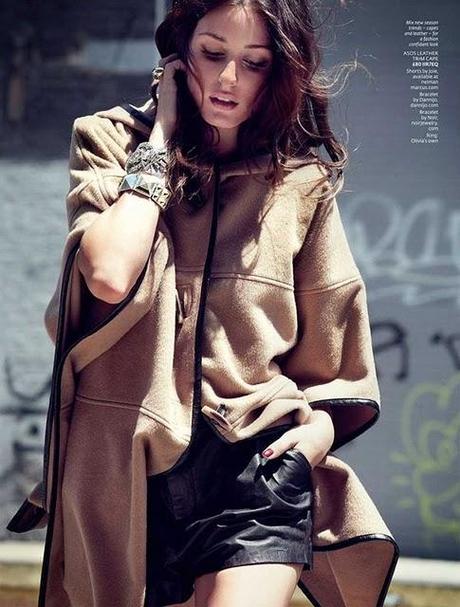 Asos.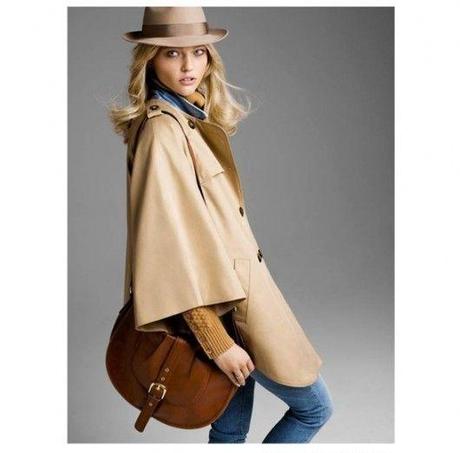 Burberry.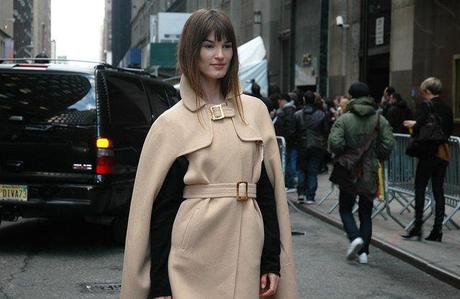 Otras optiones. / Other options. 
1. Pasa de la capa y quédate con el poncho. / Forget about capes and go for a poncho.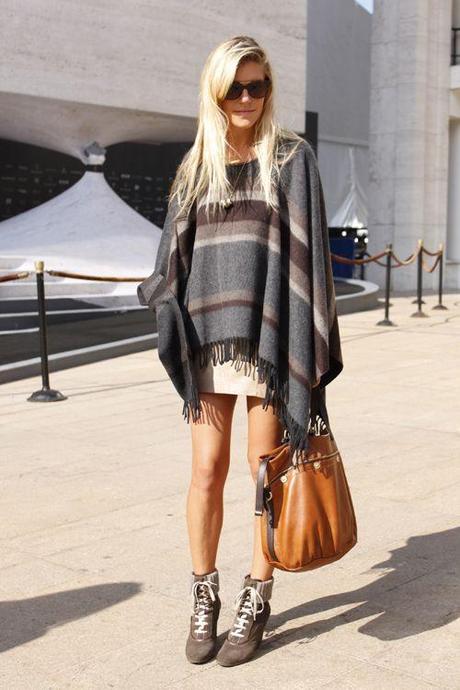 El poncho es una pieza entera de tela, cerrada y con un agujero en la cabeza para ponértela. Una de las pocas marcas que han incluido el poncho en su colección ha sido Zara, pero tomad nota porque cada vez se están viendo más. /  

The poncho is made of a whole piece of fabric, close with a hole for one's head to wear it.
One of the few brands that have included the poncho in the Collection is Zara, but take note because they are seen everyday more. 
2

. La estola, una opción más corta. / A
stole, a more short option.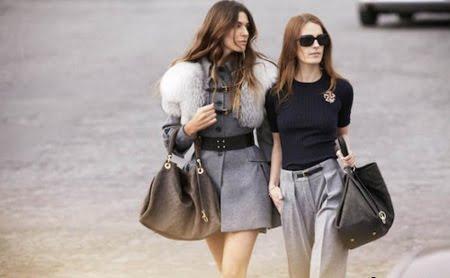 Una estola es un pequeño trozo de tela alrededor de los hombros, generalmente confeccionada con piel, seda o brocados. Su uso suele ser para la noche o para ir muy arreglada. Además, es una pieza ideal para tener de fondo de armario, así que aprovecha las rebajas y hazte con una. /

A stole is usually loosely-worn or wrapped around the shoulders, usually made of fur, silk or brocade. It's been use for evening wear or to dress up a lot. Plus, is a great piece to have on your wardrobe, so take advantage of the sales period and get one.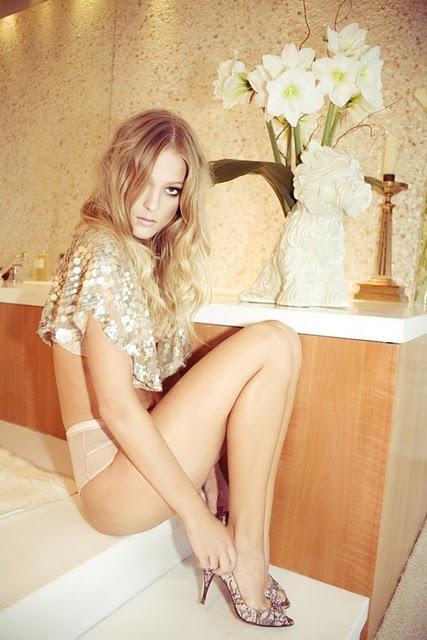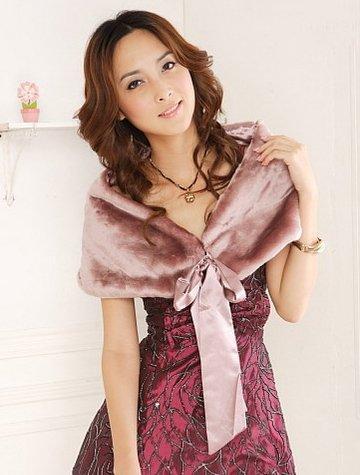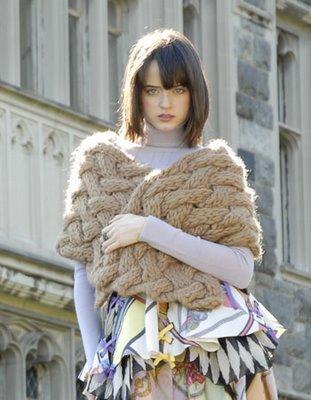 Beatriz de Necklace of Pearls, saco hace unos días un post con una de ellas. Ese post ha sido mi inspiración para hablar de las estolas. Aquí que os dejo el link por si quereís pasaros a verlo. /

Beatriz from Necklace of Pearls, got a few days ago, a look with one of them. That post has been my inspiration to talk about stoles.

Hear you got the link

if you want to visit it.
3. Pónte el abrigo o chaqueta como si fuera una capa. / Wear your coat or jacket as a cape.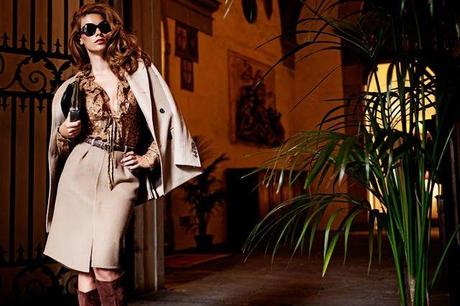 Esta forma de llevar la prenda de abrigo se ha puesto muy de moda, y ha sido muy fotografiada. ¡Es una simple idea de ponerte tus prendas de abrigo de otra forma! /

This way to wear a outwear clothing is so fashionable and has been capture by many trend catchers. It's and easy idea to wear your outwear clothing in other way!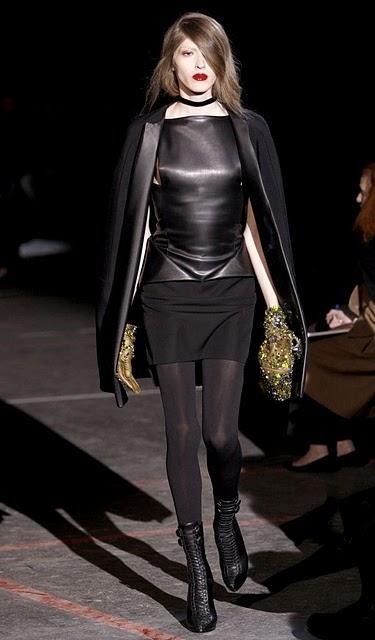 Givenchy A/W 2011

.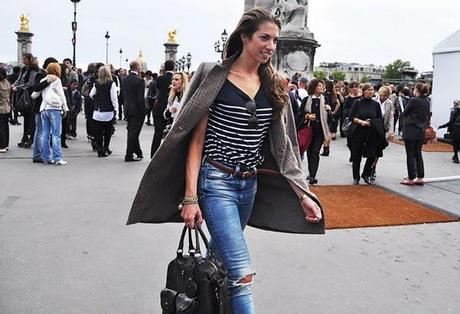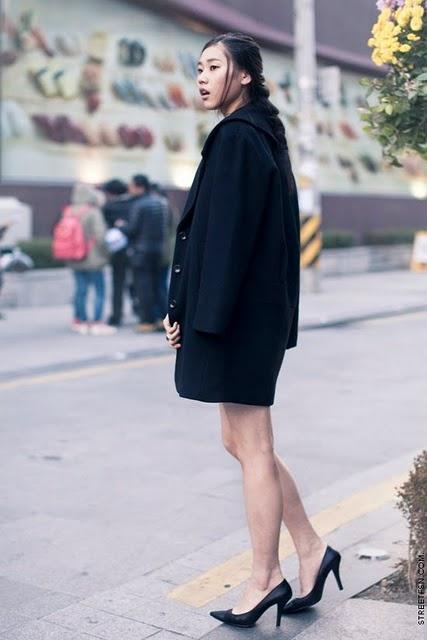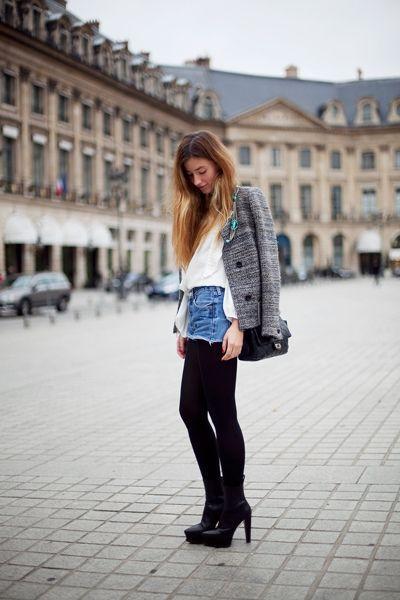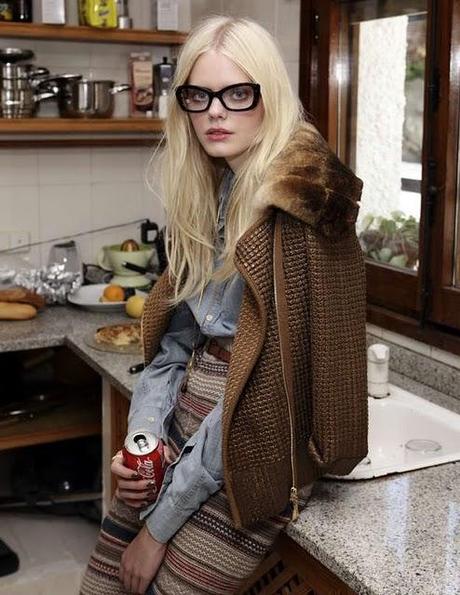 ¿Dónde la encuentro? / Where can I find one?
A continuación os dejo algunas de las que me han gustado esta temporada, reseñando las tiendas para que sepáis donde encontrarlas. Aunque la reina, sin ninguna duda, es la blanca y negra de de Louis Vuitton Pre-otoño 2010. /

Following I leave you some of my favourite ones of this season and where to find them. Even the best of all, with out no dude, is the Louis Vuitton Pre-fall 2010 black and one model.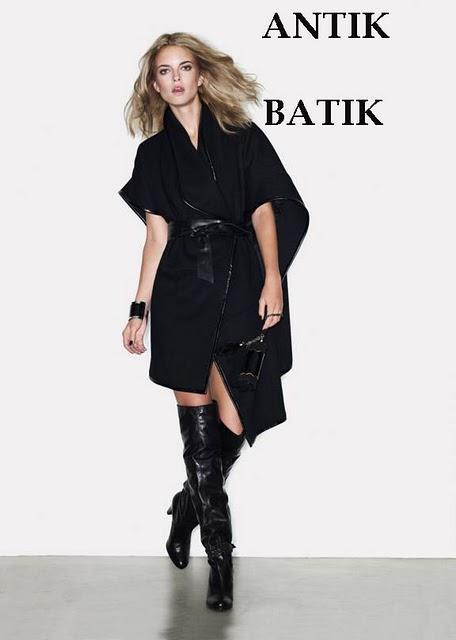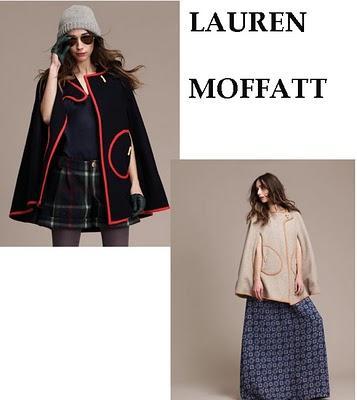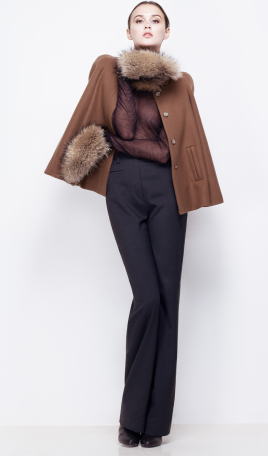 MAJE.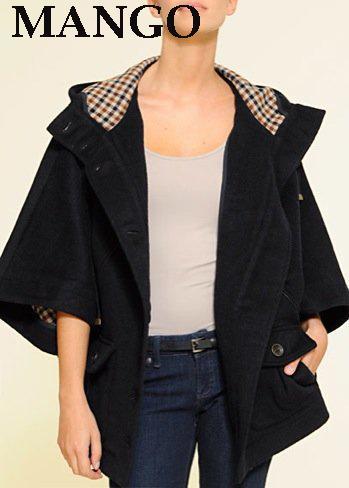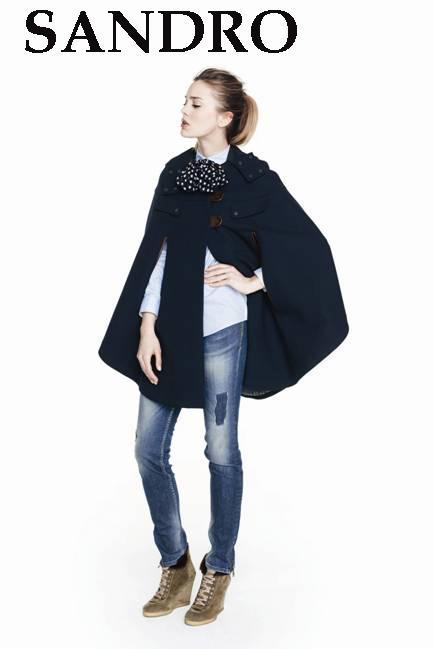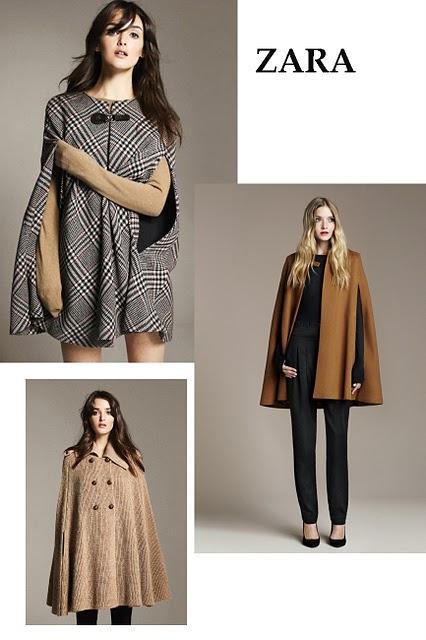 Ellas también las llevan. / They also wear them.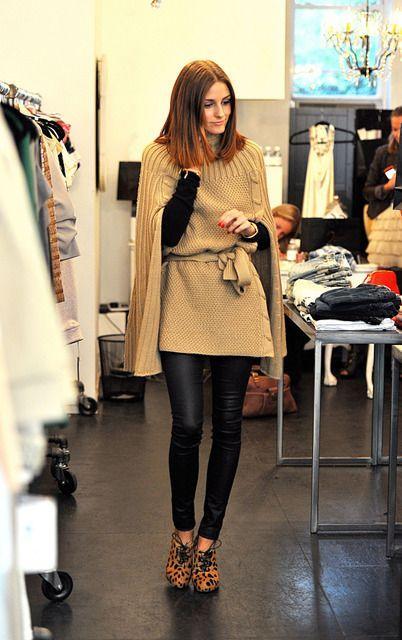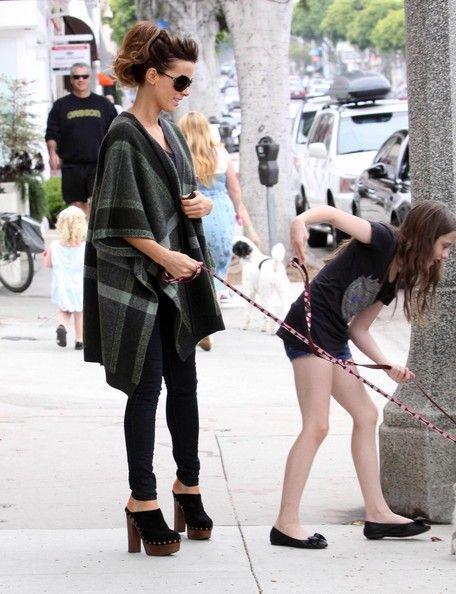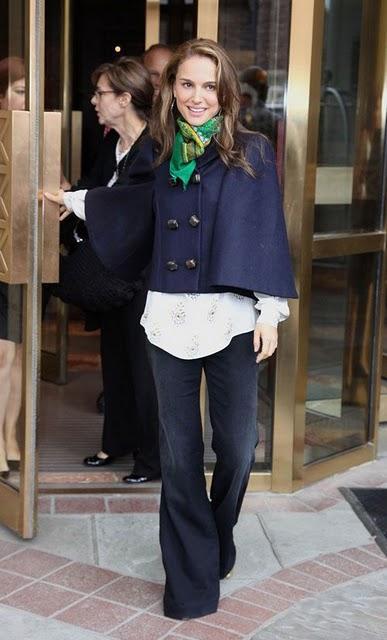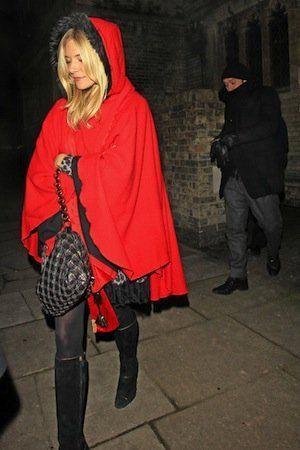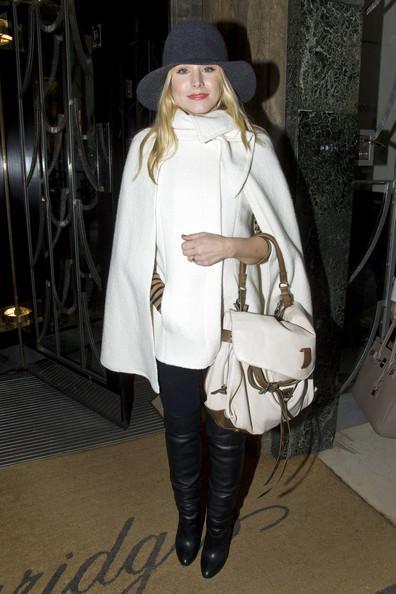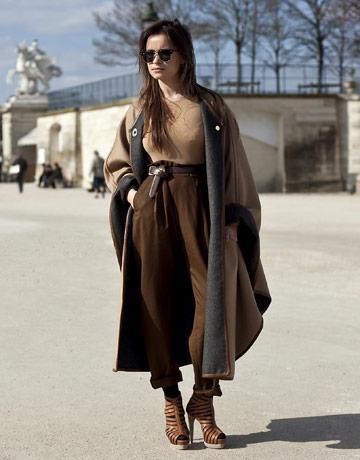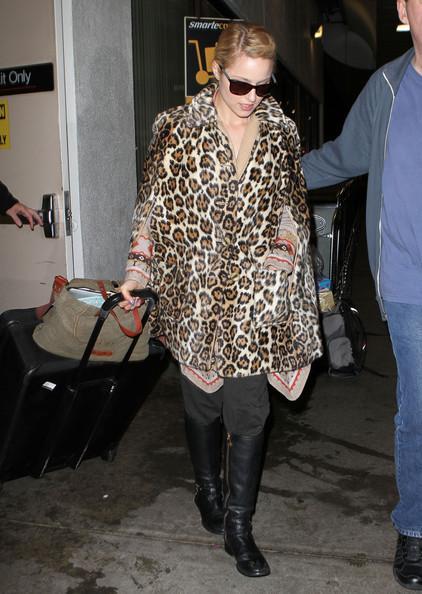 Street styles.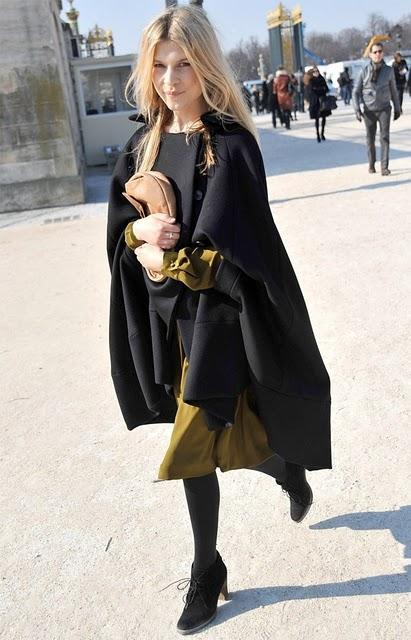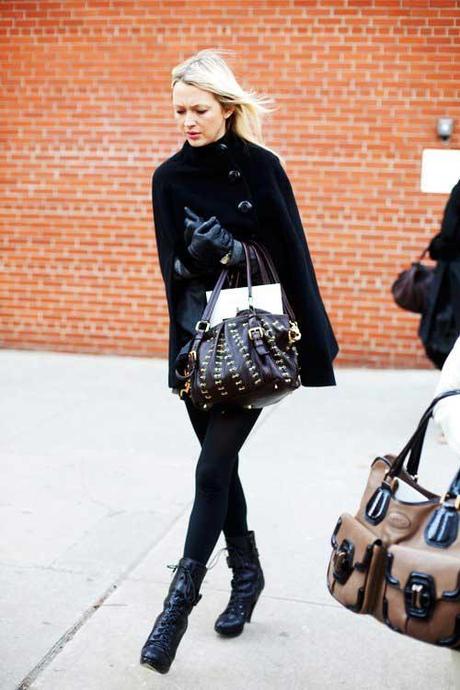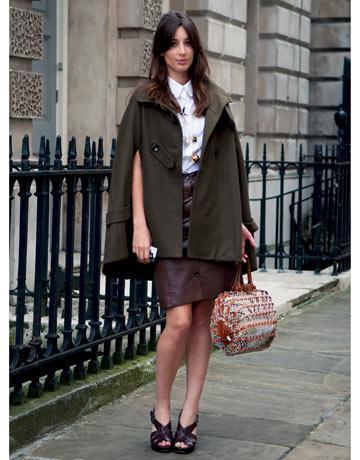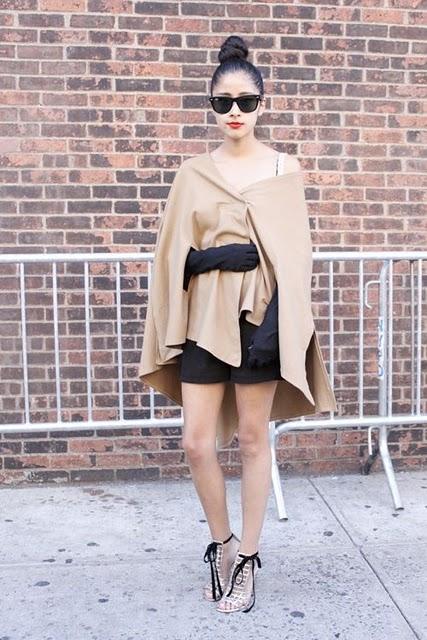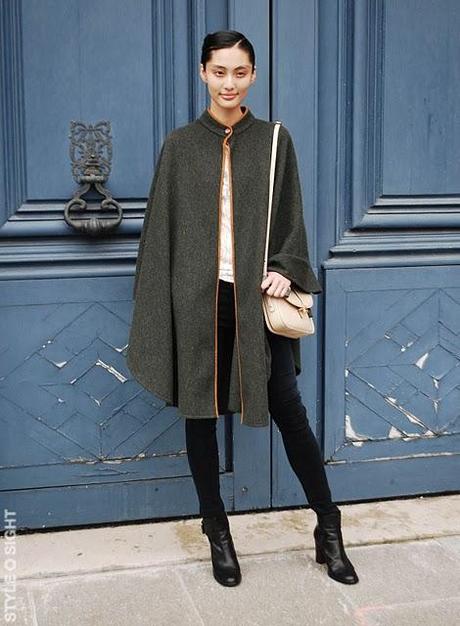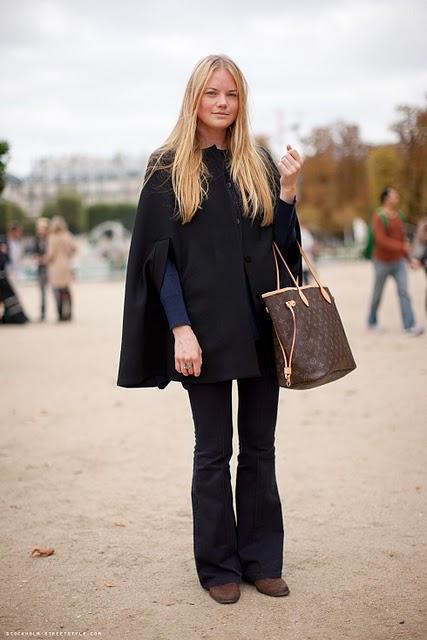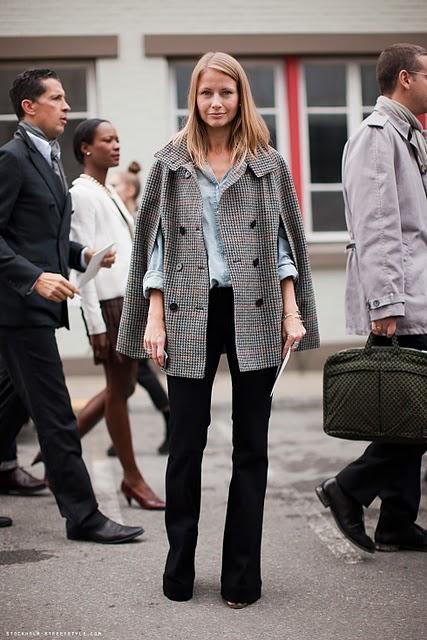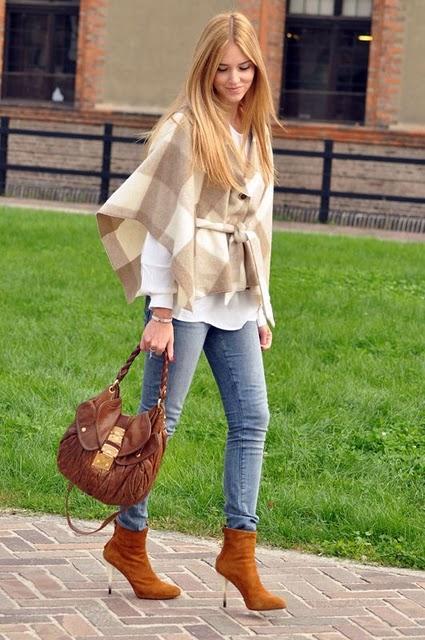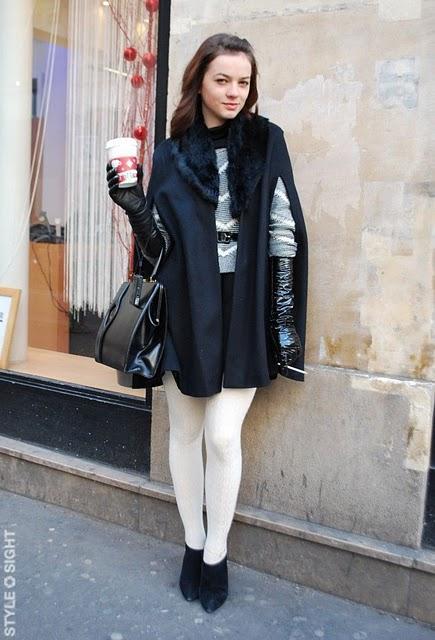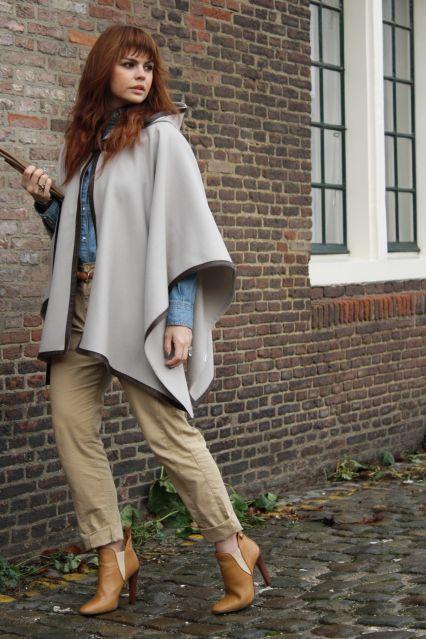 ¿Y vosotras? ¿os gustán las capas?, ¿teneís ya la vuestra o estaís esperando a las rebajas? /

So what about you? do yoy like capes?, do you got already one or are you waiting to get it on sale?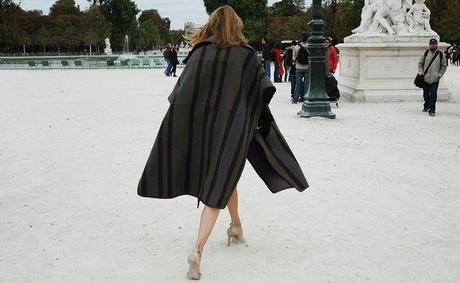 Sources: Stockholm Street Style, Vanessa Jackman, Zimbio, Style.com, Fashioning, Asos, Elle, Facehunter, Eurowoman mag, Jack and Jill, Late Afternoon, Klover Mode, The Sartorialist, Vogue, Fashion Zen, The Blonde Salad, Chicmuse, Stylesights, Street Style Free, All the pretty birds , Trendy Crew, and Altamira models of Dutty.