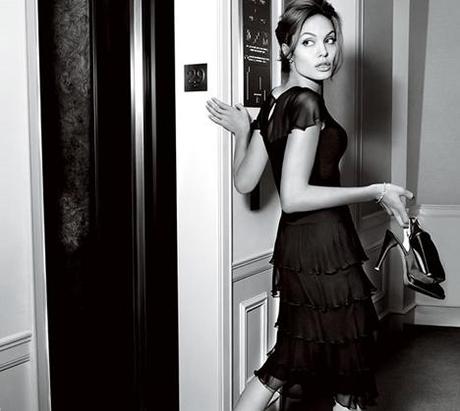 Es el reflejo de la sensualidad, de la aventura, de riesgo, de la solidaridad, y de la locura. Por eso este post, porque es pura inspiración; si me preguntaran que quien me gustaría ser o por quién me gustaría cambiarme, no tengo ninguna duda: sería Angelina Jolie.
/ It's the reflect of sensuality, adventure, risk, solidarity, and madness. That's the reason of this post, she is pure inspiration; if they ask me who I would like to be or to who I would change I have no dude: Angelina Jolie.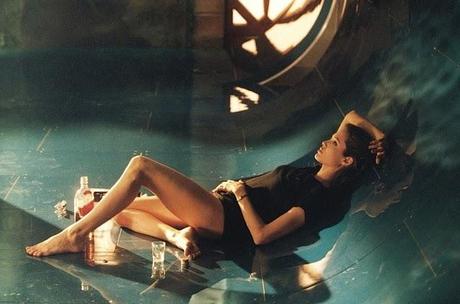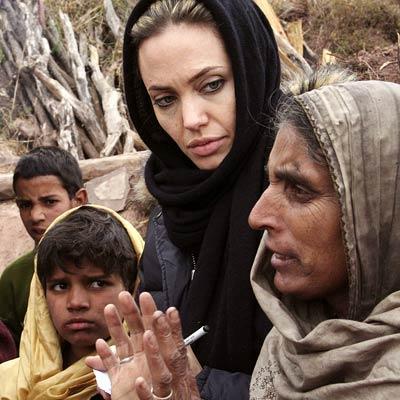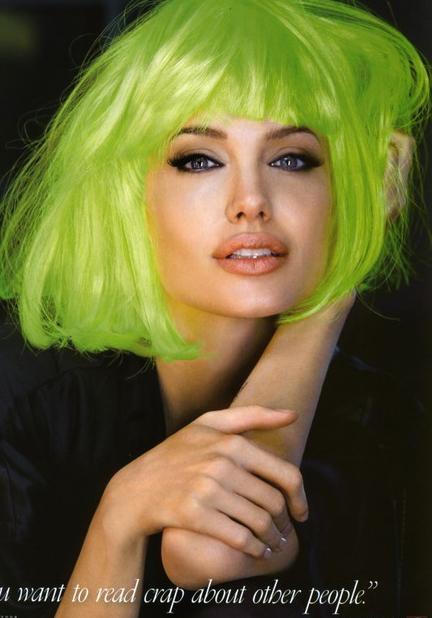 Pero, ¿qué sabemos de Angelina Jolie en realidad? / But what we really know about Angelina Jolie?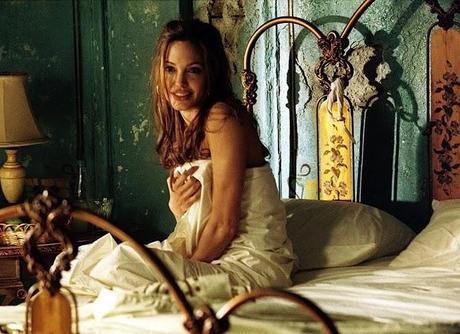 Biografía / Biography. 
Angelina Jolie Voight nació el 4 de Junio de 1975 en Los Angeles, California. Hija del actor Jon Voight y de Marcheline Bertrand.

/ Angelina Jolie Voight was born June 4 th 1975 in Los Angeles, California. She is the daughter of actor Jon Voight and Marcheline Bertrand.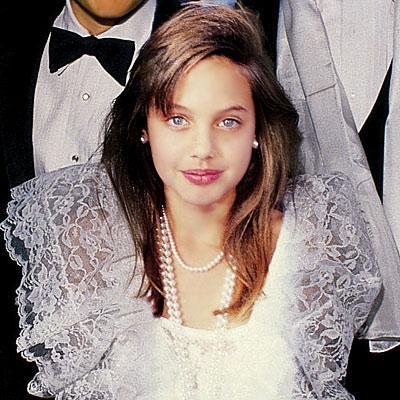 A los 11 años empezó a estudiar en el Instituto de Teatro Lee Strasberg; donde también lo hizo su madre. A los 16 años empezó su carrera como modelo y apareció en varios videos musicales de artistas como Meat Loaf, Lenny Kravitz, The Lemonheads... Posteriormente, estudio algunas asignaturas de Cine en la Universidad de Nueva York.

/ At the age of 11, Angelina began studying at the Lee Strasberg Theatre School; her mother also had studied there too. At the age of 16 she took up a carrier in modeling and appeared in a few music videos from artist such as Meat Loaf, Lenny Kravitz, The Lemonheads... Lately, she undertook some film studies at New York University.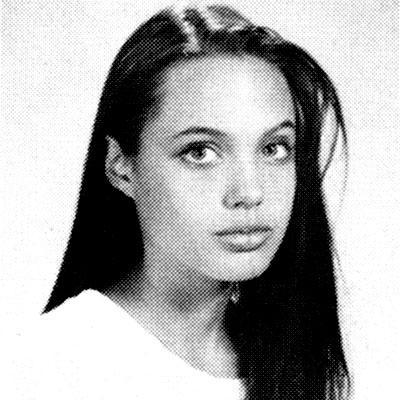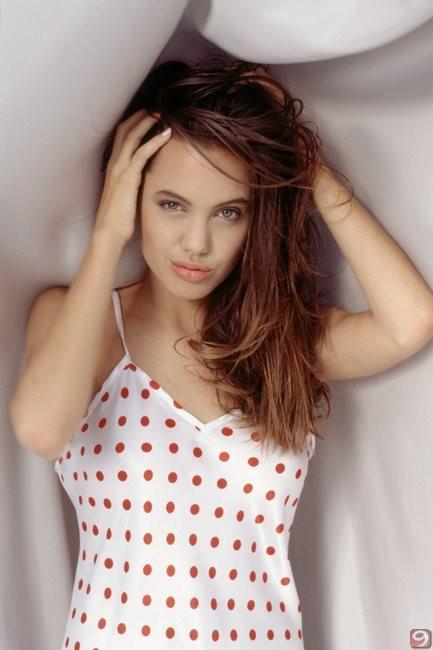 En los 90 ya empezó a trabajar en algunas películas como Hackers, Gia, El coleccionista de huesos, Inocencia Interrumpida. Pero fue rodando Hackers cuando conoció a su primer marido Jonny Lee Miller, la boda entre ambos en 1995 fue una de las primeras controversias de la actriz; ambos se casaron con pantalones y camisetas blancas, en la parte traerá de las camisetas aparecía el nombre de cada uno pintado con su propia sangre. El matrimonio duró 3 años.
/ In the 1990s she work in a few films such Hackers, Gia, The Bone Collection, Girl Interrupted. But was filming Hackers when she met her first husband Jonny Lee Miller, the wedding in 1995 was the first controversial: both got marriage wearing pants and a white t-shirt, on the back of the t-shirt they displayed the name of each other write with their own blood. Marriage long 3 years.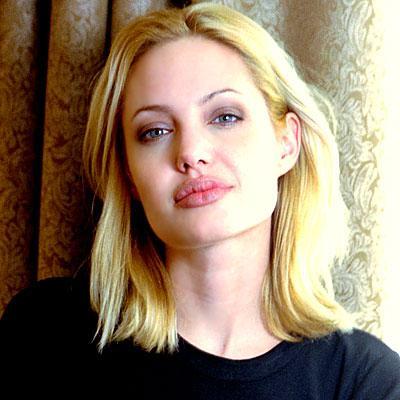 Con Jonny Lee Miller / With Jonny Lee Miller.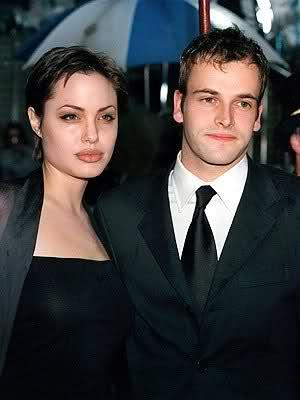 En el 2000 se casó con Billy Bob Thornton, el actor era 20 años mayor que ella. La boda también tuvo su historia: durante la ceremonia cada uno llevaba un vial de sangre del otro alrededor del cuello. El matrimonio terminó en 2002 con muchos problemas entre ambos.
/ In 2000 she marriage the 20 years older actor Billy Bob Thornton. The wedding also got their story: during the marriage each one wore a vial of the other blood around their necks. The marriage come apart in 2002 in a bad way.
En el 2000 le ofrecieron el papel de Lara Croft, al principio no estaba convencida pero la preparación física que era necesaria para hacer el personaje le resultó tan interesante que no pudo decir que no. Y en el fondo Tom Raider cambió su vida. Primero porque fue el papel que la hizo popular, y segundo porque cuando estaban rodando en Camboya Jolie empezó a fijarse en la cultura, la belleza pero sobre todo en la pobreza del país, y es aquí cuando surgió su parte humanitaria, que sigue con ella en la actualidad y que a día de hoy es Embajadora de las Naciones Unidas.
/ In 2000 Angelina was asked to do the role of Lara Croft, at first she wasn't interesting but after seen the required training was intriguing. And at the end Tom Raider cahnge her life. First because it was the role that make her popular, and second when they were shooting at Cambodia, Jolie started to notice the beauty, culture and most ofit the poverty of the country, and her started her humanitarian side, that still has, today she is the Ambassor for the UN Refugee Agency.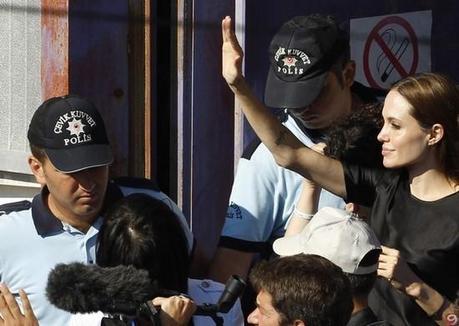 A partir de entonces dedica un tercio de su salario a la caridad. En 2002 adoptó a Maddox, un niño camboyando refugiado y en 2005 a Zahara una niña refugiada de Etiopia. En 2005 empezó su famosa relación con Brad Pitt. En Mayo de 2006 nació Shiloh Nouvel Jolie-Pitt, un año después adoptaron un niño vitnamita llamado Pax. En 2008 nacieron los mellizos Knox Leon y Vivienne Marcheline.

/ Since then she devoted one third to her income to charity. In 2002 she adopted Maddox a Cambodian refugee boy and in 2005 was Zahara a Ethiopian refugee girl. In 2005 she started her popular relationship with Brad Pitt. In May 2006 was born Shiloh Nouvel Jolie-Pitt, a year later they adopt Pax, a Vietnamese boy. In 2008 the twins were born Knowx Leon and Vivienne Marcheline.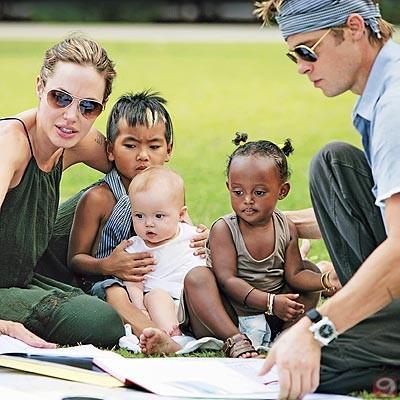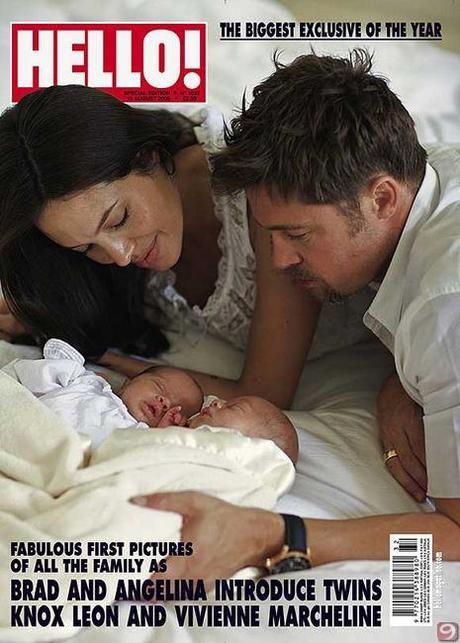 Esta considerada una de las mujeres más sexys, y sigue trabajando como modelo para ciertas campañas de moda. Además ha sido portada de las mejores revistas del mundo, ¿qué más se puede decir de ella?
/ She has been consider one of the sexiest woman, she still working as a model for fashion campaings. Plus she has been on the cover of the best magazines of the world, what else can we say about her?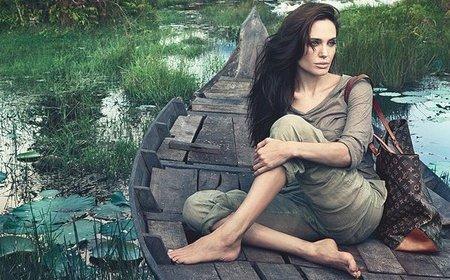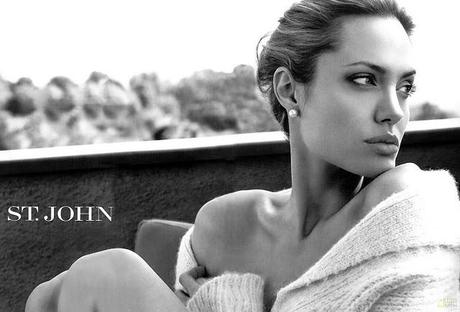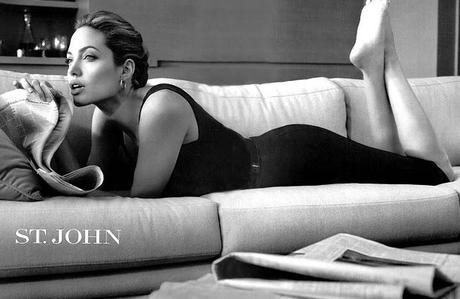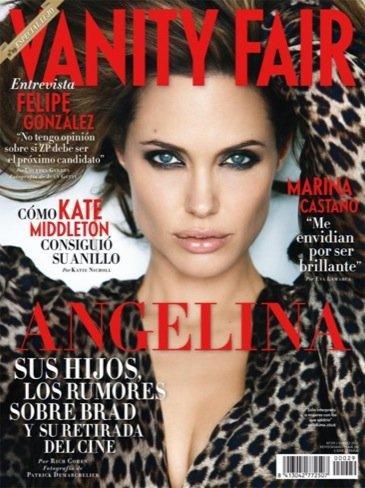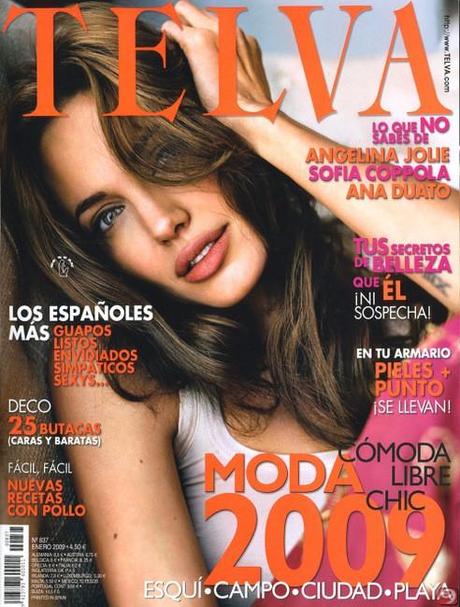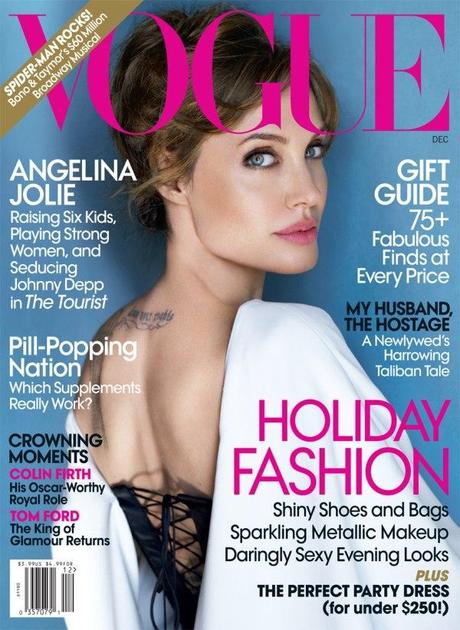 Es la reina de los tatuajes / The Queen of Tattoos.
Si por algo es conocida Angelina, además de por estar con uno de los hombres más guapos del mundo, y de ser una de las celebrities mas solidarias, es por sus tatuajes. Hasta hace unos años tenía trece en total  pero ahora ya ha perdido la cuenta.

/ If she is popular for something besides been with one ofone of the most handsome men of the world, and for been one of the most  humanitarian celebrities, are her tattoos. She use to have 13 tattos, but at this time she has lost the count.

Este es uno de los primeros tatuaje que se hizo "quod me nutrit me destruit" ("lo que me crea me destruye").

/ This is one of the first tattoos she had "quod me nutrit me destruit" ("What nourishes me also destroys me")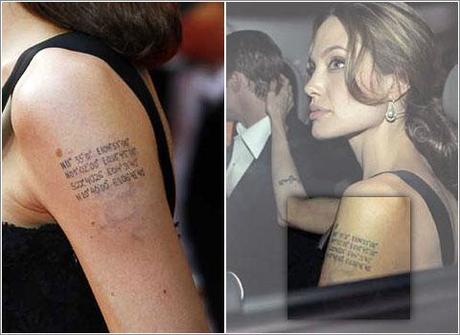 Este tatuaje tapa el anterior, que era un dragón precioso pero que destruyó porque encima escribió el nombre de Billy Bob, y al romper con él se lo quitó inmediatamente. En el actual están escritas las coordenadas de los sitios donde han nacido sus hijos.
/ This tattoo covers the older. that was a gorgeous dragon but that she destroy it by writing the name of Billy Bob on it, after the split she got it off. Now we can see the earth coordinates were her children had born.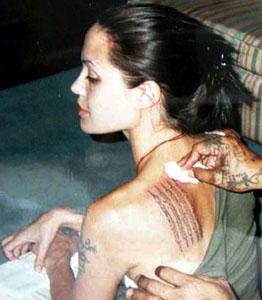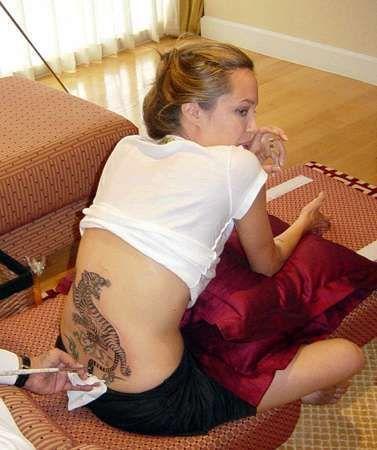 Este tatuaje es el famoso que  tiene de un tigre en toda la espalda.
/ This tatto is the popular she has of a tiger in almost all her back.

En el omóplato izquierdo tiene escrita una cita de Tennessee Williams "A prayer of the wild at heart, kept in cages".
/ On her left  forearm she has a Tennessee William quote "A prayer of the wild at heart, kept in cages".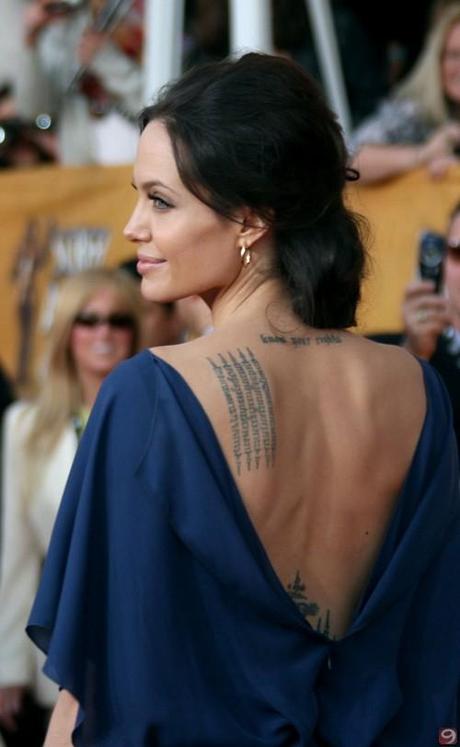 El estilo de Angelina. / Angelina's style.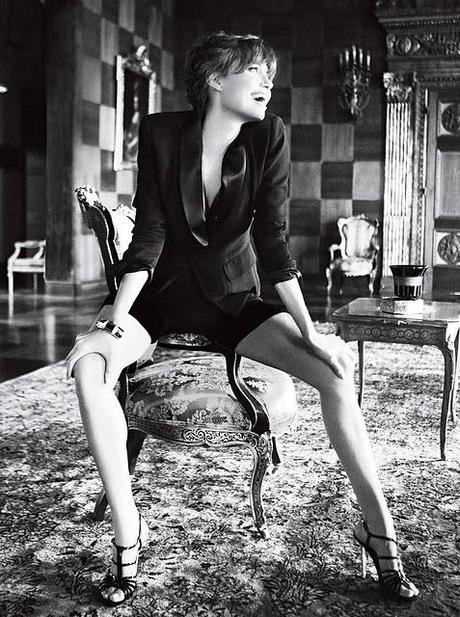 Uno de sus puntos fuertes no es el estilismo, pero como es tan guapa cuando se arregla va rompedora.
/ One of her strong sides is not style, but she is such a beautiful woman that when she dress up she goes just gorgeous.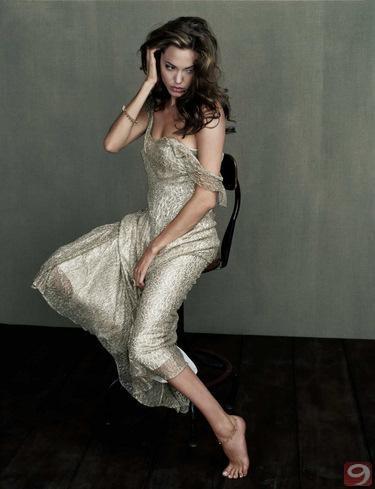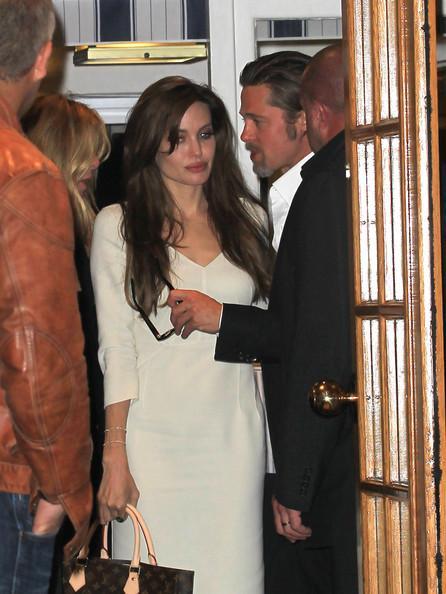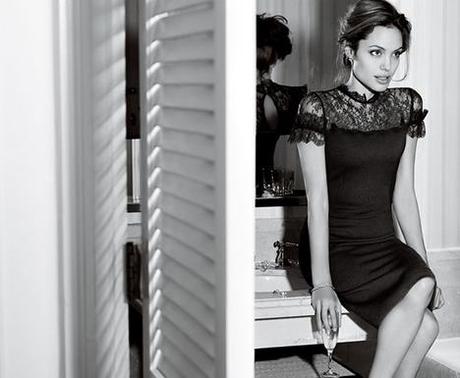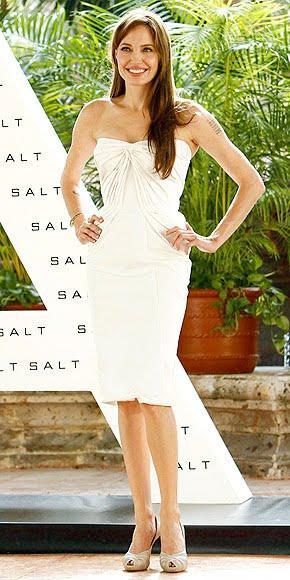 Su estilo: lady total, clásico y sin grandes toques de tendencia. Eso si, adora el cuero, será la parte de chica rebelde que todavía conserva de Lara Croft o de si misma.
/ Her style: total lady, classic and with not big touch of trends. She loves leather, its the side of the revel girl she still has from Lara Croft of just for herself.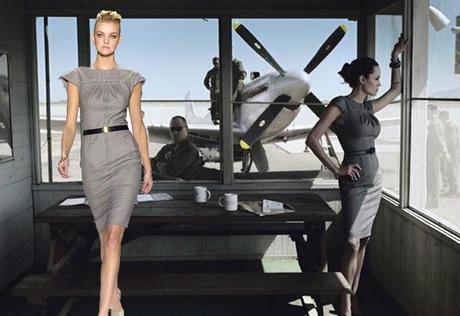 Vestido de Carolina Herrera. / Carolina Herrera dress.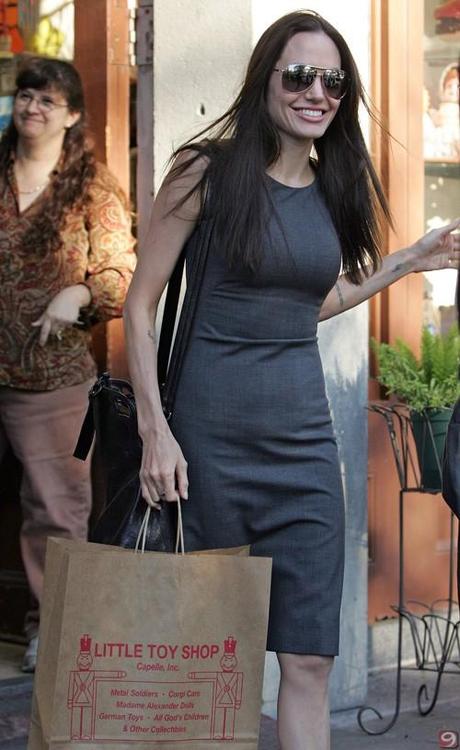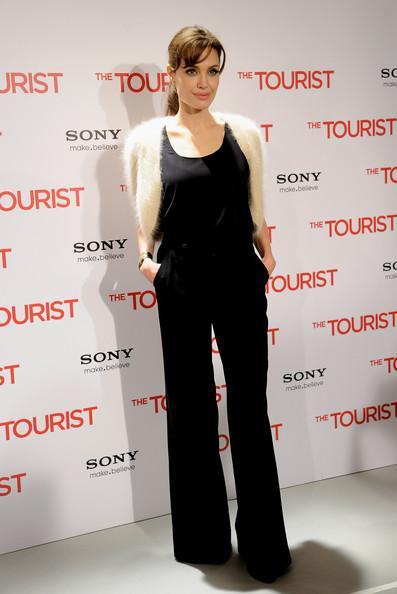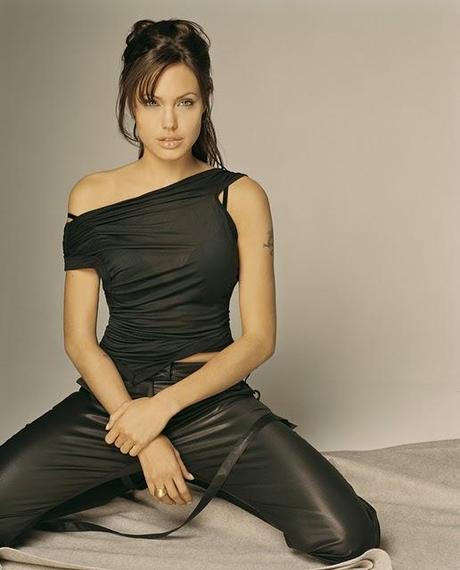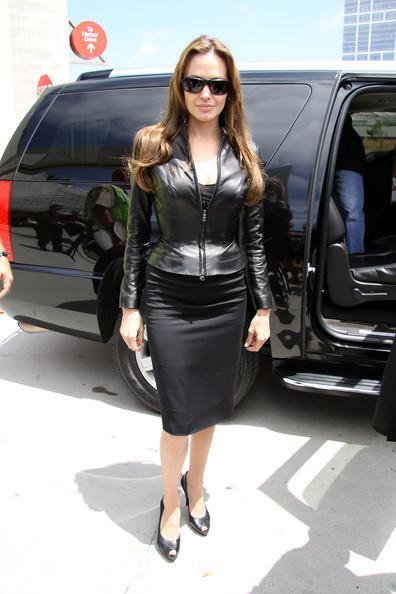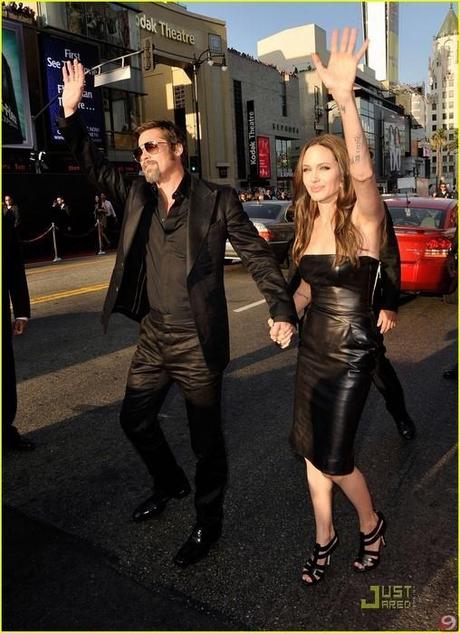 Para un día normal, le gusta la ropa casual.

/ For a everyday look she loves casual clothing.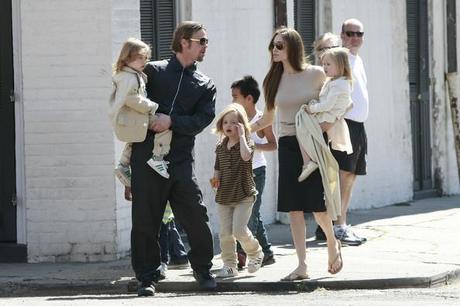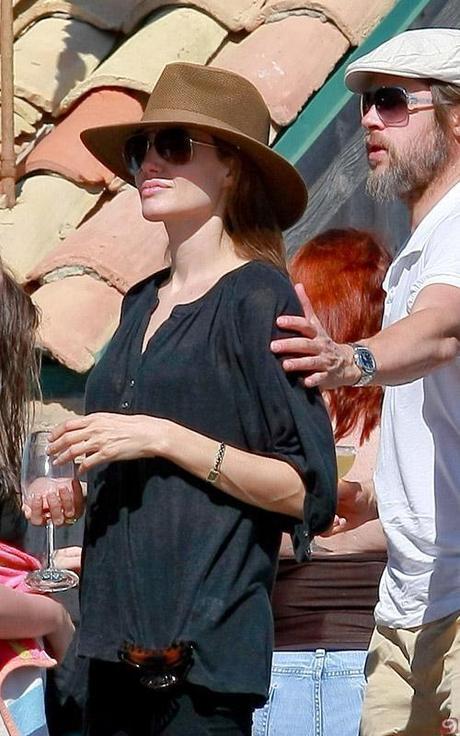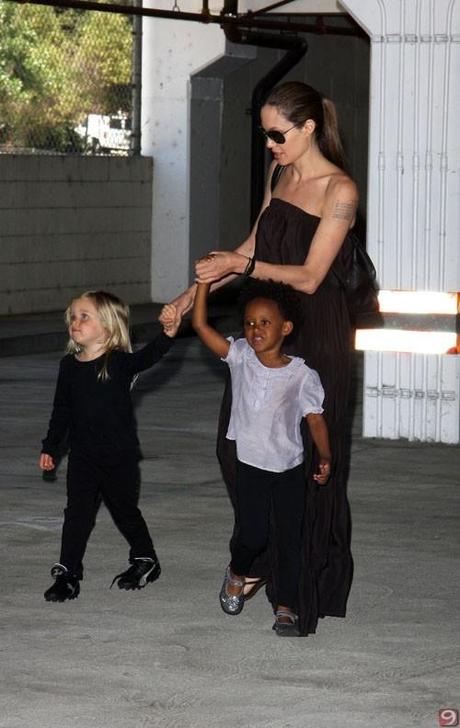 En invierno, elige las botas, los abrigos cruzado con cinturón de corte clásico y con el buen tiempo se queda con su trench favorito negro.

/ In winter she stays with boots, cross belt coats and with the good weather she bet for black trench.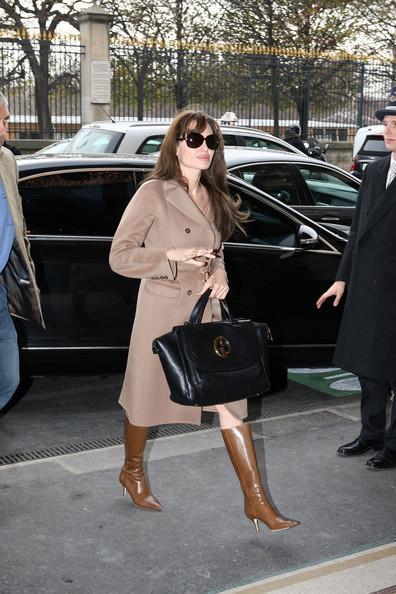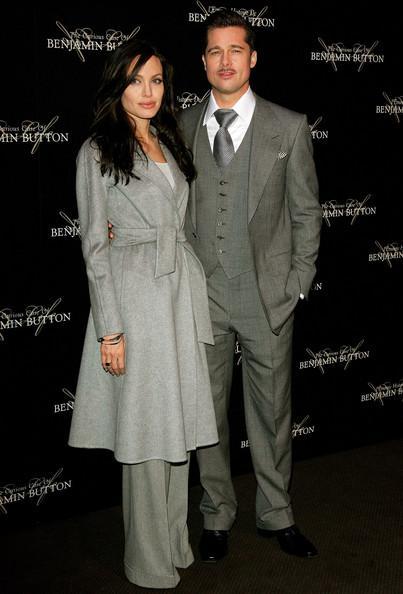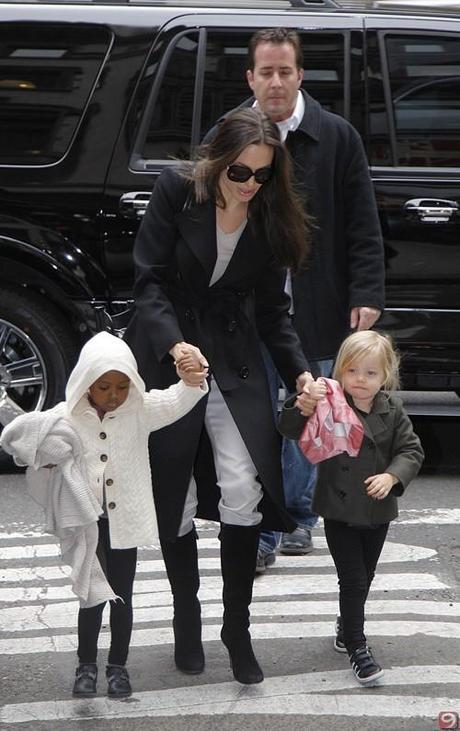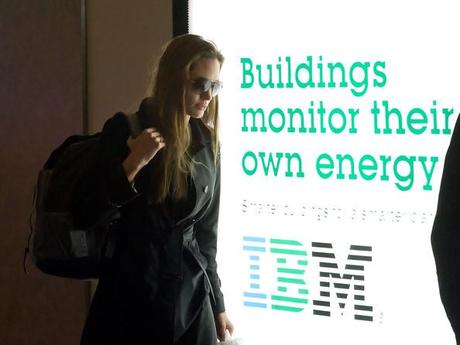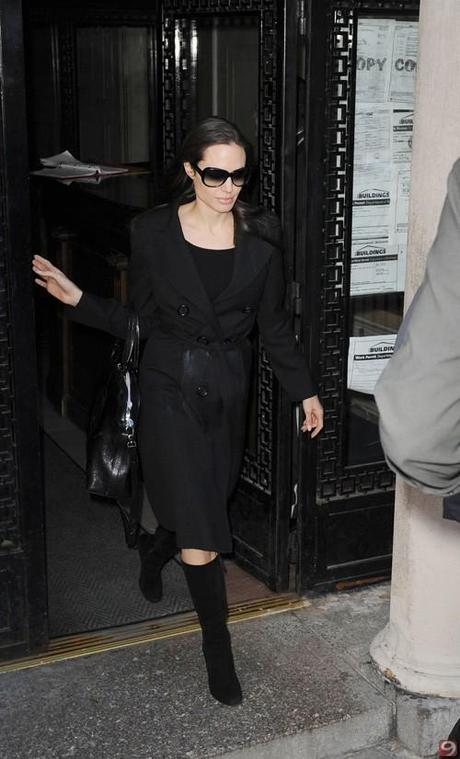 So color favorito sigue siendo el negro, aunque no es el que más le favorece. El verde y el rojo le quedan de miedo.

/ Her favorite color still been black, although is not the one that fits her better. With green or red she looks staining.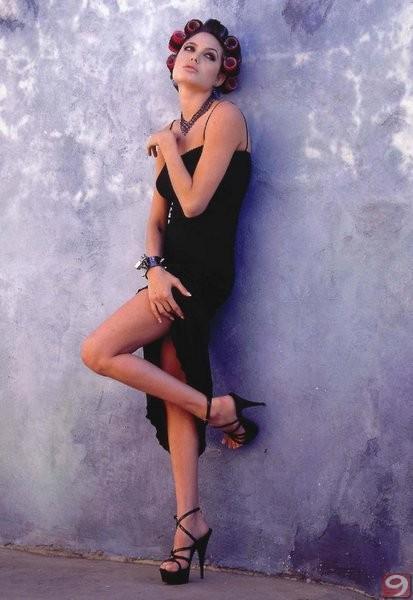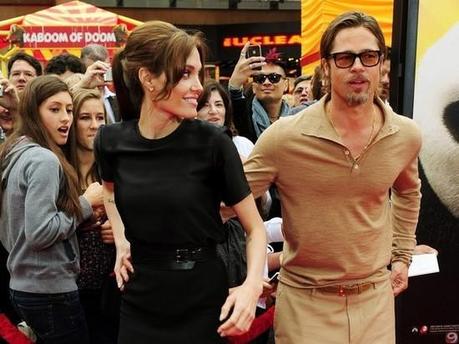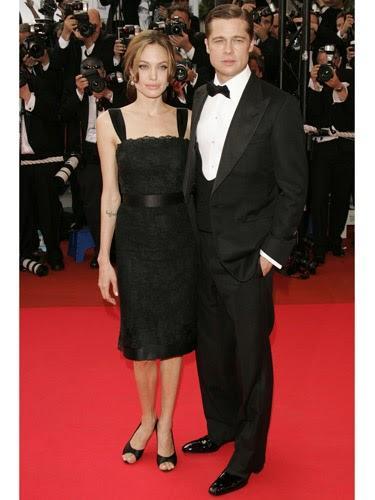 Vestido vintage de Balmain.
/ Balmain vintage dress.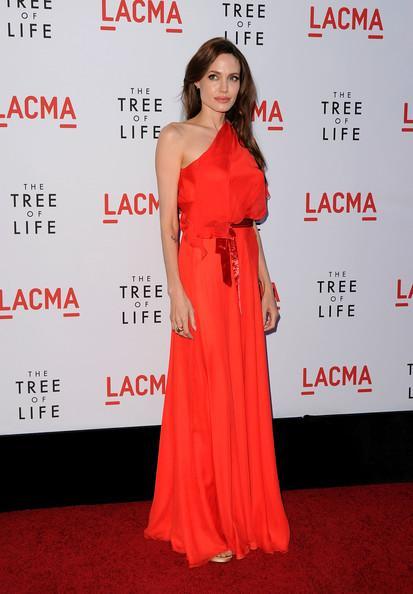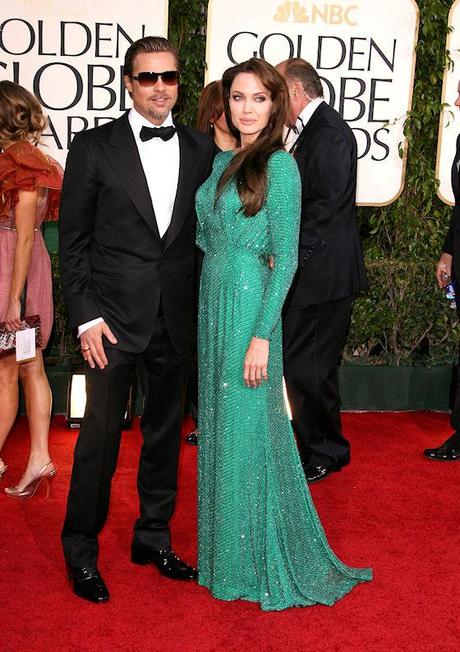 Dónde más estilosa la vemos es en las grandes galas.

/ Where we see her more stylish are on the big galas.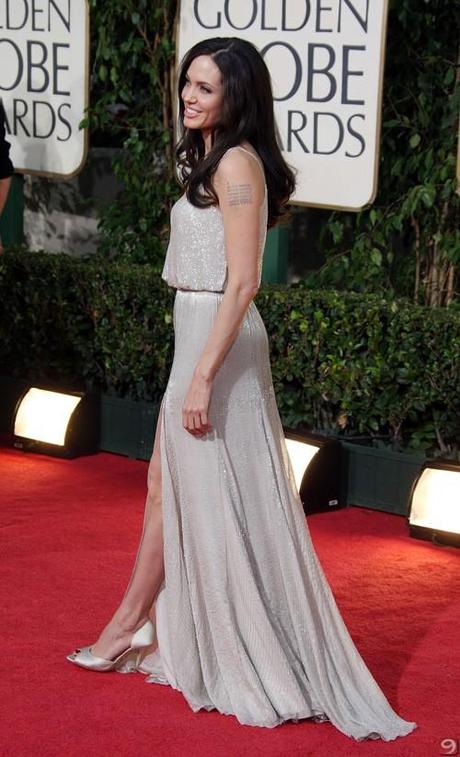 Versace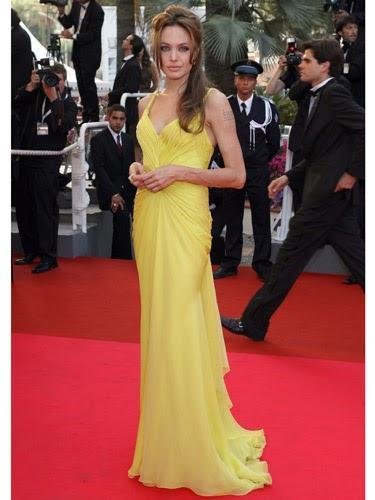 Emmanuel Hungaro dress.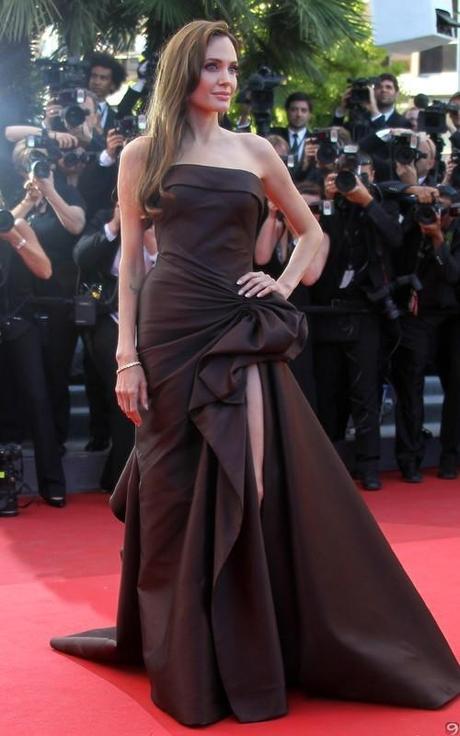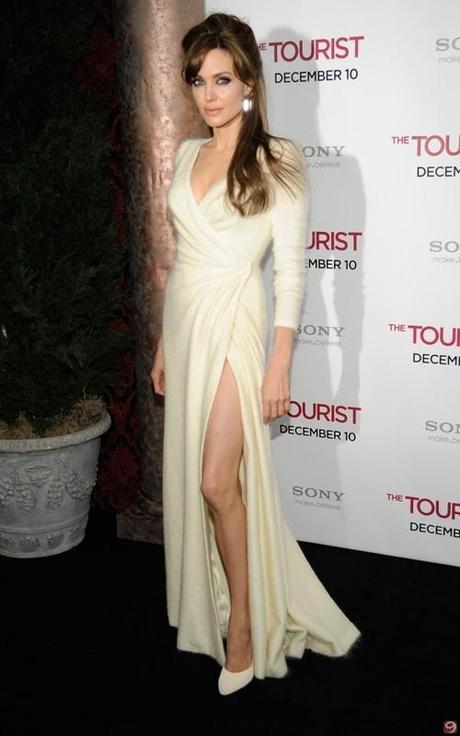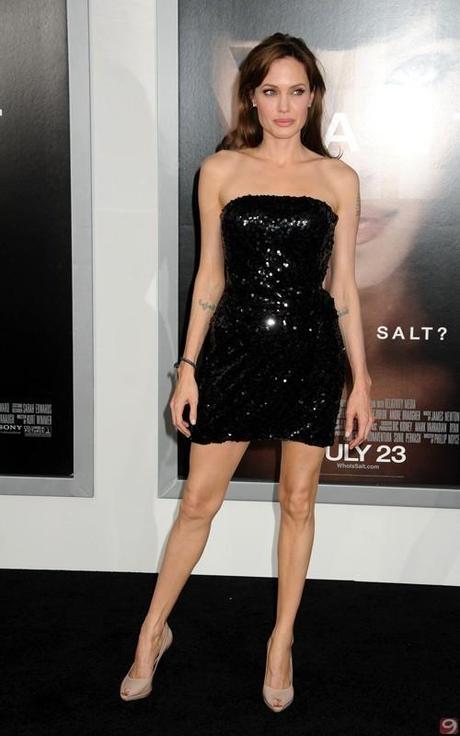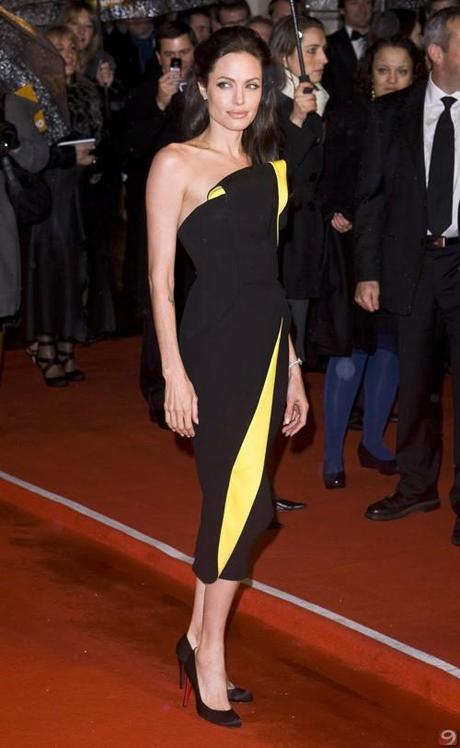 Sus secretos o curiosidades. / Gossip about Angelina.

Mide 1,73 m. / Height: 5' 8"
Angelina coleccionaba cuchillos en su juventud y tenía especial interés en las Ciencias de cadáveres.

/ Angelina use to collect knives and had an special interest in mortuary science.
Solía tener varios animales domésticos, entre los que destacaban las serpientes. / She use to have several pets among highlight snakes.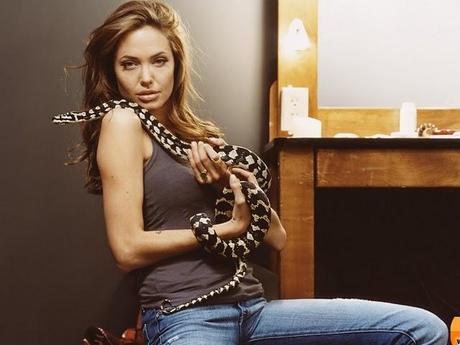 Su color natural de pelo es rubio oscuro, pero cuando tenía 4 años su madre se lo tiño de negro y así se quedó.

/ Her natural hair color is dark blond but when she was four her mother colored dark and then it stay that way.
Tiene el título de piloto privado, y licencia para pilotar una nave de un sólo motor sobre tierra, no sobre mar.

/ She holds a privet pilot certificate, so she can fly any single-engine aircraft based on land.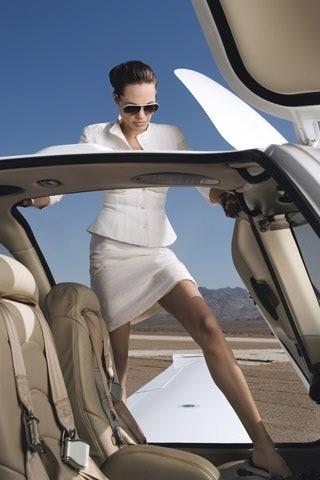 Uno de sus autores favoritos es Any Rand.

/ Fan of author Any Rand.
Es zurda, por lo que para las películas le han tenido que construir armas espefícas.

/ She is left-handed, so for the movies they had to make special weapons for her.
Empezó a rodar Salt ocho meses después de que nacieran sus gemelos. Con Shiloh sólo espero cuatro.

/ She started working in Salt, eight month later her twins were born. With Shiloh she only waited four.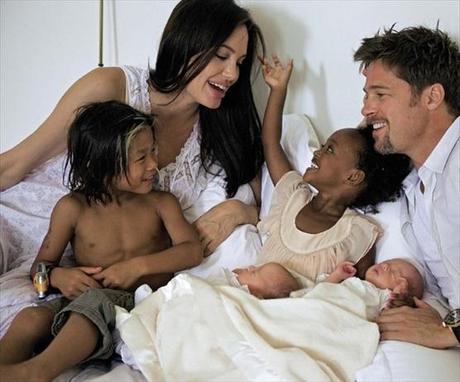 Elle cuenta de si misma...
/ She said about herself...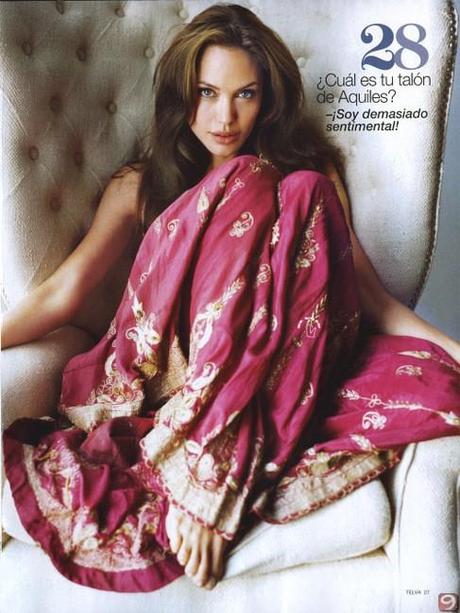 - "¿Terapia? No la necesito. Los papeles que hago son mi terapia."

/ "Therapy? I don't need that. The roles that I choose are my theraphy.


- "Porque soy una chica mala, todo el mundo piensa que de verdad soy mala. O que llevo conmigo un secreto oscuro o que estoy obsesionada con la muerte. La verdad es que probablemente sea la persona menos morbosa que puedas conocer. Si pienso en la muerte más que otras personas, es probablemente porque amo la vida más que ellos".

/ Because I am a bad girl, people always automatically think I am a bad girl. Or that I carry a dark secret with me or that I am obsessed with death. The truth is that I am probably the least morbid person one can meet. If I think more about death than some other people, it is probably because I love life more than they do".
- "Hay algo sobre la muerte que es reconfortante. Pensar que mañana puedes morir hace aprecies la vida ahora"

/ "There is something about death that is comforting. The thought that you could die tomorrow fees you to appreciate life now" (People Magazine 8 July 1996)
- "Si no sales de la caja donde te han educado, no entenderás lo inmenso que es el mundo"

/ "If  you don't get out of the box you've been raised in, you won't understand how much bigger the world is".
- "En Sierra Leona, vi cientos de personas sin piernas o brazos, niños huérfanos. Lloraba constantemente. Me sentía culpable por todo lo que tenía. Entonces me di cuenta de que a esas personas no las ayudaba si lloraba. Seguí enfadada por las injusticias hasta que pude pensar claramente. Respiré hondo y pensé en como podía ayudar. Me di cuenta de que era útil como persona. Cuando conozco a gente sufriendo, pone mi vida en perspectiva.

/ "In Sierra Leone, I saw tens of thousands with their arms and legs cut off, orphaned children. I cried constantly. I felt guilty for all that I had. Then I realize I wasn't doing those people any favors by crying. I keep getting angry at the injustice until I couldn't think straight. I took a deep breath and focused on how I could help- I discover I was useful as a person. When I meet suffering people, it put my life into perspective.
Podría seguir escribiendo de ella porque hay tanto que decir... En definitiva es una mujer admirable porque es fuerte, luchadora, tenaz y sobre todo un ejemplo a seguir. Hay quien piensa que esta loca o que tiene cosas raras, pero ¿y quíen no lo está?

/ I could still writting about her for ages because tehre is so much to say... To resume she is an extrahordinary woman; she is strong, a hard worker, perssistent, and over all an example to follow. Some says she must be a fruit cake or has weird thinks but how doesn't?
Sources: Zimbio, 9, Just Jered, Telva, Vogue.