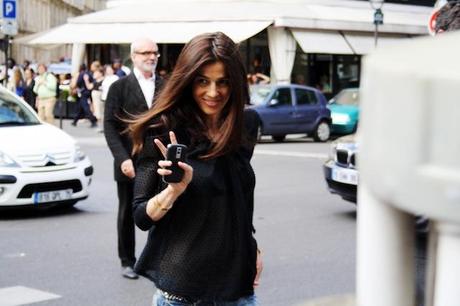 Las estilistas están de moda, pero Barbara no es cualquiera, no. Estilosa, guapa, con clase, y mucho gusto por la moda, Barbara es una It-girl internacional. Muchos la comparan con Emmanuelle Alt pero si tengo que quedarme con alguna de las dos, sin duda el estilo de Barbara me gusta mucho mas. /

Stylish are so in, but Barbara is not anyone, no way. Stylish, pretty, classy, and with a huge taste in fashion, Barbara is an international It-girl. Many compare her with Emmanuelle Alt but I prefer Barbara's style.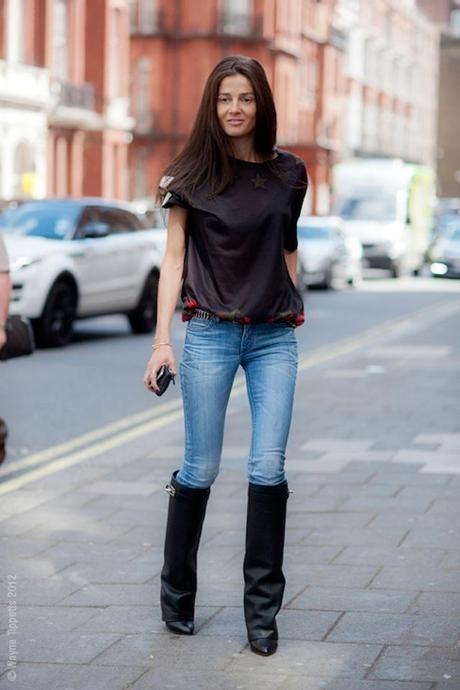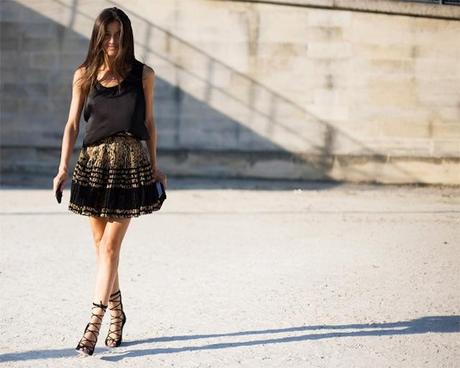 Barbara nació en Madrid, España, hace 35 años. Hija de un cirujano plástico y una enfermera, cuando era una cría se fueron a vivir a La Coruña, pero con 18 se traslado de vuelta a Madrid donde se licencio en Derecho en ICADE. /

Barbara was born 35 years ago. She was the daughter of a plastic surgeon and a nurse, when she was really young they move to La Coruña, but at the age of 18, she move back to Madrid to study Law at ICADE.


Los comienzos de su vida profesional son muy curiosos. Empezó trabajando en el departamento Jurídico de Inditex, fue entonces cuando se dio cuenta de que lo que quería hacer era trabajar en moda, pero a otro nivel. Cuando estaba planeando dar un curso de diseño en París, Telva llamo a su puerta, obviamente no pudo resistirse y empezó a trabajar como estilista para la revista. Tras 6 años, paso a formar parte del equipo de Vogue España, y en 2007, decidió hacerse freelance. Desde entonces colabora, como estilista, con Vanity Fair, Harpers Baazar, El Pais, Vogue España. También trabaja como consultora de moda para Ekseption, una tienda fabulosa, y muy fashion que puedes encontar en Madrid, y Marbella. / The beginning of her professional life is very bizarre. She started working in the legal department at Inditex, there she realize she wanted to work in fashion, but at other level. When she was planning to attend to fashion cases at Paris, she received a call form Telva, and she started to work as a stylish for the Spanish magazine. Six years later, she move to Vogue Spain, until 2007 when she decided to go freelance. Since then she collaborate with Vanity Fair, Harpers Baazar, El Pais, and Vogue Spain. She also work as consultant for Ekseption, a cool and fashion store set in Madrid and Marbella.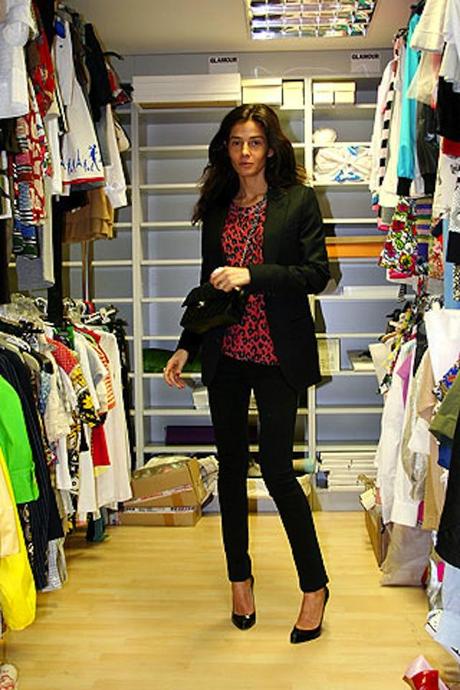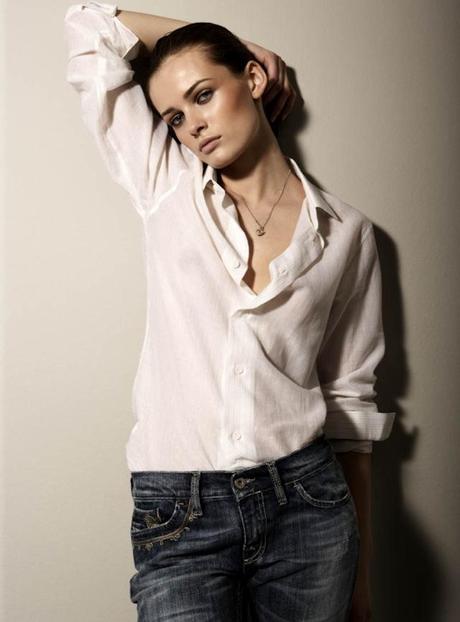 Telva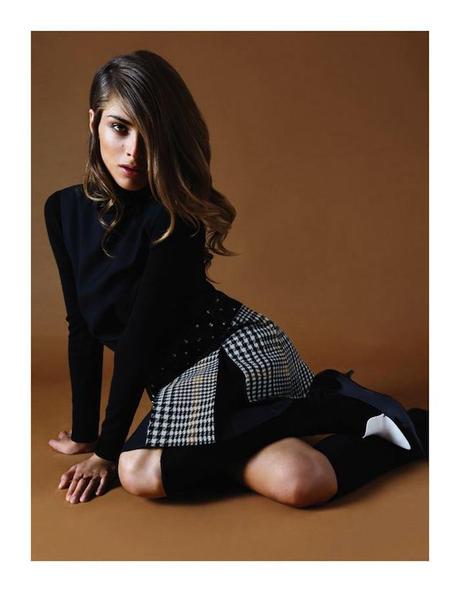 El Pais Semanal.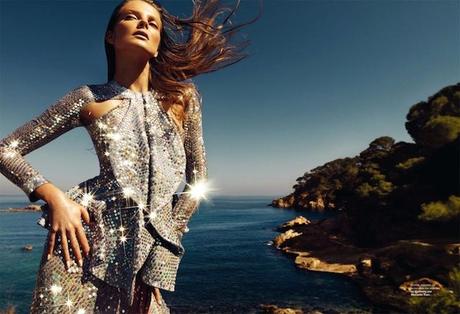 Harpers Bazaar Spain June 2012.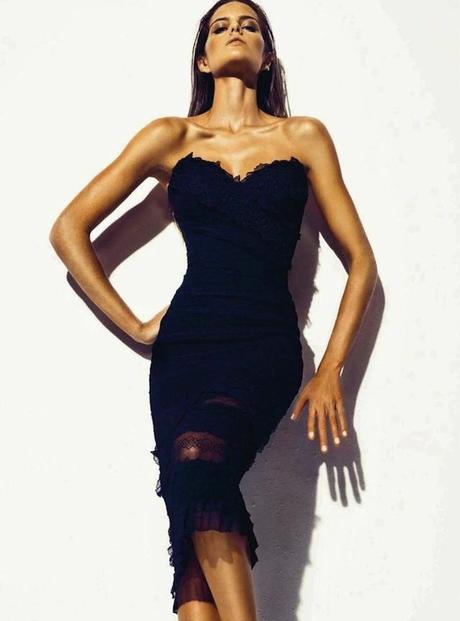 Harpers Bazaar Spain
Ademas, acaba de hacer una pequeña colaboración con la firma Mango. /

She also has just make a small collaboration with Mango.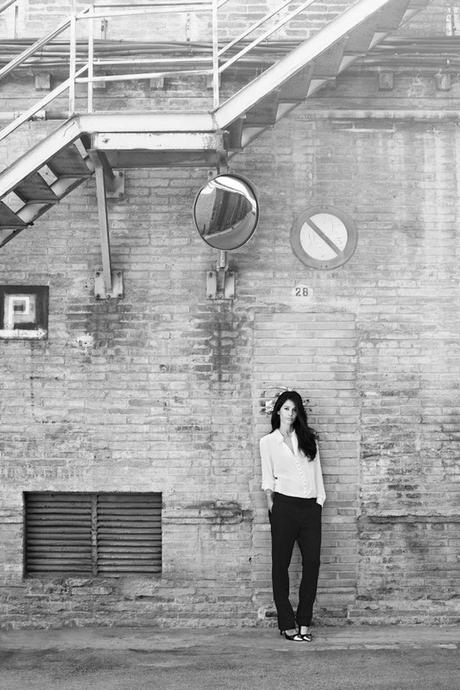 Mango
El estilo de Barbara. / Barbara's style. 
El estilo de Barbara es desenfadado, atrevido, con aire rock and roll. Es de esas personas que desprenden estilo por los cuatro costados, tiene un glamour especial. /

Barbara's style is free-and-easy, daring, a bit rock and roll. She is one of those persons that spreed style in all the ways and has a special glam.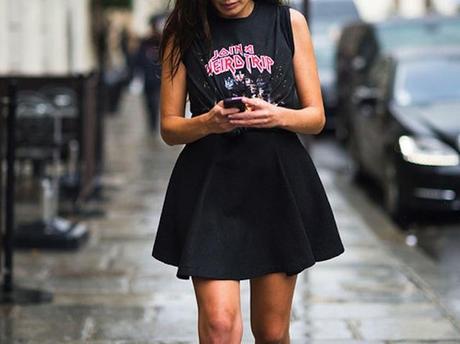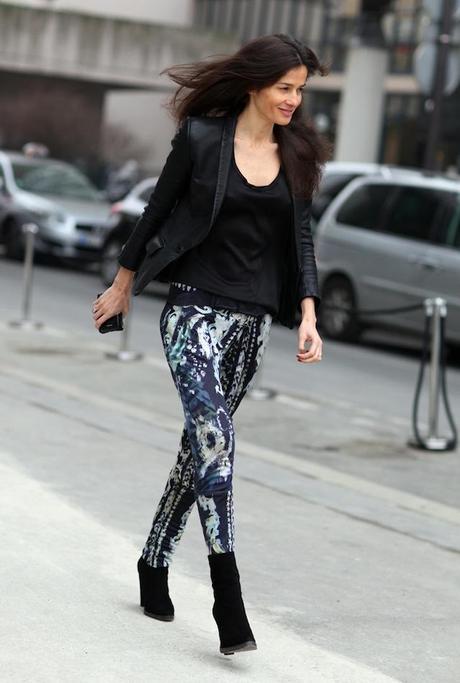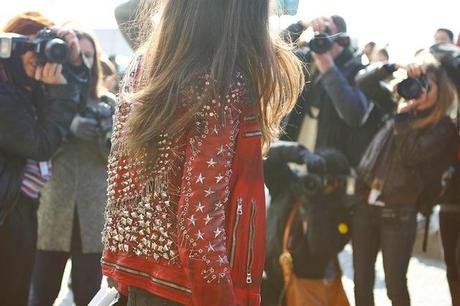 Barbara combina prendas de diseñadores que no dejan de llamar la atención, con otras mas casuales. De la pasarela a la calle, y de la calle a lucirlas como si fueran piezas de pasarela; esa es Barbara. / Barbara combine important designer items that call everyone's attention, with more casual ones. From the catwalk to the streets, and from the streets to wear it as if they were runway pieces; that is Barbara.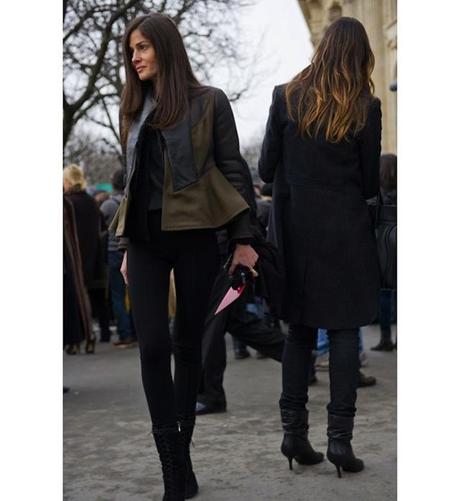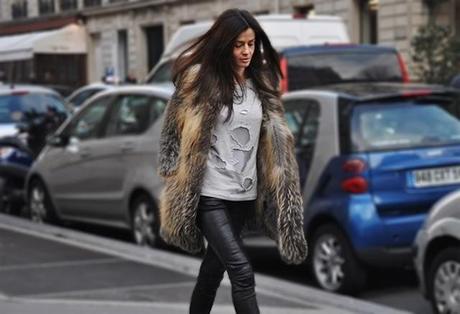 Lo mejor de su estilo es que nunca se olvida de dar un toque sexy y sensual a cada estilismo que lleva. Un detalle del que nunca nos podemos olvidar; siempre, siempre hay que ir perfecta, ideal, y sexy, el motivo? nunca sabes que te puede pasar, o a quien te puedes cruzar. /

The best of her style is that she never forgets to give a sexy and sensual touch to her looks. A detail we can forget about: you always have to look perfect, great and sexy, shy? you never know what can happen or how you can met.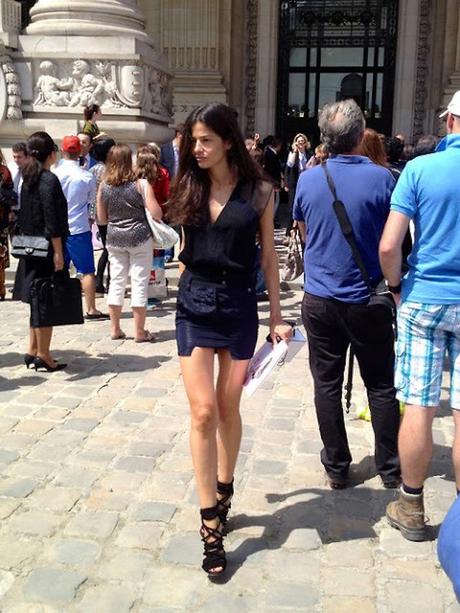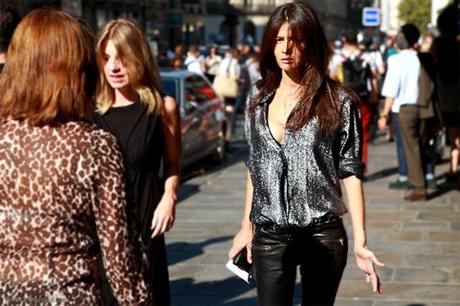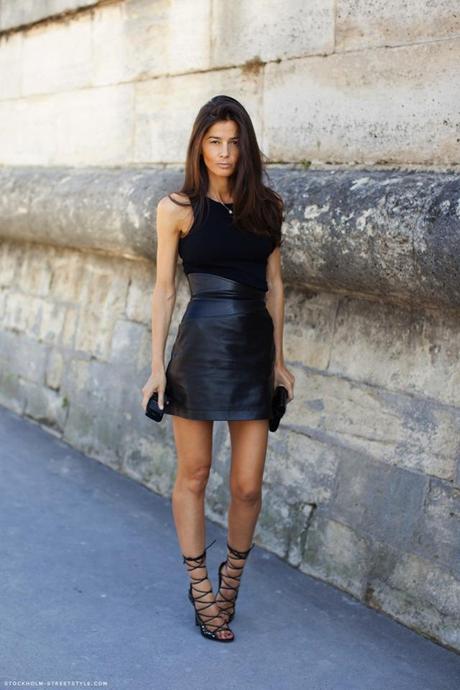 Barbara es adicta al estampado de leopardo, y al cuero, son claves en su estilo./

Barbara is addicted to leopard print and leather, they are her style clues.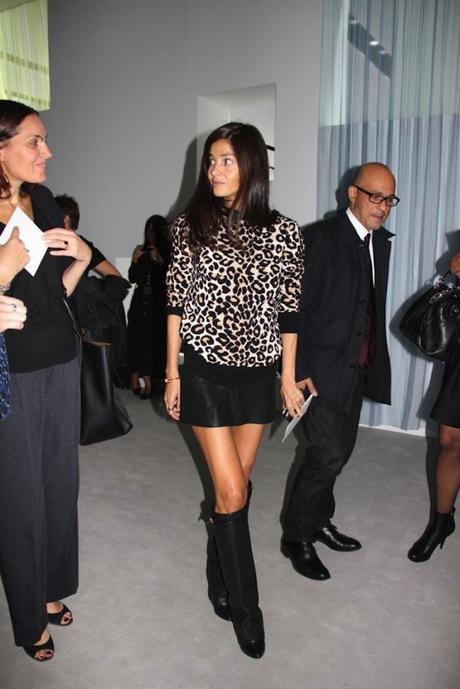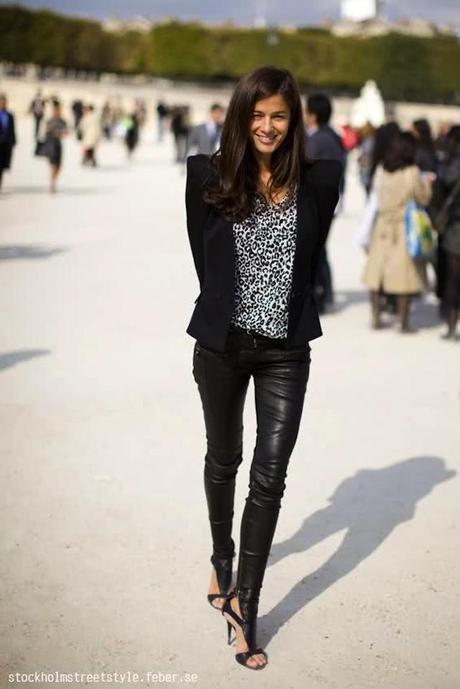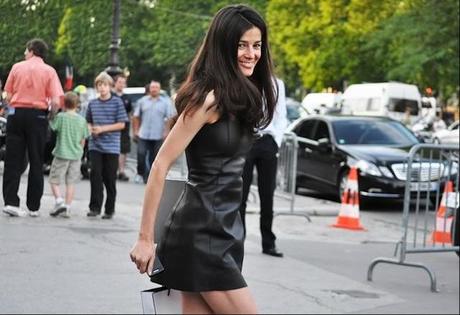 Como es alta, y tiene piernas largas las botas le sientan de lujo, y ella lo sabe. /

Due to her height and her long legs, boots look gorgeous on her, and she knows this.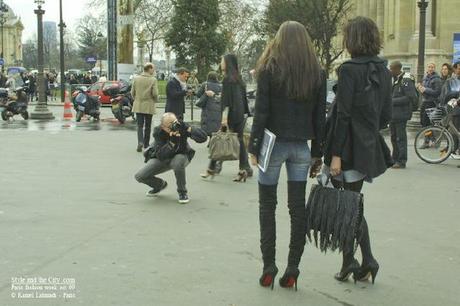 Sus esenciales para este otoño, tal como declara a la revista de Mango, son: una chaqueta negra de cuero, pantalones pitillos grises, un vestido de punto, y unas botas negras. /

Her autumn essentials, as she has declare to Mango magazine, are: black leather jacket, grey skinny jeans, knit dress and black boots.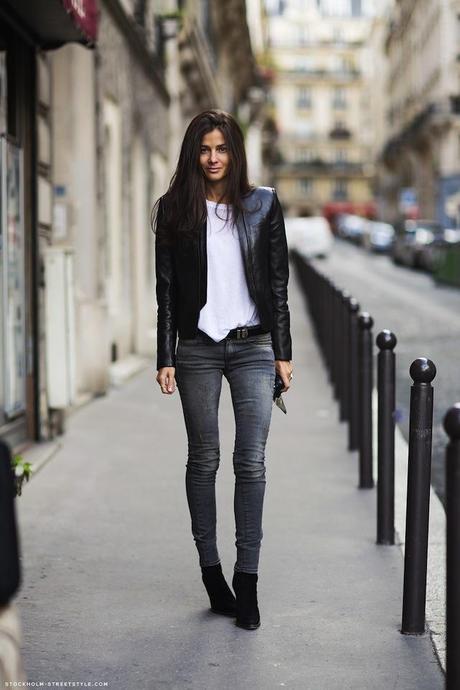 El armario de Barbara. / Barbara's closet. 
Una de sus prendas clave es la cazadora de cuero o biker, no puede vivir sin ella. /

One of her clue pieces is the biker jacket, she can't live without it.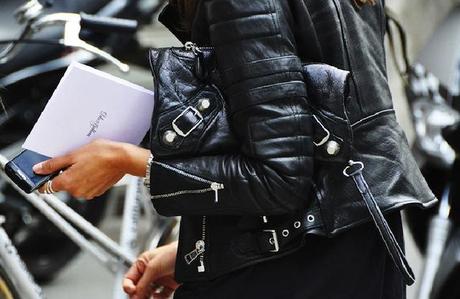 En su armario no faltan camisetas, el famoso vestido negro, minifaldas negras, vaqueros, y taconazos. Pero lo que mas espacio ocupa son las chaquetas, los vaqueros, y los zapatos. /

In her closet there are always t-shirts, the little black dress, black short skirts, jeans and heels. But what take most of the space are jackets, jeans and shoes.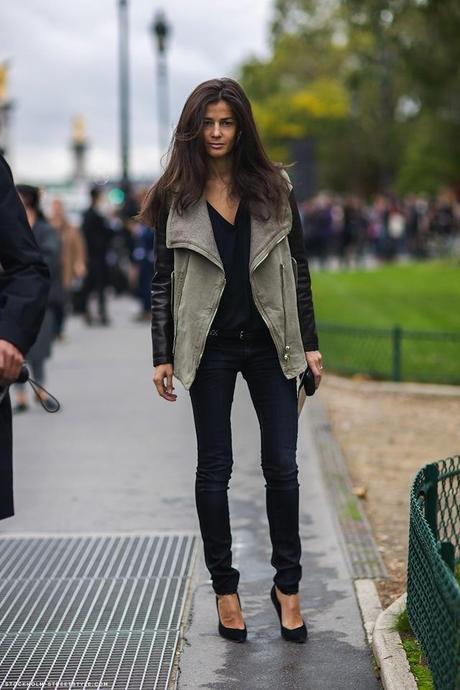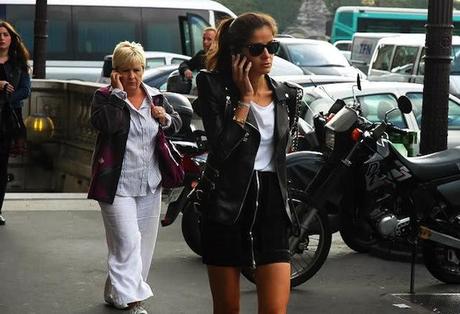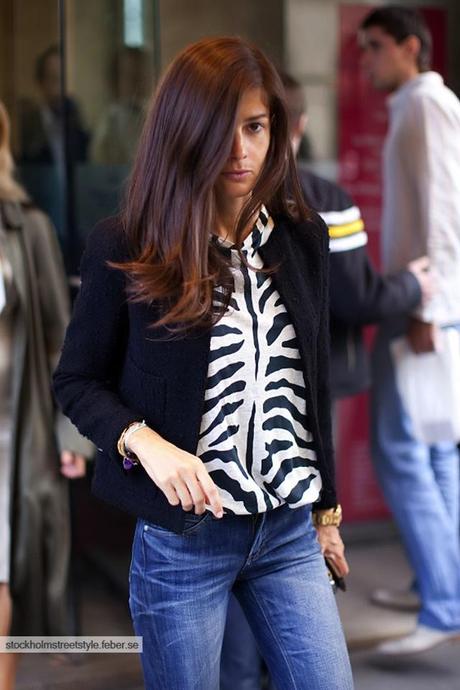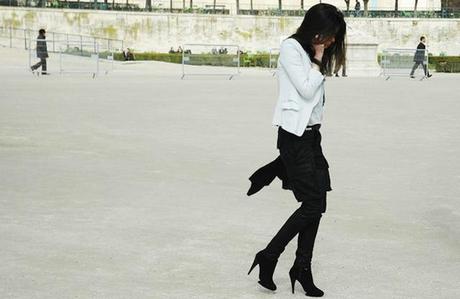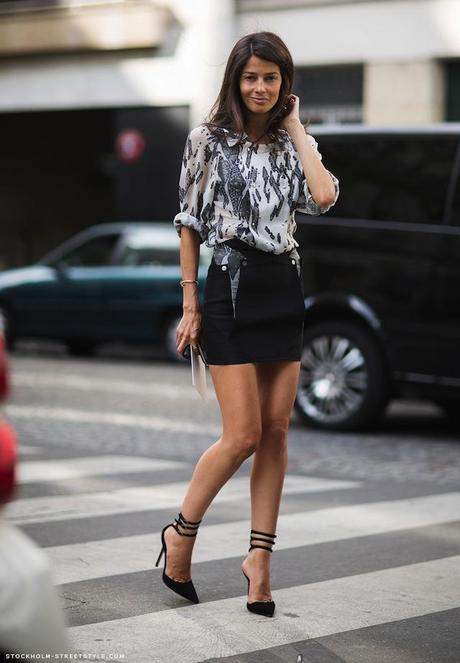 Sus diseñadores favoritos son Balmain, e Isabel Marant. Le encanta Balmain por como consigue Christophe Decarnain hacer que las mujeres se sientan sexys. Lo que mas le gusta de las ultimas colecciones de Isabel Marant son los abrigos con estampado leopardo, y los botines./

Her favorite designers are Balmain and Isabel Marant. She love Balmain for the way Christophe Decarnain makes women looks sexy. About the last collections of Isabel Marant, she stay with leopart print coats, and the ankle boots.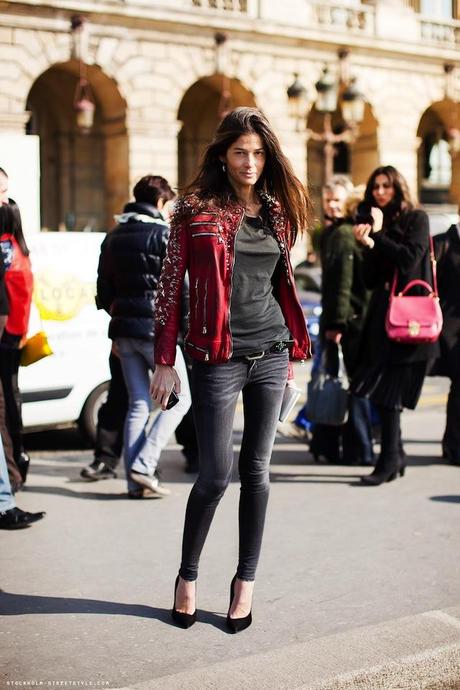 Chaqueta de Balmain. / Balmain's jacket.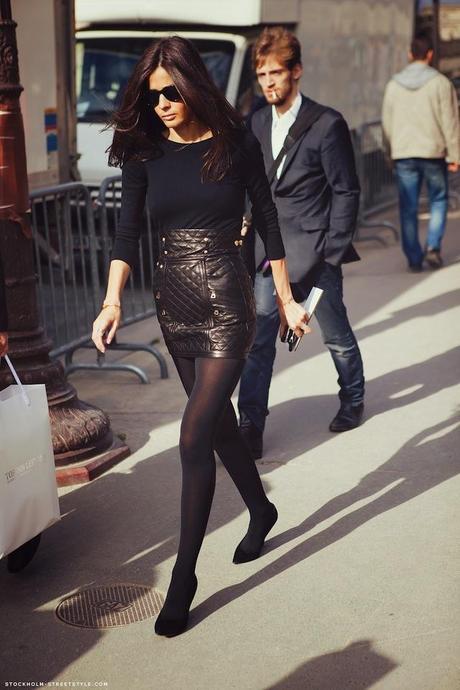 Todo es de Balmain. / Balmain total outfit.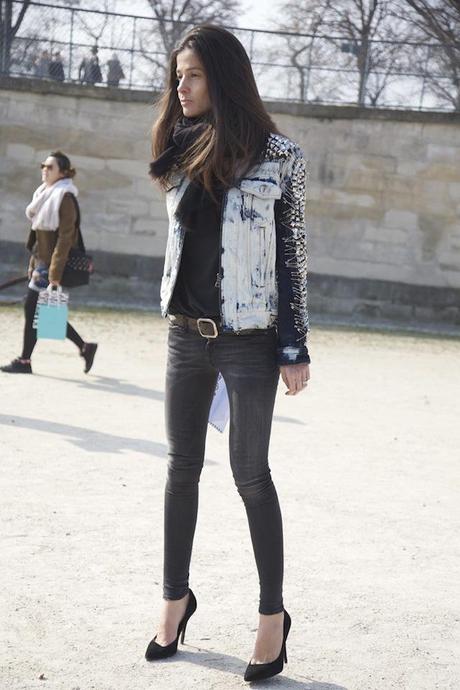 Chaqueta de Balmain. / Balmain jacket.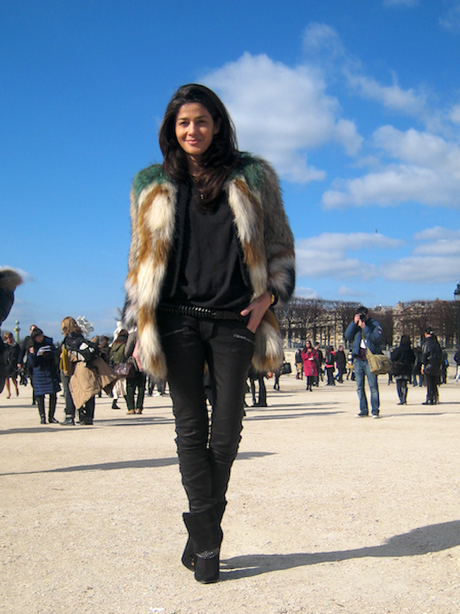 Isabel Marant coat and boots.


Aunque también le gusta mucho Givenchy, Alexander McQueen, Alexander Wang, Andreas Melbostad... /

She also like a lot Givenchy, Alexander McQueen, Alexander Wang, Andreas Melbostad...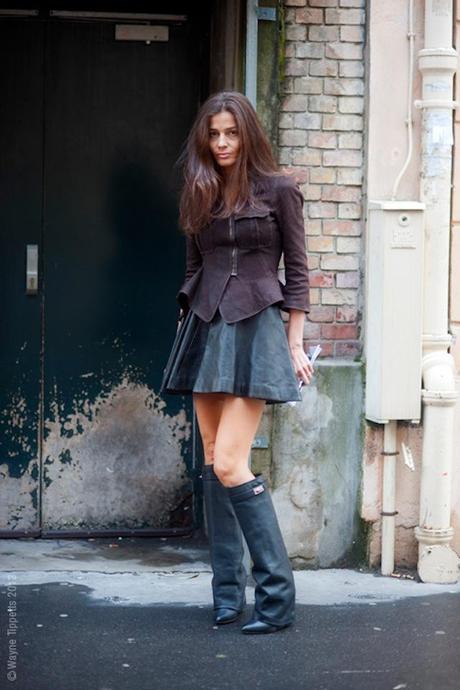 Givenchy pleplum jacket.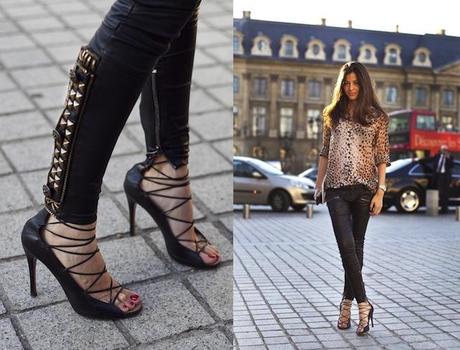 Top estampado de Givenchy, y pantalones de Balmain. / She wears print Givenchy top and Balmain pants.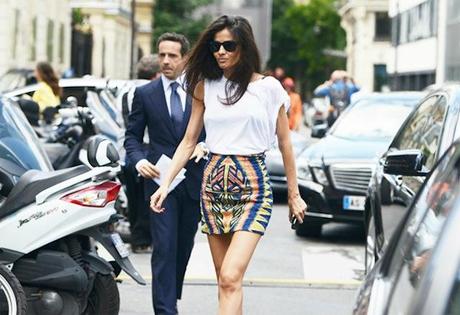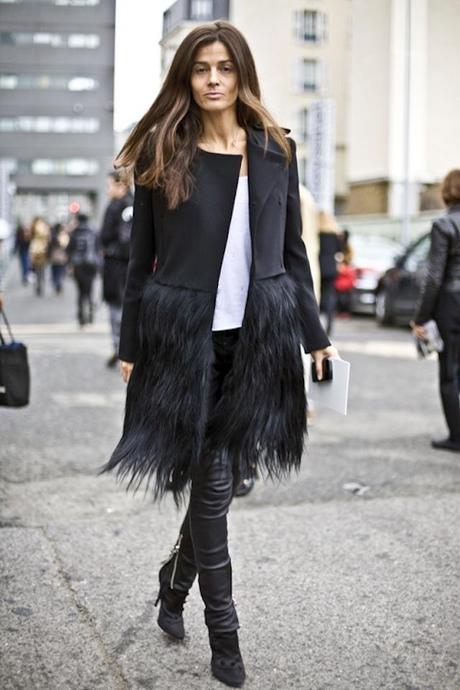 Celine coat.


Pero ademas compra en tiendas lowcoast, como Gap, Topshop o Mango. /

She also shops in lowcoast stores such as Gap, Topshop or Mango.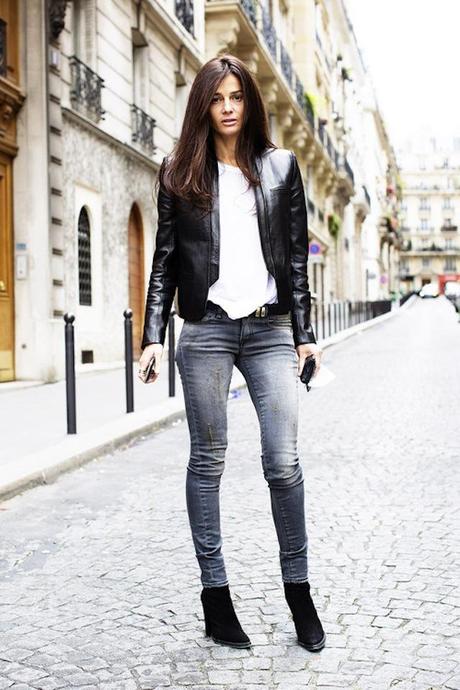 Chaqueta de Balmain, y vaqueros de Gap. / Balmain jacket and Gap jeans.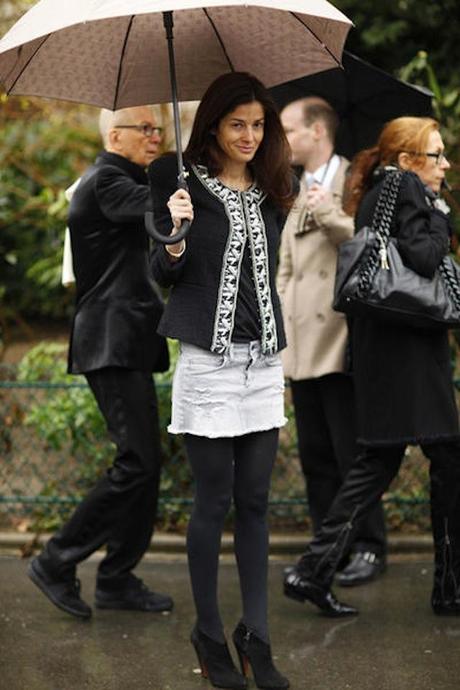 Mini falda de Topshop. / Topshop skirt.


Su accesorio preferido (como comentaba un poco mas arriba del post) son las botas y los zapatos: Givenchy, Alaia, Christian Louboutin, Dior, Isabel Marant son algunas de las firmas que forman parte de tan preciado zapatero. /

Her favorite accesories (as I told you before) are boots and shoes: Givenchy, Alaia, Christian Louboutin, Dior, Isabel Marant are few of the brands that are part of her so cool shoe wardrobe.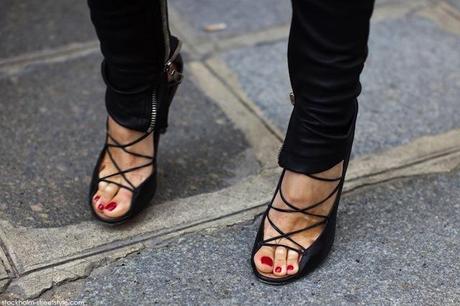 Alaia Shoes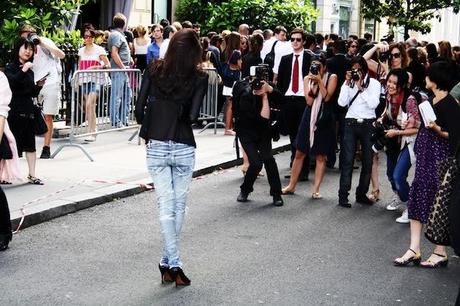 Christian Louboutin pumps.

Isabel Marant booties.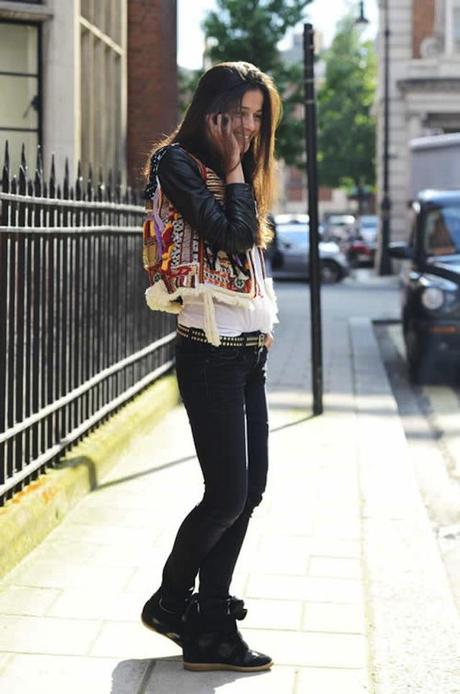 Zapatillas de Isabel Marant. / Wedged sneakers by Isabel Marant.


Recomendaciones de moda de Barbara: / Fashion recomendatiosn from Barbara: 
- "Se tu misma, no seas una fashion victim". /

"Don't be a fashion victim, be yourself".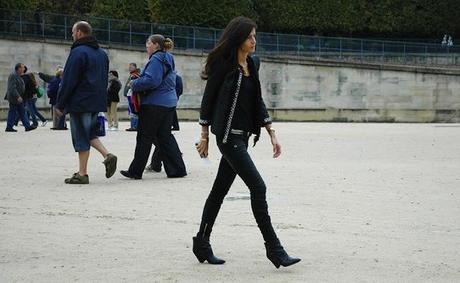 - "Una estilista tiene que estar siempre a la ultima en lo que pasa en el mundo de la moda: tendencias, nuevas marcas, nuevas webs, blogs, famosas, fiestas, nuevos rostros..." /

"A stylist has to be always on top of what is going on in the fashion world: trends, new brands, new webs and blogs, celebrities, parties and new faces..."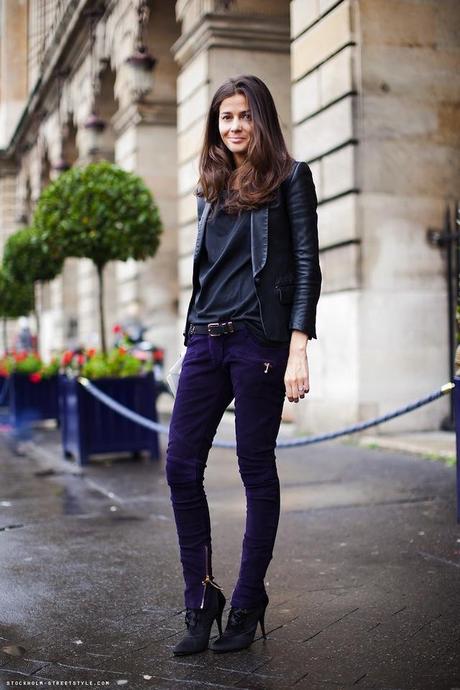 - Los factores para vestir con estilo son: la ropa, la seguridad en ti misma, la sencillez, y ser fiel a ti. /

The facts to dress with style are: clothing, security in yourself, simplicity and be true to you.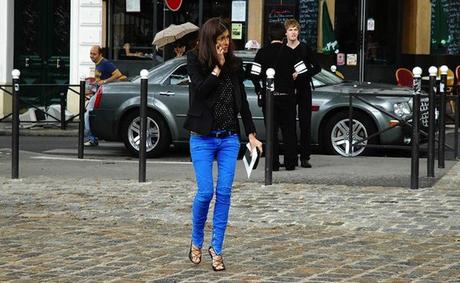 - "Siempre es imprescindible una pieza buena, como un Birkin de Hermes, nunca te cansaras de el. " /

Always is essential a good piece, such as the Birkin from Hermes, you will never get tired of it."


- Para ir de compras recomienda: París, en especial Montaigne Market, y en Nueva York, Jeffry's y Barneys. En Madrid, obviamente, Eskeption. / To go shopping she recommends: Paris, especially Montaigne Market, and New York Jeffry's and Barney. In Madrid, Eskeption, of course. 
Que te parece el estilo de Barbara? Te identificas con el? /

What do you think about Barbara's style? do you identify yourslef with it?


Carpe Diem. Bisous,
Mia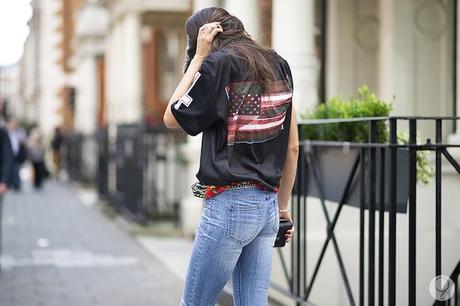 Sources: Fashion Gone Rouge, Stockholm Street Style, Streetpeeper.com, Vogue, Bettys.com.br, Parisstreetphotos, Lamodellamafia.com, Thefashionspot.com, Jack and Jil.