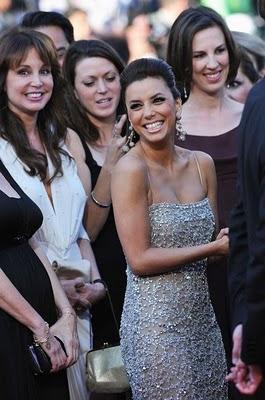 Siempre me ha fascinado el cine, y ese glamour que acompaña a los actores y actrices de Hollywood. Pero ahora no se trata de Hollywood sino de Cannes, porque si hay un lugar donde se derrocha elegancia estos días es en la Riviera francesa. /

I have been always fascinated by the film industry and the glamour that goes along Hollywood actors and actresses. But now is not about Hollywood but Cannes, because if there is a place full of elegance those days this is the French revere.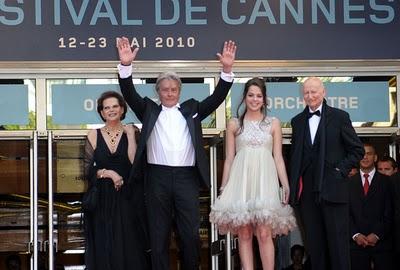 Por eso quiero compartir con vosotros los mejores vestidos y looks de Cannes, para que los disfrutéis tanto como yo. /

That's why I want to share with you the best Cannes' dresses and looks, so you can enjoy as much as I do.




1. Kate Beckinsale:


Kate Beckinsale acudió espectacular a la presentación de Robbin Hood con un vestido en gris perla o azul claro de Marchesa. El vestido es del todo sofisticado, Kate a demostrado que tiene mucho gusto a la hora de vestir y ha sido una de las más acertadas con sus looks en Cannes. /

Kate Beckinsale went so spectacular to the Robbin Hood Premier with a light pearl or blue dress by Marchesa. The dess is so sophisticated, Kate has prove that she has great taste when it cames to outfits and she has been one of the best once at Cannes.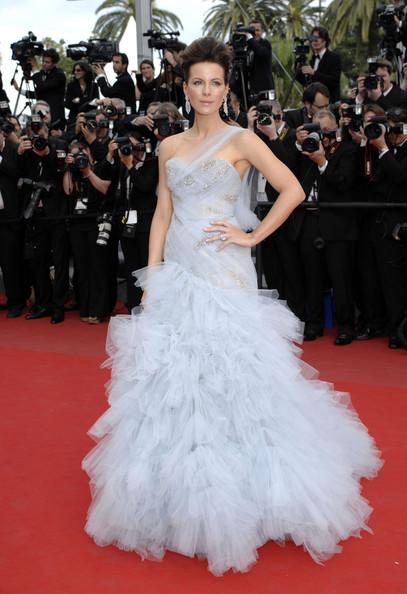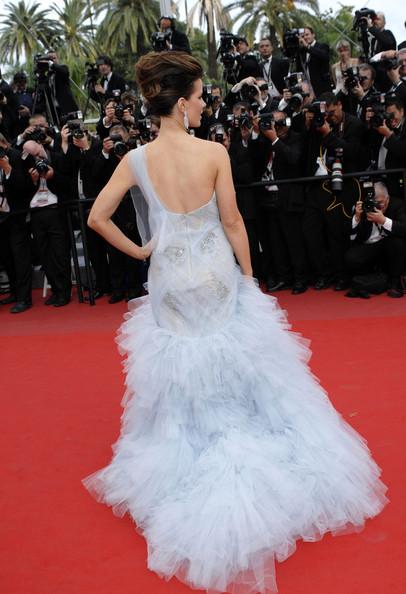 Kate Beckinsale volvió a representar el buen gusto en el estreno de Il Gattopardo, con este precioso vestido blanco y plateado de Gucci Première. Para completar su look eligío joyas de Chopard. /

Kate Beckinsale again had represent the good taste on Il Gattopardo Premier, with this amazing black and silver dress by Gucci Première. To compleate her look she chose Chopard jewels.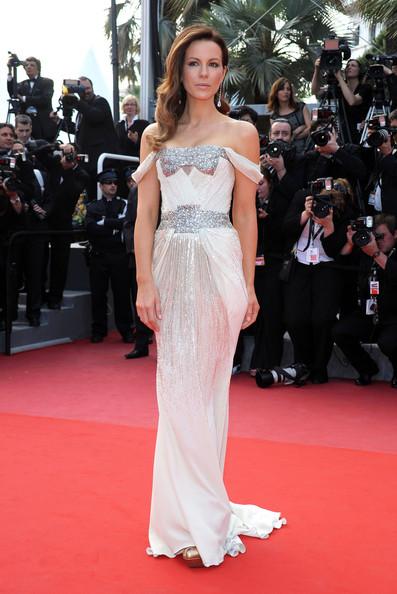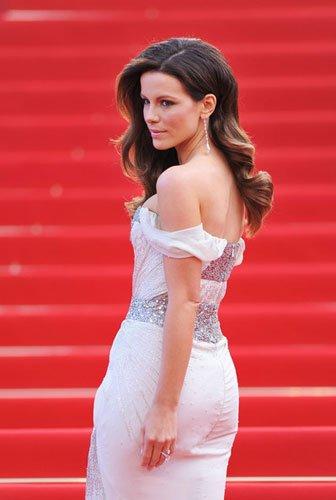 Kate Beckinsale vuelve a posar con un look perfecto, ahora con un vestido de día firmado por Dior Otoño-Invierno 2010. ¡Me encanta la combinación con las plataformas en color maquillaje de Brian Atwood! /

Kate Beckinsale with a perfect day look, now with a Dior Fall-Winter 2010 dress. I love the mix with the nude Brian Atwood pumps!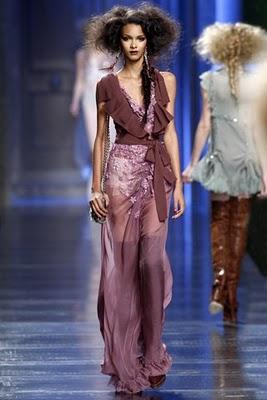 Este vestido color maquillaje de seda salvaje es impresionante ¿os gusta? /

This nude dress made with natural silk, it's so gorgeous, what do you think?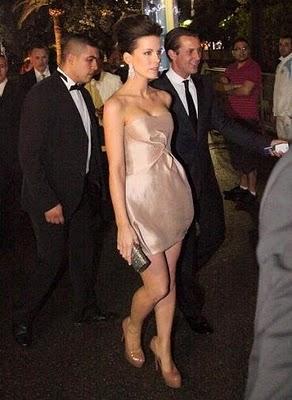 2- Eva Longoria:


Eva Longoria llevó este vestido de Naeem Khan para la presentación de la película On Tour. / Eva Longoria wore this dress by Naeem Khan to present the movie On Tour.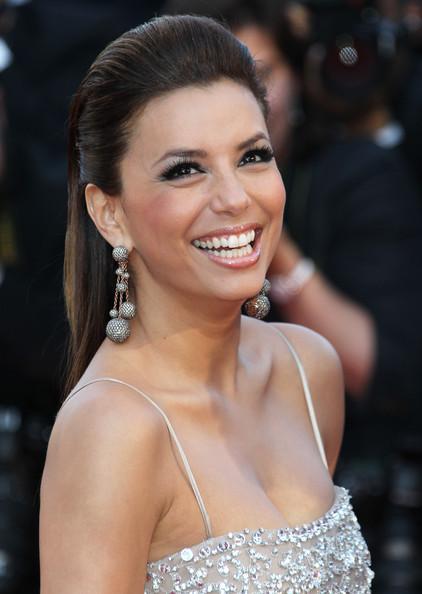 El peinado y los pendientes favorecieron mucho a Eva / The hair style and the earrings looks so good on Eva.


Tampoco falto a la presentación de la película Robbin Hood a la que llevo un vestido blanco assimétrico con volantes y una gran cola firmado por Emilio Pucci. ¡El vestido es simpremente magnífico! / 

She also went to the Robbin Hood presentation with a assymetric white bounces gown with a huge tail signed by Emilio Pucci. The dress was just gorgeous!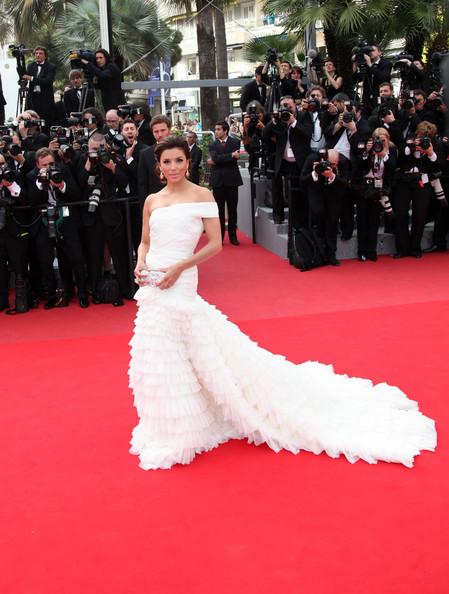 Eva viste bien incluso cuando tiene que hacer un viaje largo, esta imagen es cuando bajo del avión. El vestido gris es de Hérve Léger. /

Eva dress great even when she has to make a long trip, the picture below is when she step out of her plane. The grey dress is Hérve Léger.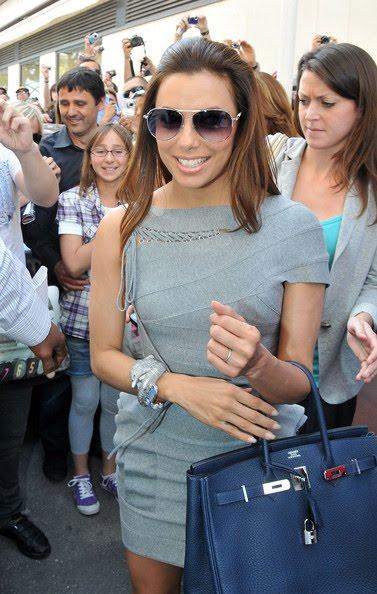 De corto también esta guapísima y sigue escogiendo los cortes asimétricos. Este vestido en tonos dorados es de Elie Saab Primavera 2010. /

In a mini cocktail dress she also is gorgeous and she still choose assymetric cuts. This gold dress is Elie Saab Spring 2010.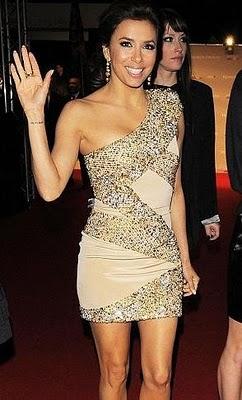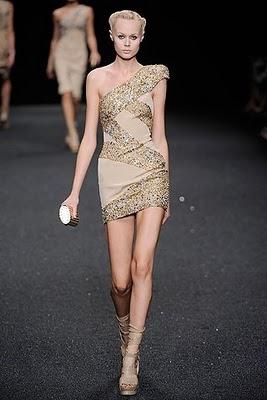 3- Cate Blanchett:


Representando a Robbin Hood acudió Cate Blanchett vestida con un sofisticado vestido en blanco y negro con bordados dorados de Alexander McQueen Pre-Otoño 2010. Me encanta el bajo del vestido con esa falda de tul que recuerda a las de las bailarinas. ¡El vestido es realmente precioso! /

Presenting Robbin Hood Cate Blanchett went with a sophisticated balck and with gown with embroideries in silver signed by Alexande McQueen Pre-Fall 2010. I love the bounce of the dress with a tulle skirt that reminds to the ballerinas onces. The dress is so beautiful!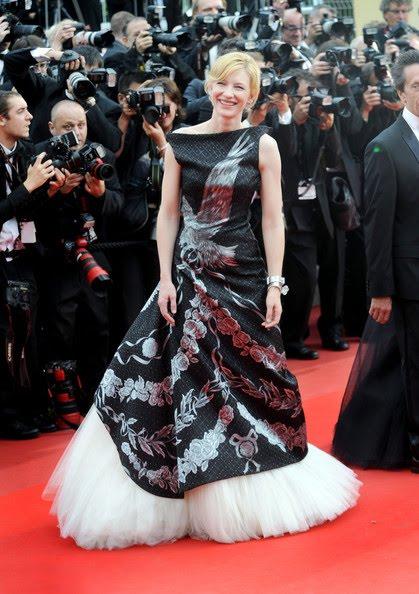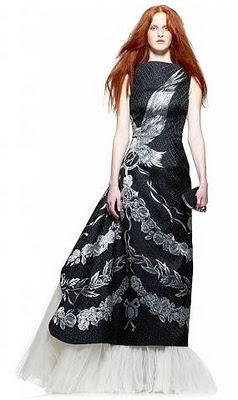 Con un modelo un poco sobrio pero elegante de Armani Privé. /

With a little sober but elegant Armani Privé two pieces.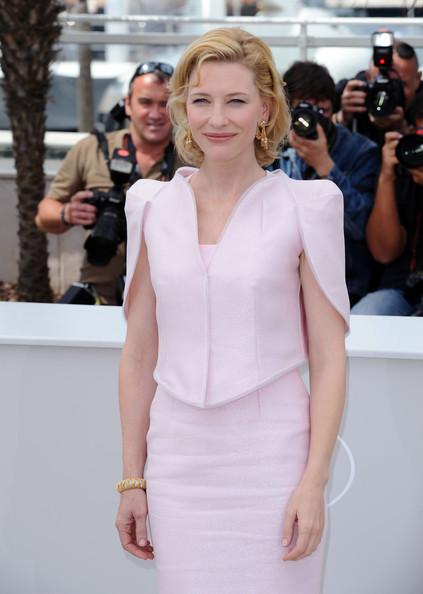 4- Elsa Pataky:


Elsa estba guapísima con este vestido asimétrico color azul noche firmado por Emilio Pucci Otoño 2010. Desde luego es uno de mis favoritos. /

Elsa was so beautiful with this assymetric night blue dress by Emilio Pucci Fall 2010. No dube it's one of my favorites.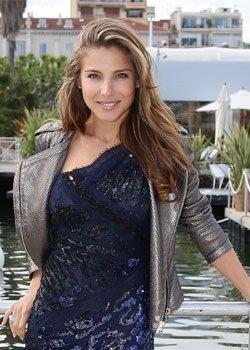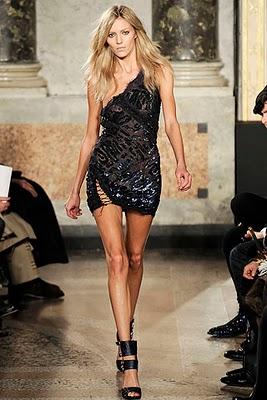 El vestido de Elsa es precioso pero tiene un pequeño fallo ya que es muy parecido al que llevo Eva Longoria días antes. Por eso Elsa tenía que haber optado por otro para la ocasión. /

Elsa's dress is so pretty but has a little mistake; it' so similar as the one Eva Longoria wore days before. That's why Elsa should change this one for other.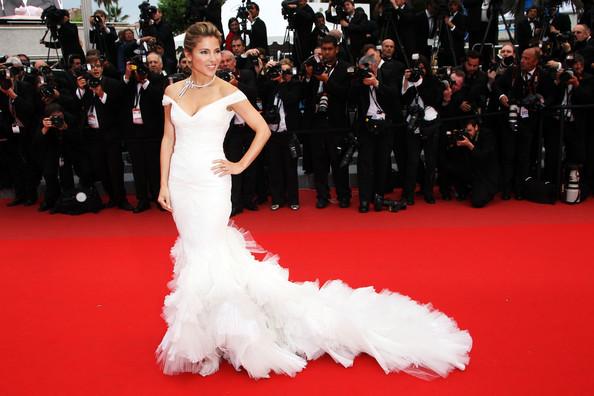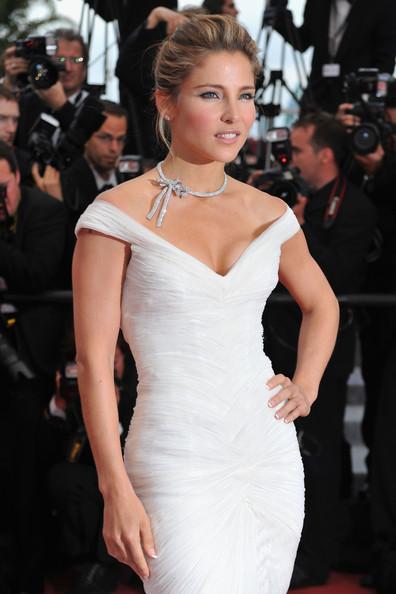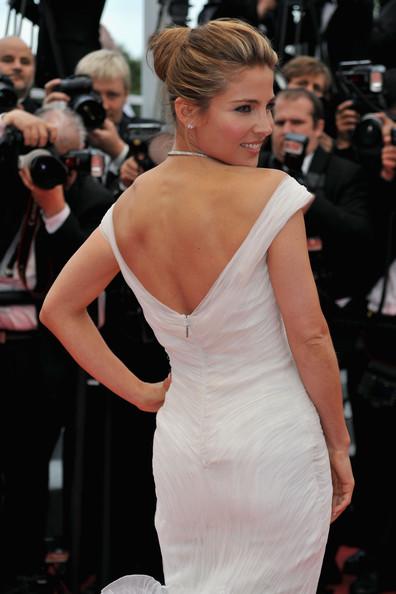 Tambíen eligío un vestido mini de Elie Saab, como lo hizo Eva Longoria, para la fiesta  de Montblanc. ¡Me encantan los peep toe, son de Sergio Rossi. /

She also chose a mini Elie Saab dress as Eva Longoria for Montblanc Party. I love the pumps they are Sergio Rossi.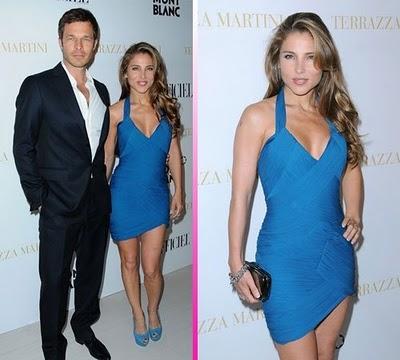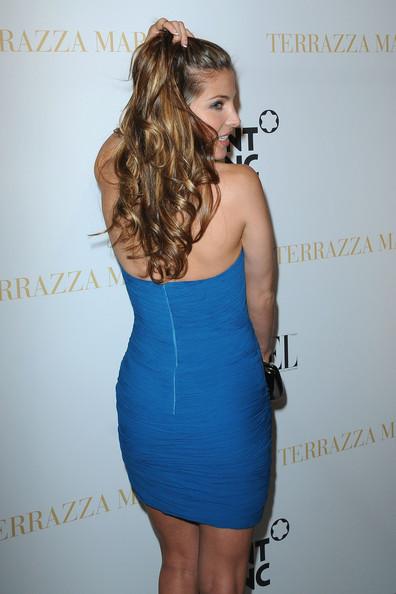 Para el homenaje al Cine Español, escogio este mono de raso. El mono es precioso pero los volantes la hace a Elsa más ancha de lo que es. /

For the Homage Spanish Cinema she choose this satin jumpsuit. The jumpsuit is nice but the bounces make her more wide than what she is.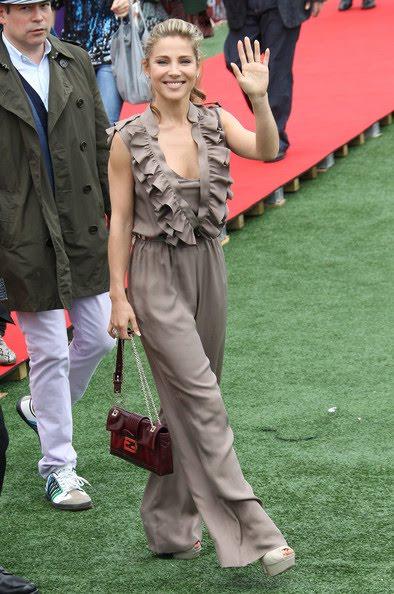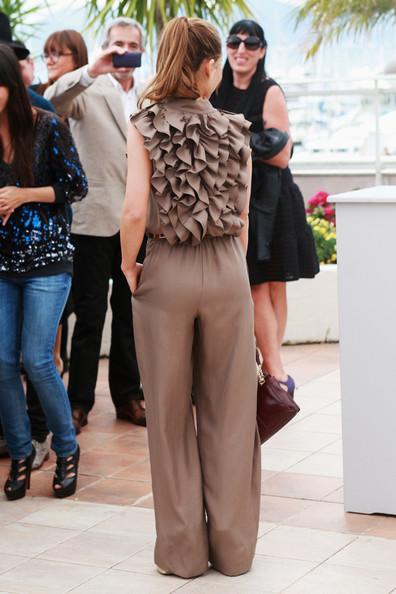 Elsa tampo faltó a la fiesta de Gucci y Viany Fair con esta vestido super escotado de Gucci Otoño 2010. /

Elsa didn't miss Gucci and Vanity Fair party with this pornunced v-neck dress by Gucci Fall 2010.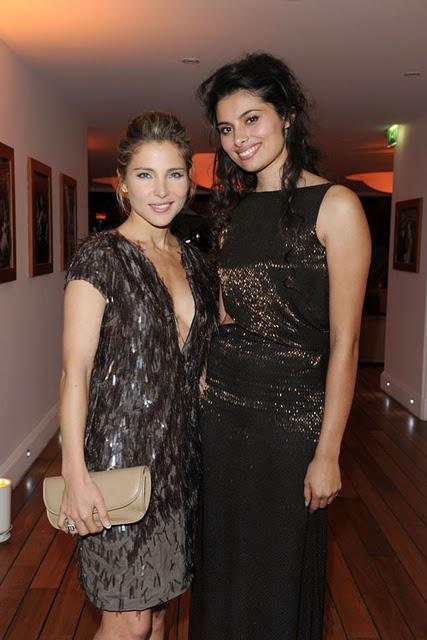 5- Evangeline Lilly:
Evangeline Lilly llevó un vestido coktail en verde de Emilio Pucci, cluntch y zapatos de Ferragamo y joyas de Chopard. /

Evangeline Lilly wore a green cocktail dress by Emilio Pucci, cluntch and pumps by Ferragamo and Chopard jwels.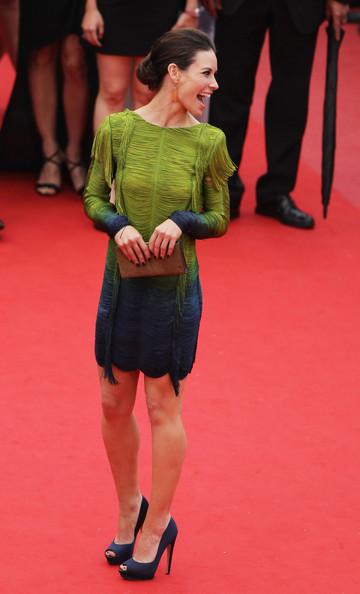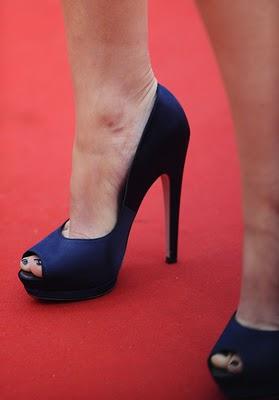 6- Laura Chiatti:
Laura eligió este fabuloso vestido rosa de plumas  para la fiesta de Chopard. / Laura chose this nice feather pink dress for the Chopard party.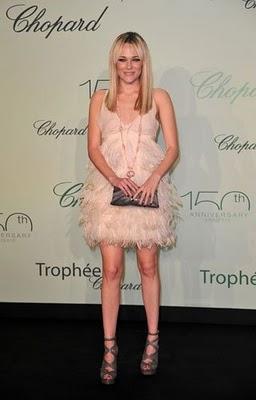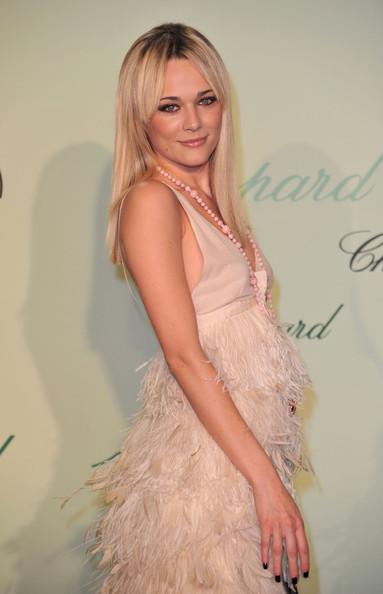 7- Helena Mattsson: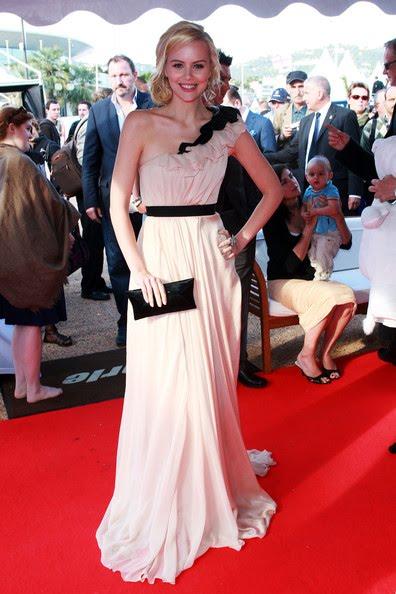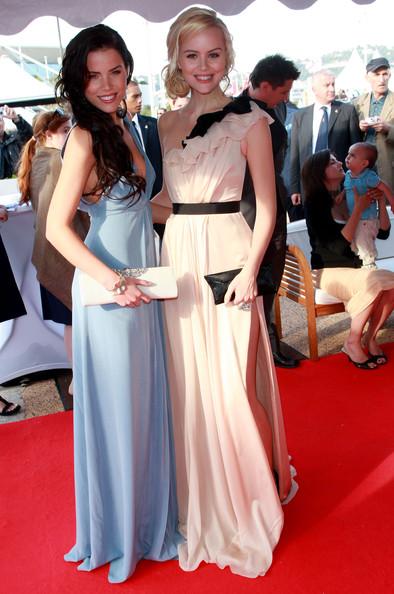 8- Fan Bing Bing: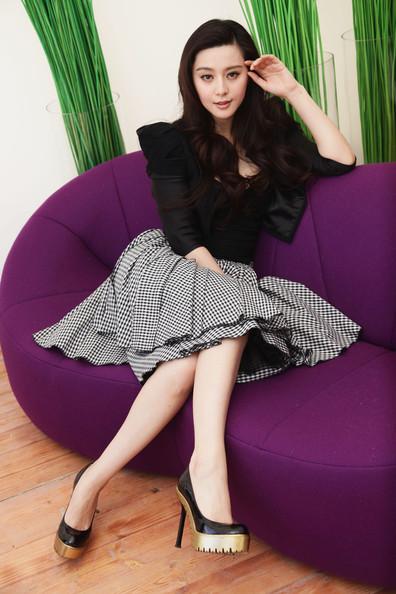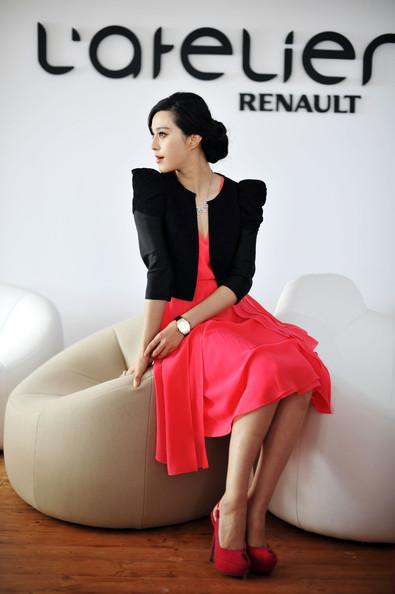 Fan Bing Bing eligio este vestido de Elie Saab. /

Fan Bing Bing chose this Eli Saab dress.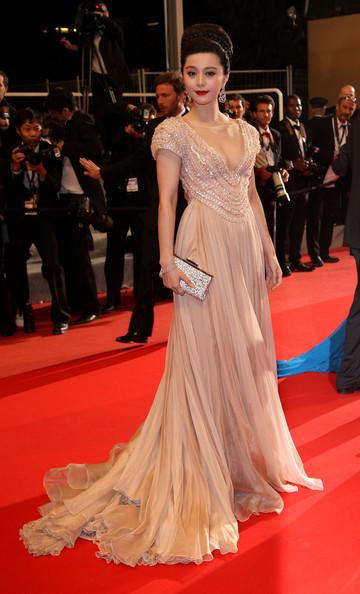 Fan Bing Bing con un vestido rosa de Valentino, ¡el detalle de la mariposa le da un look muy chulo! /

Fan Bing Bing in Valentino. The butterfly detail gives a cool look!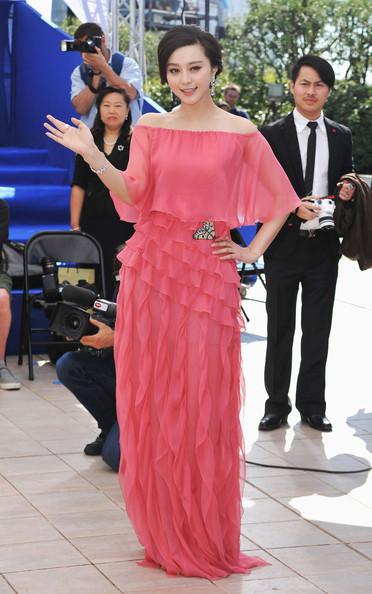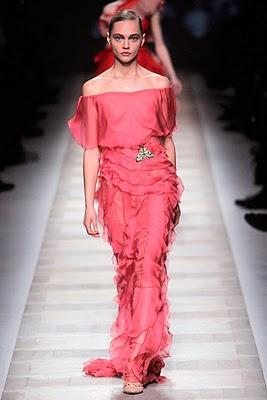 9- Lea Seydoux:
Lea Seydoux llevaba un vestido de Louis Vuitton Otoño 2010 que recordaba al que llevo Rachel Bilson en la Gala Met  y aunque el largo sigue sin convencerme del todo hay que reconocer que el vestido es muy bonito. / Lea Seydoux had a Louis Vuitton Fall 2010 dress that reminds to the one Rachel Bilson wore at the

Gala Met

and even I ain't convince about the length I have to recognize the dress is so pretty.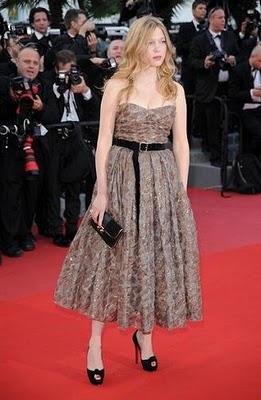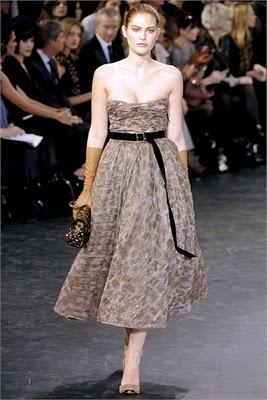 10- Michelle Yeoh:


La actriz asiática Michelle Yeoh con un vestido de organza en amarillo muy claro y escote palabra de honor firmado por Roberto Cavalli Couture. /

The Asian actress Michelle Yeoh with strapless a yellow organza gown by Roberto Cavalli Couture.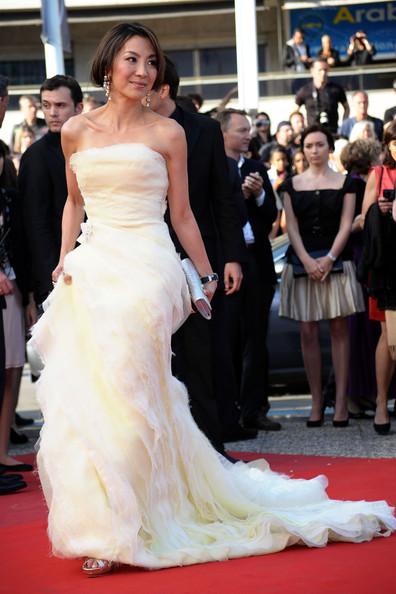 11- Camilla Belle:


Camilla Belle llevo un precioso vestido azul noche firmado por Gucci. /

Camilla Belle wore a nice night blue gown by Gucci.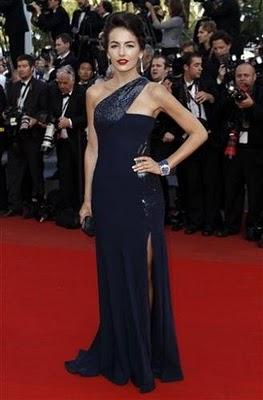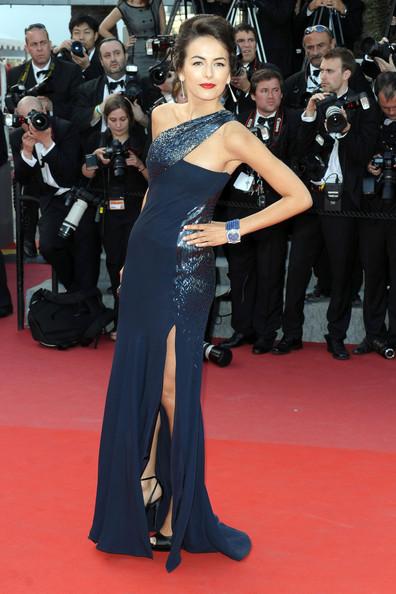 Camilla Belle acudió a la fiesta de Gucci y Vanity Fair con este vestido metalizado de Gucci. /

Camilla Belle went to the Gucci and Vanity Fair Party with this metallic Gucci dress.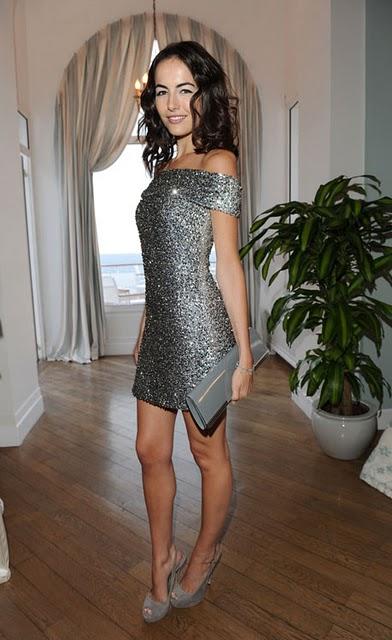 12- Salma Hayek:


Salma Hayek lleva un vestido assimétrico granate de Gucci Couture. / Salma Hayek with a maroon aasymetric gown by Gucci Couture.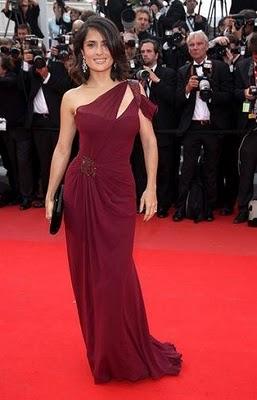 Salma Hayek de nuevo con un vestido de Gucci, esta vez en rojo. Color que le favorece mucho. /

Salma Hayek again with a Gucci dress but this time in red. This color fit her so nice!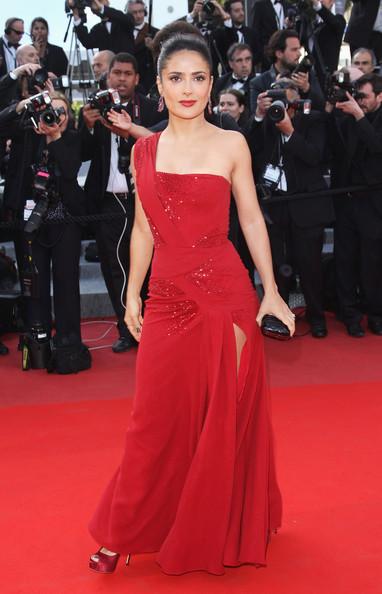 13- Diane Lane:
La actriz Diane Lane escogio el azul, como otras muchas actrices. /

Diane Lane in blue as other many actresses.




14- Naomi Watts:
Naomi Watts lleva un precioso vestido estampado de Diane von Furstenberg Otoño 2010. A juego unas fabulosas sandalias amarillas de raso firmadas por Stella McCartney. / Naomi Watts wore a nice print dress by Diane von Furstenberg Fall 2010. The yellow satin sandals are gorgeous and they are from Stella McCartney.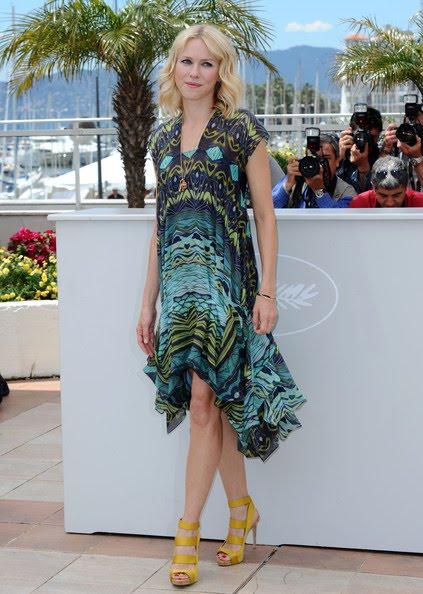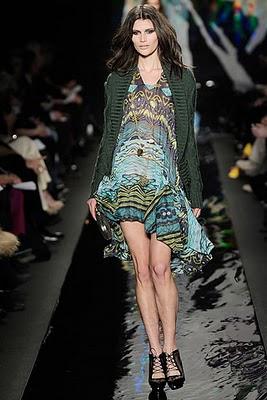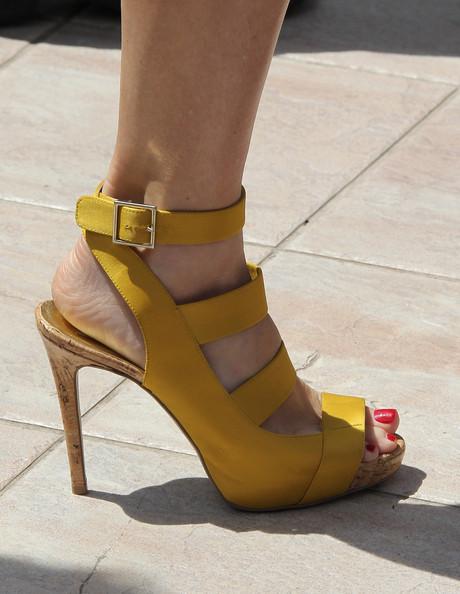 Naomi acudío junto a Woody Allen al estreno de "You Will Meet a Tall Dark Stranger" con un vestido palabra de honor en tono rosa claro de Gucci Première collection. /

Naomi went with Woody Allen to the "You Will Meet a Tall Dark Stranger" Premier with a strepless pink gown by Gucci Première collection.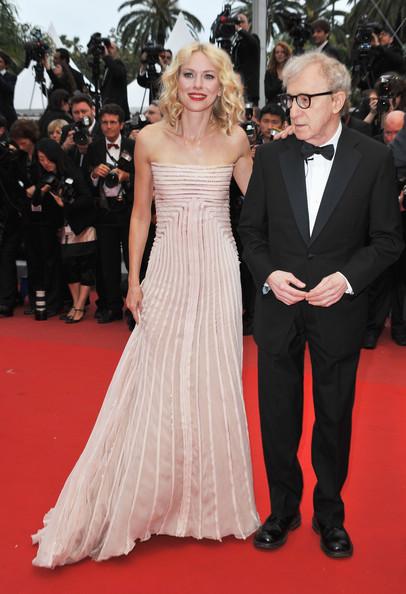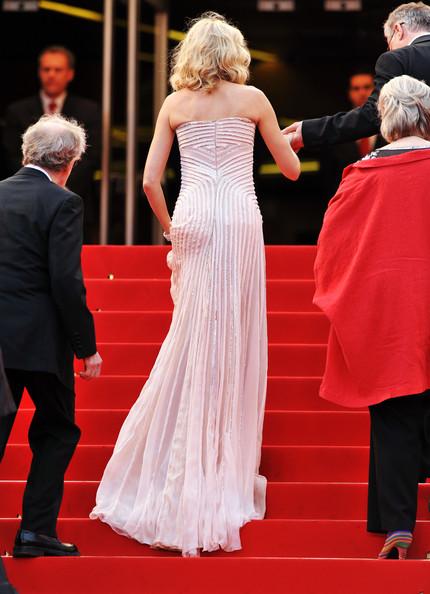 15- Aishwarya Rai Bachchan:


Aishwarya Rai Bachchan llevaba un vestido largo negro de noche con escote palabra de honor y brillos de Armani Prive. El vestido es preciso y marca perfectamente las curvas de la actriz. El único fallo fue el calzado que se puso que parecían zapatillas de andar por casa. /

Aishwarya Rai Bachchan wore a nice strepless black gown by Armani Prive. The dress is so pretty and highlight the actresses curves. The only but are the shoes she wore they look like sleepers.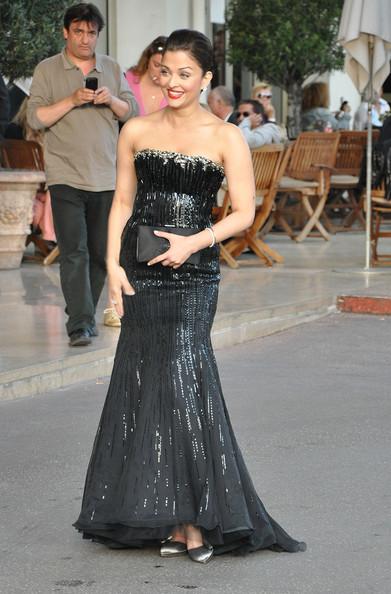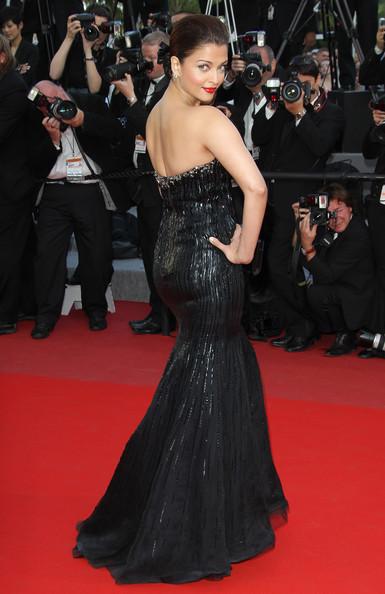 Aishwarya en la presentación de Wall Street Money Never Sleeps, con un vestido magenta de Gucci. / Aishwarya on the Wall Street Money Never Sleeps Premier with a Gucci magenta gown.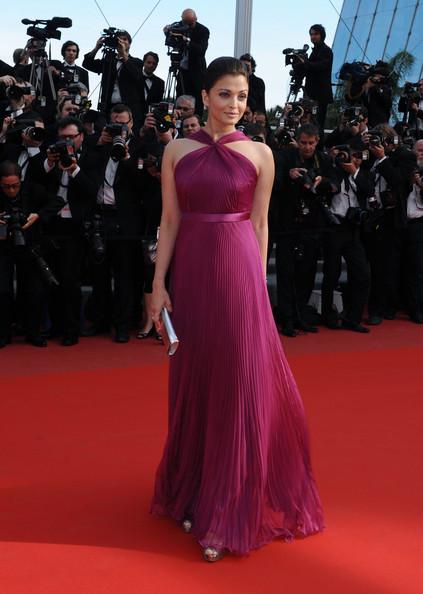 16- Carey Mulligan:

Con un conjunto muy clásico firmado RM by Roland Mouret Otoño 2010 y sandalias de ante de Fendi, Carey Mulligan posó ante las cámaras. /

With a classic outfit signed by RM by Roland Mouret Fall 2010 and sude sandals by Fendi, Carey Mulligan pose for the cameras.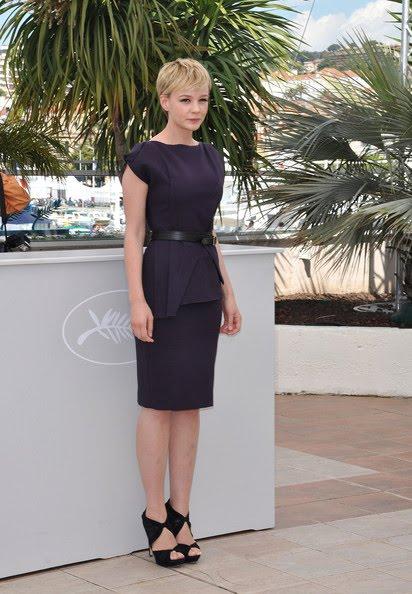 Carey Mulligan eligio esta vestido estampado de Prada para hacer su aparición en Cannes. /

Care

y Mulligan chose this print Prada dress to put her foot at Cannes.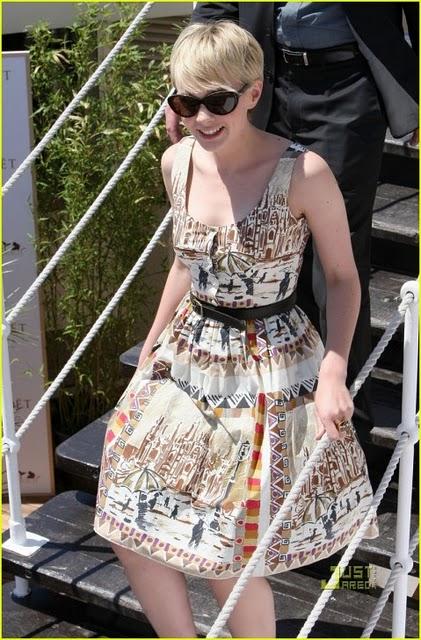 Carey acudio al estreno de su nueva palícula "Wall Street: Money Never Sleeps" con este sofisticado vestido de Azarro Otoño 2010. Los detalles en el cuello tipo babero y el lazo son de muy buen gusto. /

Carey went to the Premier of her new movie "Wall Street: Money Never Sleeps" with this sophisticated Azarro Fall 2010 dress. The neck details are in so much taste.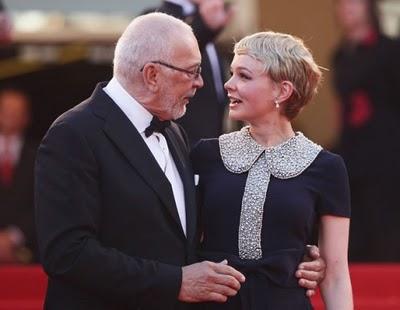 17- Diana Rudychenko: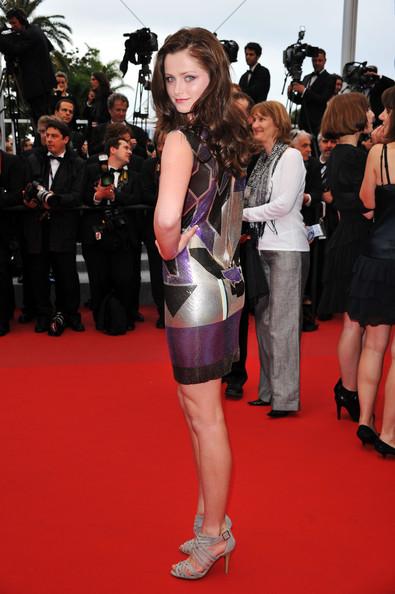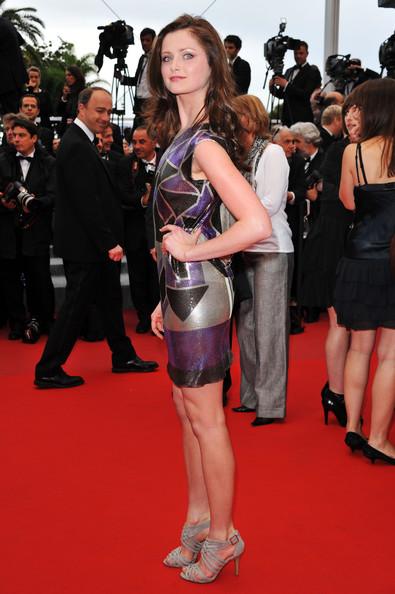 18- Clotilde Caurau di Savoia: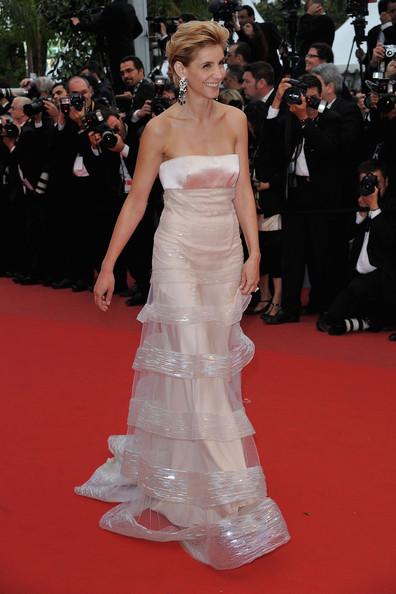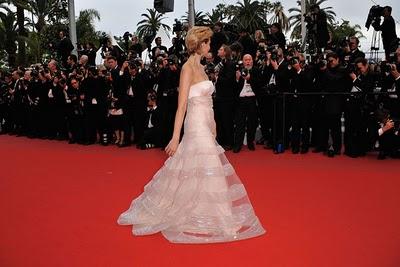 Sources: Style.com, Zimbio, Just Jered.