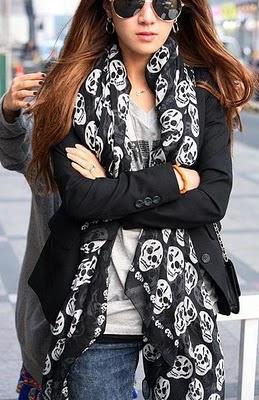 Tenía que escribir sobre los fulares y pañuelos de calaveras de Alexander McQueen, porque llevo viéndolos hasta la saciedad este año en famosos, modelos y trend setters, y cada día me gustan más. Además desde la muerte del diseñador, sus diseños se han convertido en objetos de culto, imprescindibles en cualquier armario que se precie. / I had to write about McQueen's skulls scarves because I have seen them so much this year in celebrieties, models and trend setters and every day I like them most. And since the designer death, his designs had become cult objets, and must-have on any wardrobe.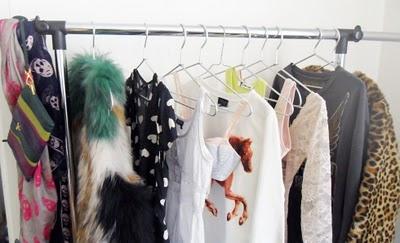 Images from Stockholm street Style.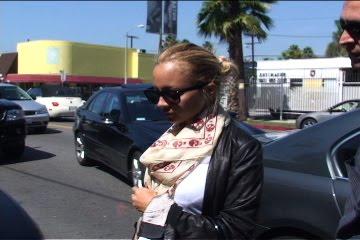 La diseñadora inglesa, Stella McCartney también tiene una en su armario. / The English designer Stella McCartney also have one on her wardrobe.
Este pañuelo, tan peculiar, es todo un símbolo de la casa McQueen. Salio al mercado como parte de la colección de Primavera-Verano 2003 y ha seguido estando presente año tras año en las colecciones de accesorios de la firma. /

This peculiar scarf is a symbol of McQueen's brand. It got out as part of the Spring-Summer 2003 McQueen's collection and it has been present year by year in all the accessories collection of the brand.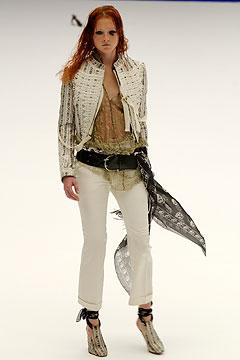 Esta imagen pertenece al desfile de Primavera 2003. / This images is from the 2003 Spring Catwalk.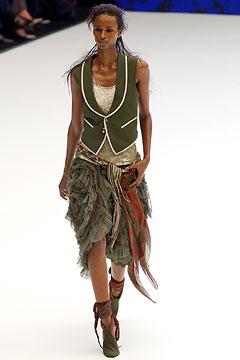 Desfile 2003. / 2003 runway.


Y es que es el accesorio perfecto para esta primavera: está compuesto al 100% de seda lo que denota elegancia y sofisticación, a la vez que te protege del frío por las mañanas, y evita el calor de la tarde. Además es muy versátil, lo puedes llevar prácticamente con todo y aún poniéndotelo todos los días nadie lo notará ya que te permite llevarlo de mil formas: en el cuello, como cinturón, como cinta del pelo, atada en el bolso o como se te ocurra, todo es admisible. /

It's the perfect accessorie for this spring: it's made 100% of silk what give elegance and sophistication to the garment, plus it protects you from the cool of the morning and avoid the hot temperatures of the afternoon. Besides, it's versatile, you can wear it with almost everything and even if you wear it frequently people won't notice because it let you wear it in a thousand ways: on the neck, as a belt, as a hair band, tide to the bag or as many ways as you can think about, all is allowed.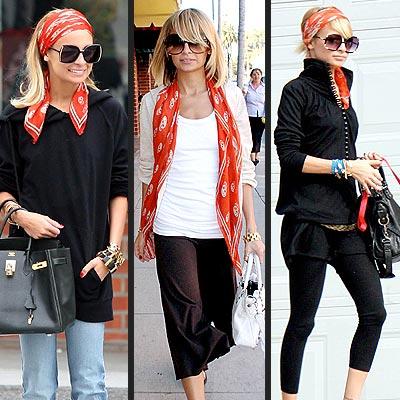 Nicole Richie en 2008. / Nicole Richie in 2008.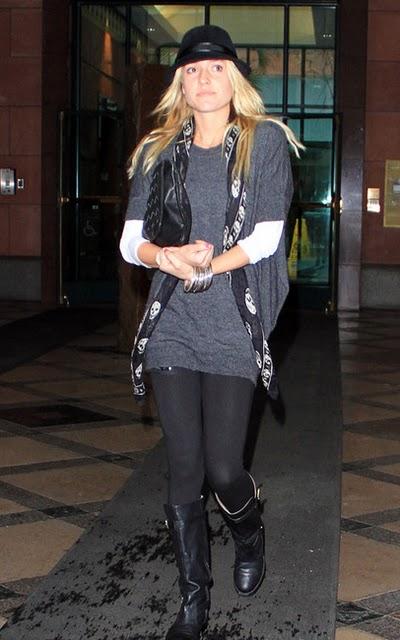 La estrella de The Hills, Kristin Cavallari en enero. / The Hills star, Kristin Cavallari, last january.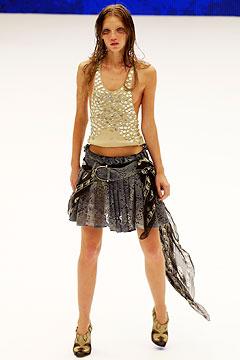 Alrededor de la cintura, para el desfile de Primavera de 2003, cuya inspiración eran los piratas. / Around the waist, for Spring 2003 catwalk, the inspiration were the pirates.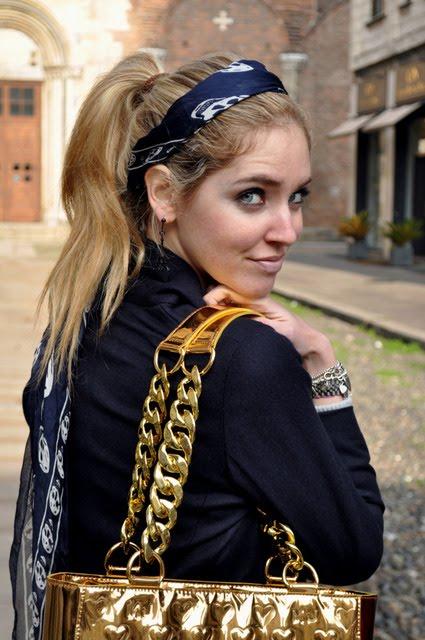 En el pelo queda fenomenal, y Chiara lo sabe; esta chica tiene clase. / On the hair looks nice and Chiara knows it; this girl has style.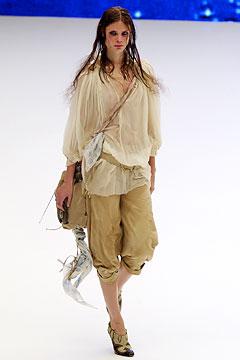 Otro look con el que nos ilustró en el desfile de 2003, esta vez el pañuelo esta atado al bolso. / Another look he ilustrate us on 2003 catwalk, this time the scarf was tide at the bag.


Este accesorio lo han llevado un sin fin de iconos de la moda en todo el mundo como Ashley Olsen, Nicole Richie, Kylie Minogue, Mischa Burton. Es más, McQueen era uno de los diseñadores más querido por las celebrieties y sus piezas son consideradas arquetipos de estilo. /

This accessorise has been wear for fashion icons worldwide as Ashley Olsen, Nicole Richie, Kylie Minogue, Mischa Burton. McQueen was one of the dearest designers between the celebrities and his pieces are epitome of style.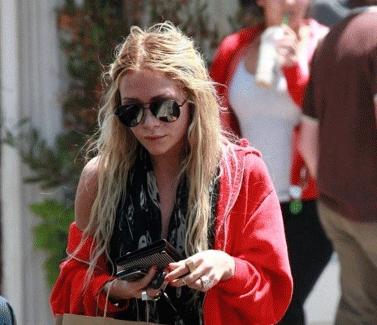 Ashley Olsen con un modelo oscuro. / Ashley Olsen with a dark model.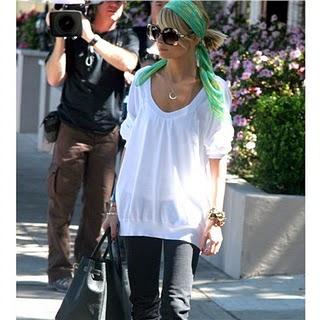 Nicole Richie lleva uno verde a modo de diadema. / Nicole wears it on green as a hair band.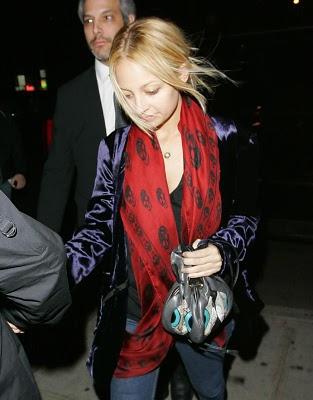 Nicole Richie con uno en rojo. / Nicole Richie with one in red.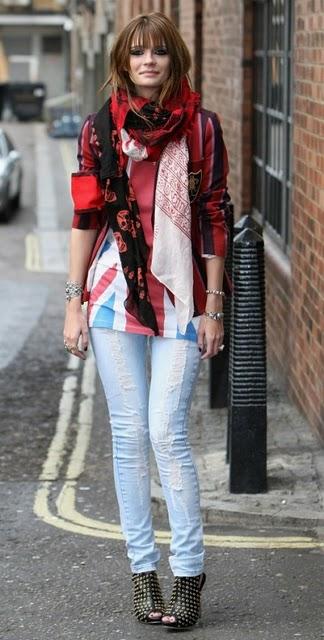 Mischa Burton lleva una negra con calaveras en rojo. / Mischa Burton wears a black one with red skulls.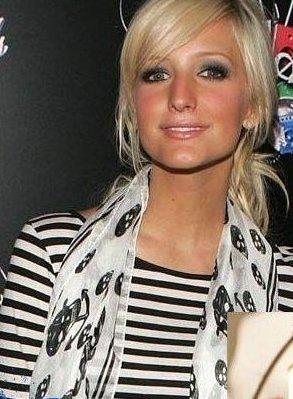 ¡Me chifla como le queda a Ashley Simpson! / I love how it feets Ashley Simpson!.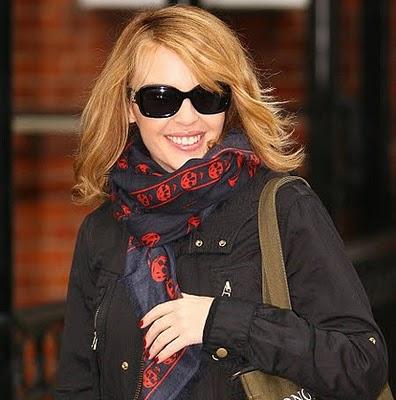 Kylie Minogue lleva una negra y roja. / Kylie Minogue wear one in black and red.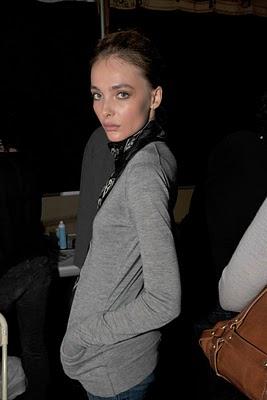 Sejena Crush en el desfile de Carolina Herrera durante la Semana de la Moda de Nueva York. / Sejena Crush at Carolina Herrara catwalk during New York Fashion Week.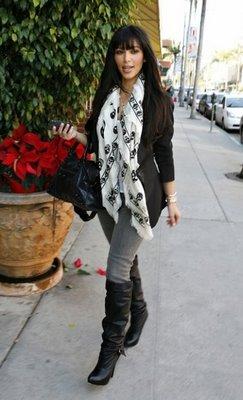 Kim Kardashian


Otra ventaja es que lo tienes en un muchos colores y modelos, lo que permite que cada uno elija el qué mas vaya con su estilo. Mis favorito son el azul marino y el negro, aunque tienen uno en la web de Alexander McQueen en color crema precioso. / Another advantage is that there is in plenty of colors and models, so anyone can chose one according with their style. My favourite are dark blue and black, but they have one Alexander McQueen's website in cream that is beautiful.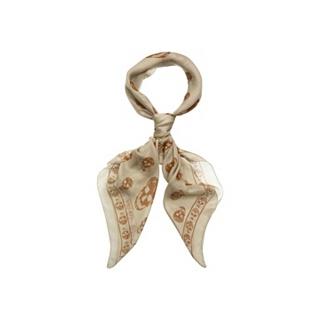 Este pañuelo esta a la venta en la página web de McQueen. / This is the scarf on McQueen webside.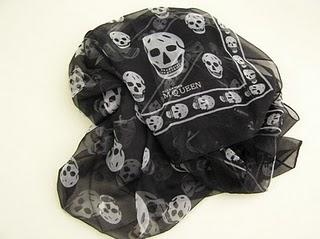 En negro. / In black.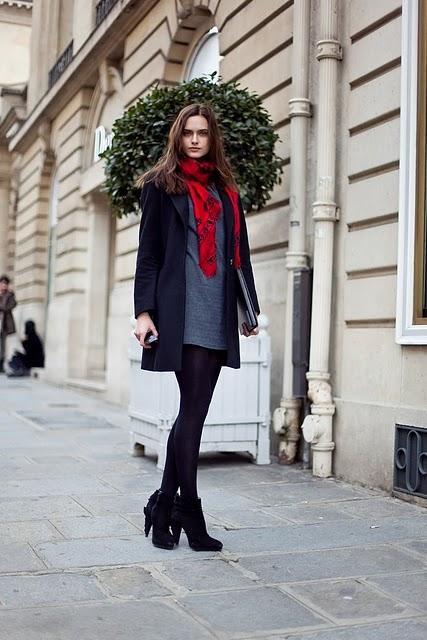 La modelo Zuzana Gregorova lleva una preciosa en rojo. / The model Zuzana Gregorova wears a nice one in red.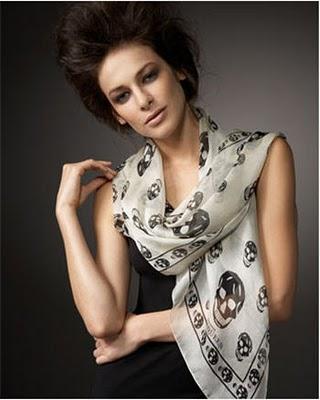 Este blanco también es muy fashion. / This white one is also fashion.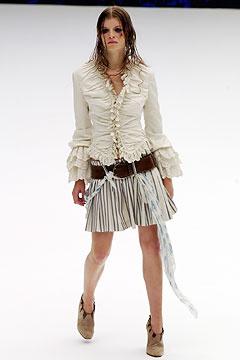 En azul claro. / In light blue.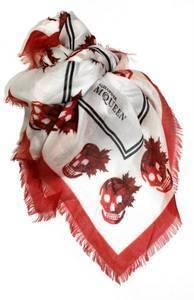 Este pañuelo se sacó en una edición limitada conmemorando los Juegos Olímpicos de Invierno 2010 en Vancuver. En esta edición límitada sólo se hicieron 250 pañuelos. / This scarf was out al a limited edition commemorate the Vancouver 2010 Winter Olympic games. On this edition only 250 scarf were made.


El único inconveniente es su precio, pero es una inversión de la que seguro no te arrepientes; este pañuelo forma parte de la historia de la moda, incluso Thomas Wylde sacó algún diseño similar. Además de vez en cuando en e-bay hay alguno que se vende y hay otras firmas que han sacado una versión parecida como Zara, Topshop, Miss Selfield, ... /

The only drawback it's the price, think is an inversion you want be sorry for; this scarf is part of Fashion History, even Thomas Wylde got a similar model. Plus once in a while one is sale on e-bay, and there are others brands that had got out a similar version as Zara, Topshop, Miss Selfield,

...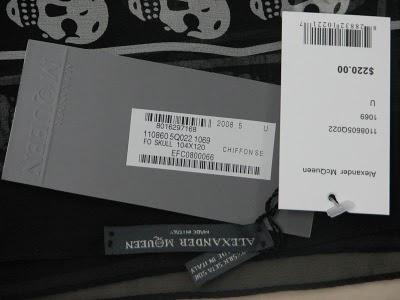 El pañuelo con su etiqueta y precio. / The scarf with it's label and price.

Carmen Elecra llevó la versión que sacó Thomas Wylde en 2006. / Carmen Elecra wore a version in 2006 by Thomas Wylde.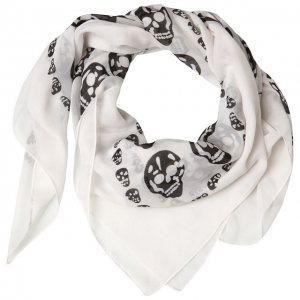 Este pañuelo lo sacó Miss Sieldfield. / This scarf was out on the market by Miss Sieldfield.
El pañuelo de McQueen en la calle. / McQueen Scarf on the street: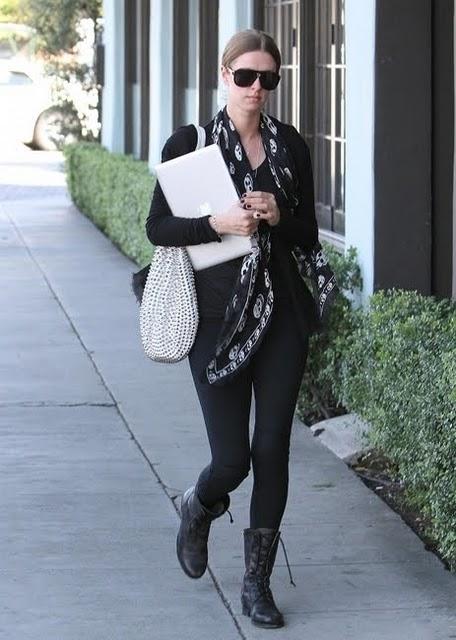 Niki Hilton con un look de calle y su imprescindible pañuelo de McQueen. / Nikki Hilton with a street look and her McQueen scarf.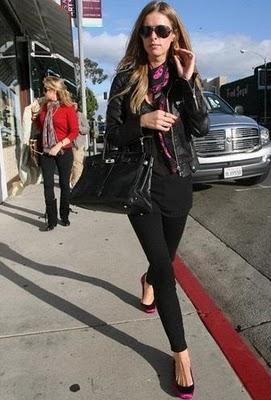 Imag Pink: En negro y fucsia, ¡muy chulo! / In black and fucsia, nice!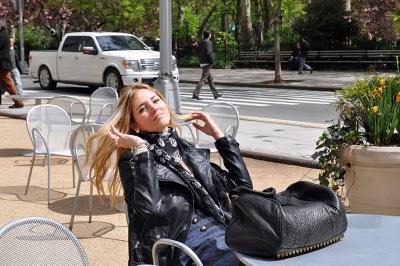 La blogger, Chiara Ferragno de The blonde salad, adora este pañuelo y lo lleva en un montón de ocasiones, haciendo que cada vez parezca que es la primera vez que lo lleva. / The blogger, Chiara Ferragno from The Blonde Salad, love this scarf and she wears it in a lot of ocassions, and every time seems it's the first time she wears it.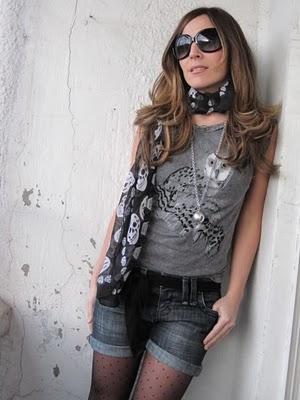 Rose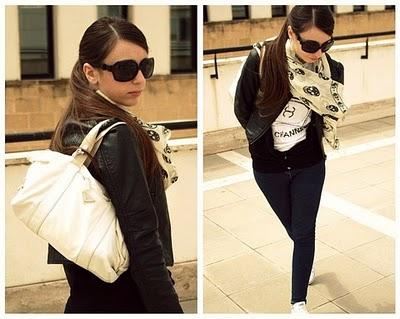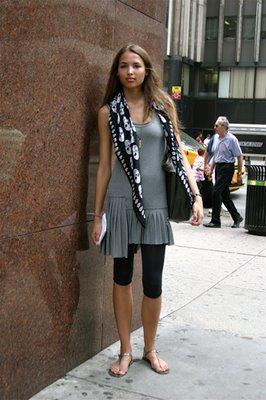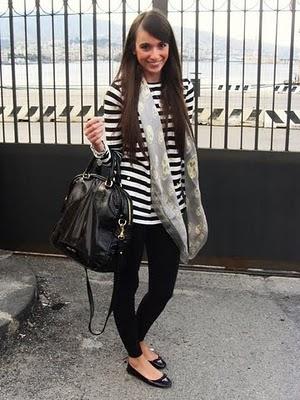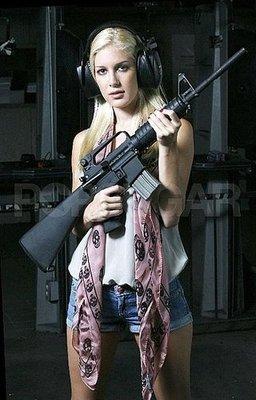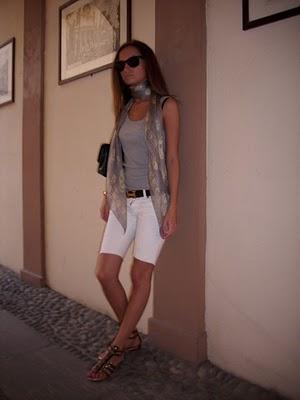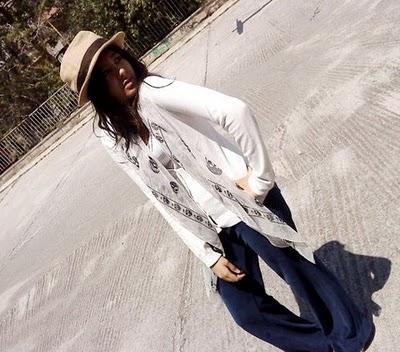 El blanco va con todo, además es un color muy a temporal. / White goes with everything plus is a very timeless color.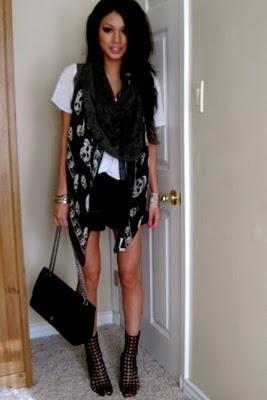 En el cuello como caído, así lo lucirás más. / On the neck as fall, this way it will show more.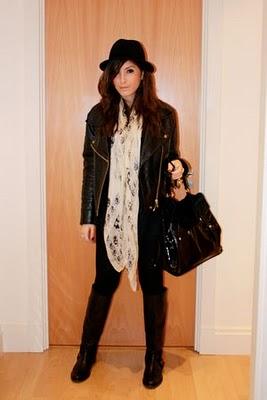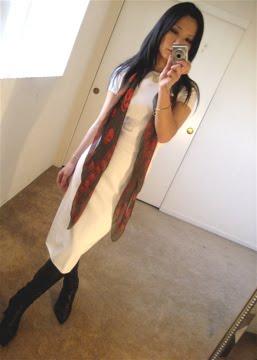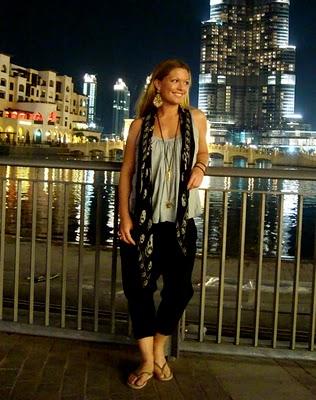 Special thanks to: Zimbio, People, Alexande McQueen web page, Lookbook.nu, The blonde Salad, The Fashion Spot, Just Jered, style.com.