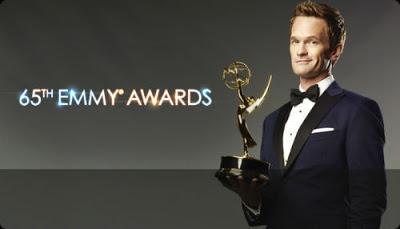 Los premios Primetime Emmy son uno de los premios Emmy presentados por la Academia de Artes y Ciencias de la Televisión en reconocimiento a lo mejor del año en la programación televisiva estadounidense en horario primetime. 
Este año en la categoría de serie dramática las grandes favoritas son la impresionante serie basada en los libros de George R.R. Martin "Juego de Tronos" y la también impresionante serie creada por Vince Gilligan "Breaking Bad" con 16 y 13 nominaciones respectivamente. Mención especial merece la incursión este año de la estupenda serie creada por Beau Willimon "House of Cards" con 9 nominaciones.
En la categoría de serie cómica las grandes favoritas son la divertida serie creada por Tina Fey "Rockefeller Plaza" y la gran triunfadora del año pasado "Modern Family" con 13 y 12 nominaciones respectivamente.
En la categoría de mejor miniserie o telefilm destaca la genial miniserie de terror creada por Ryan Murphy  y Brad Falchuk "American Horror Story: Asylum" que parte con 17 nominaciones, siendo la serie más nominada de todas, aunque huelga decir que en algunas candidaturas optan varios interpretes; y también el telefilm de Steven Soderbergh "Behind The Candelabra" con 15 nominaciones.
 
A continuación os dejamos con el listado completo de los nominados, ordenados por categorías:
DRAMA:
Mejor Actriz de Serie Dramática: 
Vera Farmiga (Bates Motel)

Michelle Dockery (Downton Abbey)

Claire Danes (Homeland)

Robin Wright (House of Cards)

Elisabeth Moss (Mad Men)

Connie Britton (Nashville)

Kerry Washington (Scandal)
Mejor Actor de Drama:
Bryan Cranston (Breaking Bad)
Hugh Bonneville (Downton Abbey)
Damian Lewis (Homeland)
Kevin Spacey (House of Cards)
Jon Hamm (Mad Men)
Jeff Daniels (The Newsroom)
Mejor Actriz Secundaria de Drama : 
Anna Gunn (Breaking Bad)
Maggie Smith (Downton Abbey)
Emilia Clarke (Juego de Tronos)
Morena Baccarin (Homeland)
Christina Hendricks (Mad Men)
Christine Baranski (The Good Wife)
Mejor Actor Secundario de Drama: 
Bobby Cannavale (Boardwalk Empire)
Jonathan Banks (Breaking Bad)
Aaron Paul (Breaking Bad)
Jim Carter (Downton Abbey)
Peter Dinklage (Juego de Tronos)
Mandy Patinkin (Homeland)
Mejor Actriz Invitada en Serie Dramática: 
Diana Rigg (Juego de Tronos)
Linda Cardellini (Mad Men)
Joan Cusack (Shameless)
Margo Martindale (The Americans)
Carrie Preston (The Good Wife)
Jane Fonda (The Newsroom)
Mejor Actor Invitado en Serie Dramática: 
Rupert Friend (Homeland)
Robert Morse (Mad Men)
Harry Hamlin (Mad Men)
Dan Bucatinsky (Scandal)
Nathan Lane (The Good Wife)
Michael J. Fox (The Good Wife)
Mejor guión de una Serie Dramática: 
Breaking Bad (Temporada 5) Capítulo 5 "Carga Mortal (Dead Freight)" de George Mastras
Breaking Bad (Temporada 5) Capítulo 7 "Di mi nombre (Say My Name)" de Thomas Schnauz
Downton Abbey (Temporada 3) "Episodio 4" de Julian Fellowes
Juego de Tronos (Temporada 3) Capítulo 9 "Las lluvias de Castamere (The Rains Of Castamere)" de David Benioff y D.B. Weiss
Homeland (Temporada 2) "Preguntas y respuestas (Q&A)" de Henry Bromell
Mejor dirección de una Serie Dramática: 
Boardwalk Empire (Temporada 3) Capítulo 12 "No es nuestra sangre (Margate Sands)" de Tim Van Patten
Breaking Bad (Temporada 5) Capítulo 8 "Deslizandose sobre todo (Gliding Over All)" de Michelle MacLaren
Downton Abbey (Temporada 3) "Episodio 4" de Jeremy Webb
Homeland (Temporada 2) "Preguntas y respuestas (Q&A)" de Lesli Linka Glatter
House Of Cards "Capítulo 1" de David Fincher
Mejor Serie Dramática:
Breaking Bad
Downton Abbey
Juego de Tronos
Homeland
House Of Cards
Mad Men
COMEDIA:
Mejor Actriz de Comedia: 
Tina Fey (Rockefeller Plaza)
Laura Dern (Iluminada)
Lena Dunham (Girls)
Edie Falco (Nurse Jackie)
Amy Poehler (Parks And Recreation)
Julia Louis-Dreyfus (Veep)
Mejor Actor de Comedia: 
Alec Baldwin (Rockefeller Plaza)
Jason Bateman (Arrested Development)
Matt LeBlanc (Episodes)
Don Cheadle (House Of Lies)
Louis C.K. (Louie)
Jim Parsons (The Big Bang Theory)
Mejor Actriz Secundaria de Comedia: 
Jane Krakowski (Rockefeller Plaza)
Jane Lynch (Glee)
Sofía Vergara (Modern Family)
Julie Bowen (Modern Family)
Merritt Wever (Nurse Jackie)
Mayim Bialik (The Big Bang Theory)
Anna Chlumsky (Veep)
Mejor Actor Secundario de Comedia: 
Adam Driver (Girls)
Jesse Tyler Ferguson (Modern Family)
Ed O'Neill (Modern Family)
Ty Burrell (Modern Family)
Bill Hader (Saturday Night Live)
Tony Hale (Veep)
Mejor Actriz Invitada en Serie de Comedia: 
Eliane Stritch  (Rockefeller Plaza)
Molly Shannon (Iluminada)
DotMarie Jones (Glee)
Melissa Leo (Louie)
Melissa McCarthy (Saturday Night Live)
Kristen Wiig (Saturday Night Live)
Mejor Actor Invitado en Serie de Comedia: 
Will Forte (Rockefeller Plaza)
Nathan Lane (Modern Family)
Bobby Cannavale (Nurse Jackie)
Louis C.K. (Saturday Night Live)
Justin Timberlake (Saturday Night Live)
Bob Newhart (The Big Bang Theory)
Mejor guión de una Serie de Comedia:
Rockefeller Plaza (Temporada 7) Capítulo 12 "Hogcock!" de Jack Burditt y Robert Carlock
Rockefeller Plaza (Temporada 7) Capítulo 13 "Last Lunch" de Tina Fey y Tracey Wigfield
Episodes (Temporada 2) "Episodio Nueve" de David Crane y Jeffrey Klarik
Louie (Temporada 3) "Daddy's Girlfriend Part 1" de Louis C.K. y Pamela Adlon
The Office (Temporada 9) Capítulo 23 "Finale" de Greg Daniels
Mejor dirección de una Serie de Comedia:
Rockefeller Plaza (Temporada 7) Capítulos 12 / 13 "Hogcock! / Last Lunch" de Beth McCarthy-Miller
Girls (Temporada 2) Capítulo 9 "A cuatro patas (On All Fours)" de Lena Dunham
Glee (Temporada 4) Capítulo 13 "Diva" de Paris Barclay
Louie (Temporada 3) Capítulo 13 "New Year's Eve" de Louis C.K.
Modern Family (Temporada 4) Capítulo 7 "Arrestada (Arrested)" de Gail Mancuso
Mejor Serie de Comedia:
Rockefeller Plaza
Girls
Louie
Modern Family
The Big Bang Theory
Veep
MINISERIE / TELEFILM:
Mejor Actriz de una Miniserie o Telefilm: 
Jessica Lange (American Horror Story: Asylum)
Helen Mirren (Phil Spector)
Sigourney Weaver (Political Animals)
Laura Linney (Con C Mayúscula (The Big C: Hereafter))
Elisabeth Moss (Top of the Lake)
Mejor Actor de Miniserie o Telefilm:
Michael Douglas (Behind the Candelabra)
Matt Damon (Behind the Candelabra)
Benedict Cumberbatch (Parade's End)
Al Pacino (Phil Spector)
Toby Jones (The Girl)
Mejor Actriz de Reparto de Miniserie o Telefilm: 
Sarah Paulson (American Horror Story: Asylum)
Ellen Burstyn (Political Animals)
Charlotte Rampling (Restless)
Alfre Woodward (Steel Magnolias)
Imelda Staunton (The Girl)
Mejor Actor de Reparto de Miniserie o Telefilm: 
James Cronwell (American Horror Story: Asylum)
Zachary Quinto (American Horror Story: Asylum)
Scott Bakula (Behind The Candelabra)
John Benjamin Hickey (Con C Mayúscula (The Big C: Hereafter))
Peter Mullan (Top Of The Lake)
Mejor Guión de Miniserie o Telefilm: 
Behind The Candelabra de Richard LaGravenese
Parade's End de Tom Stoppard
Phil Spector de David Mamet
The Hour de Abi Morgan
Top Of The Lake de Jane Campion y Gerard Lee
Mejor Dirección de Miniserie o Telefilm: 
Behind The Candelabra de Steven Soderbergh
Phil Spector de David Mamet
Ring Of Fire de Allison Anders
The Girl de Julian Jarrold
Top Of The Lake "Part 5" de Jane Campion y Garth Davis
Mejor MiniSerie o Película:
American Horror Story: Asylum
Behind The Candelabra
Phil Spector
Political Animals
La Biblia
Top Of The Lake
REALITYS / PROGRAMAS DE VARIEDADES:
Mejor Presentador de Reality 
(
Host For A Reality Or Reality-Competition Program)
: 
Ryan Seacrest (American Idol)
Betty White (Betty White's Off Their Rockers)
Tom Bergeron (Dancing With The Stars)
Heidi Klum y Tim Gunn (Project Runway)
Cat Deeley (So You Think You Can Dance)
Anthony Bourdain (The Taste)
Mejor Reality de Competencia (
Reality - Competition Program)
: 
Dancing With The Stars
Project Runway
So You Think You Can Dance
The Amazing Race
The Voice
Top Chef
Mejor Programa de Variedad (Variety Series): 
Jimmy Kimmel Live
Late Night With Jimmy Fallon
Real Time With Bill Maher
Saturday Night Live
The Colbert Report
The Daily Show With Jon Stewart
Fuente: 
http://www.emmys.com/nominations