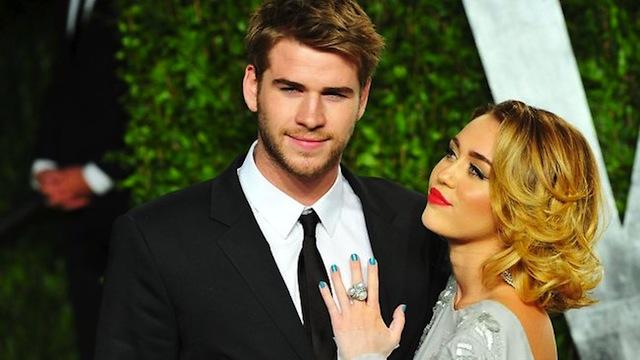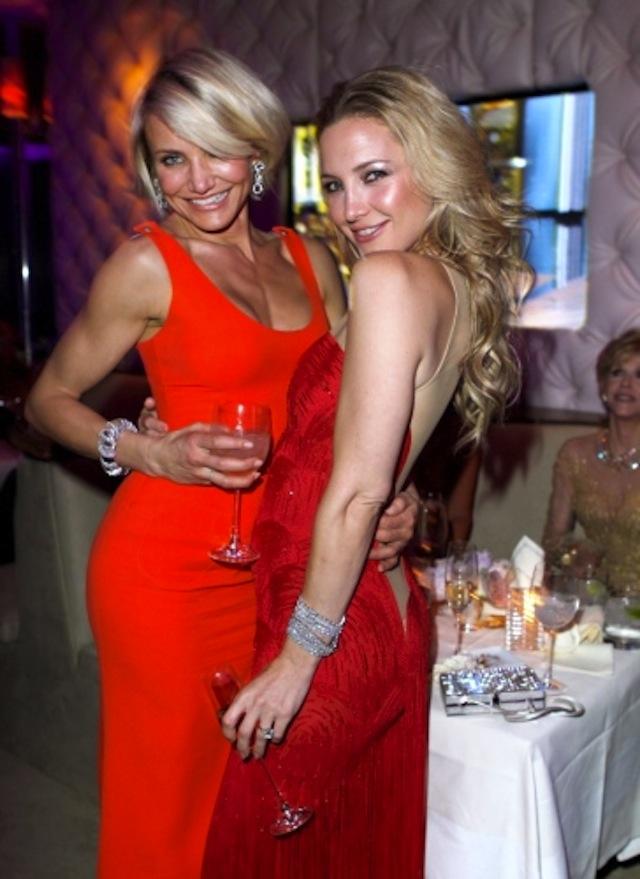 Este año he querido dar un cambio al ya famoso post de los Oscars, y centrarme en los modelos que llevaron algunas de las invitadas a la fiesta que organizo posteriormente la revista Vanity Fair.  Como sabes, después de la ceremonia en la ciudad de Los Ángeles, se celebran distintas fiestas privadas, para asistir a ellas las actrices suelen cambiar su vestuario para sorprendernos con nuevos diseños. / This year I want to make a change to the Oscars' popular post and get focus on the models that few of the guest wore for the Vanity Fair Party. As you know, after the ceremony it take place, in Los Angeles, the private parties. To attend to them the celebrities use to change their clothes to surprise with other models.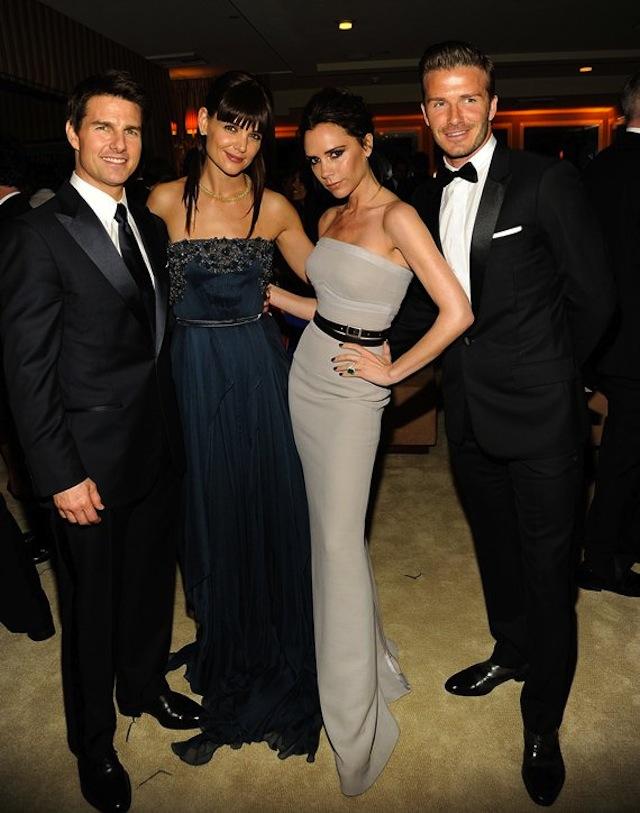 Kate Bosworth llevo un precioso vestido de tulle en negro y manga larga, adornado con cristales azules de Prabal Gurung Fall 2012. Lo combino con un cinturón negro, zapatos negros de Christian Louboutin y clutch de Dior. Es uno de mis modelos favoritos, una elección perfecta. / Kate Bosworth wore a gorgeous long sleeve black tulle Prabal Gurung Fall 2012 dress, decorated with blue crystals. To mix it a black belt, Christian Louboutin black pumps, and Dior clutch. It's one of my favorites models, a perfect choice.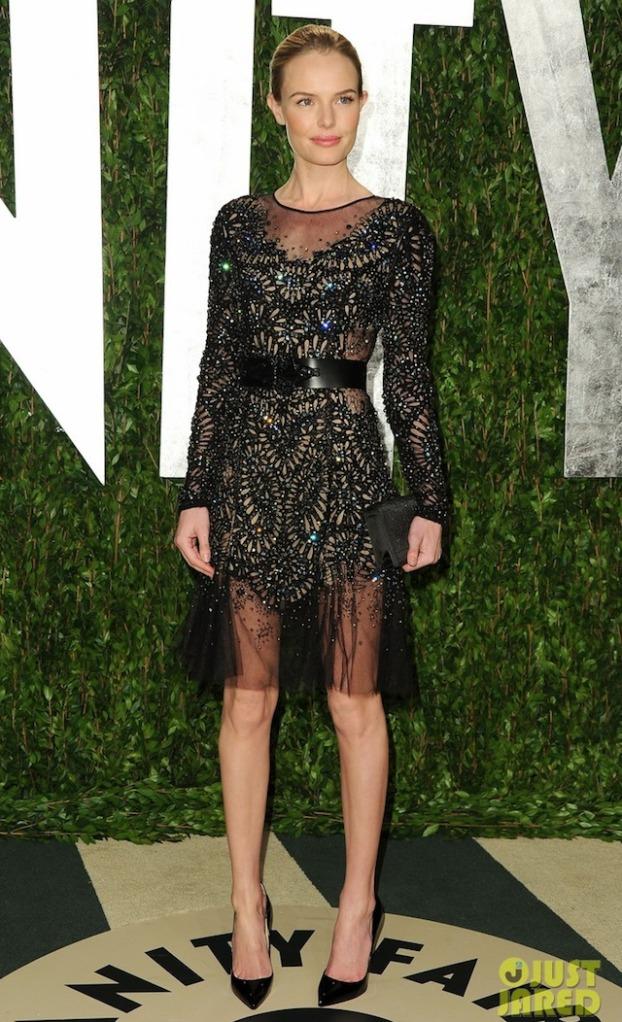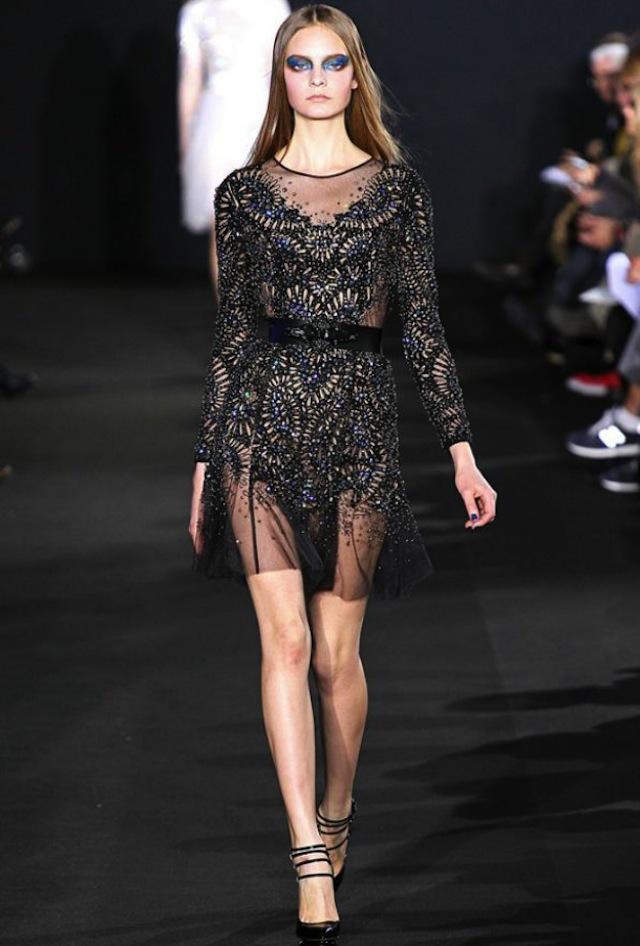 Con un look muy atrevido se presento Diane Kruger a la fiesta de Vanity. Un vestido rojo con demasiado escote de Calvin Klein, que combino con un sujetador de encaje del mismo tono. Para rematar su estilismo opto por pendientes largos de oro y clutch de Judith Leiber. / With a pretty daring look we saw Diane Kruger on the Vanity party. A red Calvin Klein dress with an exposing lace bra. To end up her look, she chose long gold earrings and Judith Leiber clutch.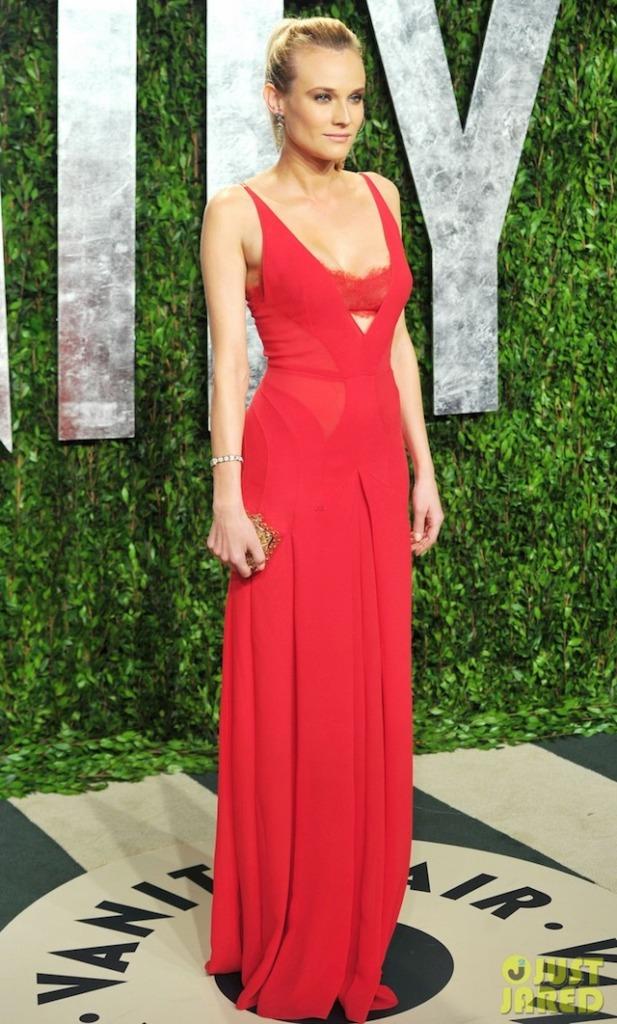 Un vestido que no podemos dejar pasar es el que llevo Elizabeth Banks. Verde, con topos, cinturón de terciopelo y falda azul de plumas, una mezcla muy creativa firmada por Chadwick Bell Otoño 2012. Los accesorios que eligió fueron joyas de Bulgary y clutch de Jimmy Choo. / The dress we can't forget is the one Elizabeth Banks wore. Green, polka dots dress with velvet belt and feather skirt, the mix of all together is a prove of creativity. It was signed by Chadwick Bell Fall 2012. The accessories she chose were Bulgary jewels and Jimmy Choo clutch.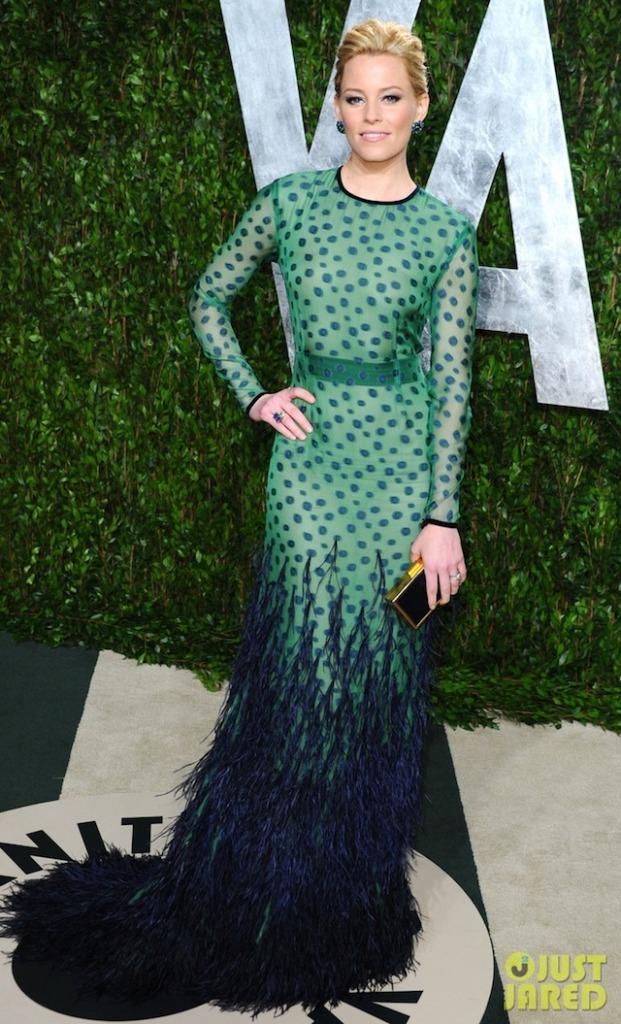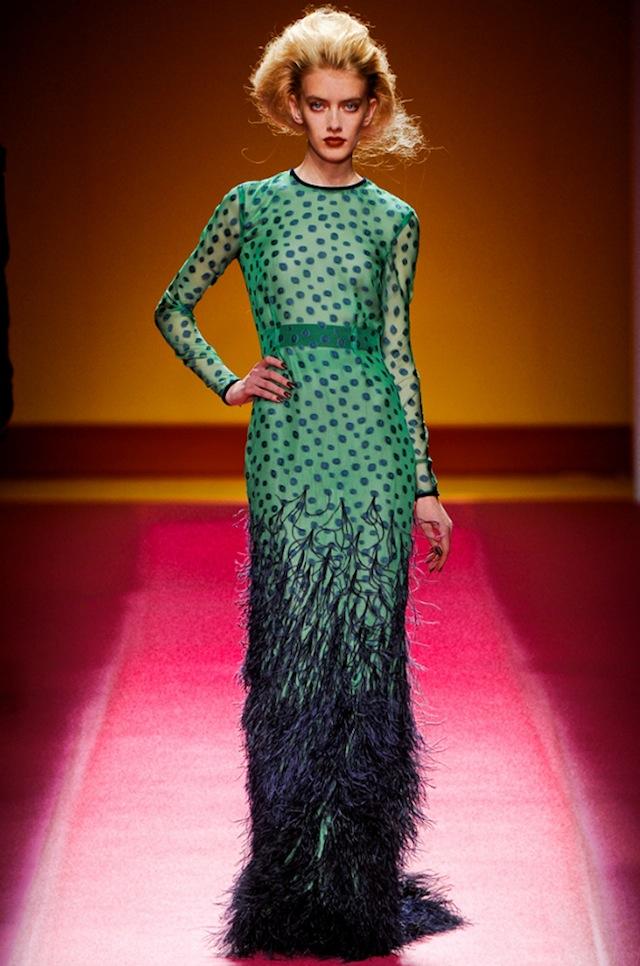 Kate Hudson eligió un toque vintage con un vestido rojo de Versace. El look es ideal, a no ser por el cuello color nude que tiene el vestido, que lo afea un poco. A juego zapatos color maquillaje de Christian Louboutin. / Kate Hudson chose a vintage toch with a red Versace. The look is great but for the neck of the dress,. To match it, Christian Louboutin nude pumps.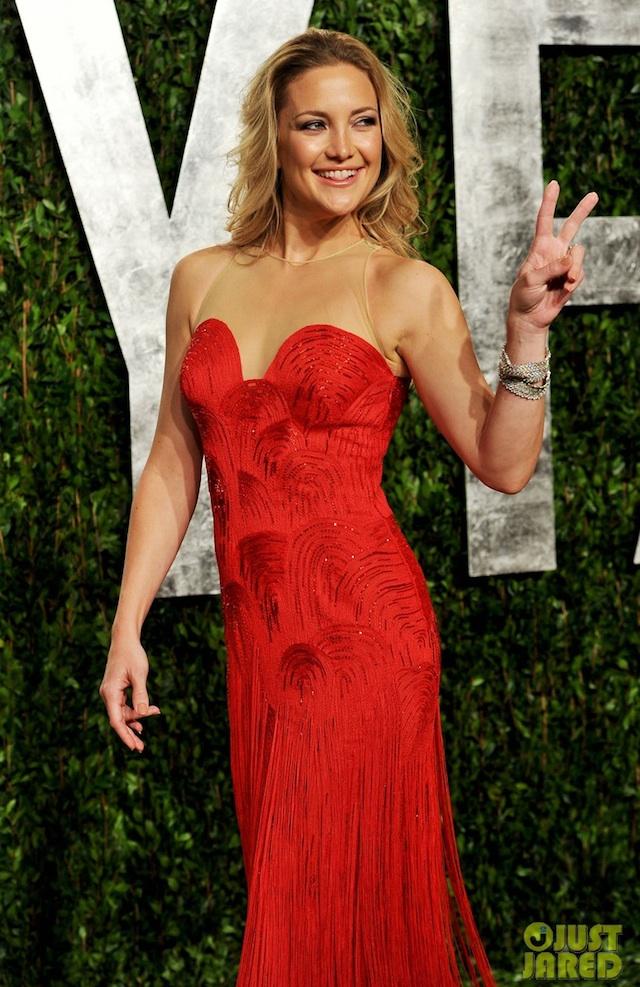 Muy guapa estaba Selena Gomez, con un vestido gris decorado con bordados de flores de Dolce & Gabbanna que le que daba perfecto. / Pretty was Selena Gomez with a grey floral applique print Dolce & Gabbanna gown, that fits her perfect.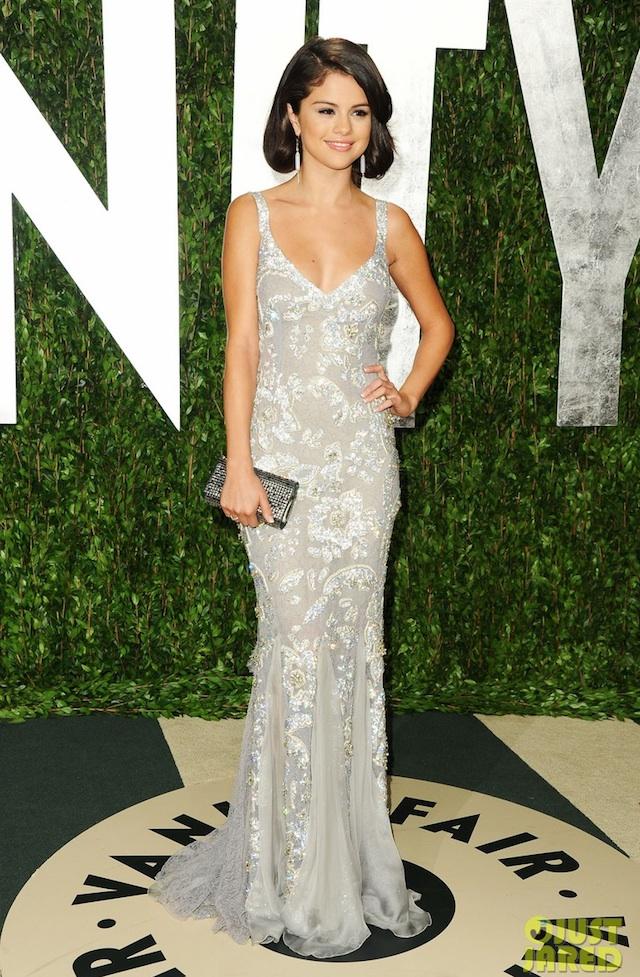 Olivia Wilde escogió un vestido palabra de honor de seda en negro de Gucci Pre-Fall 2012, con un cinturón decorado con lentejuelas y cristales./ Olivia Wilde chose a strapless silk black Gucci Pre-Fall 2012 gown, with a sequins and ctystal belt.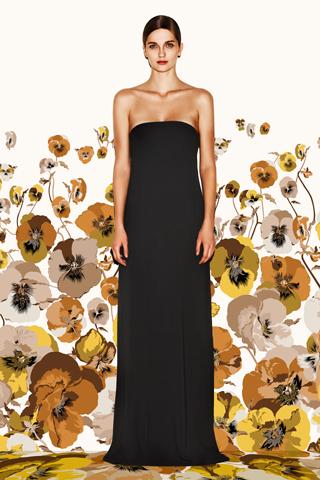 De verde también fue January Jones, con un top de organza, cinturón de cuero, y una falda de color bronce con un poco de cola, todo de Wes Gordon Fall 2012. / Wearing green was also January Jones, with a organza top, leather belt and bronze tail skirt, all from Was Gordon Fall 2012.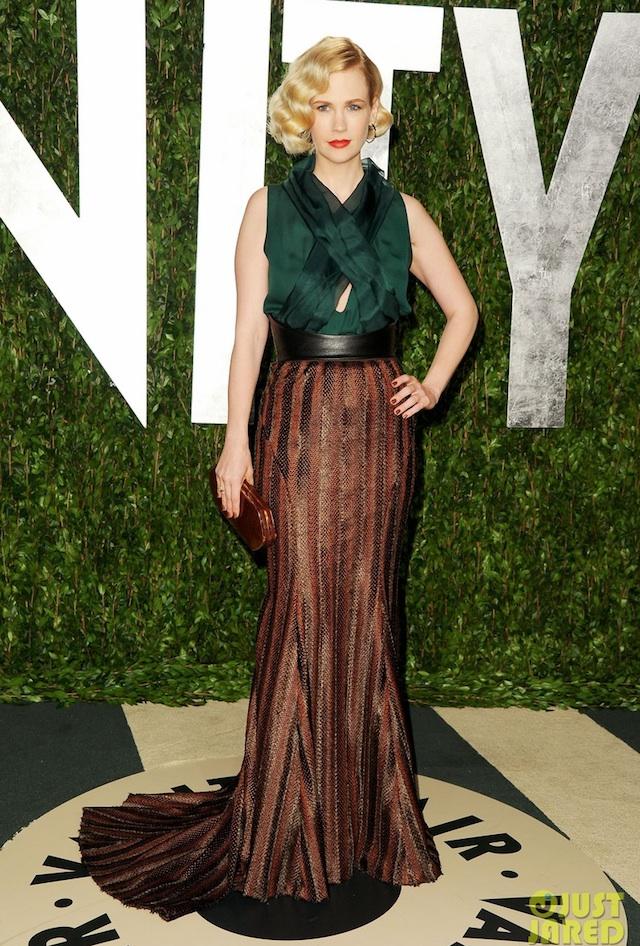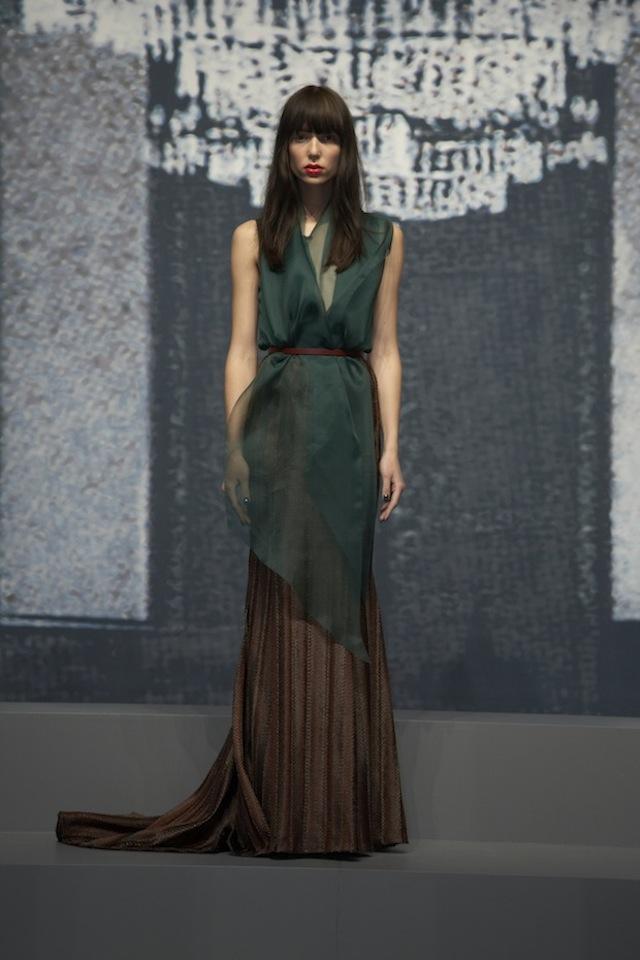 Con un vestido de princesa en color maquillaje y azul de Monique Lhuillier Pre-Fall 2012, acudió a la fiesta de West Hollywood la actriz Lily Collins. El vestido era ya recargado de por si, por lo que fue una buena elección no usar casi accesorios, a excepción de unos pendientes de Tifanny & Co. / With a princess nude and blue Monique Lhuillier Pre-Fall 2012 dress went to the West Hollywood party the actress Lily Collins. The dress was already too fusy, so it was a great idea not to use accesories but the Tifanny & Co earrings she wore.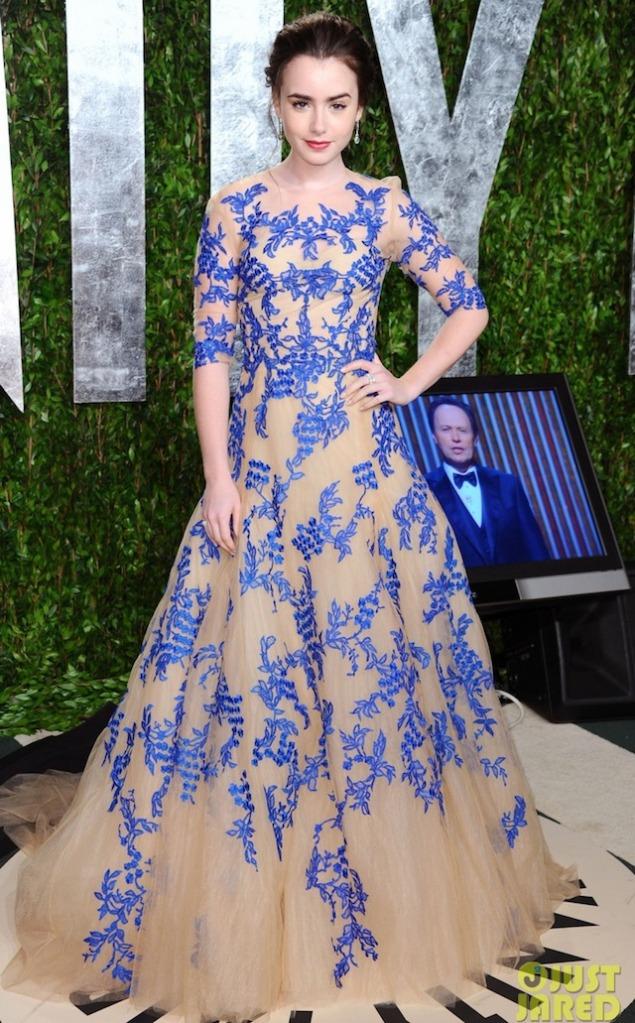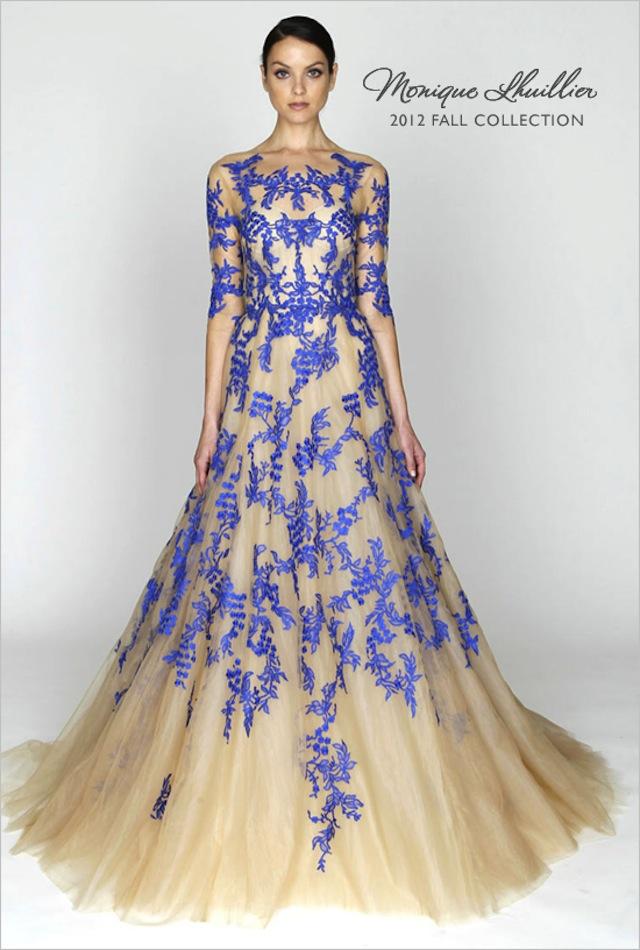 Deslumbrante estaba Salma Hayek con un vestido de muselina de seda de corte griego en rojo firmado por YSL Edition Soir 2012. / Stunning was Salma Hayek with a silk museline red greek dress signed by YSL Edition Soir 2012.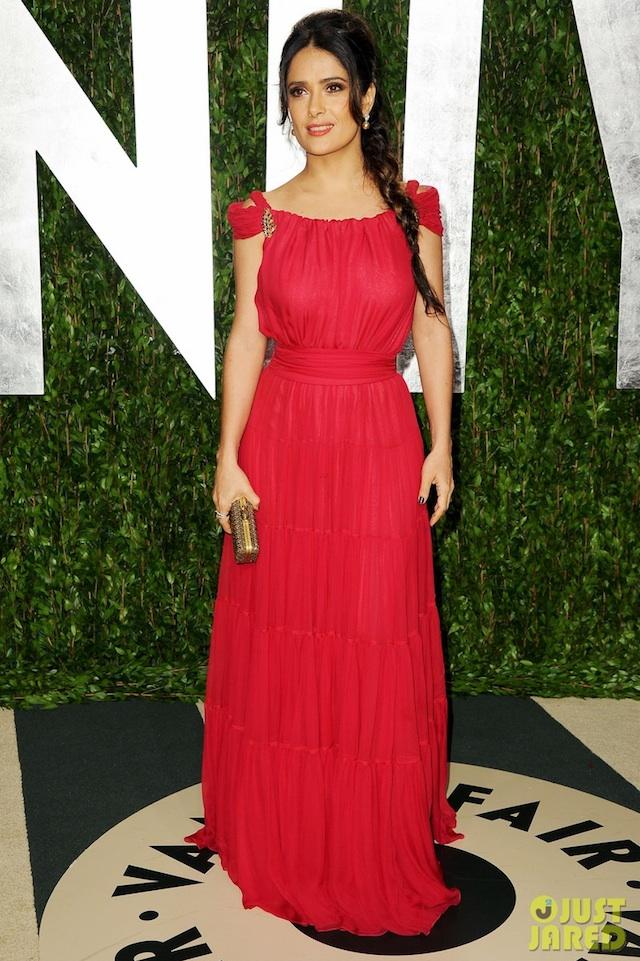 El rojo fue el color de la noche. Otra de las invitadas, Rosie Huntington-Whiteley iba con un vestido muy ajustado de seda de Antonio Berardi Primavera 2012, que le quedaba como un guante. Para finalizar su look escogio un clutch plateado de Jimmy Choo. / Red was the color of the nigh. Another of the guest, Rosie Huntington-Whiteley wore a tight silk Antonio Berardi Spring 2012 gown that fits her like a glove.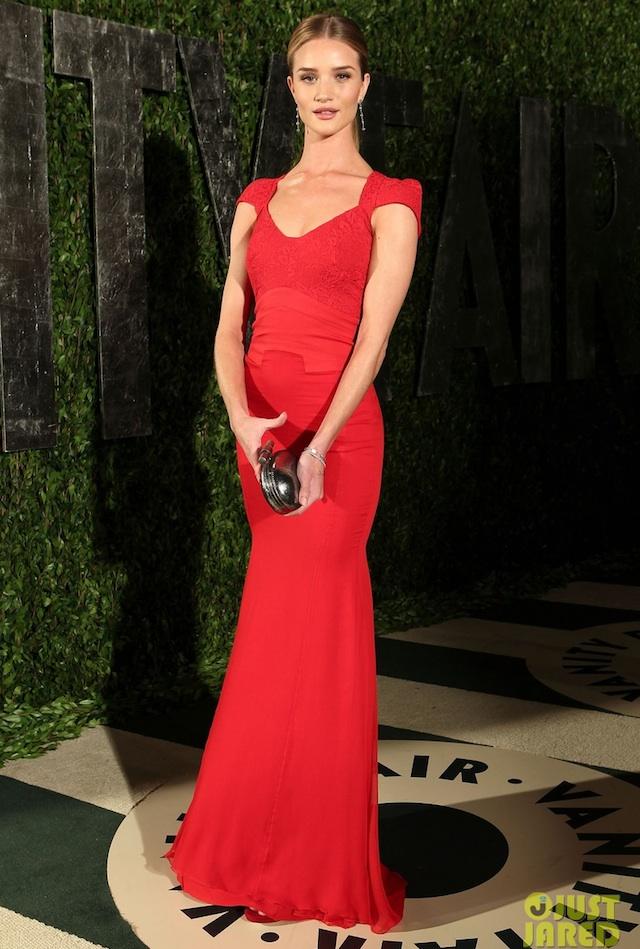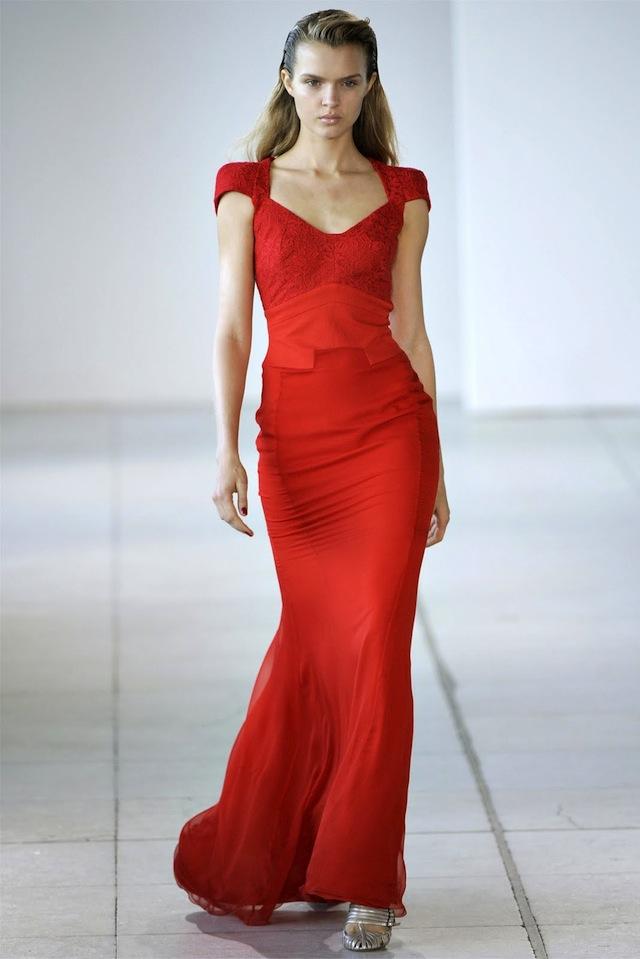 Sofia Vergara llevo un vestido bordado palabra de honor en blanco de Roberto Cavalli. A juego, clutch de Judith Leiber, zapatos de Casadei, y joyas de Lorraine Schwartz. / Sofia Vergara wore a embroiled strapless white dress by Robert Cavalli. To end up her look she chose, Judith Leiber clutch, Casadei pumps, and Lorraine Schwartz jewels.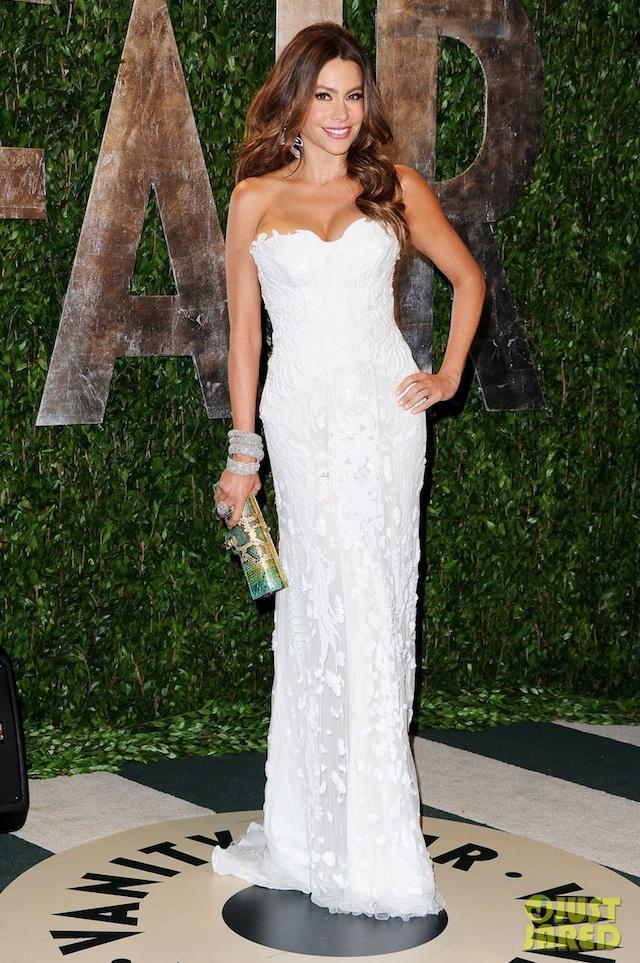 El negro fue el color que eligió Felicity Jones. Con un vestido de cuero hasta los pies de Johanna Johnson, cuya parte de arriba recuerda un poco al traje de catwoman. Un atuendo curioso para el estilo de la actriz. / Black was the color of the night for Felicity Jones. With a long leather dress by Johanna Johnson, which top part remind to catwoman outfit. A bizarre look for Felicity style.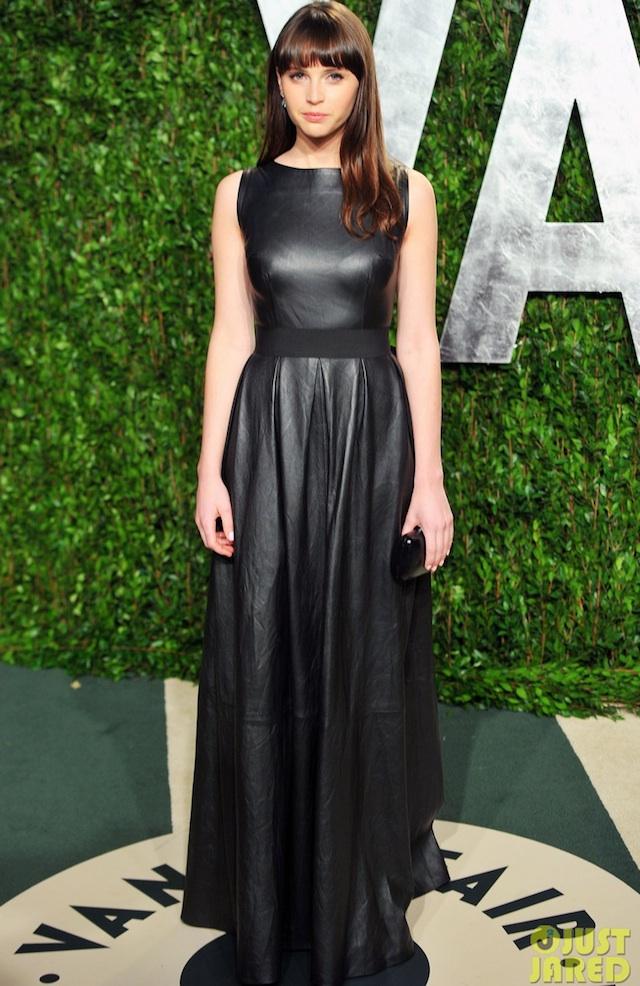 La pequeña de las hermanas Olsen, Elisabeth Olsen, llevo un vestido de manga corta, y una falda larga de cuero y gasa de Christian Dior Pre-Otoño 2012. A juego, clutch negro de The Row, y zapatos de Ferragamo. / The small of the Olsen sisters, Elisabeth Olsen, wore a short sleeve dress with a chiffon an leather skirt by Christian Dior Pre-Fall 2012. Matching it a black clutch by The Row and Ferragamo shoes.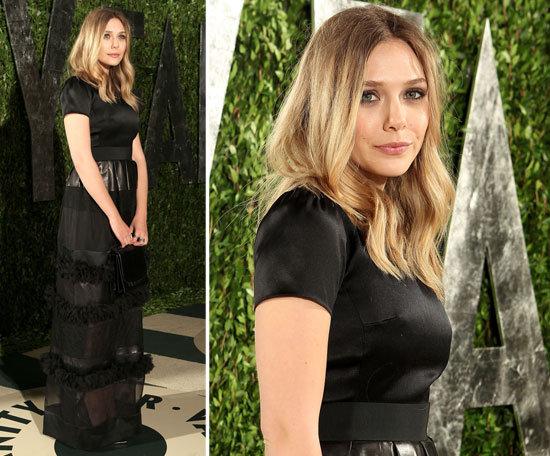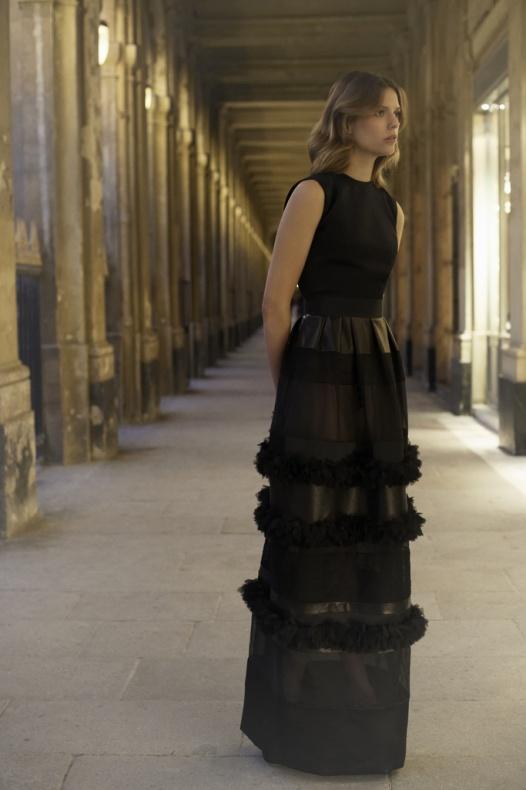 Abbie Cornish buscó un basico en rojo, un perfecto modelo en seda para fondo de armario de Tommy Hilfiger. Lo mejor del vestido es el escote de la espalda . / Abbie Cornish chose a red basic silk model, perfect for your wardrobe by Tommy Hilfiger. I miss a belt in the outfit because the dress is too minimalist. The best of the dress is the back neck.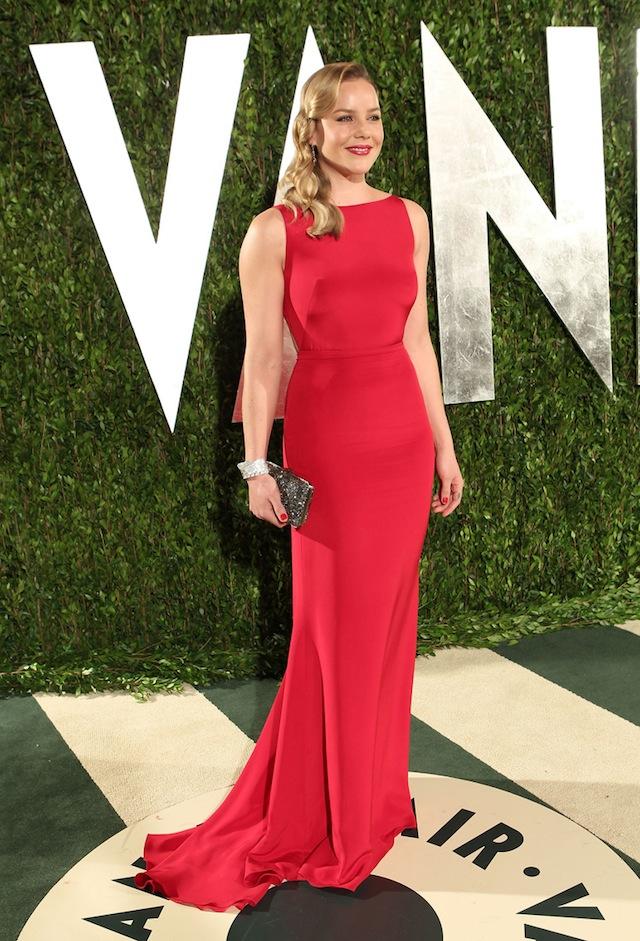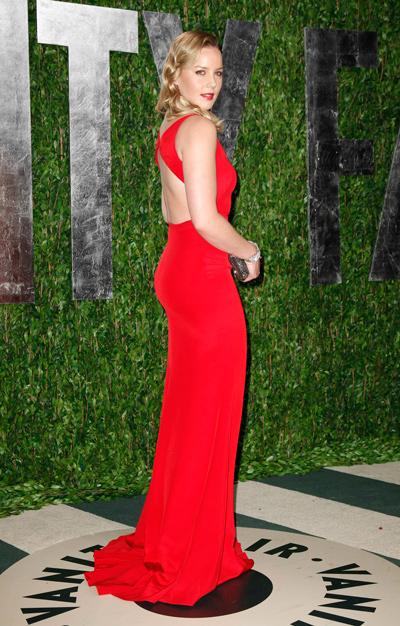 Rashida Jones iba muy trendy con un vestido plisado amarillo, con detalles de encaje en los hombros escote pronunciado, y cinturon de cuero de Elie Saab Primavera 2012. A juego plataformas de Jimmy Choo del mismo tono. / Rashida Jones was very trendy with a deep V neck pleated yellow dress by Elie Saab Spring 2012. The dress has lace details on the shoulders and a big leather belt. To end up her look she wore Jimmy Choo yellow platforms.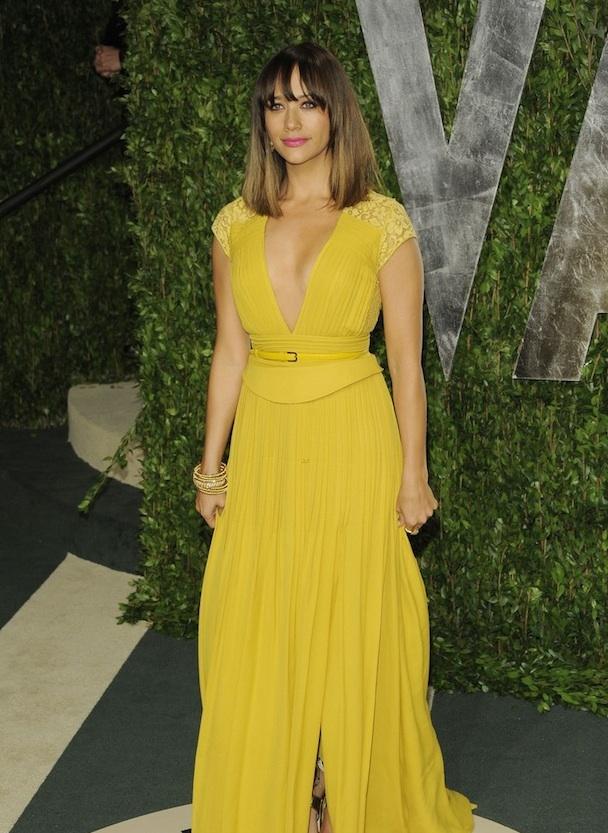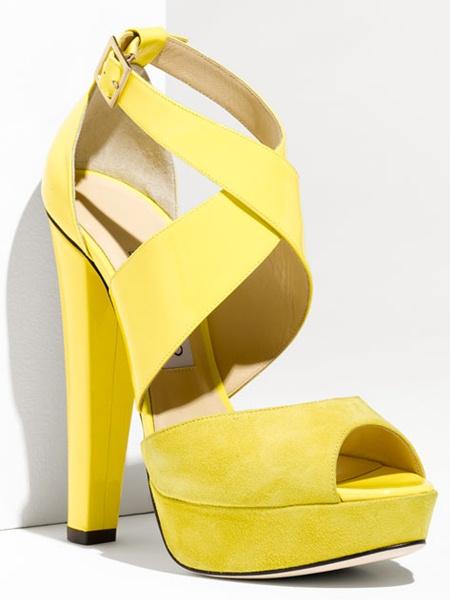 Y aquí finalizo con este post. ¿Sabes ya cual es tu modelo favorito? ¿Y tu tono para este tipo de eventos? / Hear I finish this post. Which one is your favorite model? And the color you would wear for this type of events?
¡¡¡Feliz Fin de Semana!!! / Have a great weekend!!
Mia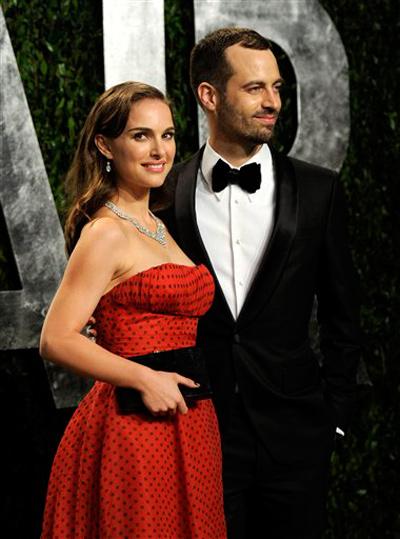 Sources: Just Jered, Style.com, Vogue.com, Tommy Hilfiger Press Agency.