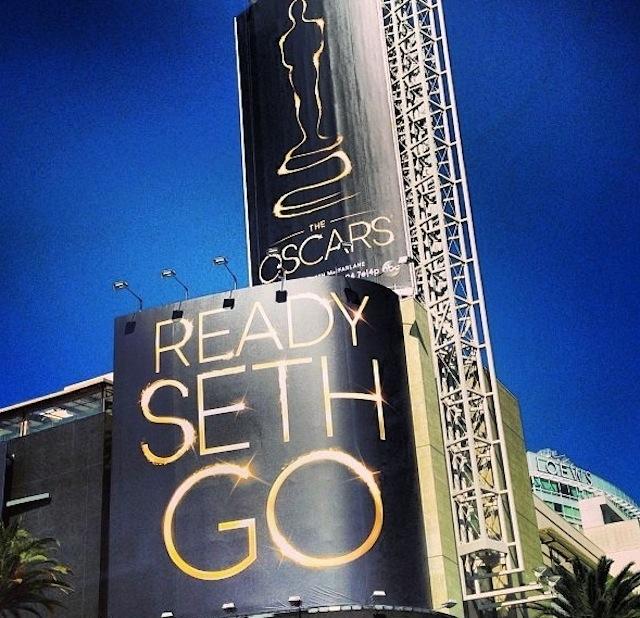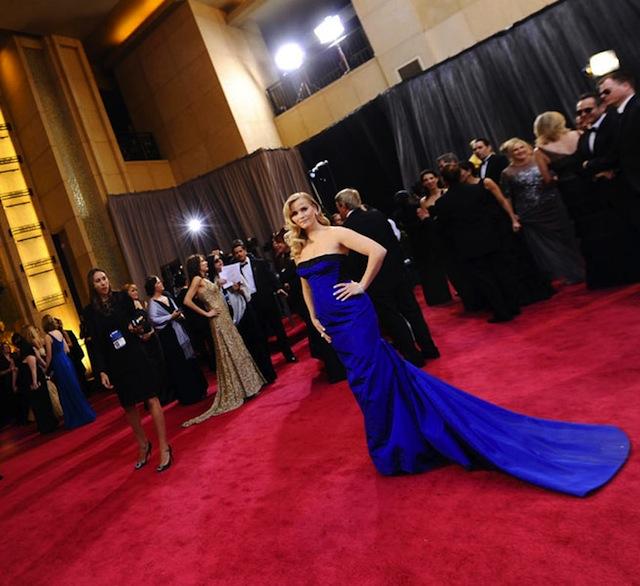 Desde que estaba estudiando en la facultad, la noche de los Oscars era algo especial. Mi razón, es una de las acciones mas importantes de Relaciones Publicas que existen, no te puedes hacer ni una idea de todo lo que esta detrás, si tan solo nos fijamos en los vestidos es una locura. Pero como este es un blog de moda, es lo que toca, vestidos, vestidos, y mas vestidos. /

Since I was at collage, the Oscar night was something special. My reason? is one of the biggest Public Relation actions that exist, you can get an idea of all what is behind, just looking at dresses is nuts. But this is a fashion blog so is what it is, gowns, gowns, and gowns.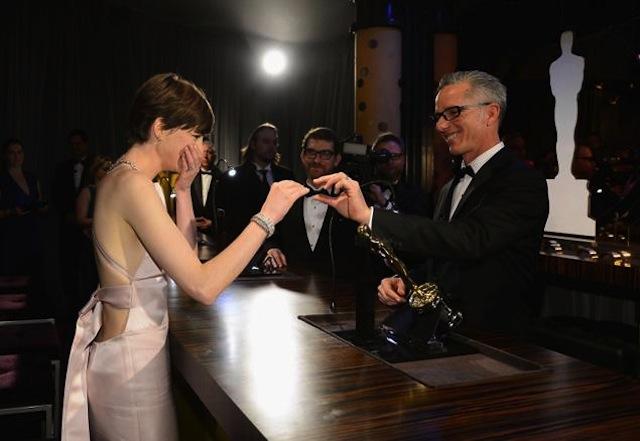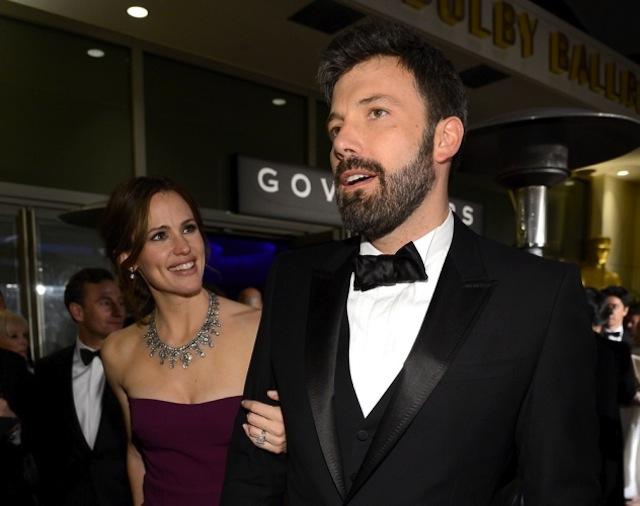 La ganadora a mejor actriz, Jennifer Laurence, brillo con un vestido palabra de honor de Dior Alta Costura. El vestido le jugo una mala pasada e hizo que se cayera al ir a recoger el Oscar. Es la segunda vez, en los SAG Awards, se rompió el vestido al ir a recoger el premio. De aquí dos conclusiones: ser patosa, da buena suerte, y Jennifer tiene que elegir vestidos menos sofisticados. /

The winner to Best Actress,

Jennifer Laurence

, shined with a strapless Dior Haute Couture gown. The dress play her a trick; she falls when she was to received the Oscar. Second time, at the SAG Awards, last January, Jennifer ripped her dress when she had to get the award. Two conclusion: been clumsy gives good luck and she has to chose lest sophisticated gowns.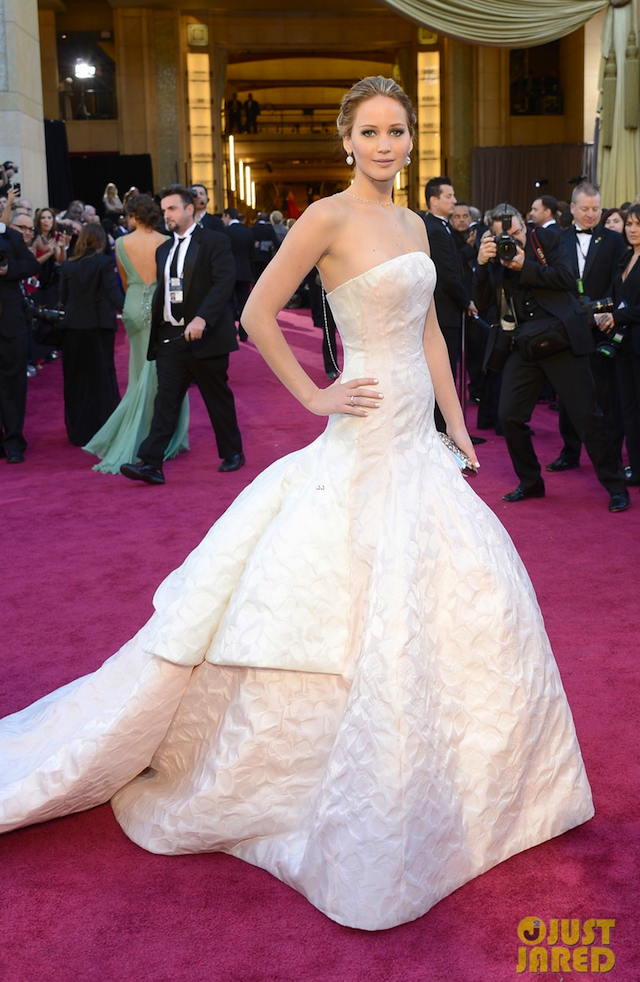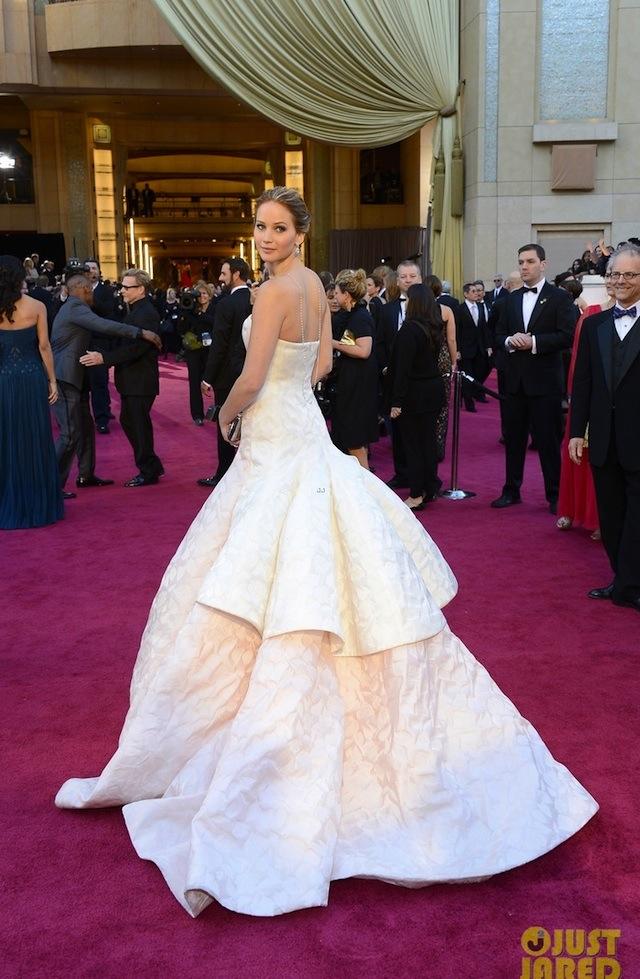 Para finalizar su estilismo, eligió un collar fino de Chopard, y pendientes de diamantes. /

To finish her look, she chose a fine necklace and diamon earrings all by Chopard.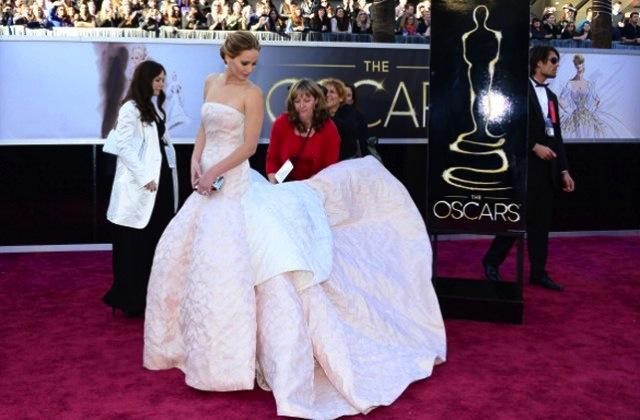 La actriz, Amy Adams, nominada por "The Master", iba con un vestido espectacular de Oscar de la Renta, que recuerda a una princesa salida de un cuento de hadas. / The actress, Amy Adams, nominated by "The Master", was an amazing Oscar de la Renta dress, that remind to  a princess out of fairytale.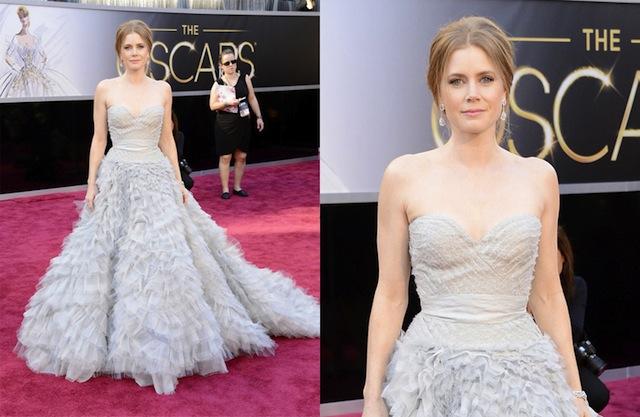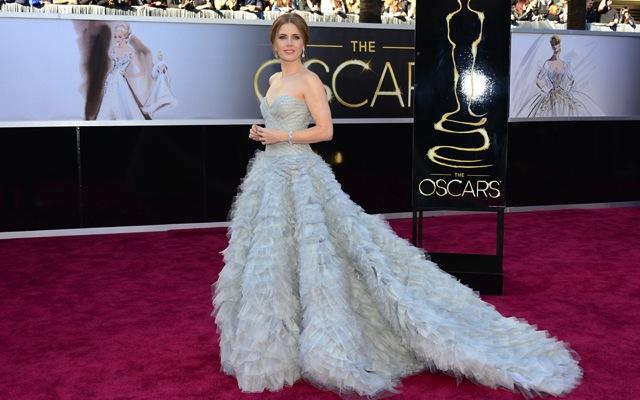 Catherine Zeta Jones resalto su belleza con un vestido dorado metalizado de Zuhair Murad Primavera 2013; sin duda uno de los mas estilosos y bonitos que desfilaron por la alfombra roja. Me quedo, también, con los espectaculares pendientes que llevaba, de la firma Lorraine Schwartz. / Catherine Zeta Jones highlight her beauty with a metallic gold Zugair Murad Spring 2013 gown; no dude was one of the most stylish and nice dresses that catwalk on the red carpet. I also love the amazing earring that she wore by Lorraine Schwartz.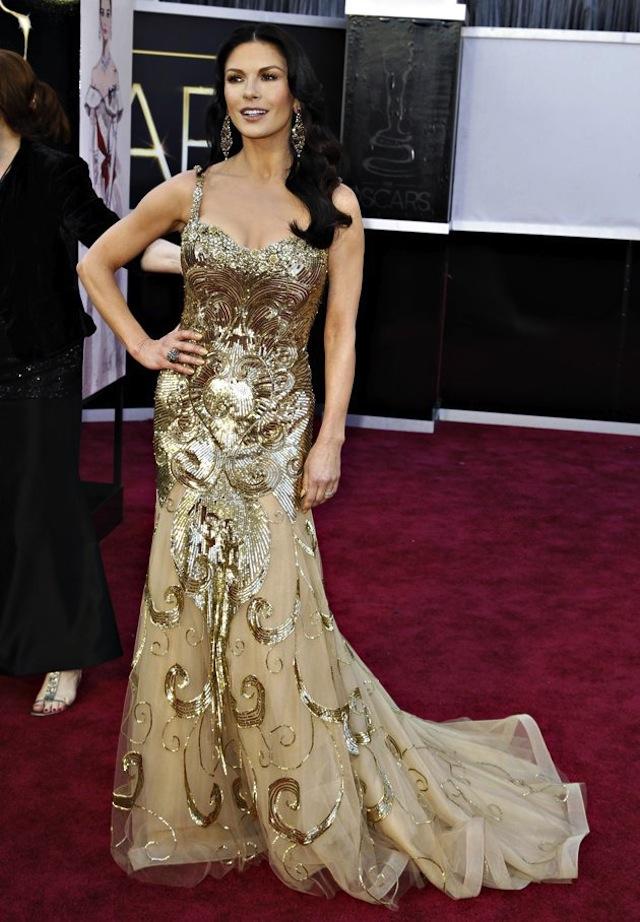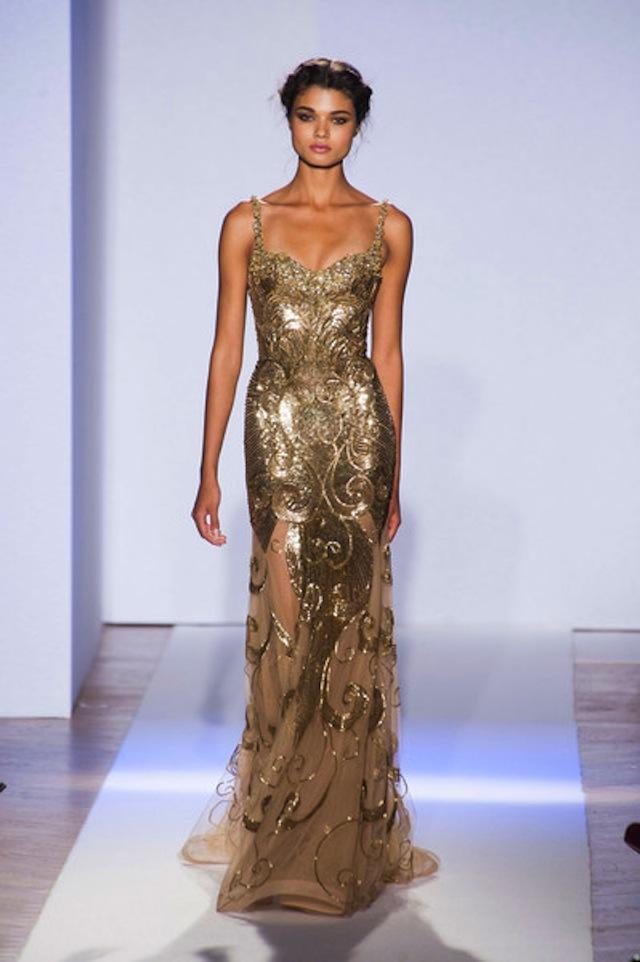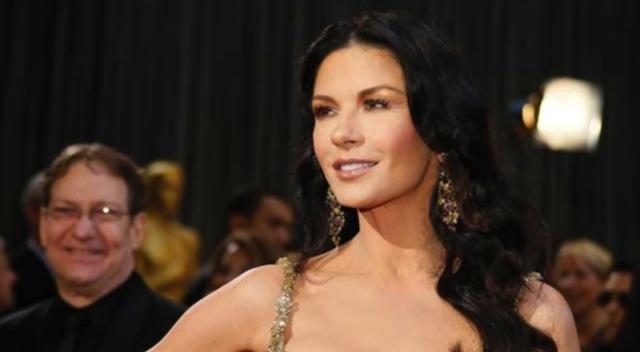 Naomi Watts brillo sobre la alfombra roja, con un vestido metalizado de Giorgio Armani Prive. Una mezcla perfecta de sensualidad y glamour; sensualidad gracias al corte del hombre, glamour con el tono plateado y los brillos. Los accesorios son escasos, ya que con un vestido así, es lo mas apropiado. / Naomi Watts

bright on the red carpet, with a metallic Giorgio Armani Prive dress. A perfect mix of sensuality and glamour; sensuality thanks to the one-shoulder cutout, and glamour due to the silver and sequin. The accessories are few, due to the type of the dress.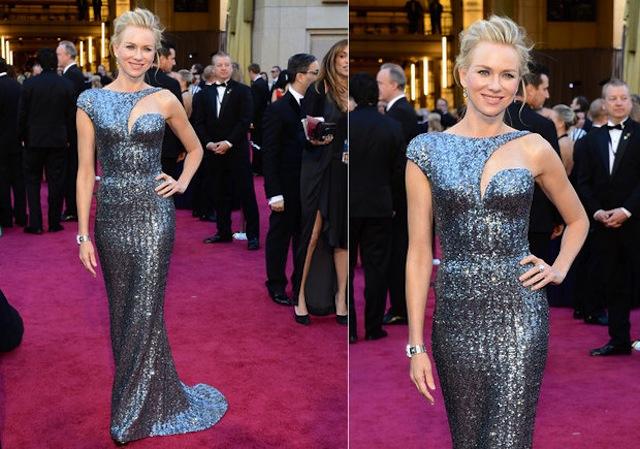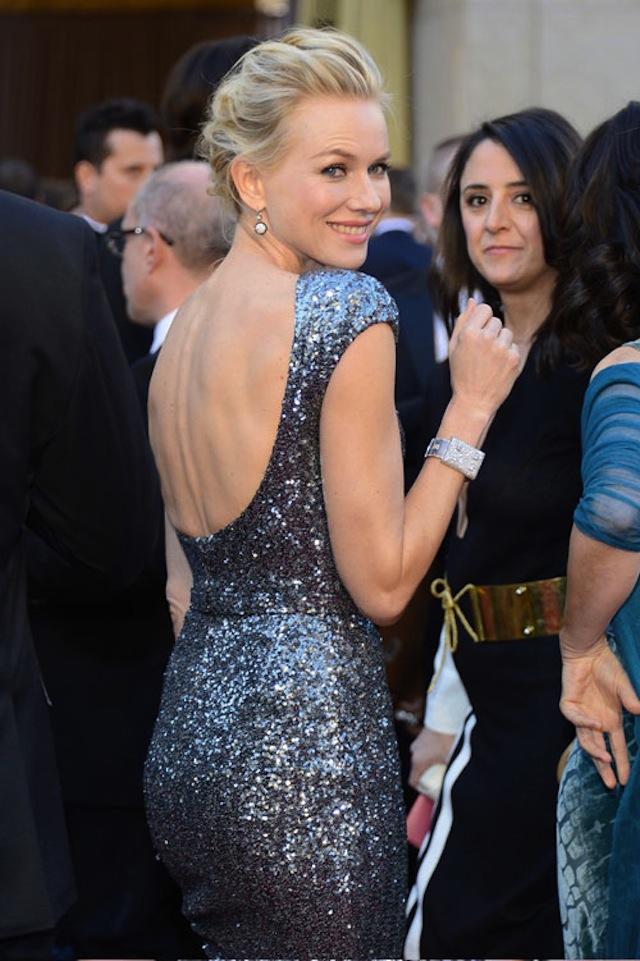 La actriz de "Los Miserables", Samantha Barks, eligio uno de los mejores looks de la noche. Elegante, minimalista y muy estiloso, demostró como el menos es mas también es apto para la Ceremonia de los Oscar, con un vestido negro y sexy de Valentino Primavera 2013. Sensualidad pura, gracias al escote pronunciado del vestido, y las curvas que genera en la cintura. /

The actress of "The Miserables",

Samantah Barks

, wore one of the best looks of the evening. Elegant, minimal, and stylish, she prove how less is more, even for the Oscar Ceremony, with a sexy black Valentino Spring 2013 dress. Pure sensuality, thanks to the low neckline and the curve figure it generates.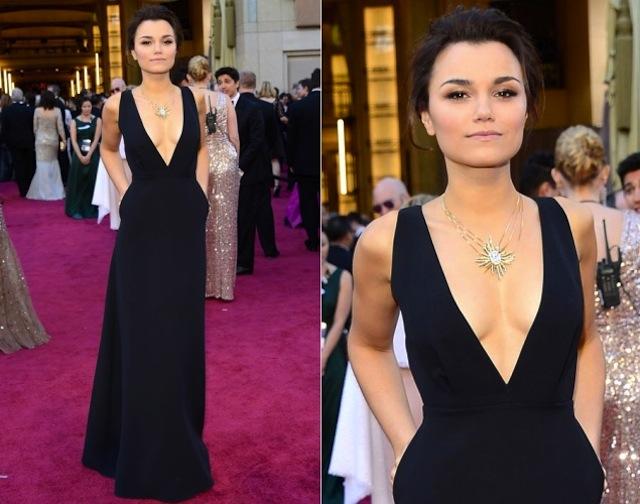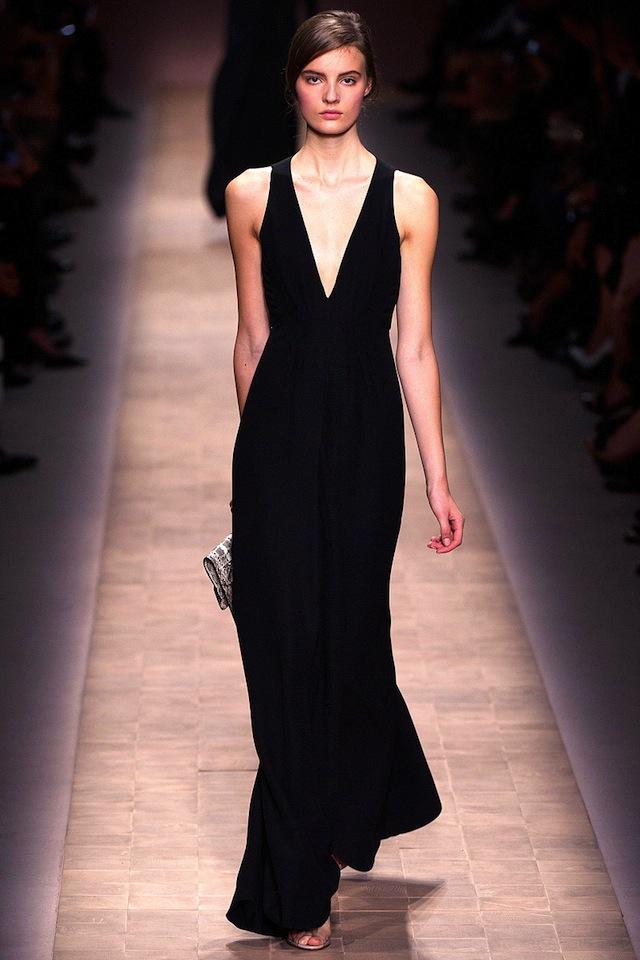 Hacia cuatro años que Jennifer Aniston no asistía a los Oscar, así que, indudablemente tenia que brillar. Para la ocasión, Jennifer eligió un vestido palabra de honor de Valentino Red Alta Costura Primavera 2013, en rojo, obviamente, tono que le queda como anillo al dedo. Aunque recordaba al que llevo Jennifer Laurence en los Globos de Oro, definitivamente, me quedo con el de Laurence. A juego clutch de Salvatore Ferragamo y joyas muy minimalistas. /

It was

Jennifer Aniston

first Oscar Ceremony appearance in four years, so she has to bright. For the occasion, Jennifer chose a strapless red Valentino Red Spring 2013, tone that suits her great. The gown remind to the one Jennifer Laurence wore at the Golden Globes, definitely I stay with Laurence's dress. Matching a Salvatore Ferragamo clutch and minimal jewelry.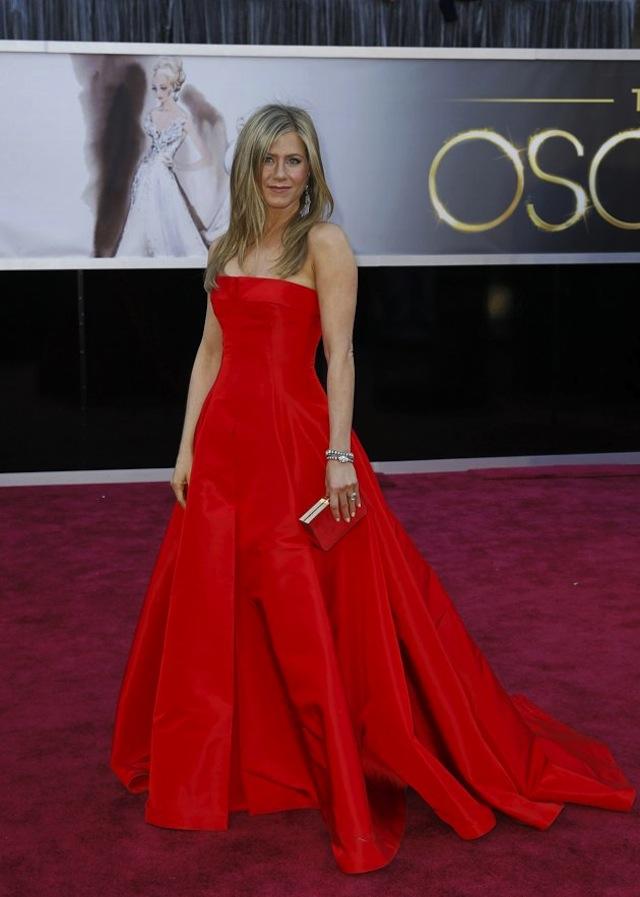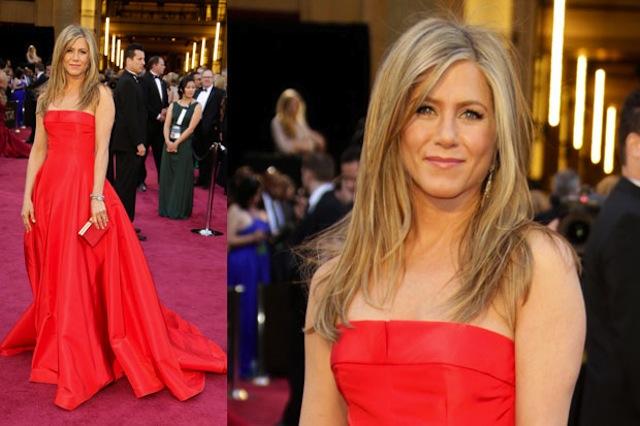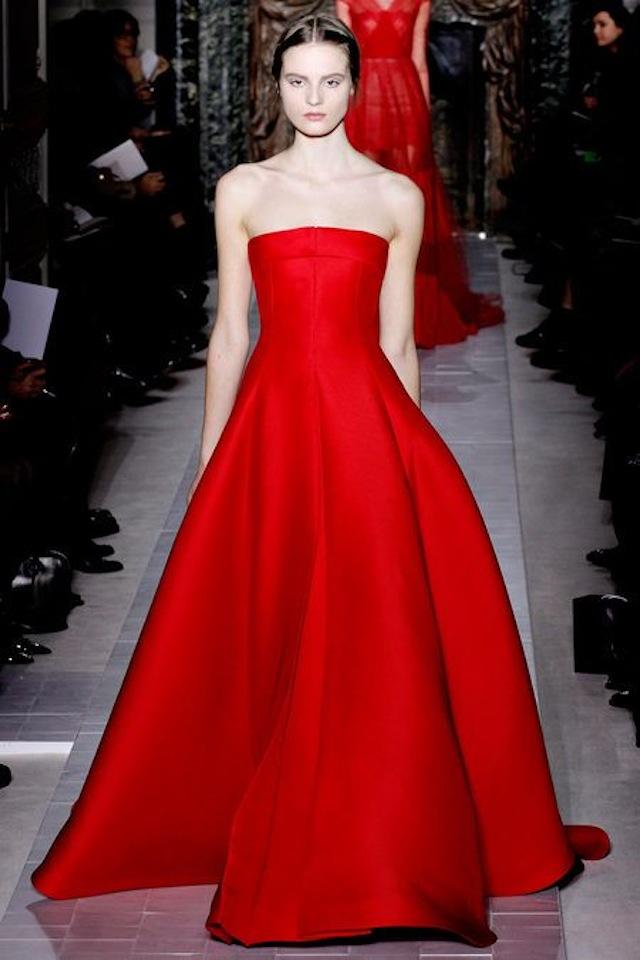 Anne Hathway, que se llevo al Oscar a Mejor Actriz de Reparto por "Los Miserables", parecía sacada de "Desayuno con Diamantes". Su look de niña buena, destaca por un vestido recado rosa de satén, firmado por Prada. Obviamente, el collar que decora el vestido, tenia que ser de Tiffany & Co. / Anne Hathway, that won the Oscar for Best Actress in Supporting role for "The Miserables",  seemed to be about of "Breakfast at Tiffany's". Her good girl look, highlight for a pink column-style gown by Prada. No dudes, the necklace that accessorized her look had to be from Tiffany & Co.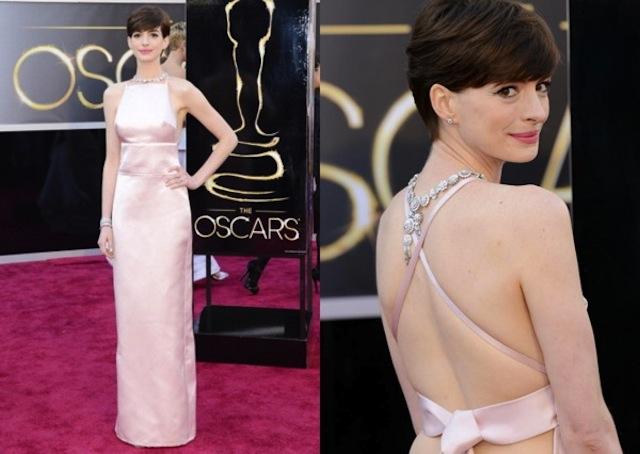 Por primera vez fue Stacy Keiber la protagonista de la Alfombra roja, y no su pareja, George Clooney. Demostró, como unas cuantas actrices, que la tendencia metálica esta a la ultima. Stacy escogió un vestido plateado con espalda de transparencias de Naeem Khan Otoño 2013. El vestido es muy sensual, resalta cada curva de su cuerpo. Para finalizar su look, opto por joyas de Lorreine Schwartz y zapatos de Giuseppe Zanotti. /

For the first time was

Stacy Keiber

the one who shine more than her boyfriend, George Clooney, on the red carpet. She proved, as few others did, that metallic is the last trend. Stacy chose a silver sheer back dress by Naeem Khan Fall 2013. The dress is very sensual, it highlight each curve of her body. To end up the look, she chose Lorreine Schwartz jewels and Guiseppe Zanotti shoes.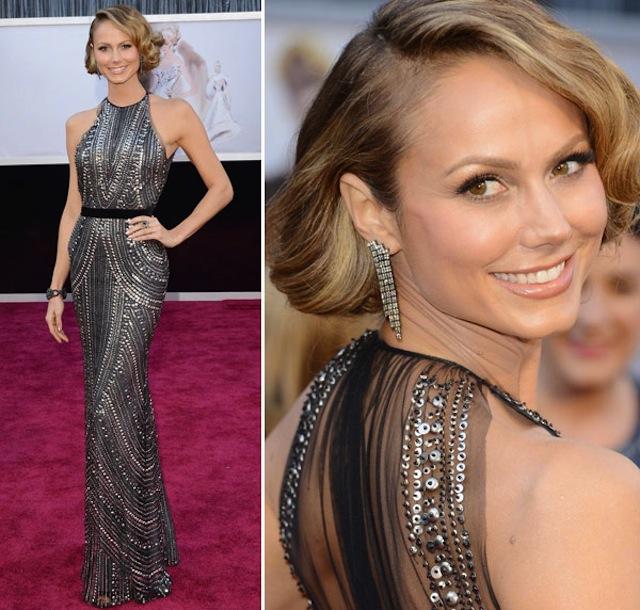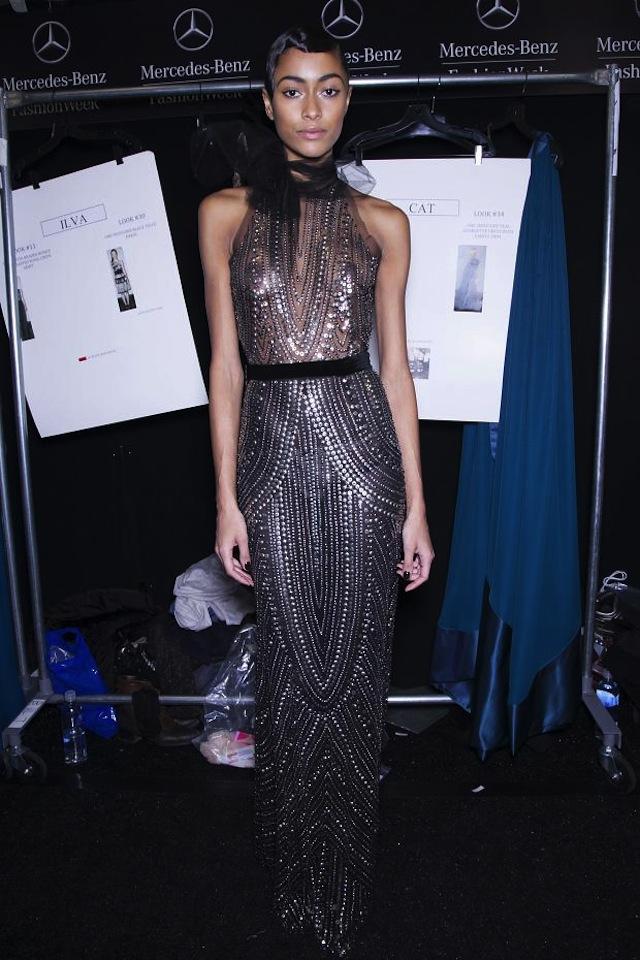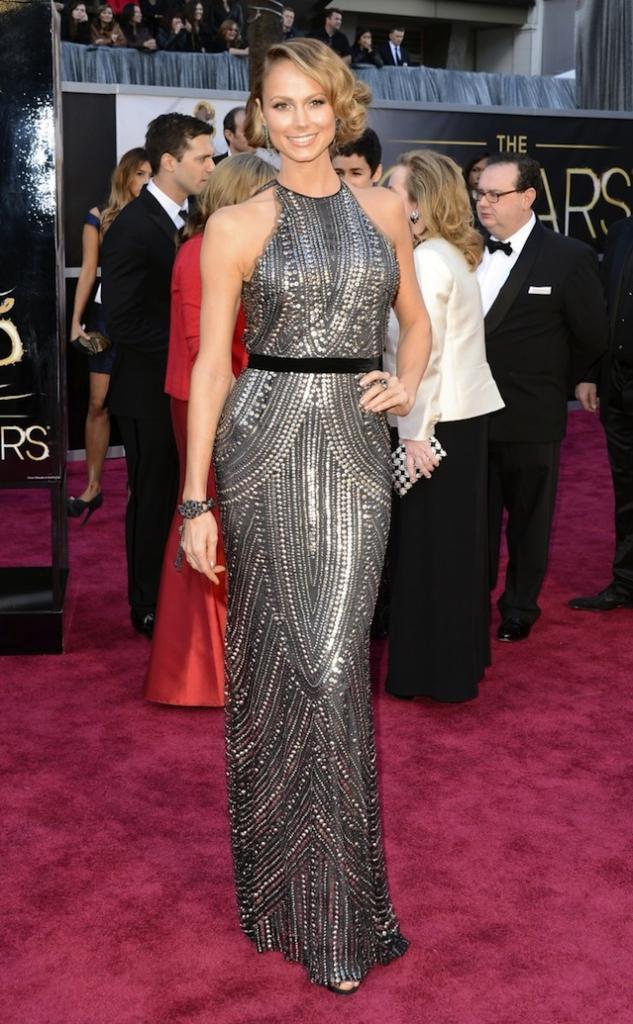 Jennifer Garner piso la alfombra roja con un vestido palabra de honor morado customizado de Gucci. El color le favorece mucho, el vestido no tanto, los volantes de la parte trasera que terminan en cola, anaden demasiada opulencia a su estilismo e impiden resaltar la bonita figura de la actriz. Lo mejor, las joyas que llevaba de Nail Lane y clutch de Roger Vivier. / Jennifer Garner

step into the red carpet with a strapless purple gown customize by Gucci. The color looks great on her, the dress not so far. The ruffles of the back that end up on a tail, strop from expose her nice figure and ad drama to her look. The best, the jewels she wore by Nail Lane and teh Roger Vivier clutch.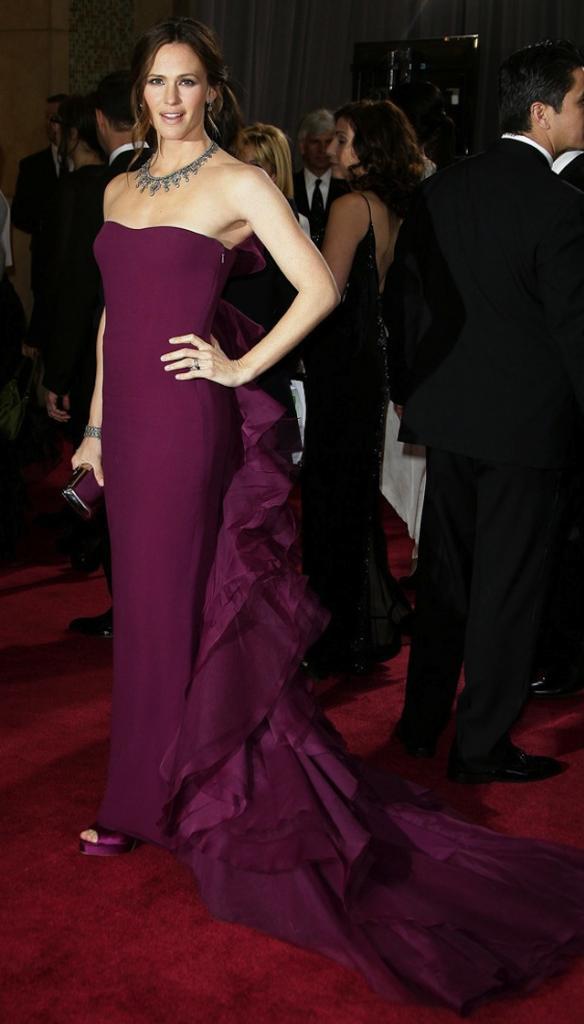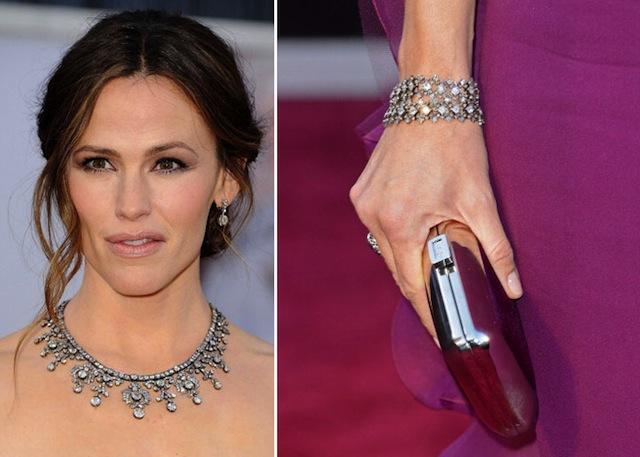 Reese Witherspoon opto por un vestido palabra de honor con cola en azul cobalto y bordes en negro de Louis Vuitton. No termina de convencerme, como se ajusta a la cadera, pero la verdad es que esta guapísima. / Reese Witherspoon

chose a strapless cobalt dress with black accents by Louis Vuitton. It doesn't convince me the way it gets tight to the hip, but she look pretty.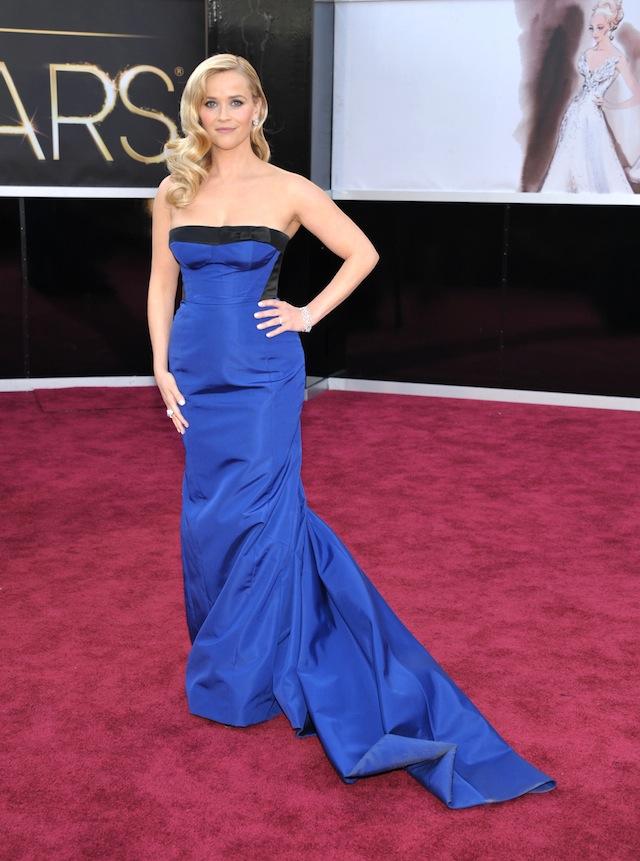 El Teatro Dolby llego Salma Hayek con un vestido barroco de terciopelo y cuello joya en dorado de Alexander McQueen. / Salma Hayek

arrived at the Dolby Theatre with a barroque velvet high gold neck cut dress by Alexander McQueen.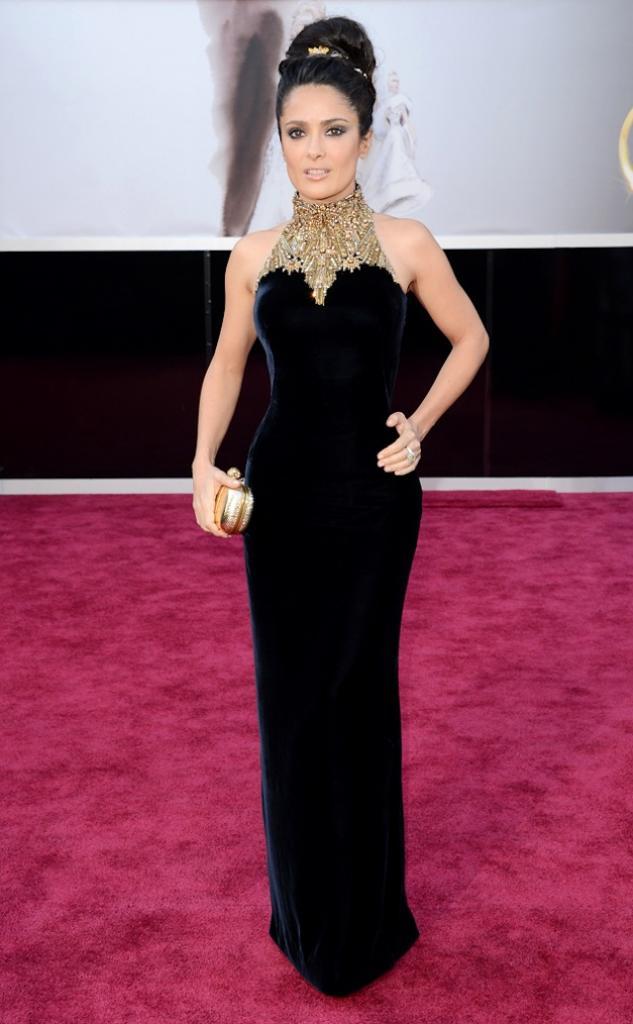 Party Time. 
La mejor parte de esa noche, son las fiestas posteriores a los Oscar, al menos para los actores que es donde realmente se lo pasan bien y disfrutan. Los Ángeles se cubre de varios eventos a los que acudir, la fiesta de Vanity Fair y la de la Fundación de Elton John contra el SIDA, son las mas famosas. /

The best part of that night are the after parties, is where the actors have fun. Los Angeles get cover by few events you got to attend, the Vanity Fair and Elthon John AIDS Foundation, are the most popular.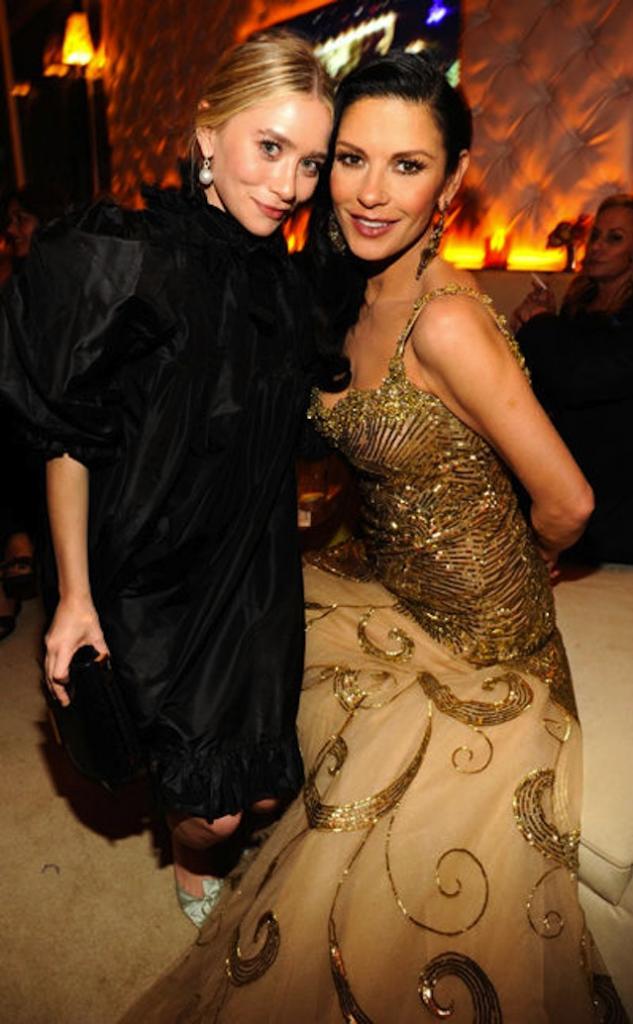 En tonos tendencia, acudió Nicole Richie a la fiesta de Elthon John. El Cavalli que llevaba, de aire minimalista, destaca por un escote en V muy pronunciado que le da un aire sexy y arriesgado. Las lineas negras de los hombros y los costados son perfectas, le dan elegancia y estilo. Elige un clutch rojo de House of Harlow para darle un toque de color. /

In trend colors went

Nicole Richie to teh Elthon John party. She wore a Roberto Cavalli minimalist dress that highlight by a dangerous and sexy v-neck. The black stripes across the shoulder and on the side are perfect, thay gave it an elegan and stylish touch. She chose a red House of Harlow clutch to give it color.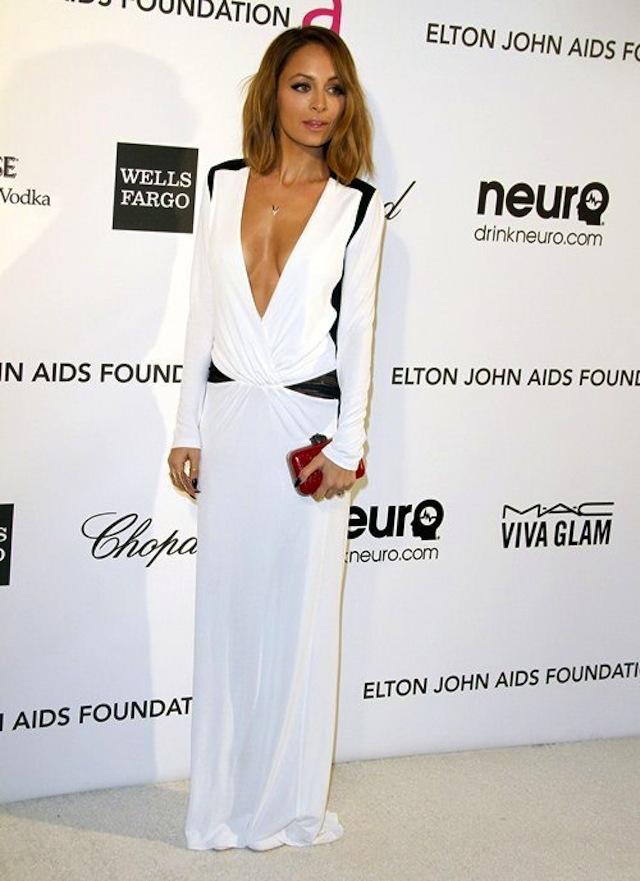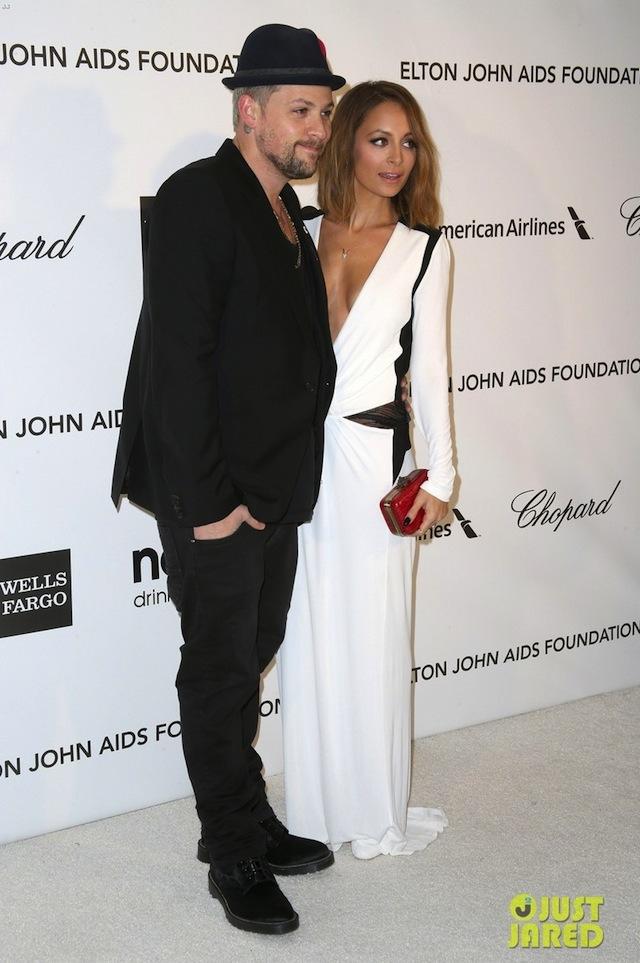 La moda y Diane Kruger van siempre de la mano. Un vestido asimétrico blanco, con detalles de terciopelo negro y manga larga de Giambattista Valli Couture Primavera 2013 fue la elección para acudir a la fiesta de Vanity Fair. Los accesorios: zapatos blancos y negros de Christian Louboutin, y clutch de Roger Vivier. / Diane Kruger and fashion goes always together. A white with black velvet assimetric long sleeve dress by Giambattista Valli Spring 2013 Couture was her choice to attent to Vanity Fair Oscar Party. To accesorize it: black and white Christian Louboutin pumps and Roger Vivier clutch.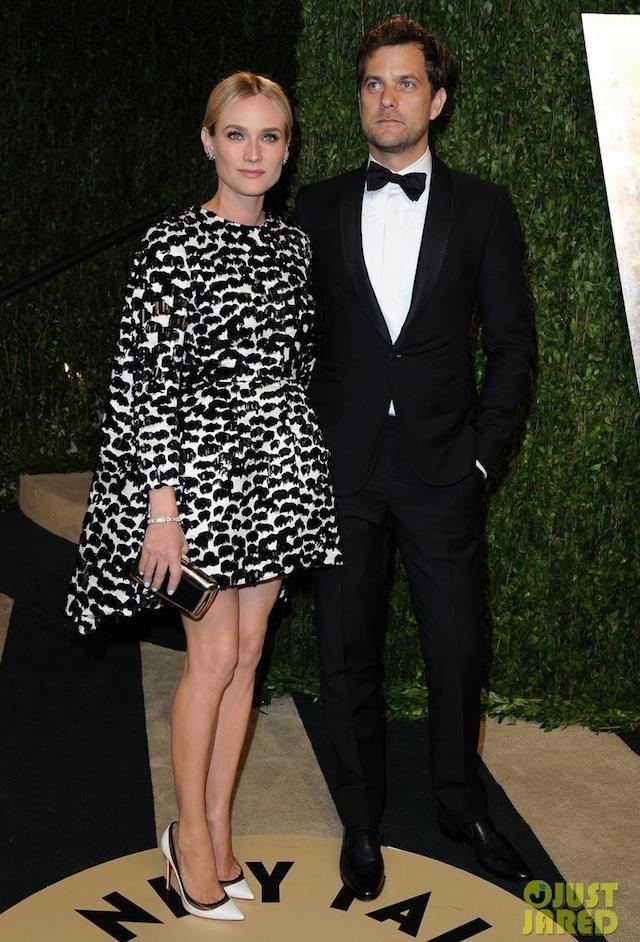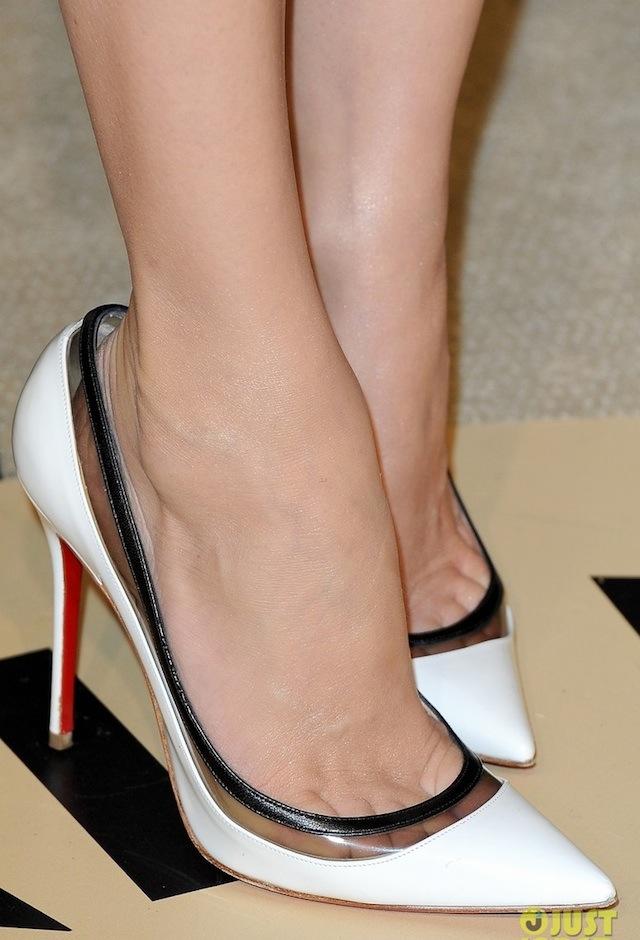 El plata fue uno de los colores de la noche, Jennifer Laurence lo escogió para la fiesta de Vanity Fair. Dejo su "peligroso" Dior y lo cambio por un bonito vestido plateado con gemas incrustadas, corte recto y escotazo de Calvin Klein. /

Silver was one of the color of the night,

Jennifer Laurence

wore it at the Vanity Fair Party. She left her "dangerous" Dior gown, and trade it for a gorgeous silver gem-encrusted colum dress with huge v-neck by Calvin Klein.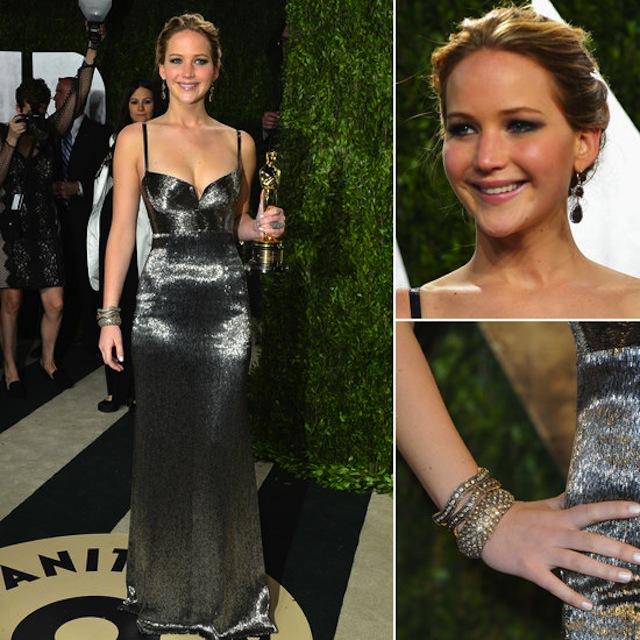 Miranda Kerr escogio un look muy barroco para acudir a la fiesta de Vanity Fair. Se trata de un vestido glamuroso en tono oscuro con un toque seductor gracias al corte sirena de Valentino Otono 2012. / Miranda Kerr chose a barroque look for Vanity Fair party. It was a smokey-coloured gown with a seductive siren cout by Valentino Fall 2012.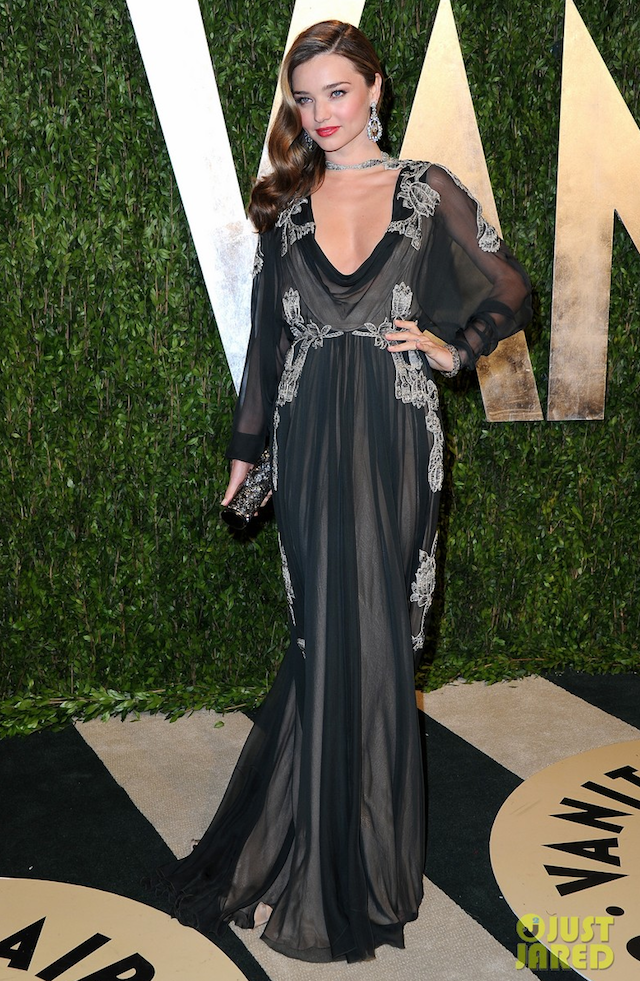 Kate Bosworth acudio a la fiesta con un vestido de diseno medieval bordado de manga larga y silueta bady-doll de Giambattista Valli Couture Primavera 2013. En los pies, sandalias plateadas. / Kate Bosworth

went to the party with a medieval embroidery long sleeve baby-doll silhouette gown by Giambattista Valli Couture Spring 2013. On her foot silver high heels sandals.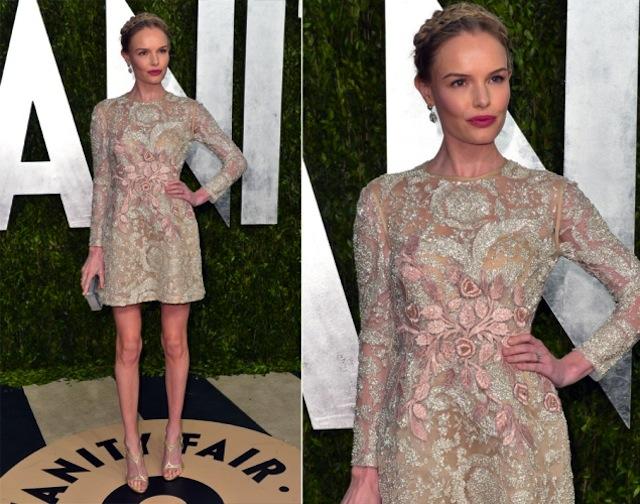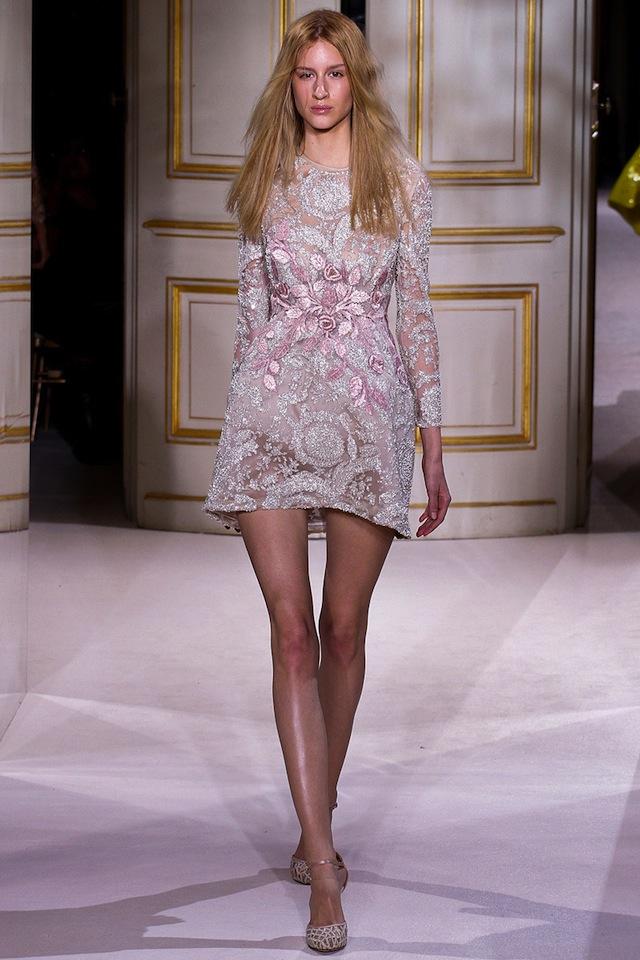 Siguen sin convencerme las elecciones de Anne Hatway. Si, se cambio de vestido para la fiesta de Vanity Fair, obtando por uno azul, con el mismo corte que el de Prada que llevo horas antes para los Oscar. Esta vez el escote es triangular de pailettes dorados  y esta firmado por Yves Saint Laurent. Es mas de los mismo. /

I still don't see

Anne Hathway

choices. She change her dress from pink to blue but it has the same colum cut than the Prada one, she wore houres early for the Oscars. The difference was at the sequin triangular neckline and that this time it was a Yves Saint Laurent piece. However, is more of the same.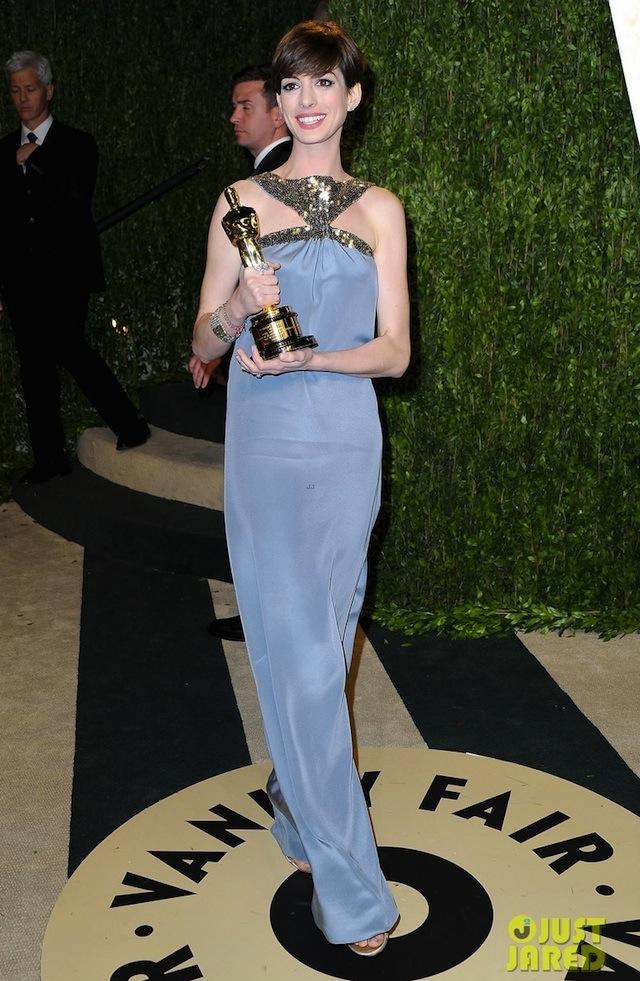 En resumen, priman los looks mas minimalistas aunque los tonos metalizados son los mas utilizados, casualidad? o tendencia? /

To summary, minimal is the it-dress although metallics are the most use ones, chance? or trend?


Xo Xo,Mia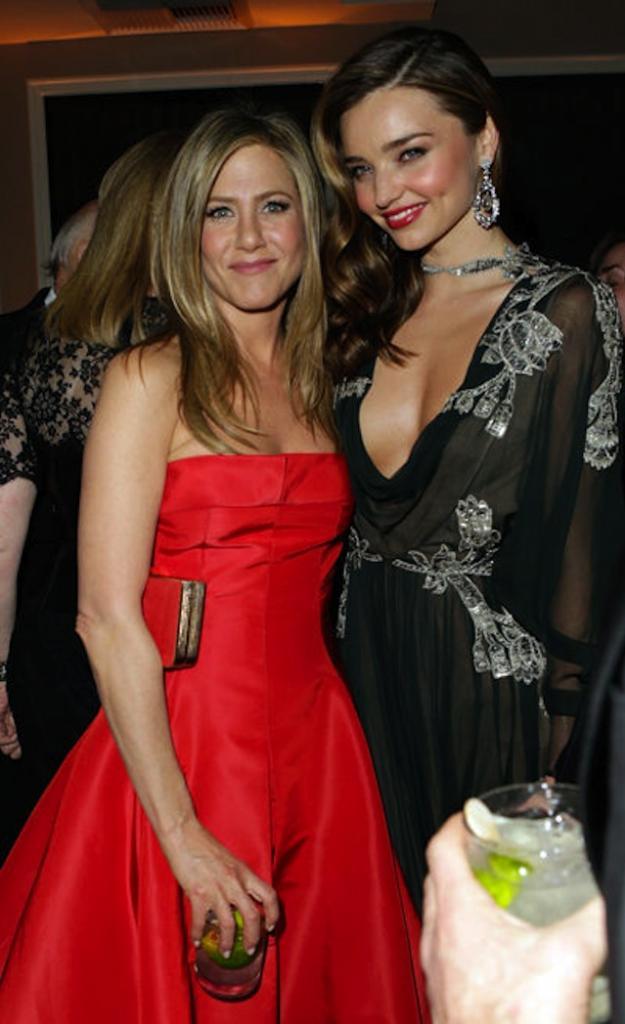 Sources: Just Jered, Lifestyle, Popsugar.