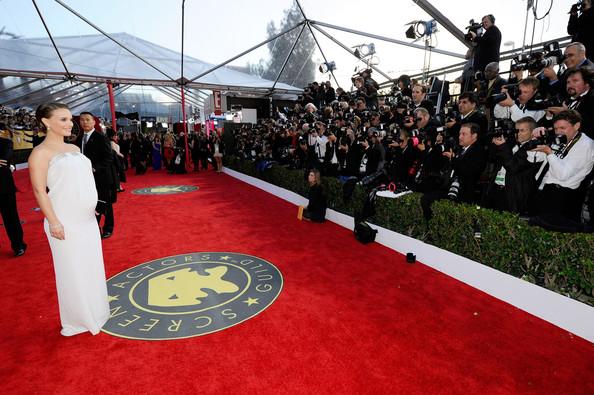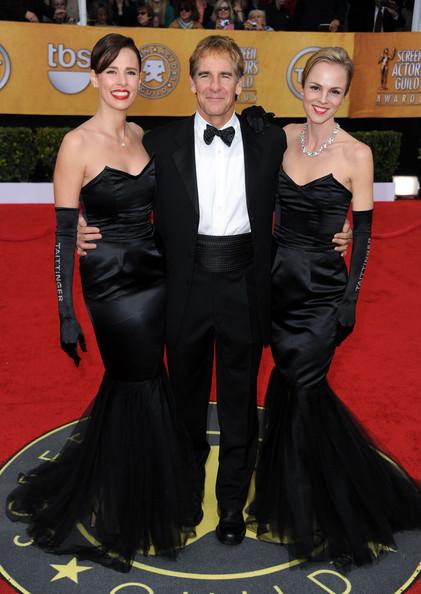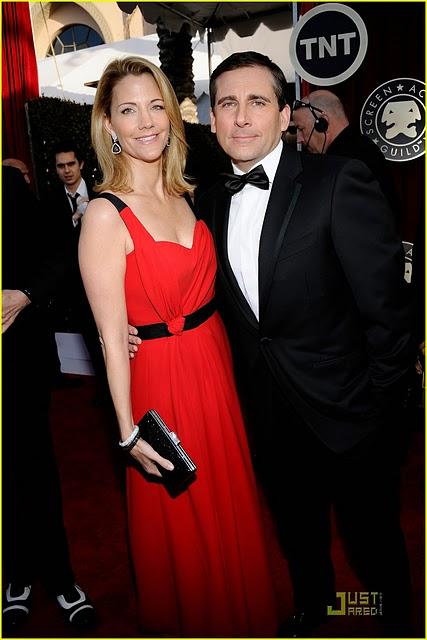 Por premios en Hollywood que no quede, parece que se inventan tanto premio para vestirse con los mejores diseños y pasar la tarde ¿no?
Esta fue la 17 Edición de los Screen Actors Guild Awards (SAG Awards) que se celebró el pasado Domingo 30 de Enero en el Shirene Expositor Center de Los Ángeles. /

Awards in Hollywood are everywhere, it seems they invented so many galas to dress up by the best designers and spend the evening, no? Well, it was the 17

th

Edition of the Screen Actors Guild Awards (SAG Awards) that took place last Sunday January 30 at the Los Angeles Shirene Expositor Center.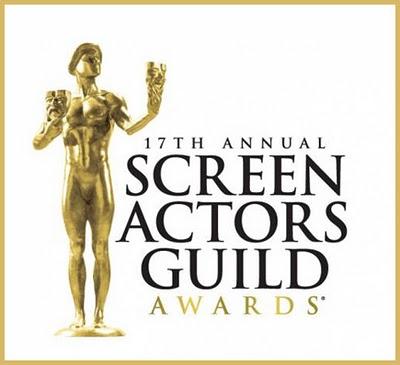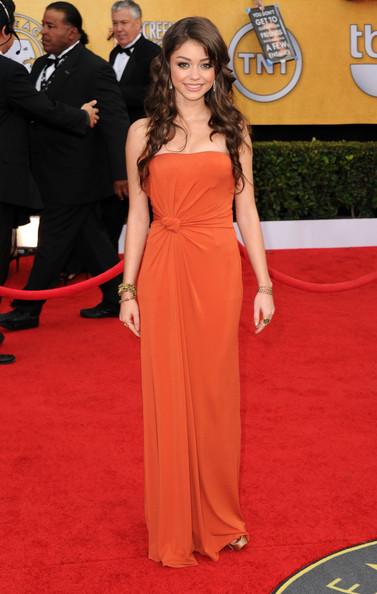 Y ya sin seguir con rodeos vamos a ver los mejores modelos de la noche. /

And without going through the bush, let's look at the best models of the evening.




La elección de

Mila Kunis es sin duda una de mis favoritas. Un vestido estampado de seda y palabra de honor, en tonos rojos de Alexander McQueen Resort 2011. Y como accesorios joyas de Cartier. ¡Divino! / Mila Kunis chose was one of my favourites. She wore a print, strapless silk dress in red by Alexander McQueen Resort 2011.

And as accessorize Cartier jewels. Divine!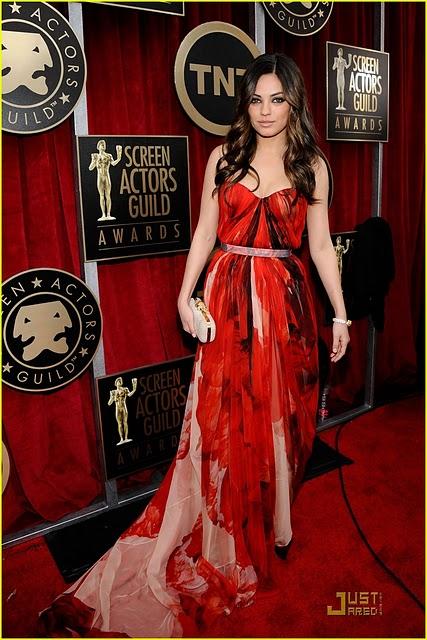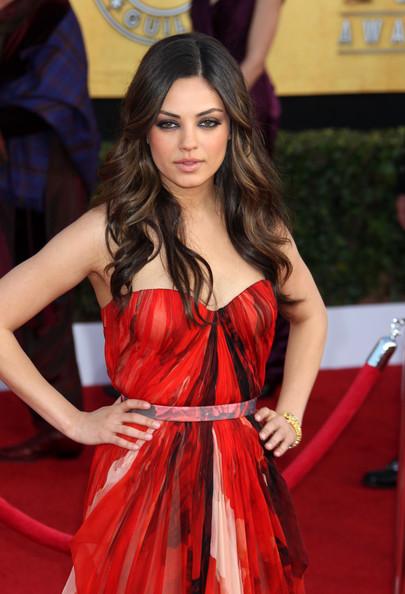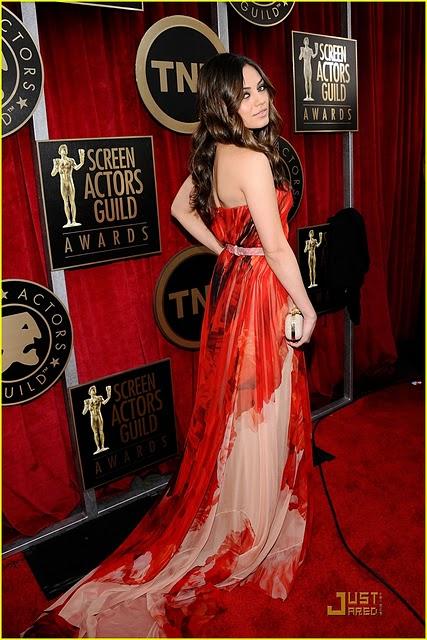 Para saber más: Mila estaba nominada como mejor actriz secundaria por su papel en "Black Swan" /

To know more: Mila was nominated for the Female Actor in a Supporting Role Award for "Black Swan."


Otro de los mejores looks fue el de Hilary Swank que eligió a Versace, como suele hacer siempre. El vestido era color maquillaje de un sólo un hombro con detalles de piedras preciosas y cristales, y para completar su estilismo un clutch dorado. ¡Estaba guapísima! /

Other of the best dresses was

Hilary Swank

who chose Versace, as usual. The dress was in nude and one-shoulder and decorating it with precious stone and crystals and to complete her look a gold clutch.

She looked stunning.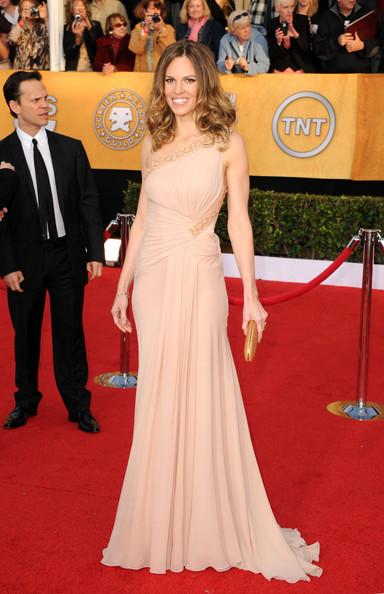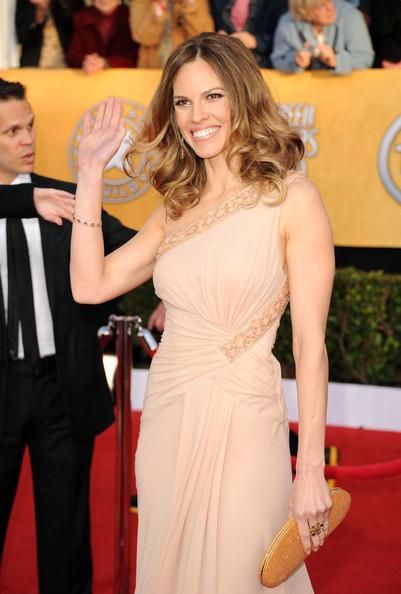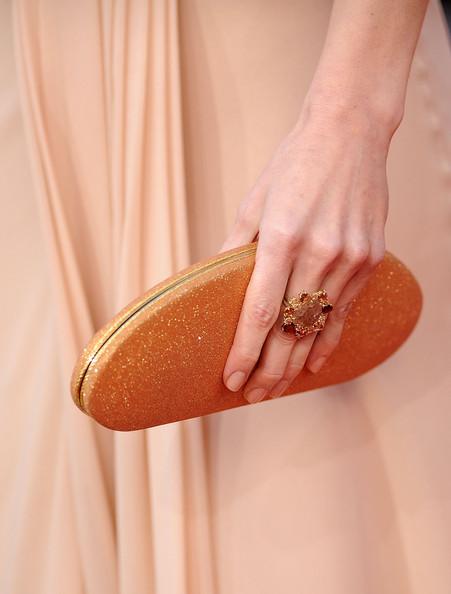 Natalie Portman estaba guapísima, dicen que las embarazadas siempre lo están y si Natalie lo es ya de por sí pues imaginaros. Iba de blanco, el color más in para la próxima primavera-verano, con un vestido de Azzaro Primavera 2010 muy sencillo en el que sólo resaltan cristales bordados en la zona del escote pero estaba espectacular. Y para rematar el look, la actriz, que fue el centro de todas las miradas, llevaba joyas de Tiffany & Co por valor de 2 millones de dólares y un clutch negro de Roger Vivier. / Natalie Portman

was so beautiful, they say that pregnant women always are and if Natalie usually is, imagine now. She worn white, the coolest color of next spring-summer, in a simple Azzaro Spring 2010 gown with a crystal-embellished neckline, she was spectacular. And to finish her outfit, the actress that was the center of all looks, wore $2 million worth of   Tiffany & Co jewels and Roger Vivier black clutch.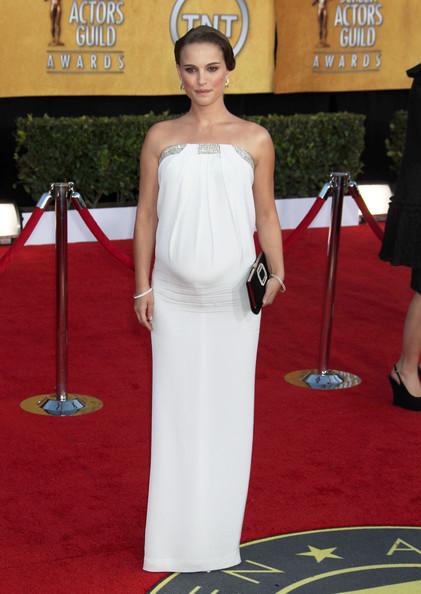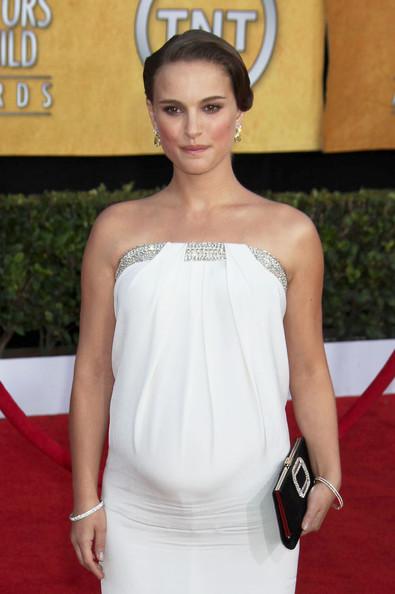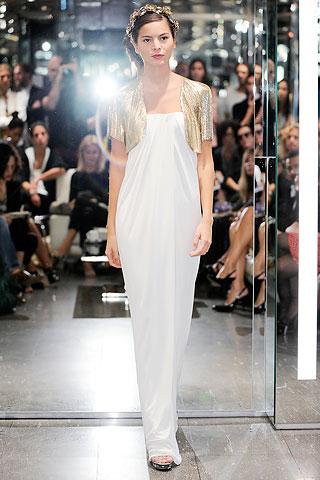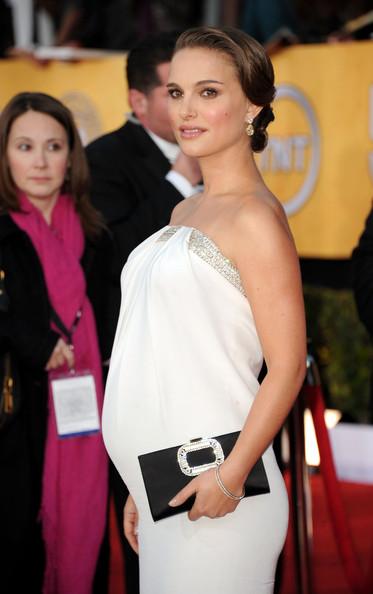 Claire Danes para la ocasión cambió de firma y eligió a Louis Vutitton, lástima porque hubiera preferido verla vestida de Calvin Klien o Zac Posen, pero bueno a veces también hay que cambiar ¿no? Eso si el vestido es una obra de arte porque esta bordado con flores en seda y perlas negras.

La verdad,

aunque soy un poco anti Louis Vuitton, el vestido era espectacular. / Claire Danes for the occasion change brand and chose Louis Vuitton, a petty I would prefer seen her in Calvin Klein or Zac Posen, but sometimes a change is needed, right? The dress is an art piece, it was embroidered with silk flowers and black pearls.  The truth is, even I don't like much Louis Vuitton, that he gown was spectacular.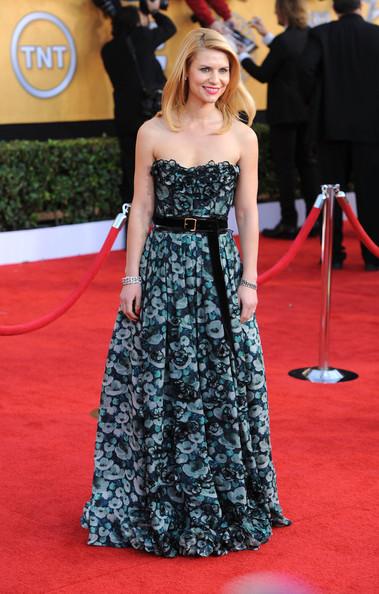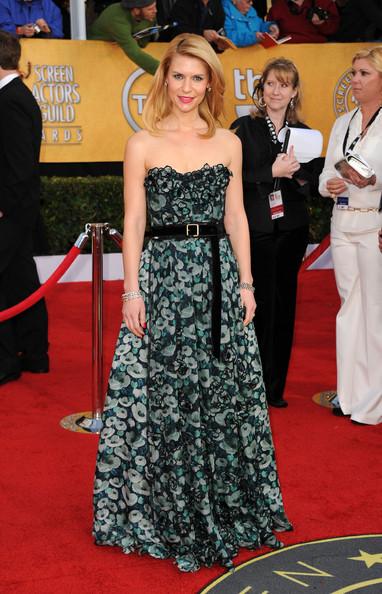 El vestido de Tina Fey también era divino; de encaje rojo de Oscar de la Renta Pre-Otoño 2011.  El vestido le quedaba perfecto y color también estaba muy acertado.  Como complementos: cartera de mano negra estilo sobre de Christian Louboutin y joyas de Lorraine Schwartz. /

The gown

Tine Fay

worn was also divine; a red lace Oscar de la Renta Pre-Fall 2011 gown. The dress fitted her perfectly and the color was a great choice. As accessories: black Christian Louboutin envelop clutch and Lorraine Schwartz jewels.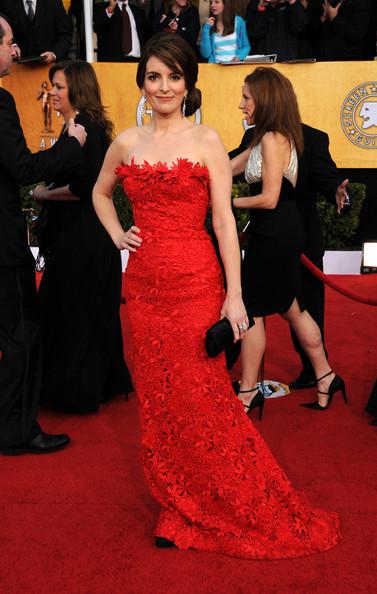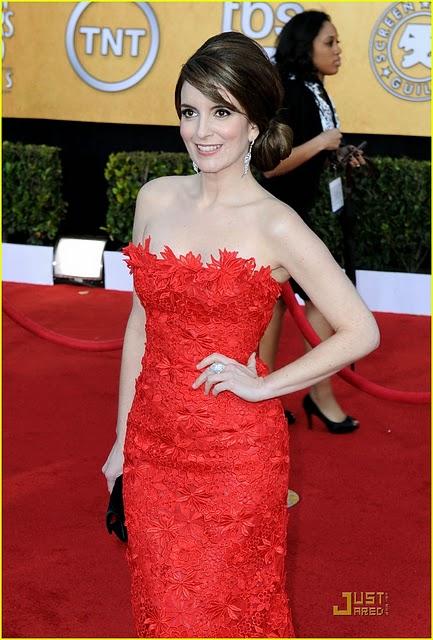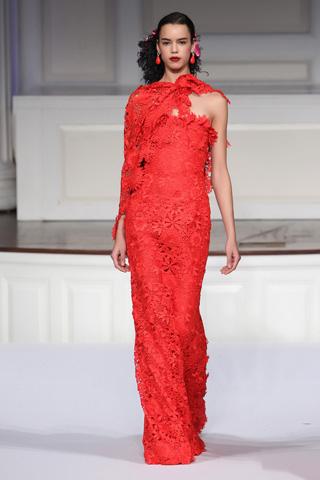 Eva Longoria iba muy provocativa, pero guapísima con un vestido en tono piedra de gran escote y abertura en los laterales de Georges Hobeika Alta Costura Primavera 2011. El vestido es precioso pero me gusta más visto en la pasarela combinado con un magnífico collar. La elección de los accesorios es muy acertada: cartera de mano de Ferragamo y pendientes largos de diamantes de Fred Leighton. / Eva Longoria

was very provocative but beautiful in a deep neckline and open at the sides stone George Hobeika Couture Spring 2011 dress. The dress is gorgeous but I like it most the way was seen on the runway; with a magnificent necklace. The choice of the accessories is so right: Ferragamo silver clutch and drop earrings by Fred Leighton.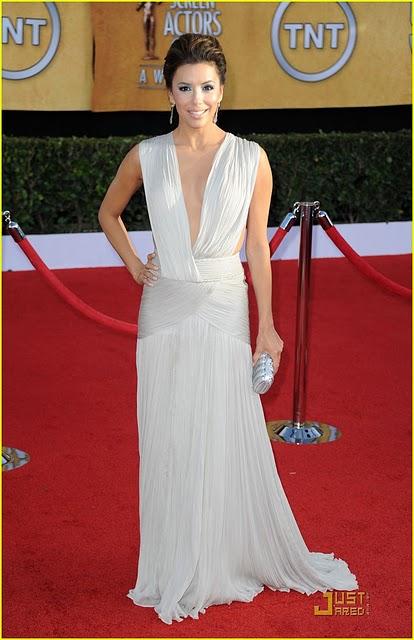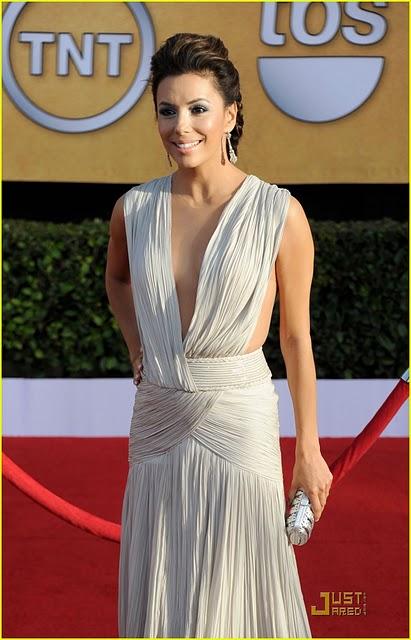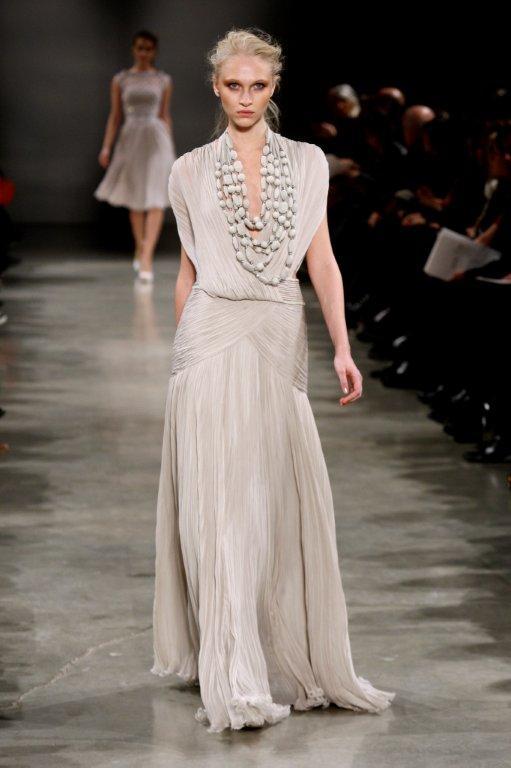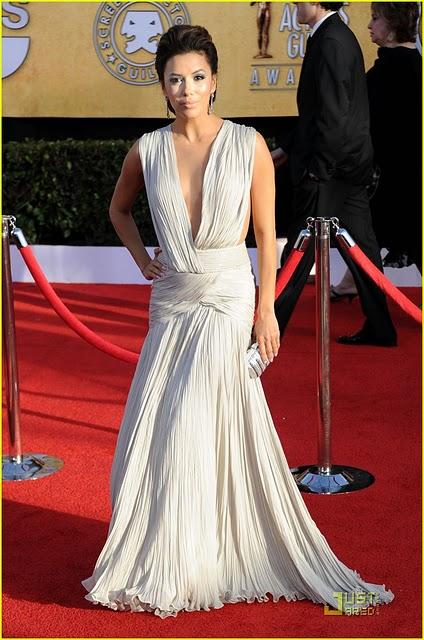 Otro vestido precioso fue el de January Jones. Eligio uno de encaje en negro y dorado, y corte sirena de Carolina Herrera Pre-Otoño 2011.  El look destaca por la falta de complementos, que me parece muy acertada porque el vestido lo dice todo por si mismo pero si yo fuera su estilista, hubiera optado por una pulsera. /

Another nice dress was

January Jones'

. She wore a black and gold lace, mermaid cut Carolina Herrera Pre-Fall 2011 gown. The look highlight for the miss of accessories, witch is very right because the dress says it all by itself but if I were her styles I would ad a bracelet.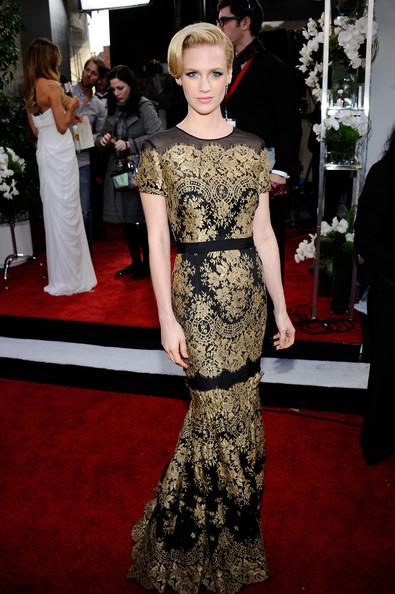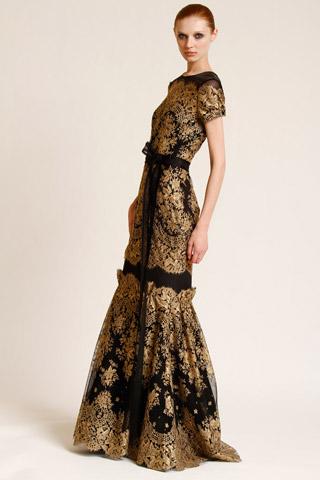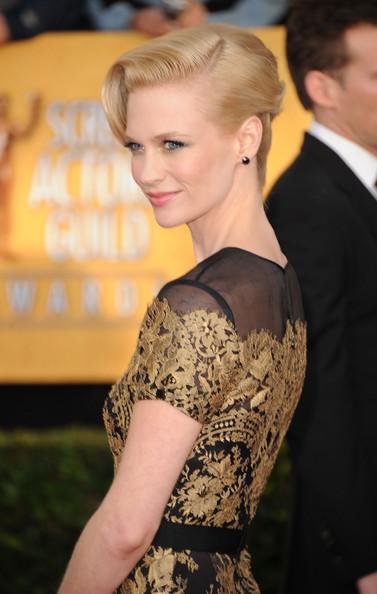 Lea Michele, piso la alfombra roja con un vestido brillante color plata y escote pronunciado de Oscar de la Renta Primavera 2011. Además llevaba joyes de Tiffany & Co valoradas en 1 millón de dólares. / Lea Michele

, step on the red carpet with a silver bright Oscar de la Renta 2011 gown with a low neckline. Plus she wore $1 million worth of Tiffany & Co diamond jewelry.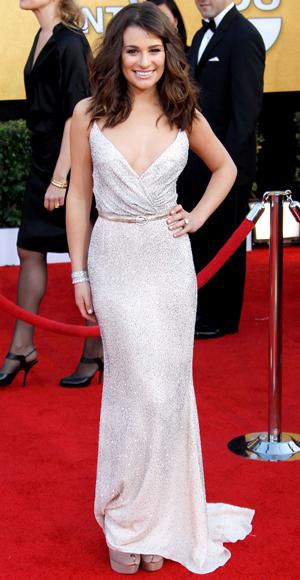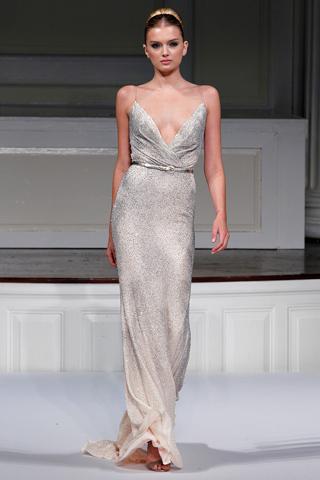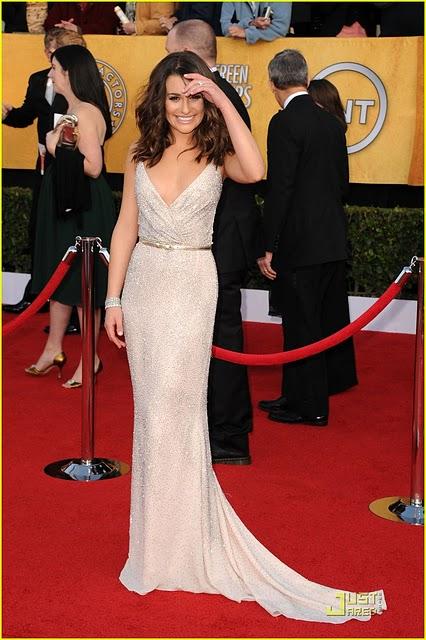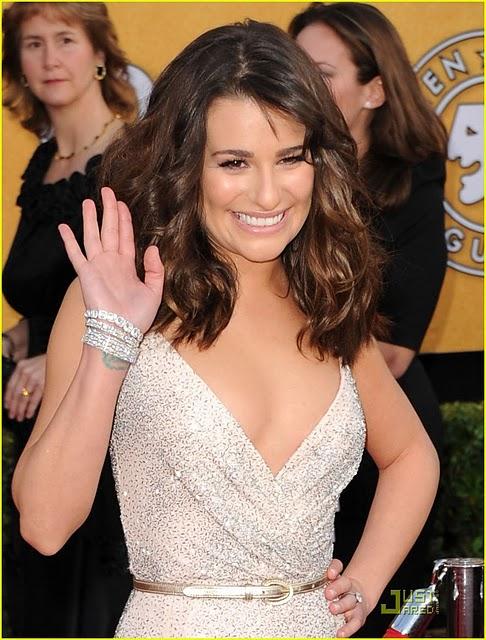 La actriz de "Glee", que también os sonará porque suele protagonizar la saga de las "Scary Movies", Jayma Mays, optó por un vestido de seda drapeado en tono melocotón, con una manga adornaday abertura en la falda de Jenny Packham Primavera 2011.

A

juego, un clutch de Swarovski y sandalias plateadas de Jimmy Choo. /

The "Glee" actress, that also might sound you for been the main character of the "Scary Movies",

Jayma Mays

, chose a silk draped peach

Jenny Packham Spring 2011gown with a big opening on the skirt and one sleeve decorated. Mix it, a Swarovski clutch and Jimmy Choo silver sandals.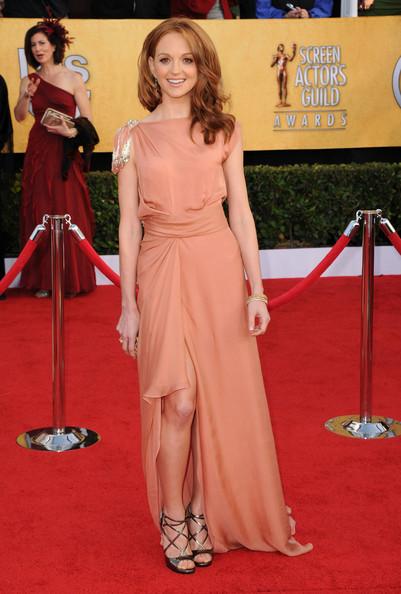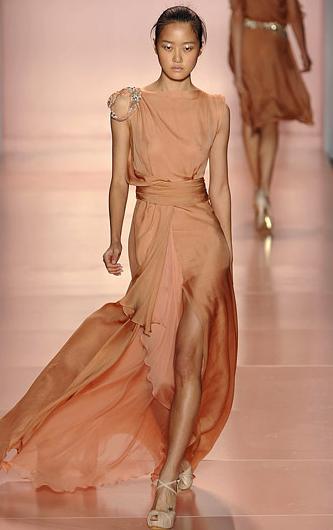 El toque vintage a la ceremonia se lo dio Dianna Agron con un vestido azul marino vintage de Chanel de encaje. En los pies, zapatos negros de salón de Ferragamo y a juego un clutch también de Salvatore Ferragamo. /

The vintage touch of the evening was given by

Dianna Agron

, with a navy blue lace vintage Chanel dress. On her feets, balck Ferragamo pumps ando n her hand a Salvatore Ferragamo clutch.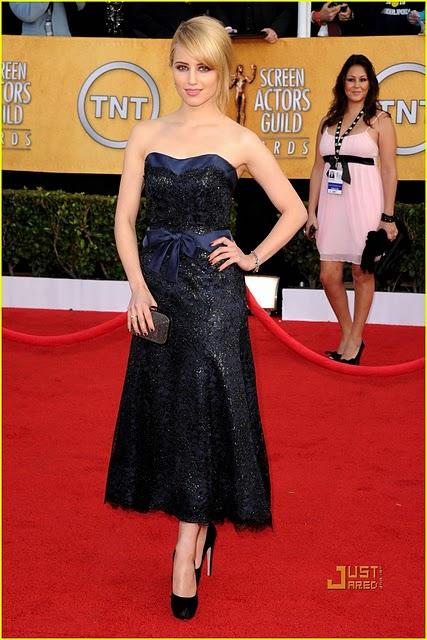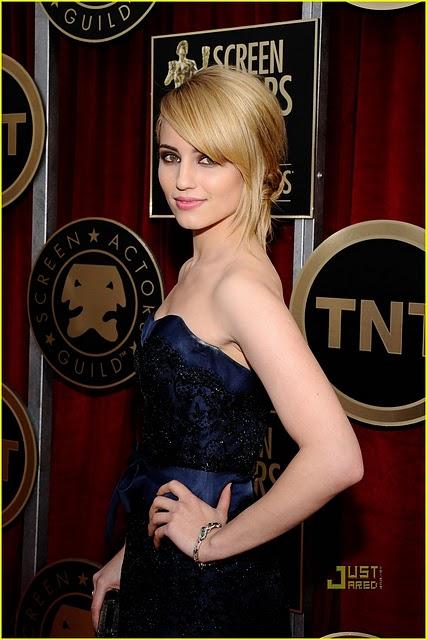 Nicole Kidman continuo siendo fiel a Nina Ricci. El vestido era de crepé negro con encaje en el escote y en la espalda, y pertenece a la colección Pre-Otoño 2011. Lo mejor del look es el magnífico collar de Fred Leighton que llevaba, sin duda el accesorio más chic de entre todos los que pasaron por la Alfombra Roja. /Nicole Kidman

kept been faithful to Nina Ricci. It was a black crepe dress with lace details on the neckline and the back, and its part of the Pre-Fall 2011 collection. The best of her outfit was a magnificent Fred Leighton necklace, it was the most chic accessorise of all we seen that evening.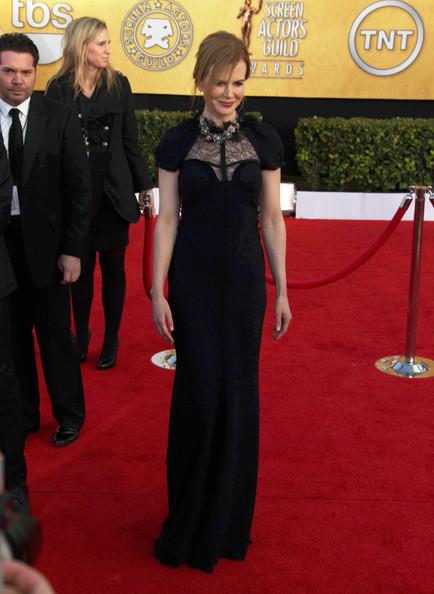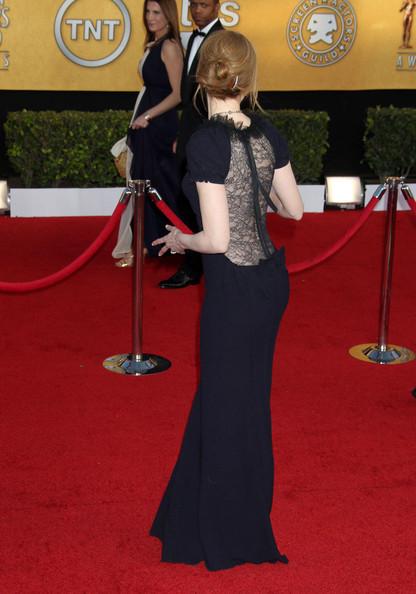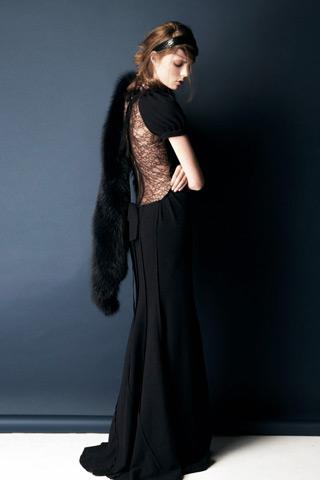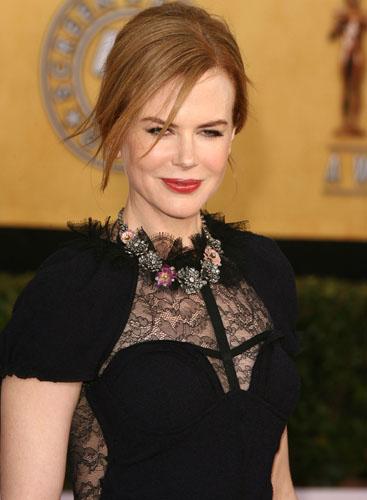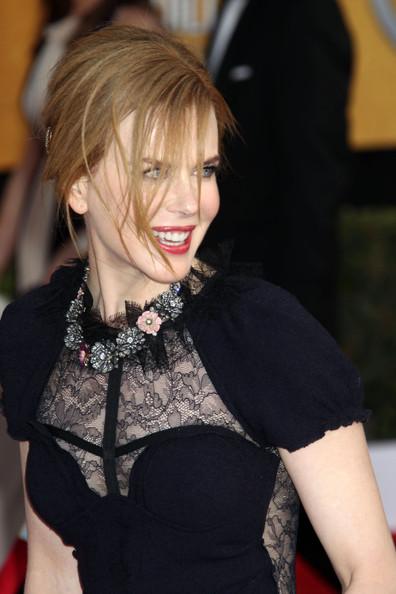 Julia Stiles llevaba un vestido degrade azul marino y blanco con escote palabra de honor de Monique Lhuillier Pre-Otoño 2011. De entre las joyas, me quedo con los pendientes largos de toque vintage, ¡son muy favorecedores! /Julia Stiles

wore a navy and white strapless Monique Lhuillier Pre-Fall 2011 gown. Among her jewels, I chose the long vintage earings, they look great on her!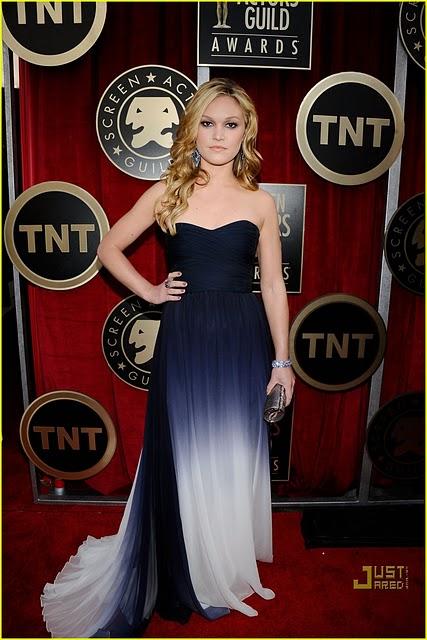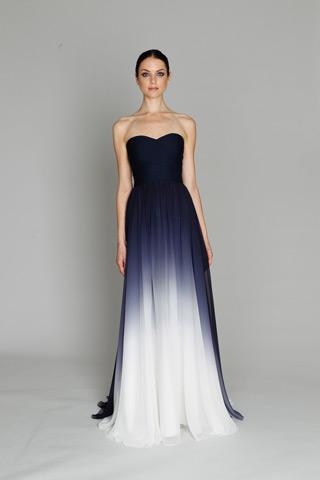 Oscar de la Renta también vistió a Jennifer Lawrence. El tono: rosa fuerte; el detalle: el cinturón de terciopelo. Lo que hacen que este vestido, de la colección Pre-fall 2011, merezca la pena, son las tiras del cuello y la raja de la falda. Para completar su estilismo, accesorios de Judith Leiber; sandalias negras de raso y taconazo y clutch negro. El vestido es bonito, pero el que llevó a los Globos de Oro de Luis Vuitton era mucho mas espectacular. /

Oscar de la Renta also dressed

Jennifer Lawrence. The tone: bubble pink; the retail: the velvet belt. What make this, Pre-Fall 2011 dress special are the straps of the neck and the high front slit. The finish her look she chose Judith Leiber accessorizes; satin black sandals and black clutch. The dress is nice but the Louis Vuitton one that she worn at the Golden Globes was more spectacular.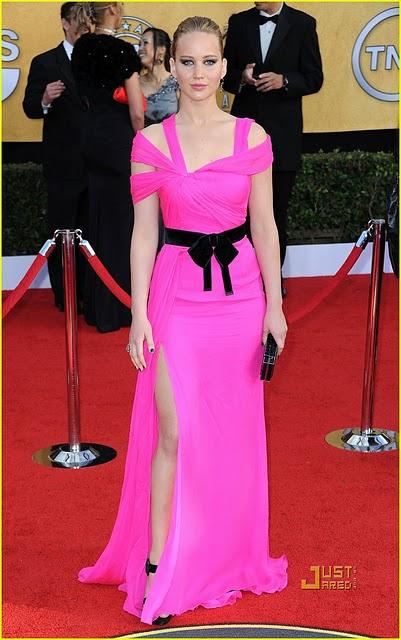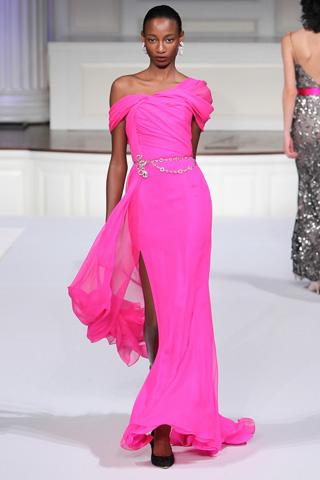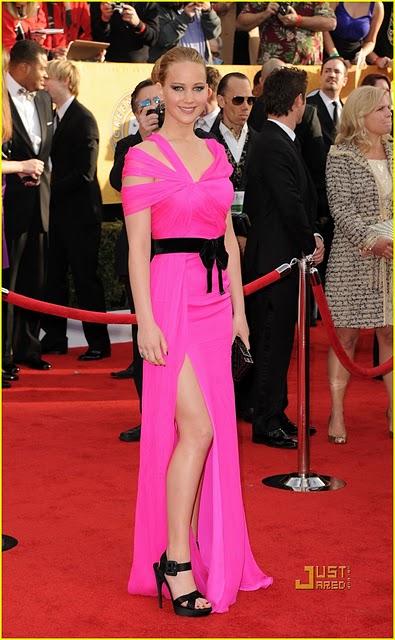 Ahí estaba Winona Ryder, de blanco de arriba abajo, con un look de novia total. Sí, y no es que lo pareciera no, es que su elección fue un vestido palabra de honor de Alberta Ferretti, de la colección de novias Primavera 2011. Fue agradable no verla vestida de negro, y su elección no estuvo mal, el vestido es bonito pero no le sienta muy bien.  Además, el recogido y los accesorios en negro no me terminan de convencer. Por

cierto, las joyas que llevaba son de Vram for Gray. /

Winona Ryder

was there, in white from top to bottom with a total bridal look. Yes, it's not that she looks like, no it is, she chose a strapless Alberta Ferretti Spring 2011 bridal collection gown. It was nice not seen her wearing black for once and her choose wasn't bad, the dress is pretty on the model but it doesn't fit well Winona. Plus her hair look and the black accessories don't convince me. By the way, the jewels are from Vram for Gray.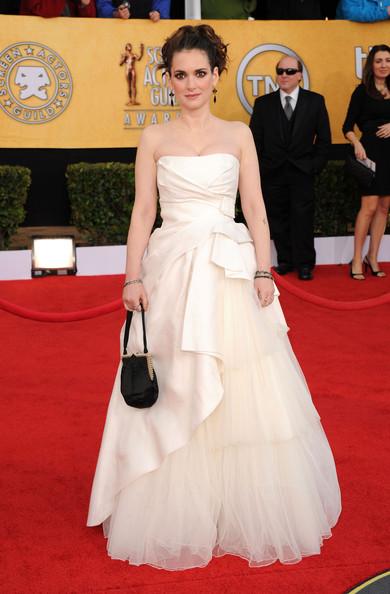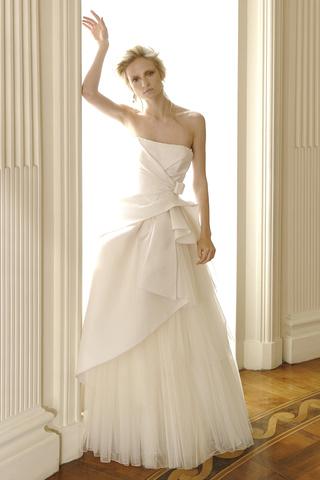 El vestido en la pasarela es impresionante. /

The dress on teh catwalk is gorgeous.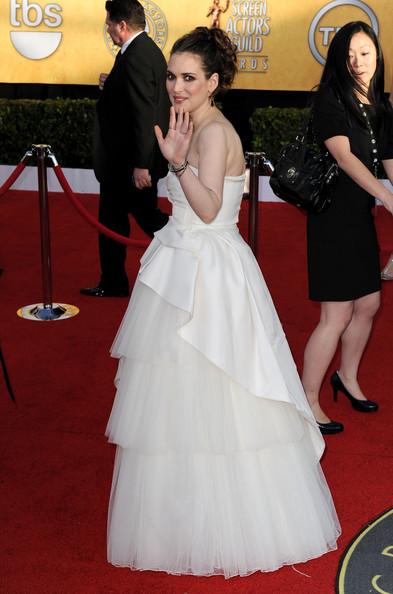 Behind the Scenes 
Preparandose. / Getting ready.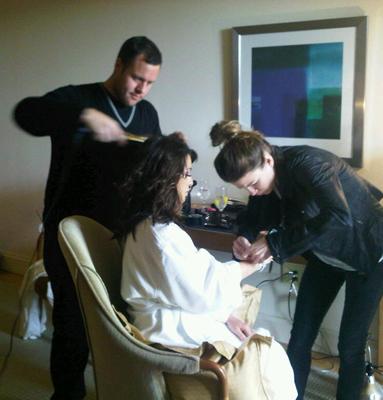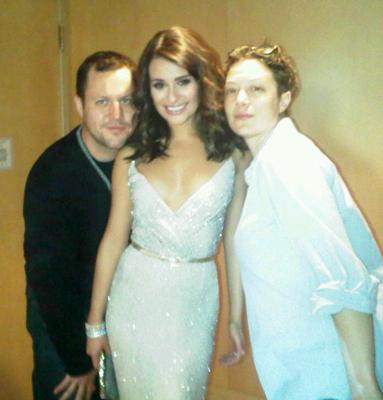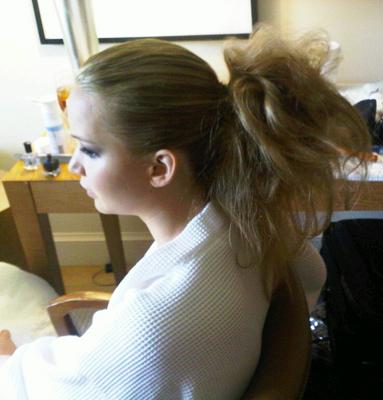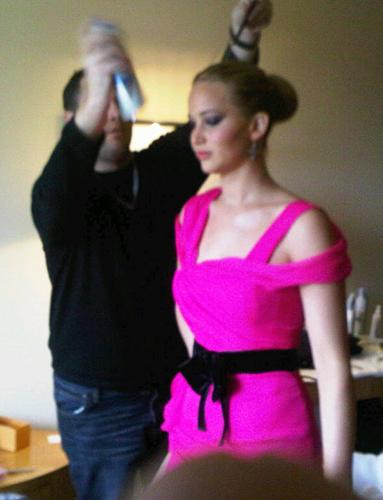 La llegada. / The arriving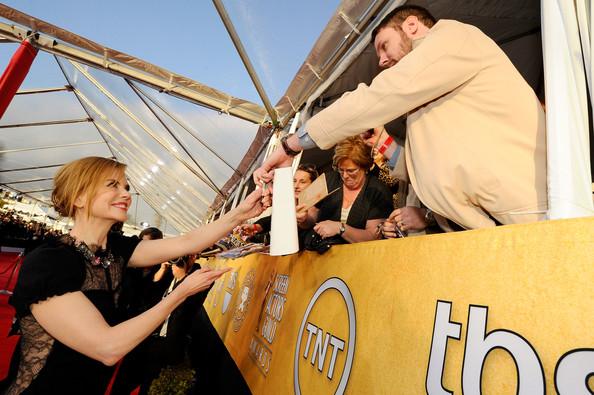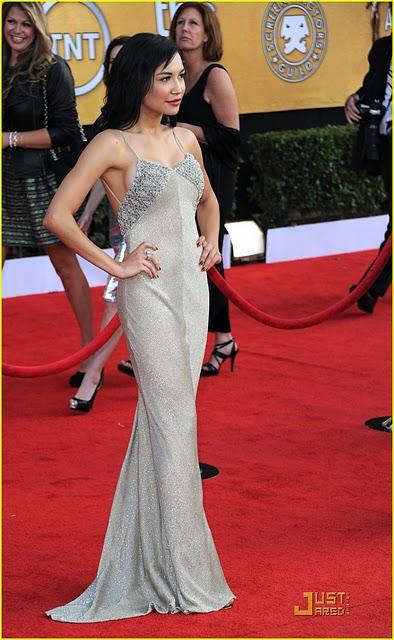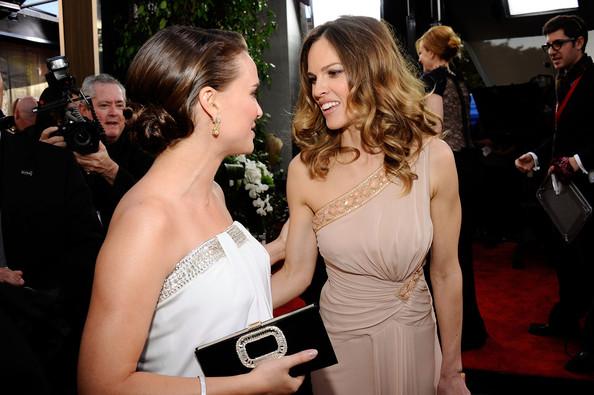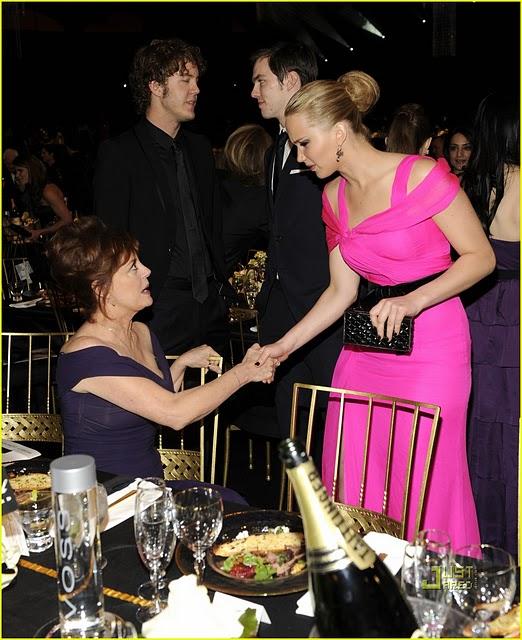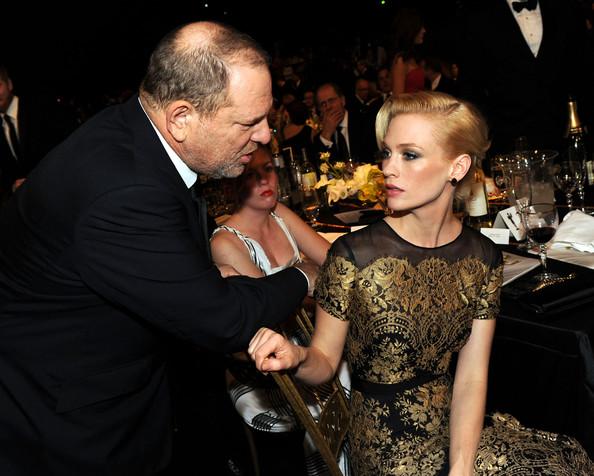 La Ceremonia. / The Ceremony.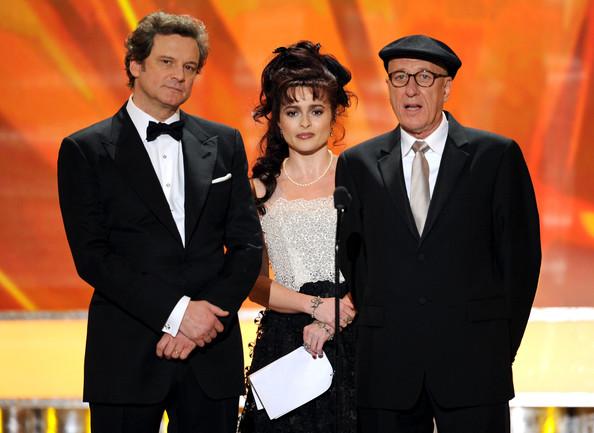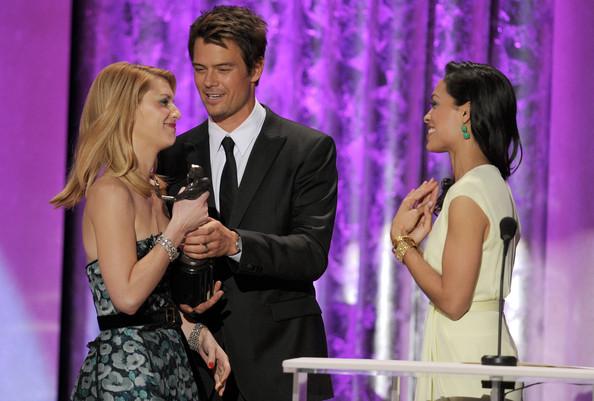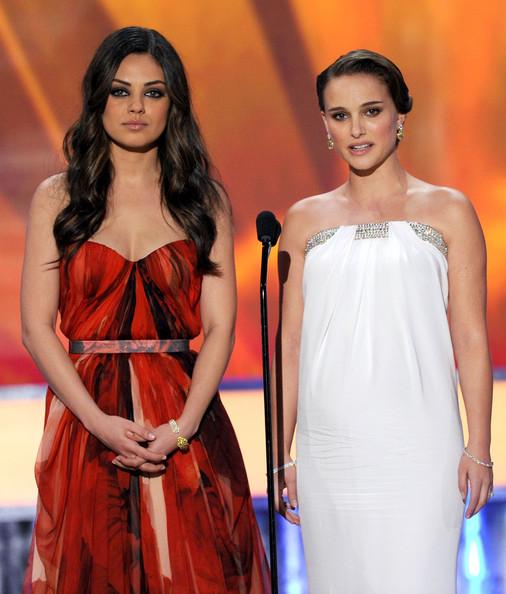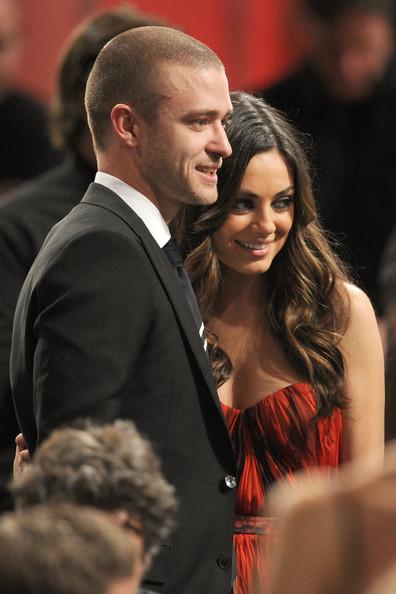 Después. / After.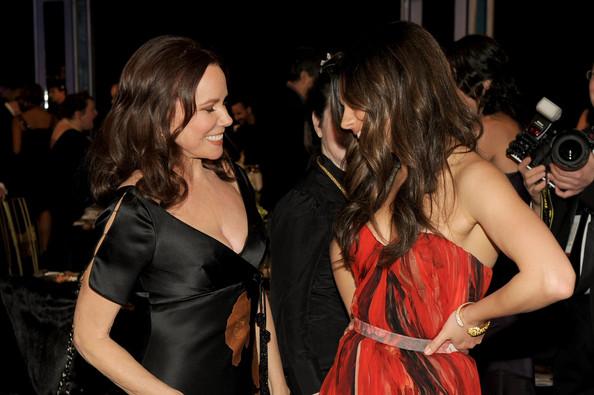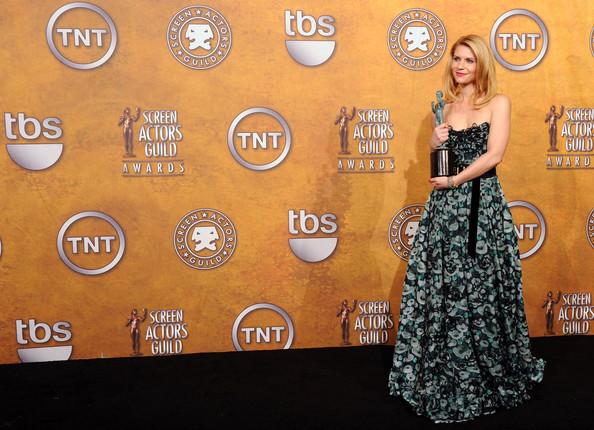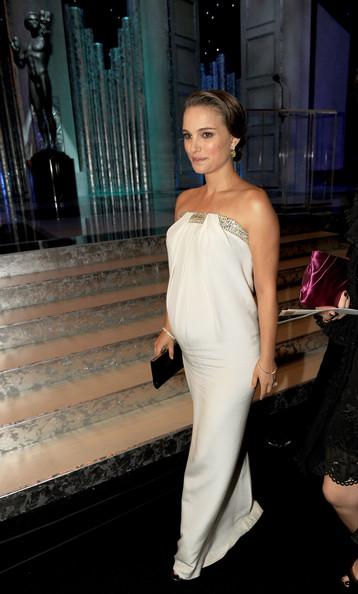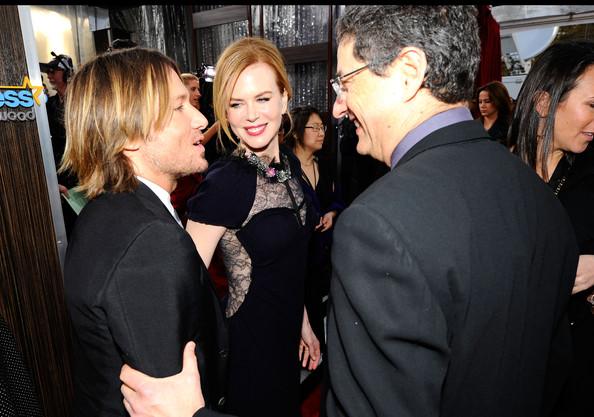 Mi vestido: escogería el que llevó Mila Kunis de Alexander McQueen. ¿Y vosotras? /

My dress: I will pick the one Mila Kunis wore by Alexander McQueen, and you?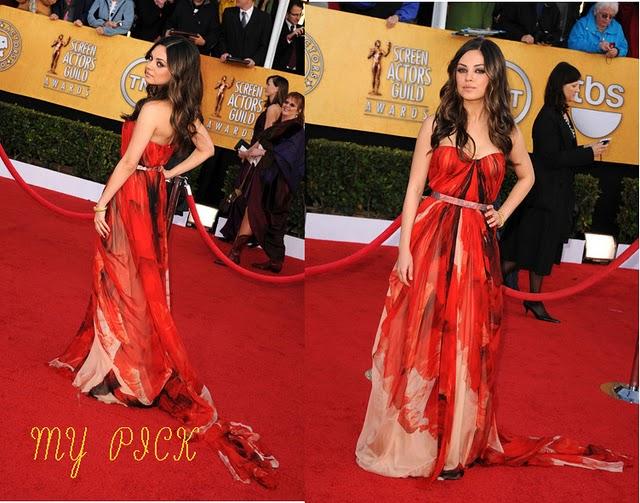 Sources: Just Jered, Zimbio, SAG Awards, Instyle, Vogue.com, Style.com.