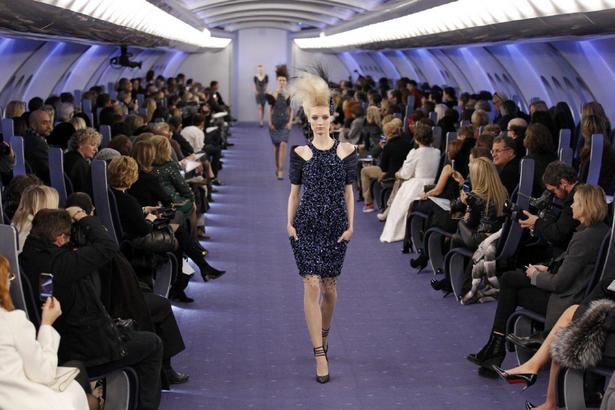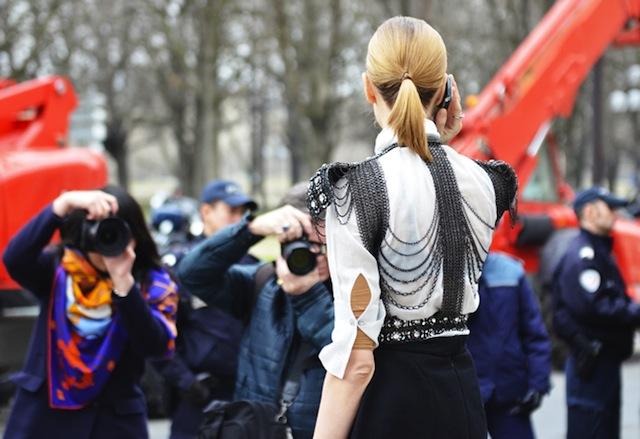 Con la Semana de la Moda de Alta Costura de Paris, comienza la temporada de los desfiles. En esta ocasión se presentaban diseños de los grandes creadores de moda para la Primavera-Verano de 2012, modelos nada asequibles con los que veremos a mas de una celebritie. Pero no quiero aburriros con tanta pasarela, igual lo hago un poco mas adelante pero ahora, la idea es mostraros los looks de algunas invitadas a dichos desfiles que espero os gusten. / With the Haute Couture Paris Week has started the catwalk season. This time, they present designers of the biggest names in fashion for Spring-Summer 2012, not afforables models with which we will see more than one celebrities.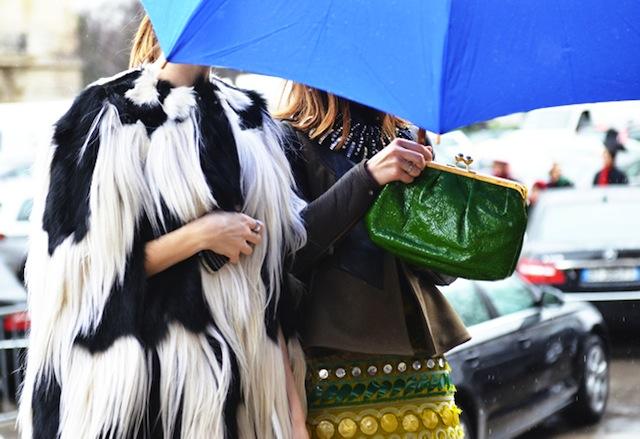 1. Miraslova Duma.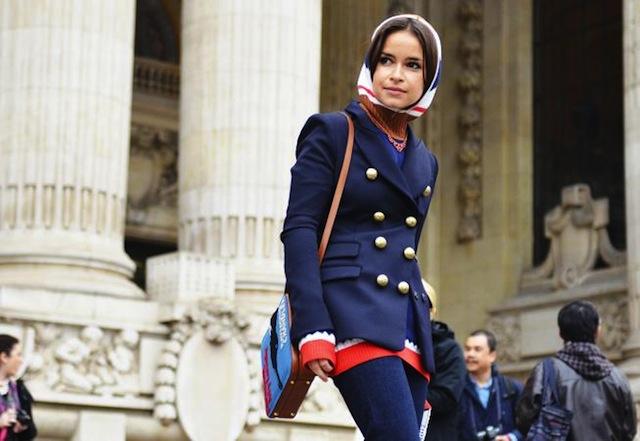 Su estilo sigue siendo uno de los mejores. En esta ocasión, ha apostado por los colores, con tres looks muy diferentes pero chics y estilosos. ¿Con cual os quedáis? / Her style is still one of the best. This time, she goes for color, with three different looks but chic and stylish. Which one you prefer?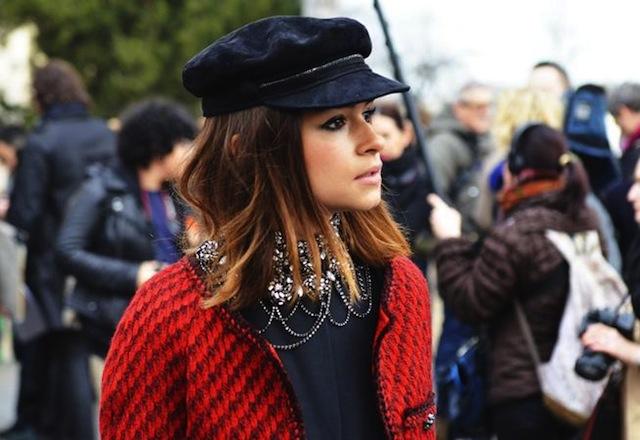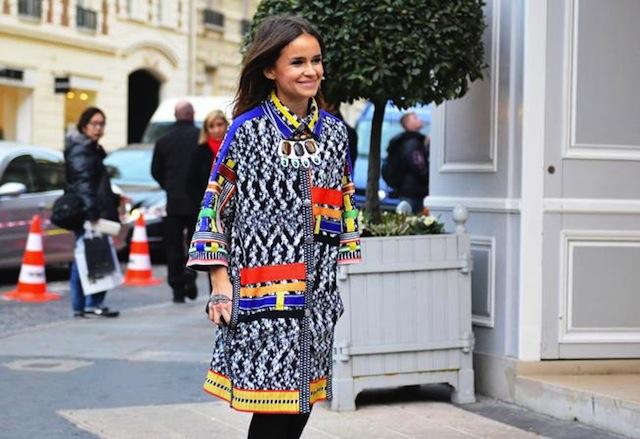 2. Olivia Palermo.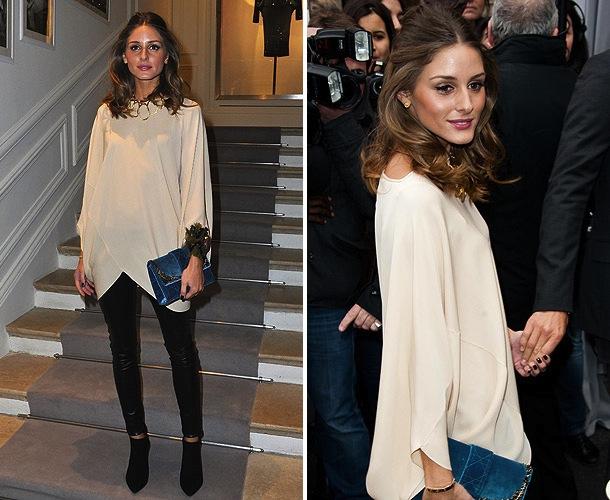 Christian Dior blue clutch.
Ultimamente estamos viendo a Olivia Palermo con mucho pantalon. Nuestra it-girl favorita, a pasado de los vestidos y faldas que han sido el centro de su vestuario durante los dos ultimos anos a apostar por el pantalon. Lo mejor de ambos looks, es que usando la misma parte de abajo crea dos atuendos muy diferentes. Moraleja: a veces es bueno repetir ¿porque no? / Lately we have seen Olivia Palermo wearing pants. Our favorite it-girl, has move from dresses and skirts that has been the main part of her wardrobe during the two last years to go for pants. The best of both looks, is that she by using the same bottom she is getting two different looks. The moral: sometimes is good to duplicate, why not?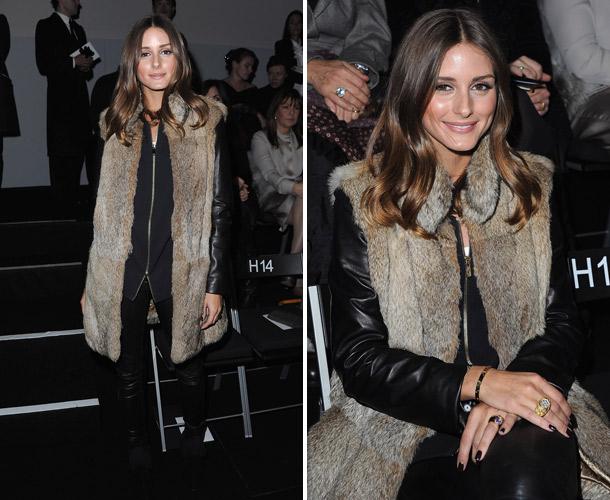 3. Josephine Skriver.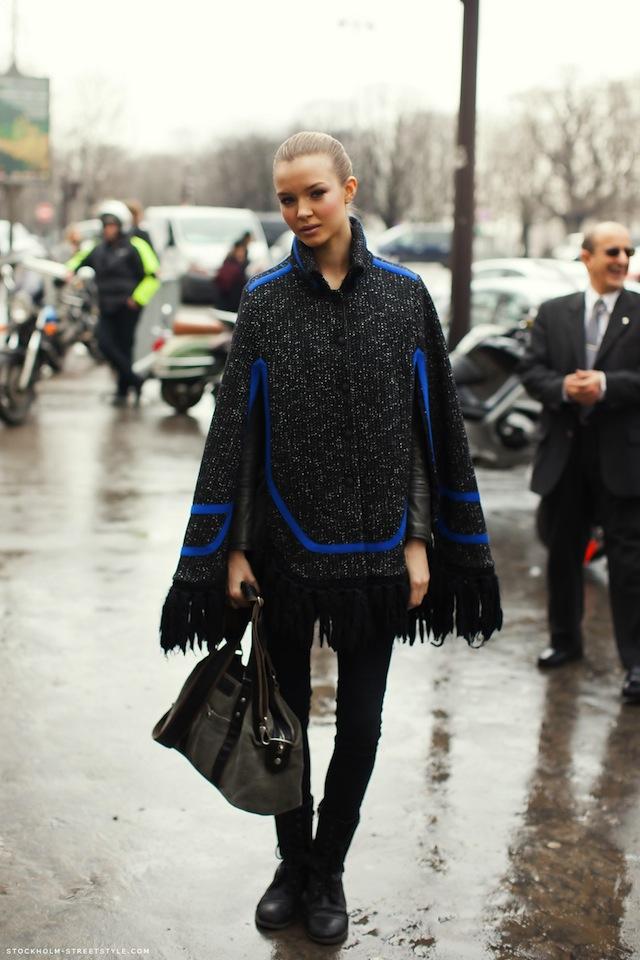 Con un look muy casual vemos a la modelo americana Josephine Skriver. Lo mejor, la capa de tweet. / With a casual look posh the American model Josephine Skriver. The best, the tweet cape. 
4. Pastel, yes please.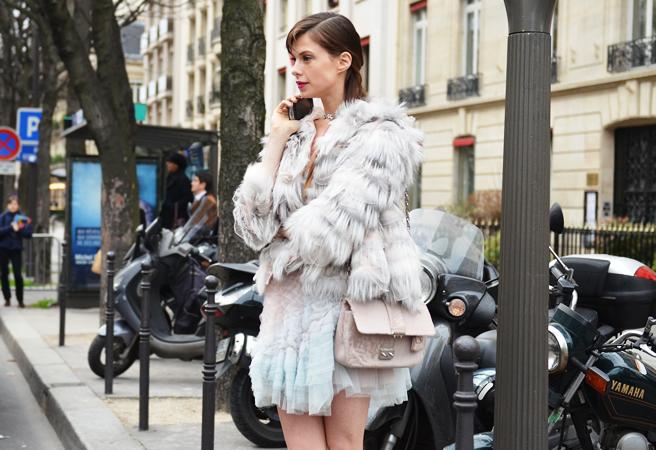 Un look muy primaveral, los tonos pastel van a ser tendencia esta primavera, acompañado de un abrigo de piel, idóneo para combatir estos días de frio en París. / A very spring look, pastel colors are going to be one of this Spring trends, mixed with a fur coat, great for those cold days at Paris. 
5. Diane Kruger.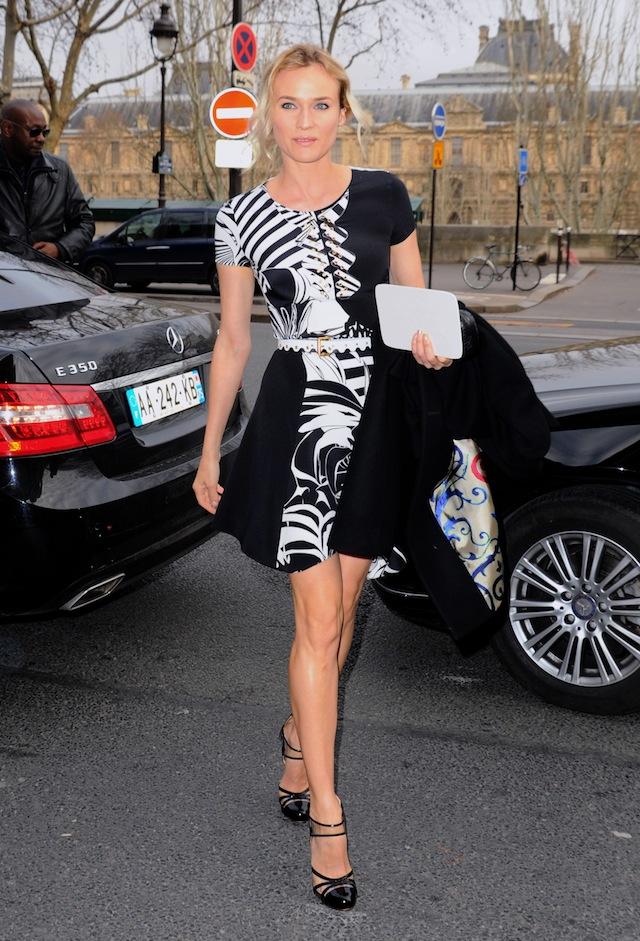 Versace Resort 2012
Un icono de estilo que nunca dejara de serlo porque cada día tiene mas clase y estilo. Los vestidos son ideales: Versace, Chanel o Giambattista Valli. Divinos. / An style icon forever because each day she has more class and style. The dresses are gorgeous:  Versace, Chanel or Giambattista Valli. Divine!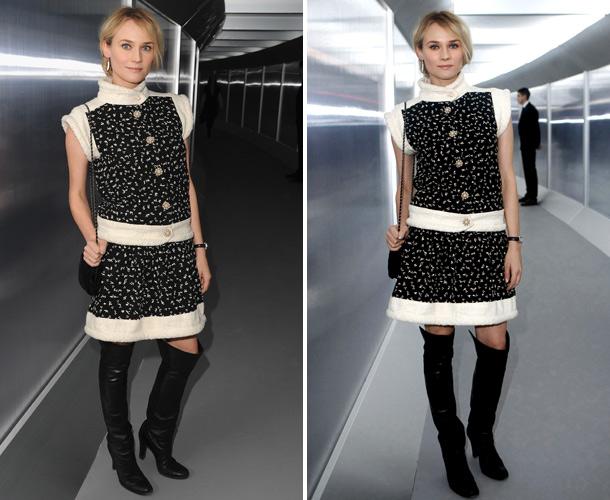 Chanel Pre-Fall 2012. Es un abrigo pero ella lo lleva como vestido. / Chanel Pre-Fall 2012. Is a coat but she wears it as a dress.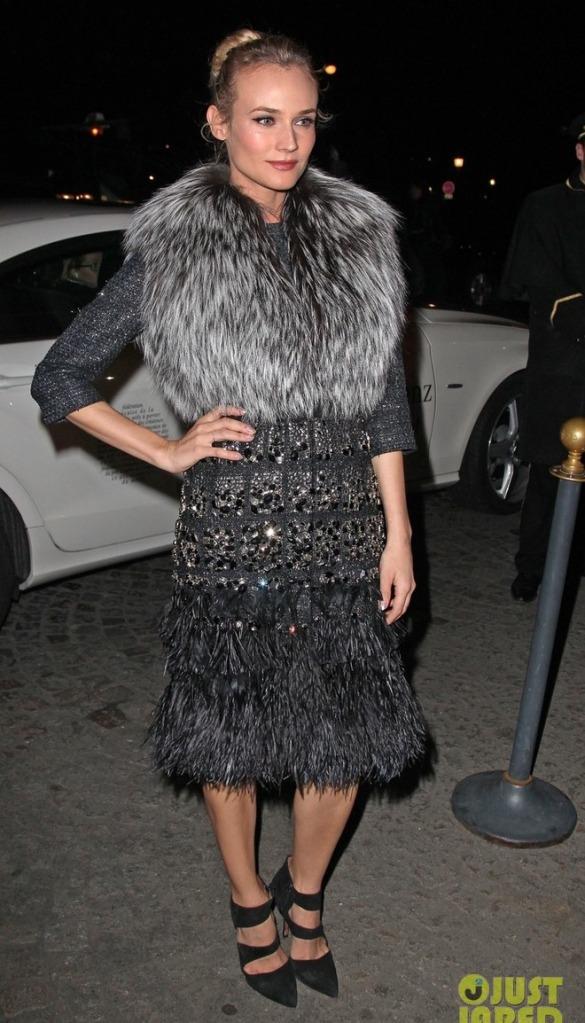 Giambattista Valli
6. Claudine Keane.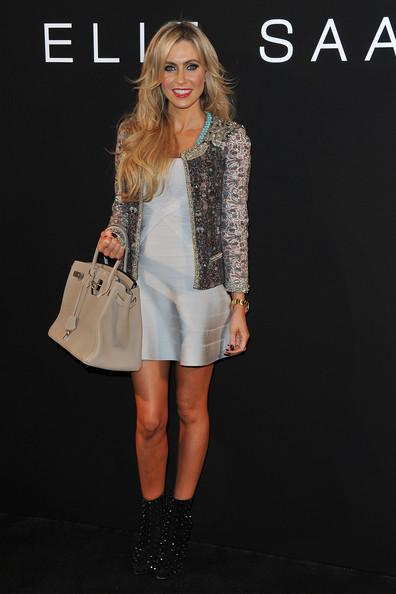 La mujer del futbolista Robbie Keane eligió un mini vestido de seda en tonos pastel, chaqueta estampada con detalles de pedrería, bolso Birkin de Hermes y botines negros. Un atuendo muy mono. / The wife of the soccer star Robbie Keane chose a short pastel silk dress, print jacket with stones, a Birkin Hermes handbag and black studs booties. A very cute outfit!
7. Mirada Kerr.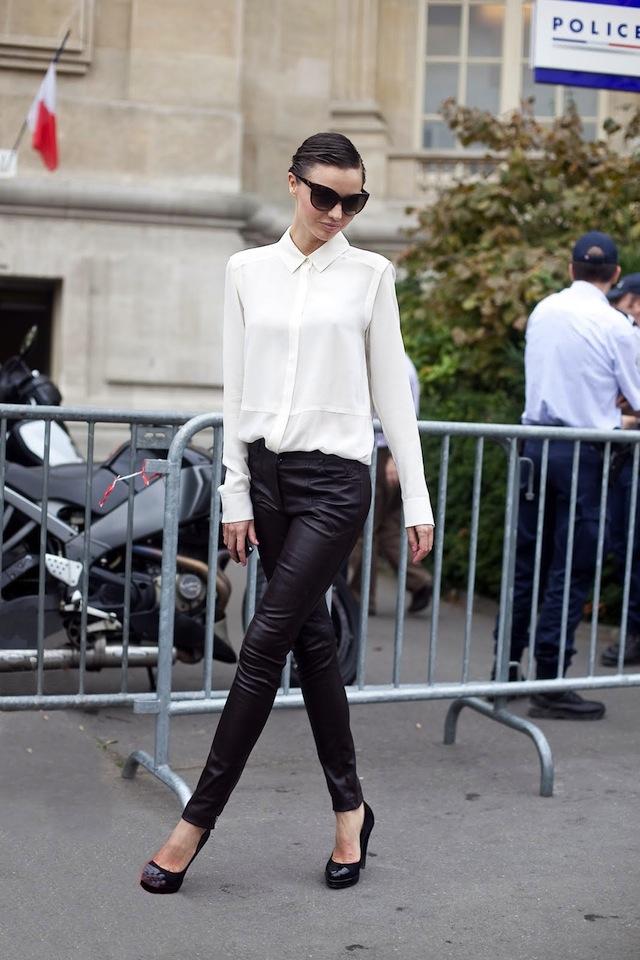 La popular modelo de Victoria Secret y mujer de Orlando Bloom, llevo un atuendo muy trendy. Camisa blanca de corte masculino, pantalones de cuero, y salones con plataforma interior. / The Victoria Secret popular model and Orlando Bloom's wife, chose a very trendy look. White male shirt, leather pants and platform pumps.
8. Claire Clarins.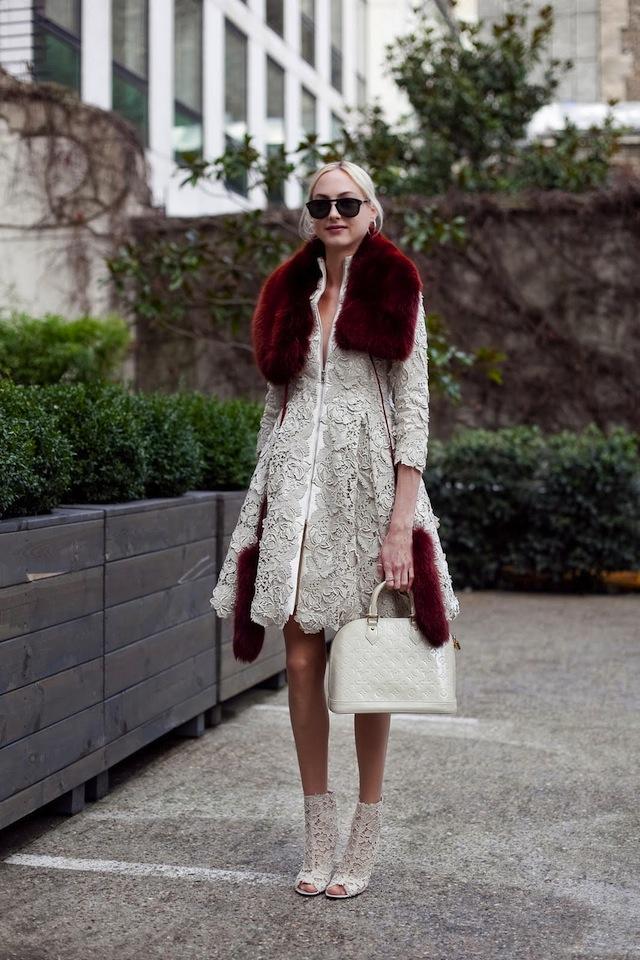 Parece que el encaje no deja de pasar de moda, lo llevamos viendo durante varias temporadas y sigue siendo tendencia. Claire Clarins lleva un abrigo, que como Diane Kruger usa como vestido, y lo combina con unos botines peep toe, y bolso de Louis Vuitton. Para darle color anade un cuello granate de piel. Un estilismo apto para Paris. / It seems that lace is on fashion for ever, we have seen it for season and still be a trend. Claire Clarins weara a coat, that as Diane Kruger uses as a dress, and mix it with lace peep toe anckle boots, and Louis Vuitton purse. To give it some color she chose a deep-red fur neck. A great style for Paris.
9. Cameron Diaz.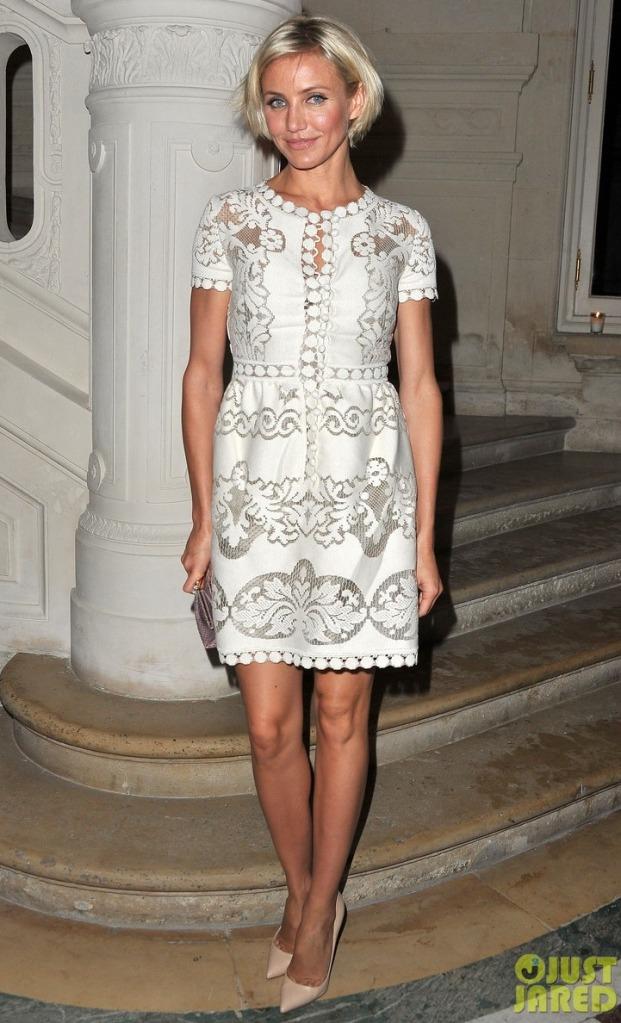 Valentino Spring 2012
 Una de las estrellas de París ha sido Cameron Diaz, que casi no se perdió ningún desfile. Cada uno de los modelos que llevo son tan distintos que merece la pena pararse y ver cada uno. Los mejores, los dos primeros, el ultimo es curioso porque combina el vestido de Dior con unas sandalias romanas, y aquí empieza la duda: ¿volverán a ser tendencia o es que Cameron no se ha enterado que están pasadas de moda? / One of the stars of Paris has been Cameron Diaz, that was almost in all the shows. Each one of the outfits she wore are so different that it worth it to stop and take a look at them. The best the two first one, the last one is bizarre because she wears the Dior dress with a roman sandals, and hear stars the question: are they coming back or is just that Cameron doesn't know they are so off?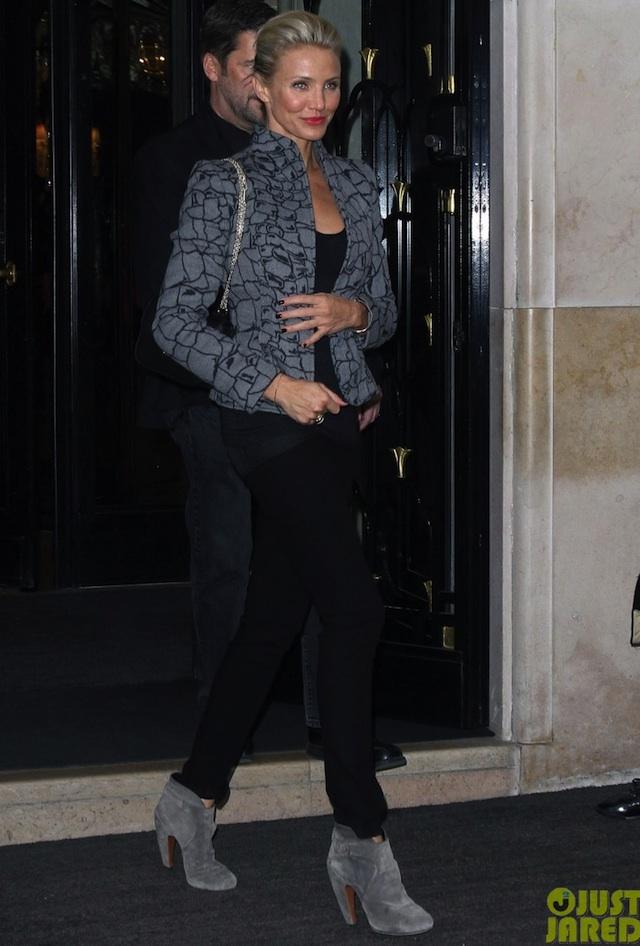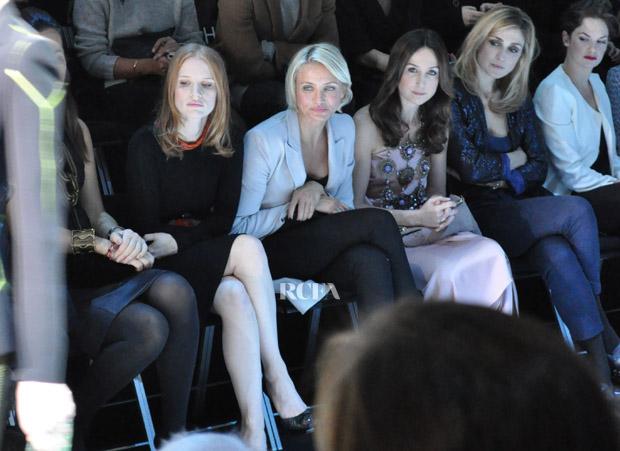 Armani Prive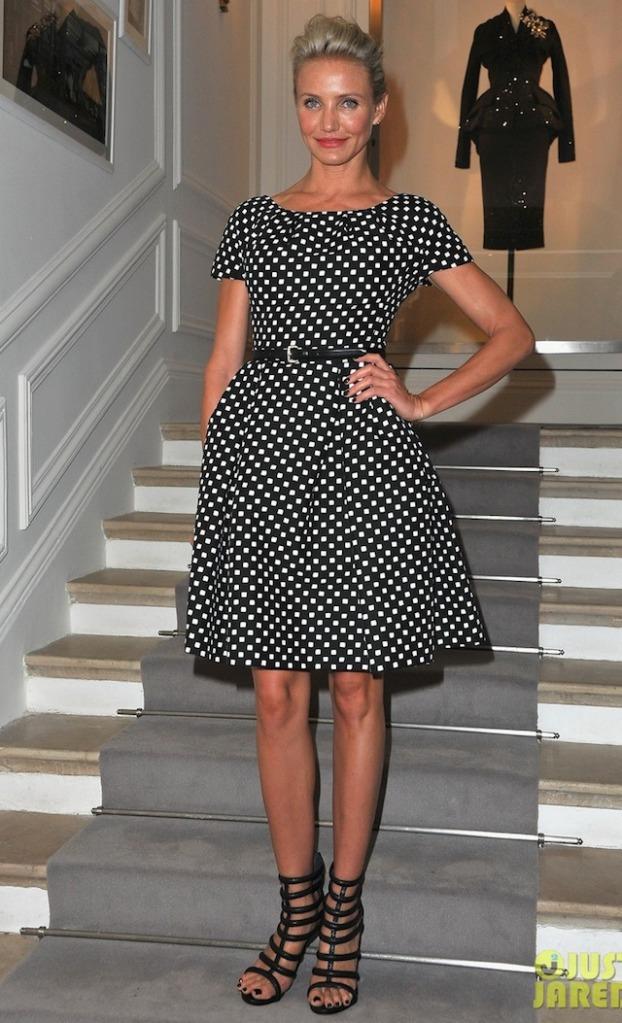 Christian Dior
10.  Elena Perminova.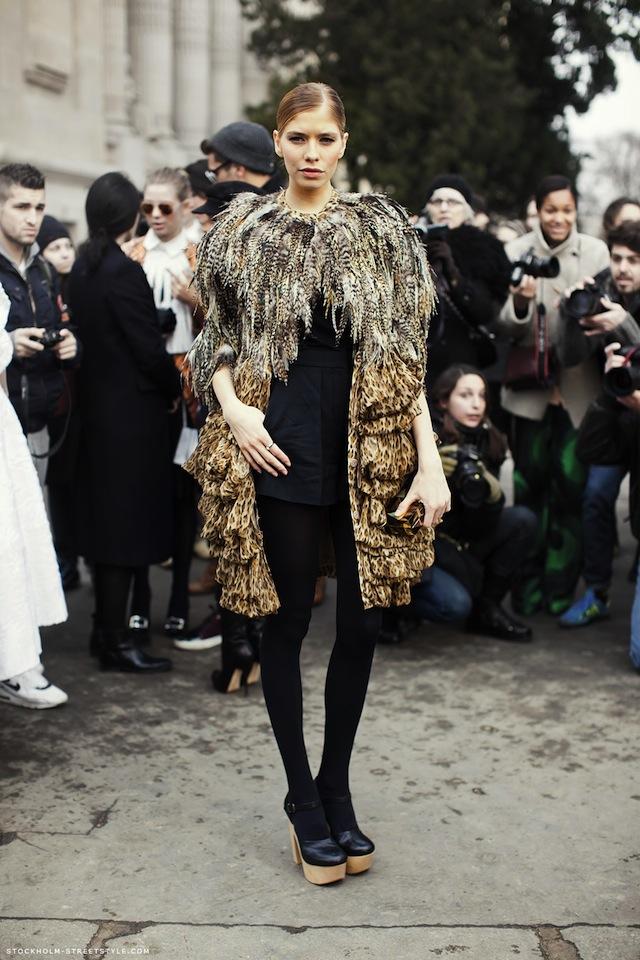 Obviamente es aqui donde se cazan las tendencias, ejemplo de ello es el atuendo de la modelo Elena Perminova. Abrigo estampado con volantes y cuello de plumas. / Of course, hear they are were we see the out coming trends, an example of that is the look of Elena Perminova. Print flounces coat and feather collar.
11. Dita Von Tesse.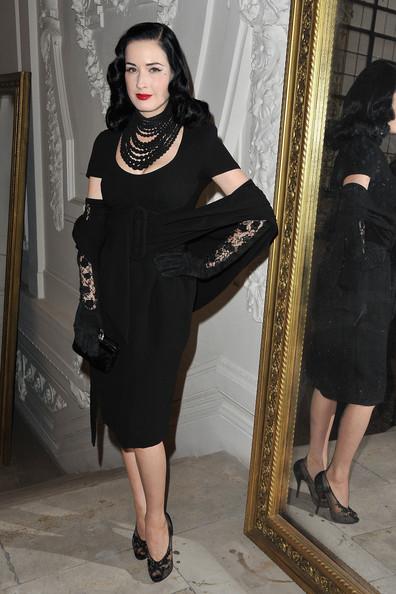 Dita iba de negro de arriba abajo con un estilismo muy lady. Vestido de Givenchy que combino con guantes hasta el codo de encaje, dos collares de cuentas, echarpe, clutch de terciopelo y salones de encaje. / Dita wore black from top to bottom with a very lady look. Givenchy dress that she mix with long lace gloves, two necklace, a scarf, velvet clutch and lace pumps.
12. Àstrid Bergès-Frisbey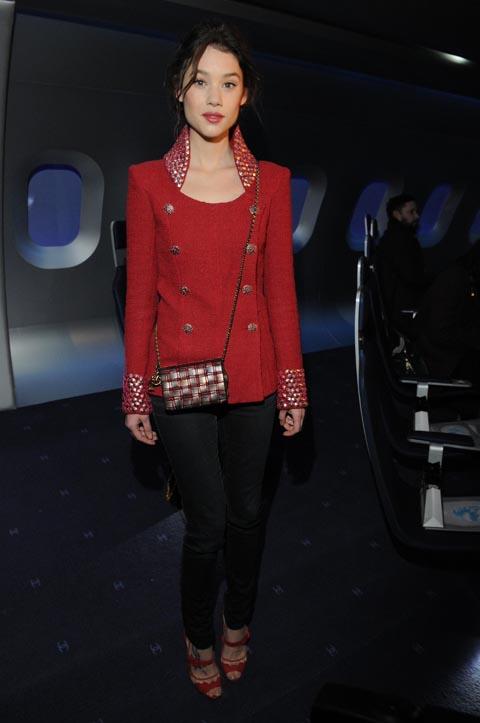 Me encanta la chaqueta de Àstrid, lo que no sabia es que esta chica es actriz, y modelo y encima española, aunque su familia se mudo a Francia cuando ella tenia cinco años. Como dato contaros que Àstrid ha salido en la secuela de Piratas del Caribe, y ha protagonizado la campaña de French Connection 2010. / I love Àstrid jacket, I did not know she was actress and model and even Spanish although her family move to France when she was five years old. Just to know: she was at Pirates of the Caribbean: One Stranger Tides, and fronted French Connection 2010 campaign.
13. Kate Moss.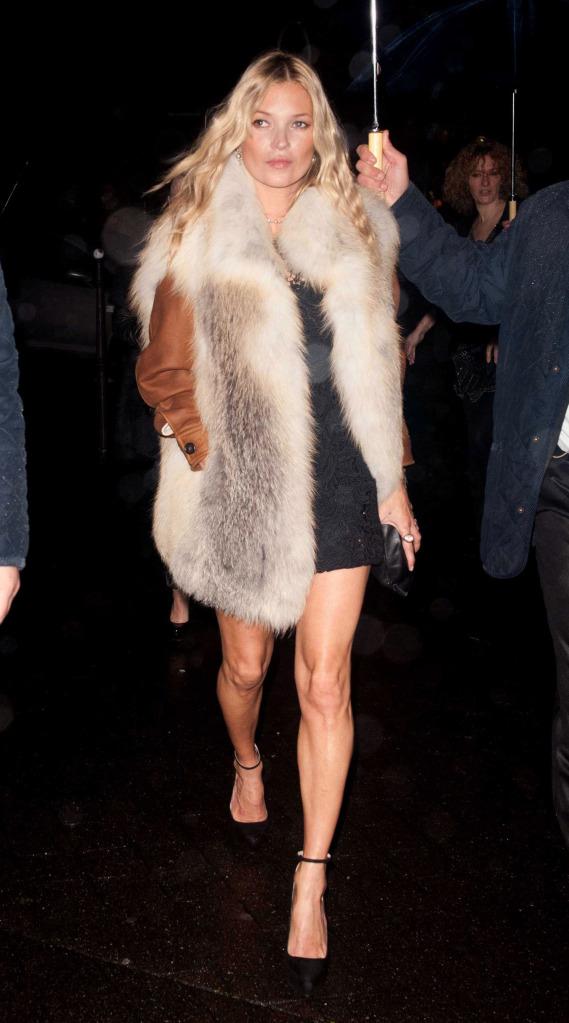 A la fiesta de Prada acudió Kate con un mini vestido negro bordado, una chaqueta marrón de piel que combina con un chaleco XXL de pelo y plataformas negras. Siempre a la ultima. / To Prada's party went Kate with a embroider black short dress, a brown jacket that she wears with an oversize vest to make a trendy look and black platforms. She always stylish!
14. Vanessa Paradis.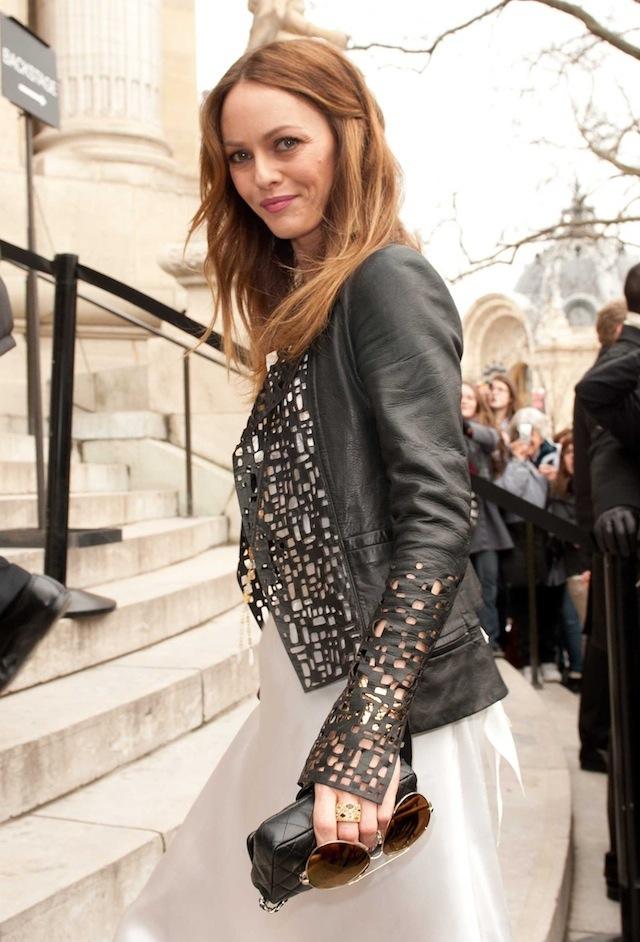 Con un vestido largo de seda con aire minimalista que combino con chaqueta de cuero con agujeros para que no pareciera un vestido de noche vimos a Vanessa en el desfile de Chanel. Como accesorios eligió botines victorianos y bolso de Chanel. / With a long silk minimal dress that she avoid to look as a night gown with a laser-cut leather jacket we saw Vanessa at Chanel catwalk. As accesories, she chose cpa toe victorian booties and Chanel purse.
15. Karmen Pedaru.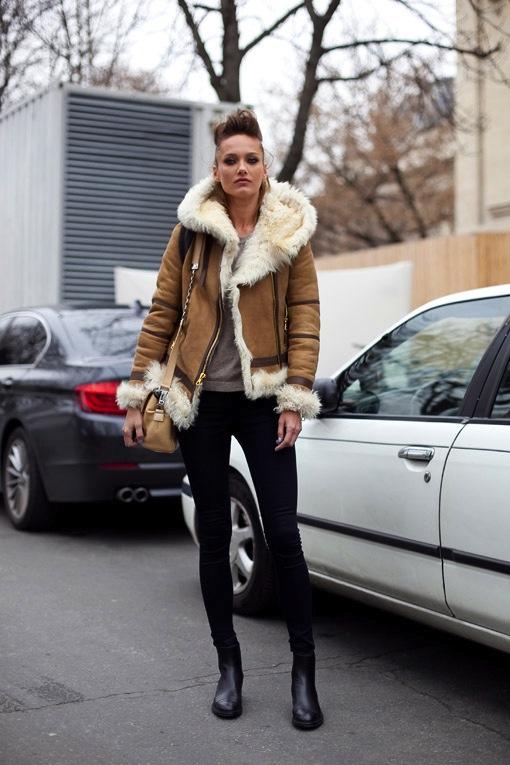 Lo mejor del look de Karmen es la cazadora de aviador, ideal para esta época. / The best about Karmen look is her aviator jacket, gorgeous fot this season.
¿Cual es vuestro look favorito? / Which one is your favorite look?
Nos olvideis que esta noche son los SAG Awards, asi que manana habra que echar un vistacillo a los looks de las celebrities. Aunque vaya rollo, ya casi estamos a lunes, asi que a coger el toro por los cuernos y a por esta semana. Buena semana a todos! / Don't forget that tonight are the SAG Awards, so tomorrow take a look to the celebrities outfits. What a shame, we are almost on monday so get into the week strong. Have a great week!
Xoxo, Mia.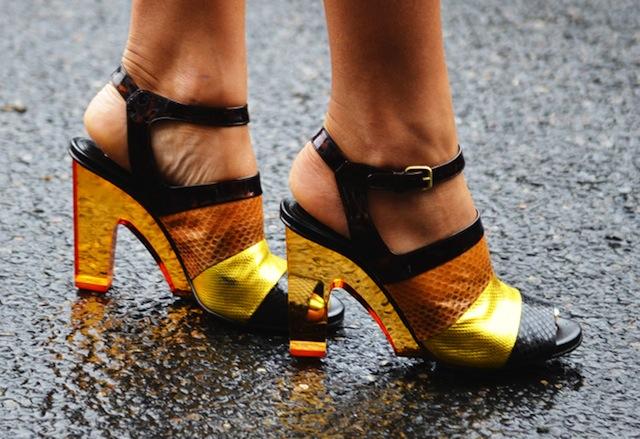 Sources: Ford Models, Altamira Models of Dutty, Just Jered, Caroline Mode, Red Carpet Fashion Award, Zimbio, Tomy Ton for Style.com, Glam.co.uk.