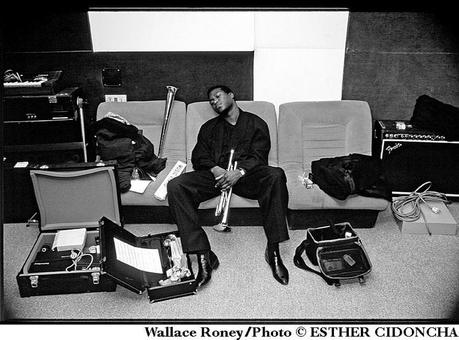 Wallace Roney (Philadelphia, 1960) saltó a los escenarios al mismo tiempo que su contemporáneo, Wynton Marsalis, y sus comienzos fueron de la mano del gran Sonny Stitt. Trabajó con los 'Jazz Messengers' y su progresión fue tal que pronto fue considerado uno de los grandes trompetistas del jazz actual.
A lo largo de varios años, trabajó con el quinteto del batería, Tony Williams y participó en una sesión homenaje a Miles Davis en 1992. En su papel interpretando a Miles Davis, Wallace Roney, consiguió una gran aceptación de la critica cuando recreó el ambiente de su popular quinteto. Fue justo su participación con el trompetista de Alton, en el Festival de Jazz de Montreux, lo que hizo que saltara a la fama. El disco testigo de aquel hecho, se titula: 'Miles Davis and Quincy Jones at Montreux' (Warner Bross, 1991).
En su todavía corta carrera discográfica, Wallace Roney, ha grabado mas de una docena de álbumes para los sellos: 'Muse', 'Warner' y últimamente con 'Concord Jazz' con quien grabó en el año 2000 un excelente registro titulado: 'No Room for Argument'.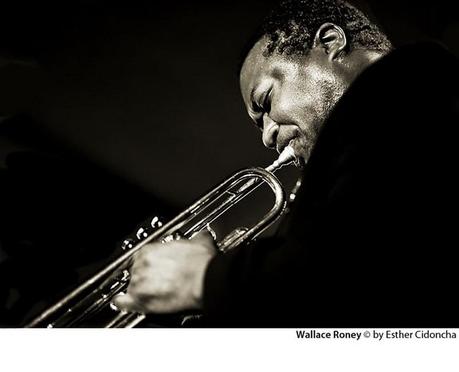 Photo © Esther Cidoncha
Heralded as an "improviser who loves complicated almost mathematical lines and who performs with catlike grace" by the New York Times, trumpeter, composer and bandleader Wallace Roney is one of the most exciting and innovative musicians on the creative music scene. His consummate artistry and eagerness to explore and transcend musical boundaries has led him to collaborate with such diverse musicians as Art Blakey, Miles Davis, Carole King, Ornette Coleman, Sonny Rollins, Prince, Herbie Hancock and Joni Mitchell, among numerous others. The three-time Grammy Award winner will bring his magic to the Abrons Arts Center on Friday, February 9, 2007 at 8PM, launching the highly anticipated Abrons Arts Jazz Series. Roney will showcase his sextet featuring his brother and saxophonist Antoine Roney, pianist Robert Irving III, bassist Clarence Seay, drummer Eric Allen and turntablist Val. This special Valentine's concert will be hosted by Monifa Brown, host of WBGO's "Saturday Afternoon Jazz with Monifa Brown."
Praised by Time Magazine for his "amber tone and patient and considered phrasing," Wallace Roney has recorded over a dozen albums as a leader. Each recording illuminates the dynamic trumpeter's keen compositional chops and versatility as a bandleader and composer. It is rare to find a musician who can superbly execute and breathe new life into such juxtaposed musicians as Miles Davis, Kenny Dorham, Al Green, and Slick Rick. Roney's most recent CD is the HighNote recording Mystikal. AllAboutJazz.com says, "Mystikal continues his path towards combining past and present—with, most importantly, a clear eye on the future." Roney has also recorded for Chick Corea's Stretch label, as well as Warner Bros.
Equally at home with acoustic and electronic jazz, R&B and funk, Wallace Roney was born in the City of Brotherly Love, following a long list of celebrated trumpeters including Lee Morgan and Johnny Coles. By the age of four, Roney began studying at the renowned Settlement School of Music and a decade later he made his first recording date. After relocating to Washington DC, Roney attended the prestigious Duke Ellington High School for the Performing Arts. In 1979 and 1980 the young trumpeter had the distinction of winning at Down Beat's Award for "Best Young Jazz Musician of the Year." He continued his studies at Berklee College of Music and Howard University while also earning credits in Art Blakey's University as a Jazz Messenger. He went on to work with Miles Davis alum and drum extraordinaire Tony Williams' Quintet.
In the mid-80s, Wallace Roney performed a tribute for Miles Davis' birthday at Carnegie Hall marking a pivotal moment in the young trumpeter's life. Roney holds the distinction of being the only trumpet player Davis ever personally mentored. In 1991, Roney performed with Miles in the now legendary Montreux concert conducted by Quincy Jones in which he returned to the landmark music he once recorded with Gil Evans. Following Miles' passing Roney toured with the original members of Miles Davis' famed quintet; Herbie Hancock, Ron Carter, Wayne Shorter and Tony Williams. In 2006, Hancock, the Davis family, and VH-1 invited Roney to celebrate Miles' induction into the Rock and Roll Hall of Fame during an internationally televised event.
Wallace Roney currently maintains a busy schedule touring the world with his sextet. He also enjoyed a recent stint as a member of McCoy Tyner's band. Always full of surprises, Wallace Roney promises to deliver a memorable evening February 9th with his Sounds of Love & Freedom!

   CD