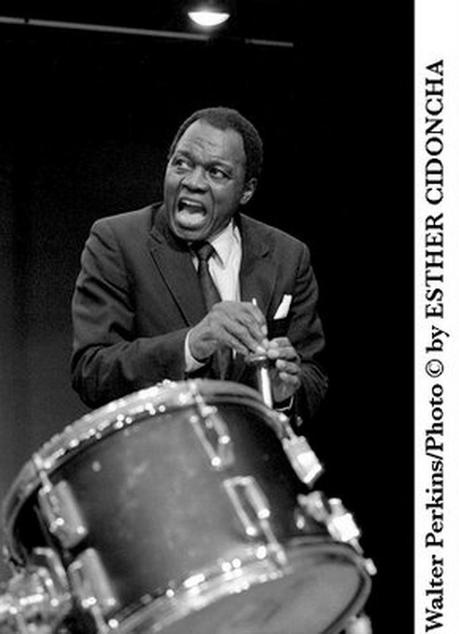 Best-known as the leader of the short-lived MJT + 3 during 1959-62, Walter Perkins was a longtime fixture in the Chicago jazz scene. He gained some recognition for playing with Ahmad Jamal's Trio during 1956-57 (right before Jamal really caught on). A 1957 set for Argo led by Perkins (and also featuring trumpeter Paul Serrano, tenor-saxophonist Nicky Hill, the young pianist Richard Abrams and bassist Bob Cranshaw) used the name of MJT Plus 3. The better-known version of the band (with trumpeter Willie Thomas, altoist Frank Strozier, pianist Harold Mabern and bassist Cranshaw) recorded three albums for Vee-Jay during 1959-60 and was popular for a time locally before breaking up in 1962.
Perkins then worked with Sonny Rollins (1962), as an accompanist to Carmen McRae (1962-63), gigged with Art Farmer and Teddy Wilson in 1964 and remained based in Chicago for decades. Walter Perkins has recorded with a who's who of jazz including Ahmad Jamal [Count 'em: 88, Poinciana], George Shearing [George Shearing And The Montgomery Brothers], Gene Ammons, Carmen McRae, Charles Mingus [Mingus Mingus Mingus Mingus Mingus], Billy Taylor [Impromptu], Booker Ervin, Art Farmer, Jaki Byard, Lucky Thompson [Happy Days, Happy Days Are Here Again and Lucky Meets Tommy & Friends], Pat Martino [Strings!], Harold Mabern [A Few Miles From Memphis] and Charles Earland [Mama Roots and Smokin'] (1977) among many others [including Donald Byrd's Groovin' For Nat and Johnny Cole's Little Johnny C].
Drummer Walter Perkins, whose long career included work with Ahmad Jamal, Art Farmer, Carmen McRae and Charles Mingus, died of lung cancer on February 14, 2004 at age 72.
A Chicago native, Perkins was one of beloved Captain Walter Dyett's music students at DuSable High School in the late 1940s. In the mid-50s he gigged with Ahmal Jamal, and in 1957 Perkins formed his MJT+3 (Modern Jazz Two Plus 3), which included trumpeter Willie Thomas, altoist Frank Strozier, bassist Bob Cranshaw, and young pianist Muhal Richard Abrams (later replaced by Harold Mabern). Perkins appeared at the 1959 Playboy Jazz Festival in support of Coleman Hawkins, and recorded with Sonny Criss that same year [Sonny Criss At The Crossroads]. The MJT+3 moved en masse to New York around 1960 and recorded a self-titled album for Vee-Jay (reissued on CD in 1994), but broke up in '62.
In the 1960s Perkins' profile increased dramatically. He performed and/or recorded with the Art Farmer Quartet (Live at the Half Note, 1963, Atlantic) [also Interaction], Dave Pike (Pike's Peak, 1961, Epic/Portrait) [also Dave Pike Plays The Jazz Version of "Oliver"], Gigi Gryce [Reminiscin'], Carmen McRae (Sings Lover Man, 1961, Columbia), Gene Ammons (Twistin' the Jug, 1961, Prestige) [also Soul Summit Vol. 2 and Late Hour Special] , Sonny Rollins, Jaki Byard (Out Front!, 1961, Prestige), Booker Ervin (Exultation!, 1963, Prestige), Teddy Wilson, Roland Kirk (I Talk With the Spirits, 1964, Verve), Billy Taylor, Clark Terry [Happy Horns of Clark Terry], George Shearing, Ray Bryant [Soul], and Charles Mingus.
In the 1970s Perkins slowed down a bit, drumming for Erroll Garner, then became an educator in the 1980s. In 1985 he helped found the Music for Young Adolescents program in New York City. An enthusiast of drum corps, he instructed programs at Girls and Boys High School in Brooklyn and started a drum corps program at his church in Jamaica, N.Y. He gigged occasionally at clubs around New York, and made a welcome return to recording on Bob's Pink Cadillac (Eremite), a 2002 free-jazz trio date with bassist/leader William Parker and clarinetist Perry Robinson.
Walter Perkins is survived by his wife, Barbara; daughters Rochelle Mask of Baldwin, N.Y., Denise Perkins of Brooklyn, and Marilyn Turns of Queens; 13 grandchildren; and two great-grandchildren.
Aside from the MJT+3 material, his only other release as leader ("co-" or otherwise), was in 2002. He played a pair of sessions in duo with German avant-garde sax/clarinet player Peter Brötzmann that were released the following year by Brötzmann's own BRÖ label under the title The Ink Is Gone. It's distributed by Eremite records, the same imprint responsible for releasing the William Parker Clarinet Trio's Bob's Pink Cadillac.
So(jeje), loads of good vibing from master Vibist Dave Pike accompanied by Bill Evans on Piano, Herbie Lewis on Bass and Walter Perkins on Drums.Don't miss it!!!.

download CD