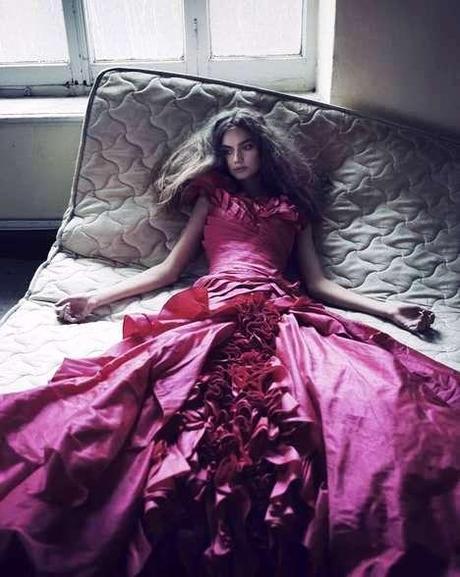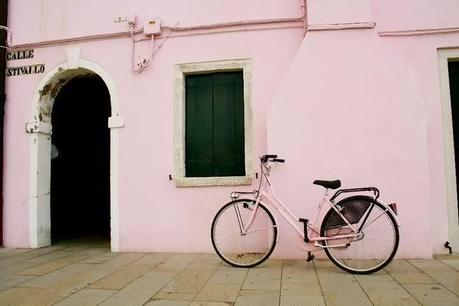 Antes de empezar con el post, quiero dejar claro que aunque os voy a hablar de un rosa específico, os dejo ejemplos de varios tonos de rosa para que veáis la diferencia y juzguéis por vosotros mismos. Pero vamos a verlo detenidamente. /

Before starting the post, I want to make clear that although I am going to talk about a particular pink, I leave examples of different shades of pink so you can see the difference and judge for yourself. But let's see it on detail.


En el pantone que determina los tonos para esta primavera en moda, encontrareis que el tono por excelencia es el honeysuckle, que en español es conocido como madreselva. Se trata de un rosa fuerte, brillante, dulce, que evoca bienestar, de ahí su nombre. El honeysuckle es un color vital, que representa a una mujer segura de si misma, coqueta, independiente, optimista, que es feliz con las pequeñas cosas de la vida cotidiana, y que le gusta ir siempre a la última. / According to the fashion pantone of 2011, among the tones for this spring you will find that the must have color its honeysuckle. Its a hot pink; bright, sweet, that reminiscence wellness, hence this name. Honeysuckle its a vital color, that represents a confident woman, vain, independent, optimist, who is happy with the little things of everyday life and loves to dress trendy.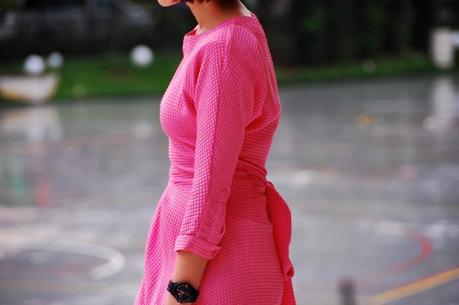 Este es el honeysuckle o madreselva. /

This is the honeysuckle.


Los diseñadores han llenado la pasarela de este tono; Jil Sander, Jason Wu, Marc Jacobs, Donna Karan, Lemoniez, son algunos ejemplos de ello. Aunque otros rosas también han estado muy presentes en ellas, remitamos nos a la colección de Isabel Marant. / 

The designers had filled the catwalk with this tone; Jil Sander, Jason Wu, Marc Jacobs, Donna Karan, Lemoniez, are some examples. However, other pinks also had been at them, Isabel Marant its a great example of that.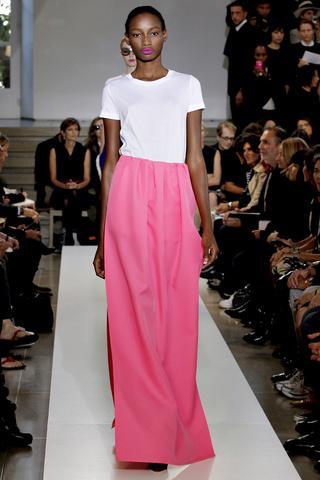 Jil Sander Spring 2011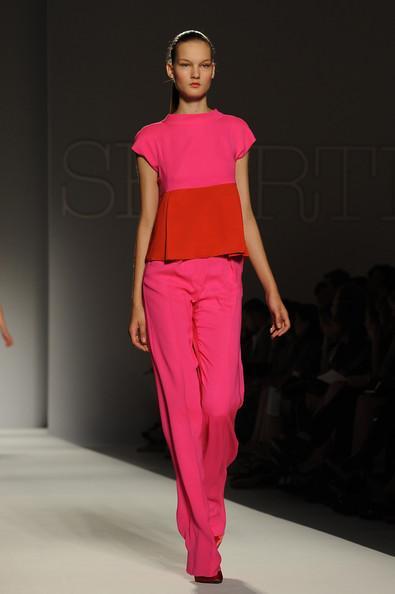 Sportmax Spring 2011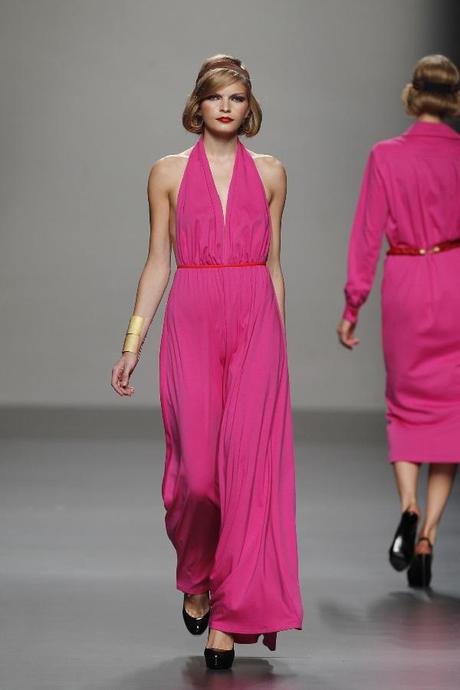 Lemoniez SS 2011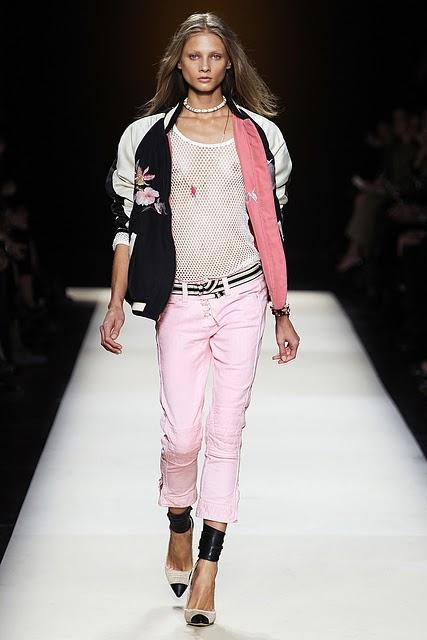 Isabel Marant SS 2011
Lo bueno del madreselva, es que es un tono que favorece a casi todo el mundo, ocurre un poco como el azul klein. Además, también es tendencia en la moda masculina, en decoración, y en maquillaje. Vamos, un indispensable en nuestro armario para el 2011. /

The cool about honesuckle its that is a tone that flatter almost everyone, somehow its like the klein blue. Plus also it's a trend in men's fashion, decoration and makeup. To resume, its a must have in our wardrobe during 2011.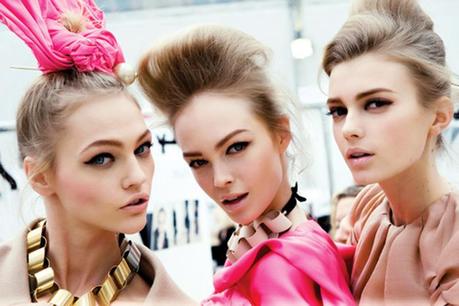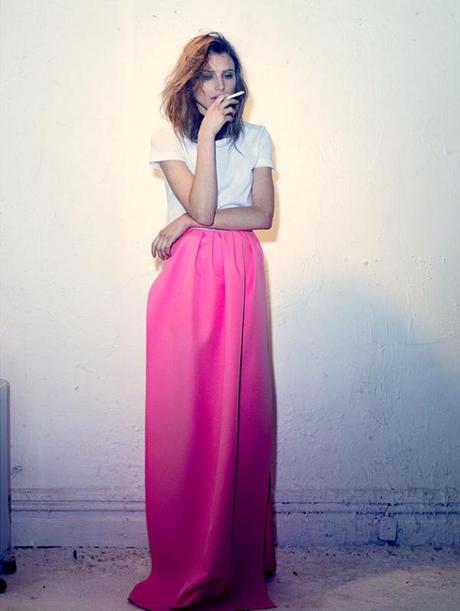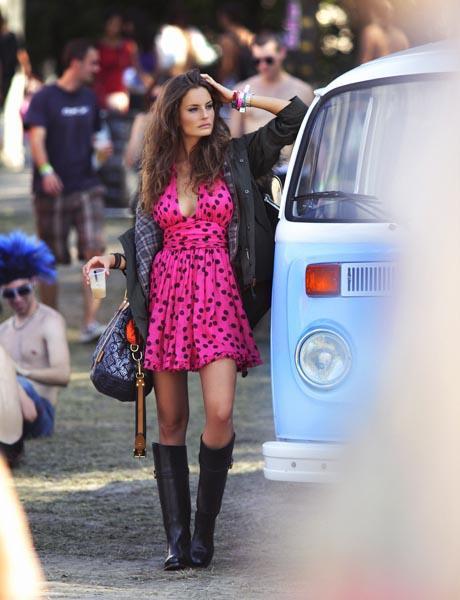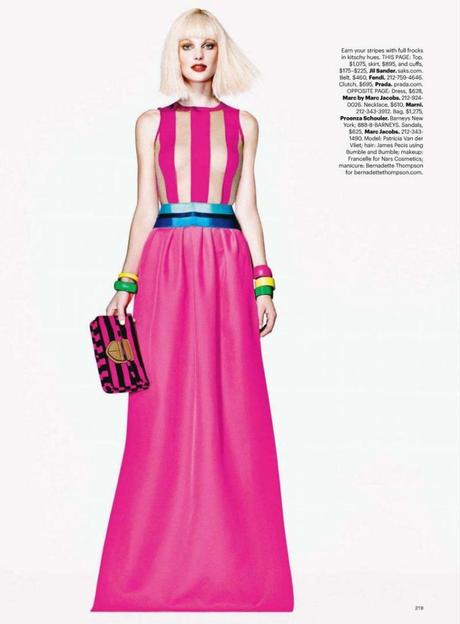 ¿Cómo combinar el rosa y el madreselva? / How to mix pink and honeysuckle?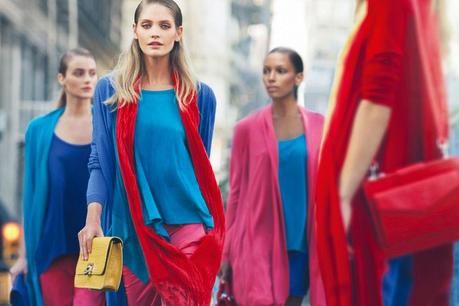 1. Rosa + Azul. / Pink + Blue.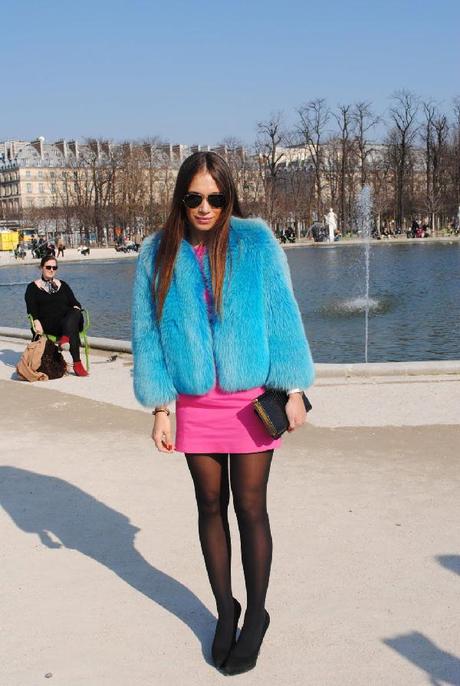 Cuanto más fuerte sea el rosa, más fuerte debe ser el azul, y viceversa. La combinación queda muy chic. /

The stronger the pink, the stronger must be the blue, and the other way around. The mix look very chic.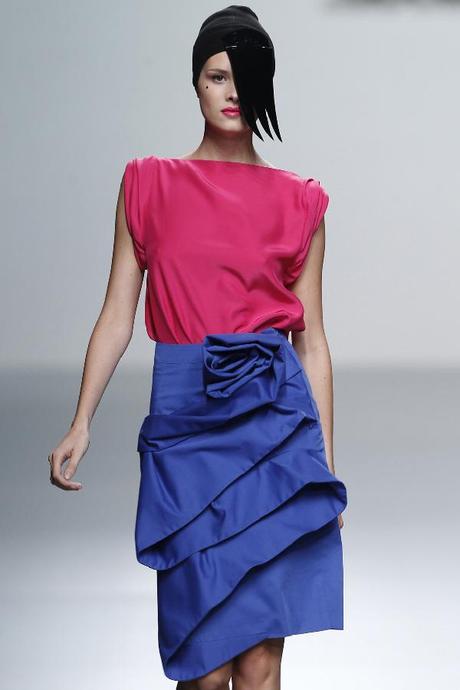 Maria Barros SS 2011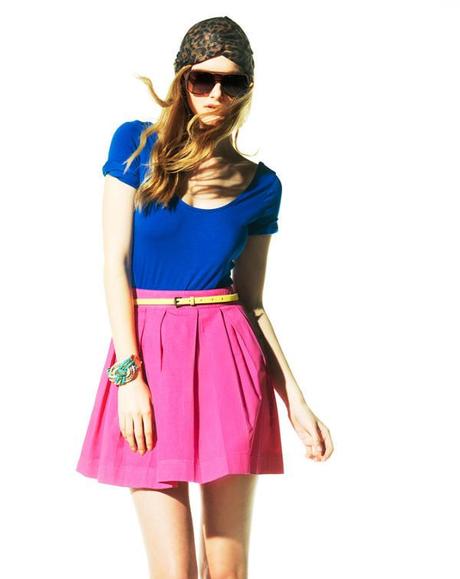 Bershka SS 2011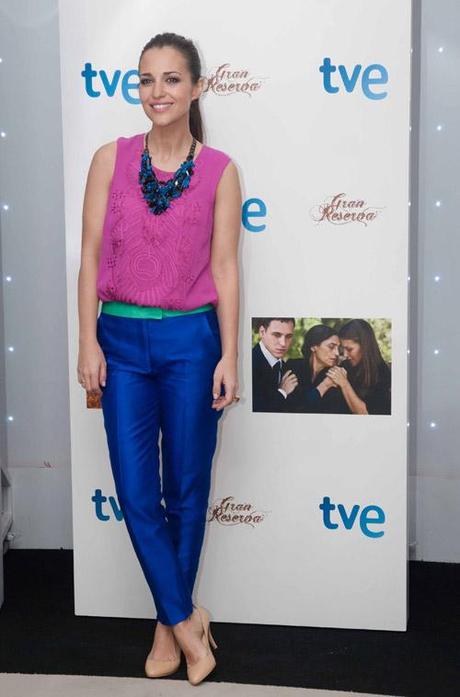 2. Rosa + Rojo. / Pink + Red.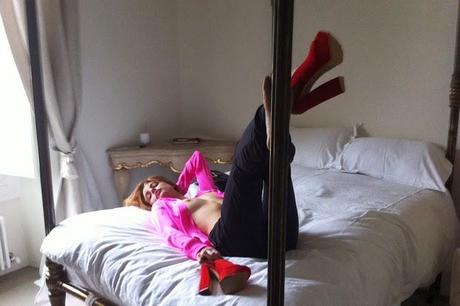 Aunque parece un poco chocante, queda ideal, os dejo algunos ejemplos para que veáis que es así. De todos modos, sino os sentís muy augusto mezclando prendas, probar con complementos porque también queda divino. /

Although seems a little shocking, it looks gorgeous, I post a few example so you can see it. Anyway, if you feel uncomfortable mixing garments of both colors, try with accessories because it also looks divine.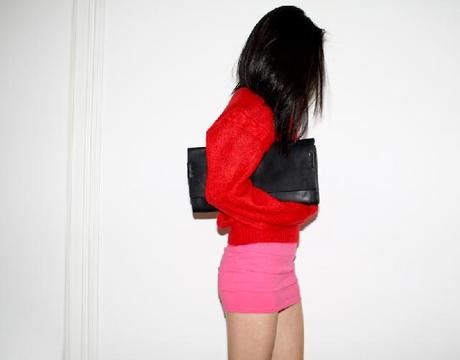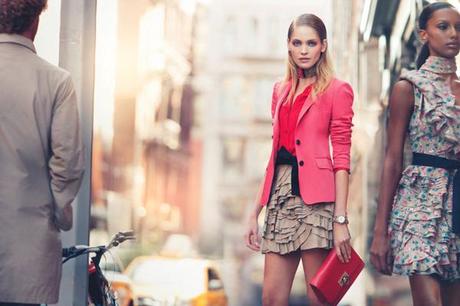 DKNY SS 2011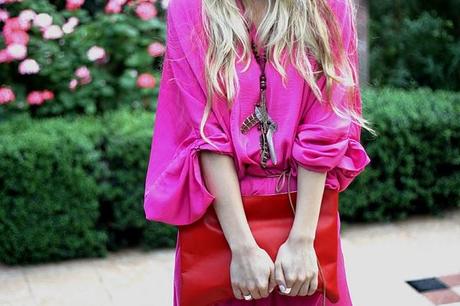 3. Rosa + Amarillo. / Pink + Yellow.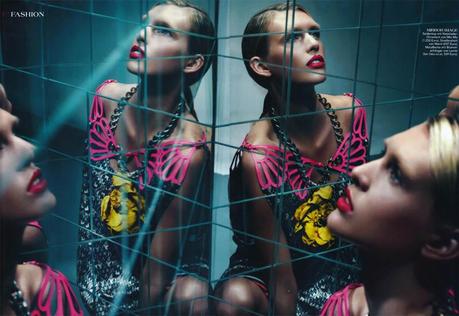 La combinación de ambos tonos queda muy veraniega, ¡ideal para cuando estas morena! Y si quieres ser lo más añade algún complemento dorado. /

The combination of both color its so summery, ideal for when you are tanned! And if you want to be the most stir add gold accessories.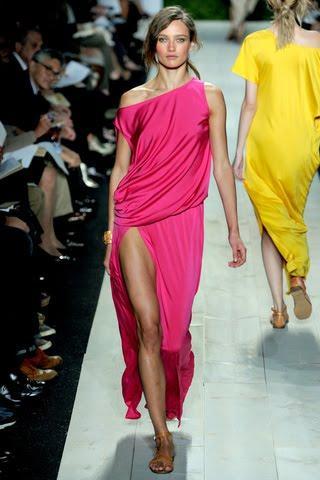 Michael Kors SS 2011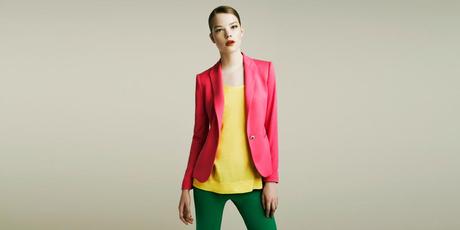 Zara Spring 2011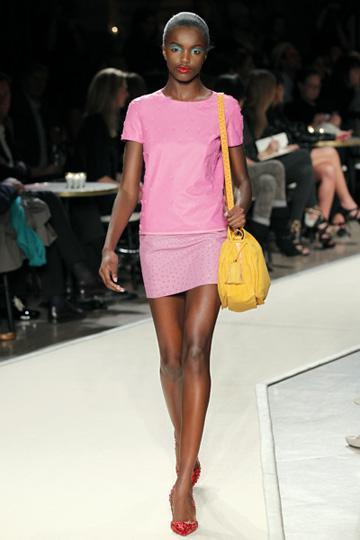 Loewe SS 2011
4. Rosa + Naranja. / Pink + Orange. 

(Courtesy of Zara.com) Top y falda de Zara Primavera 2011. / Top and skirt from Zara Spring 2011.


Esta es la mezcla más fashion de este verano: el madreselva es el tono por excelencia del pantone, y el naranja es el nuevo negro. En resumen, es como el clásico blanco y negro, pero en 2011. /

This is the most fashionable mix of this summer: honeysuckle is the ultimate tone of the pantone, and orange is the new black. Its the classic white and black, but for 2011.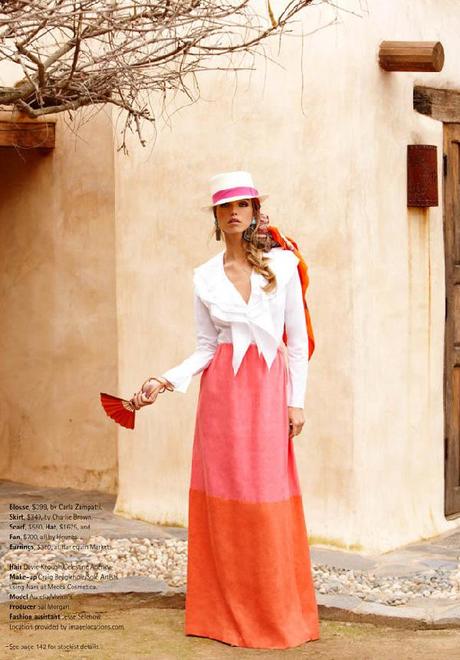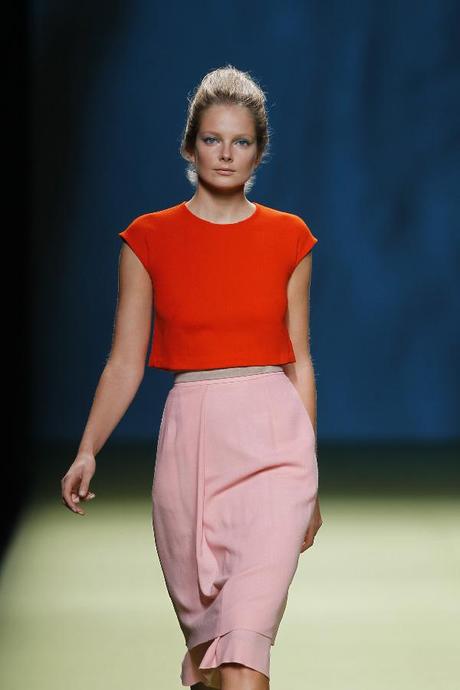 Duyos SS 2011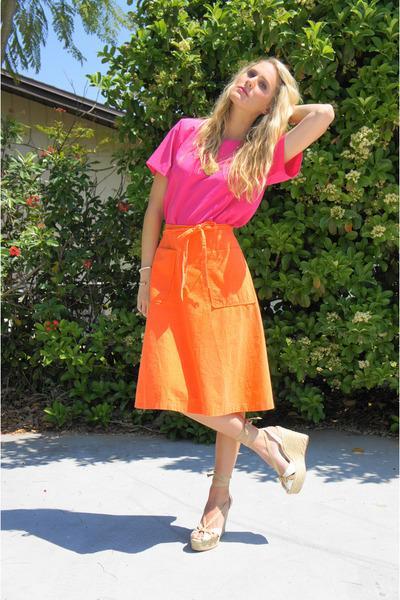 5

.

Rosa + Verde. / Pink + Green.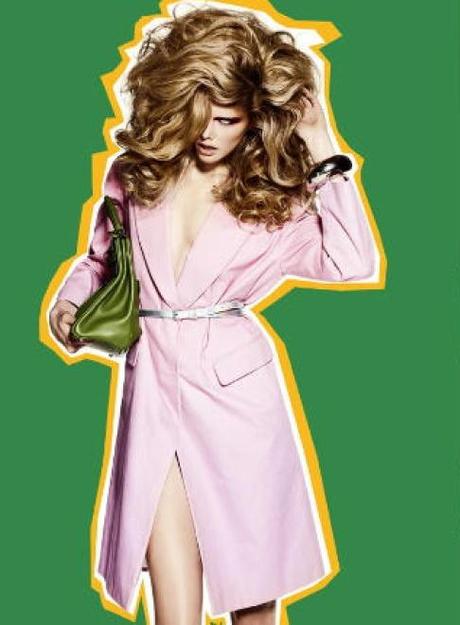 El verde admite cualquier tono de rosa; los fuertes y los pastel. Pero ojo, porque los verdes que son muy amarillentos no favorecen mucho a la cara, por lo que la mejor opción es ponértelo como parte de abajo o accesorio. /

Green support any pink tone; the strong once and pastel. But beware, because the greens that got to much yellow don't look nice on the face, so the best idea its to wear it on a bottom garment or accessory.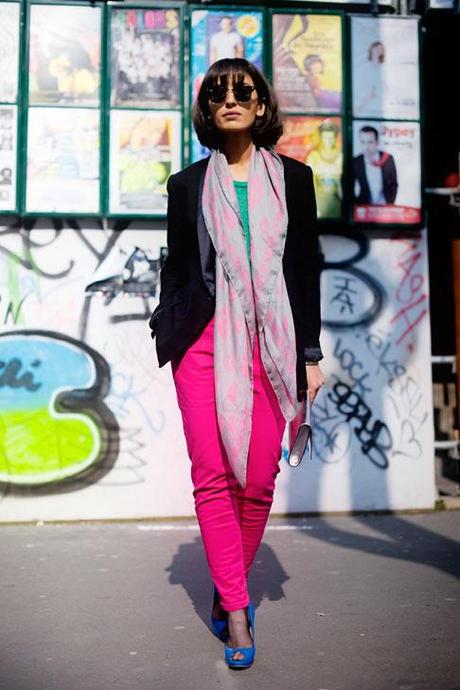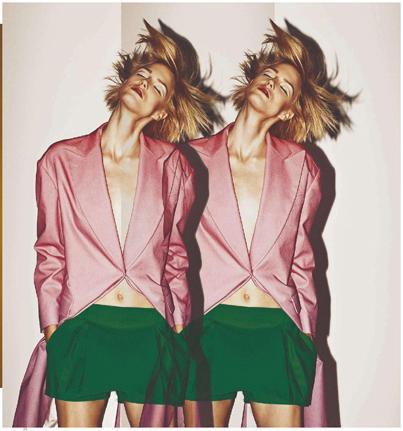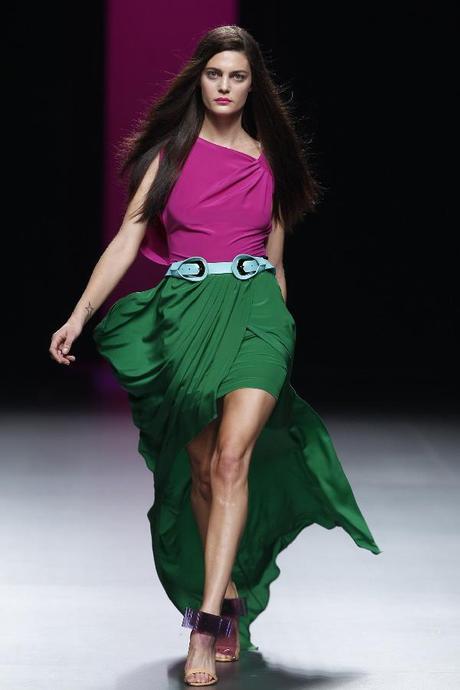 Juanjo Oliva SS 2011. 6. Rosa + Blanco / Pink + White.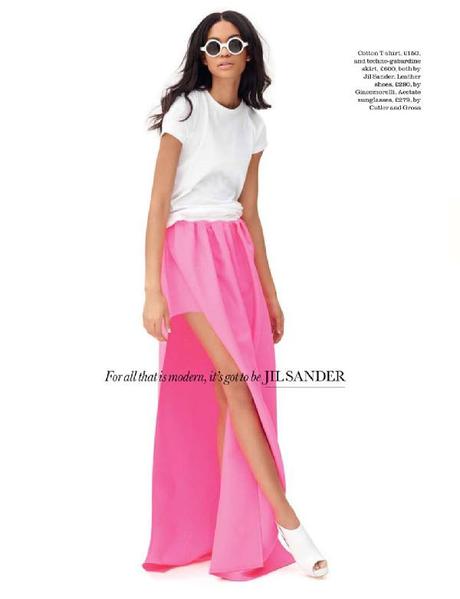 La idea es fresca, y muy veraniega porque nos recuerda a un helado de nata y fresa, y a las vacaciones de verano. Es la combinación ideal para llevar en la oficina. /

The idea is fresh and so summery because reminds to a strawberry ice cream, and to summer vacation. The mix is great to wear to the office.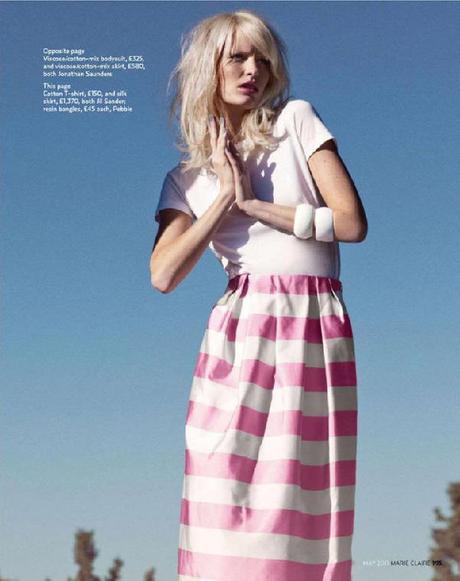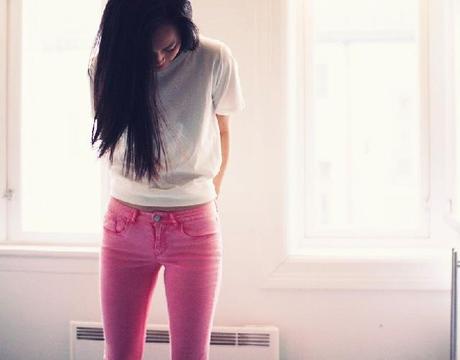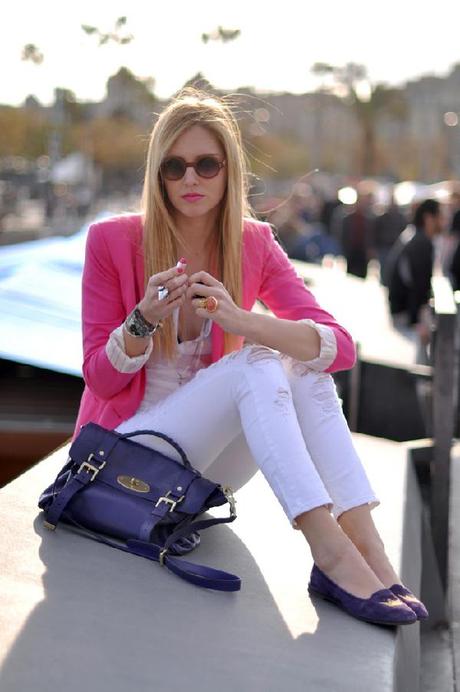 7. Rosa + Morado. / Pink + Purple.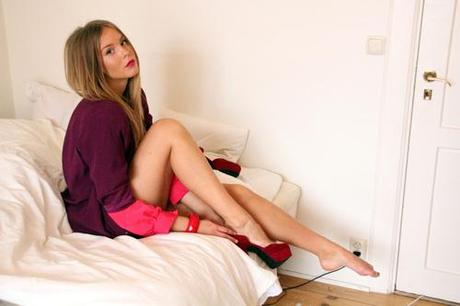 Aunque el morado no es tendencia, y tampoco lo vamos a ver mucho en las tiendas esta temporada, me gusta el efecto que hace. ¿Y a vosotros? /

Although purple is not in and we won't see it much on the stores this season, I love the way both colors look together. And you?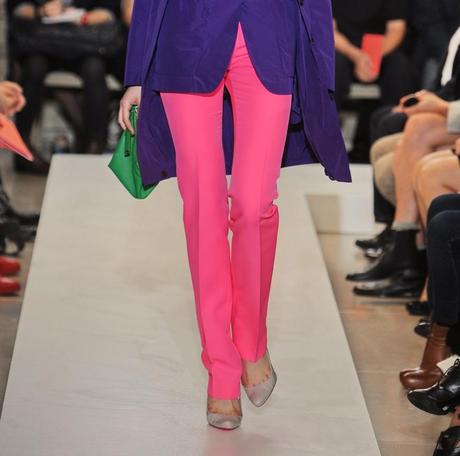 Must have: pink sandals or shoes.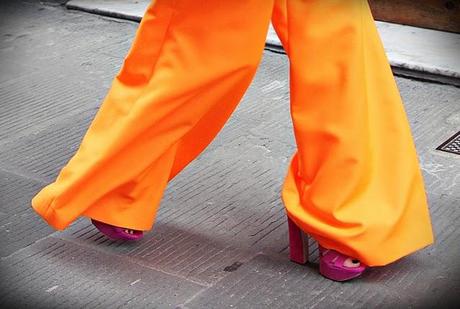 Con unas sandalias fucsias, o color madreselva serás la más chic. Además es un buen complemento porque es un tono que combina con casi todos. /

With a fuchsia or honeysuckle sandals you will be the most chi. Plus its a great accessory because its a color that goes with almost all.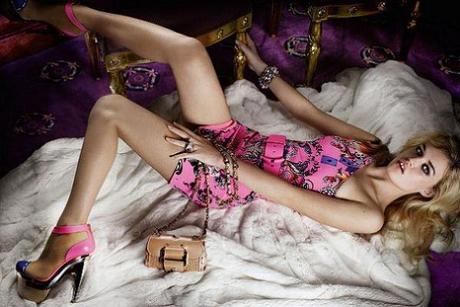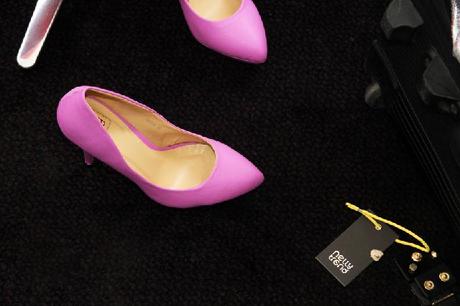 Ellas también visten de rosa. / They also wear pink.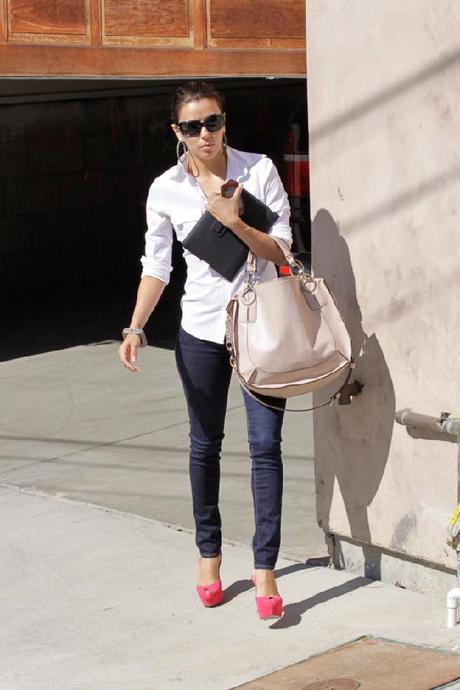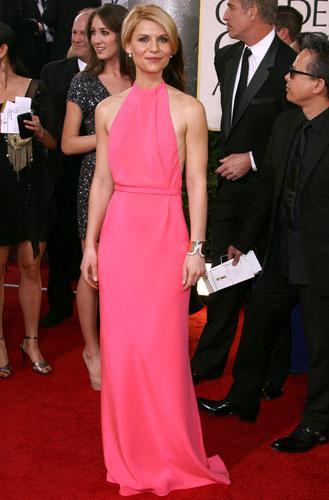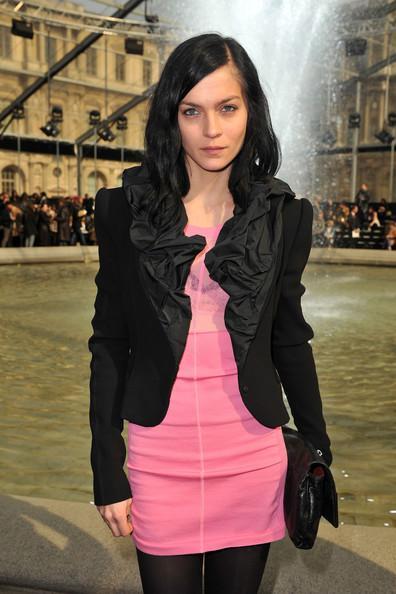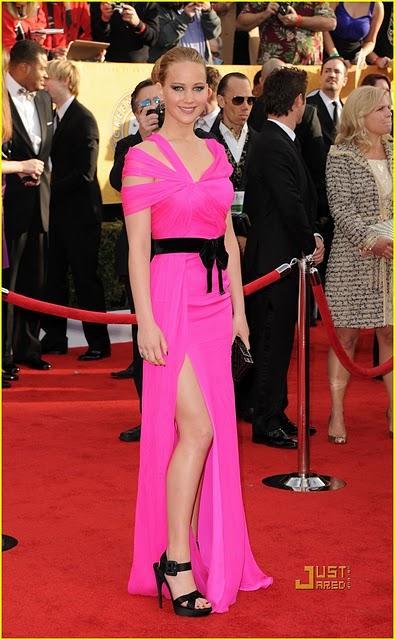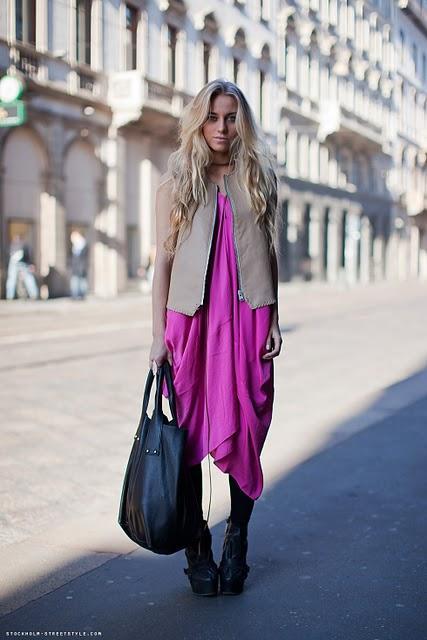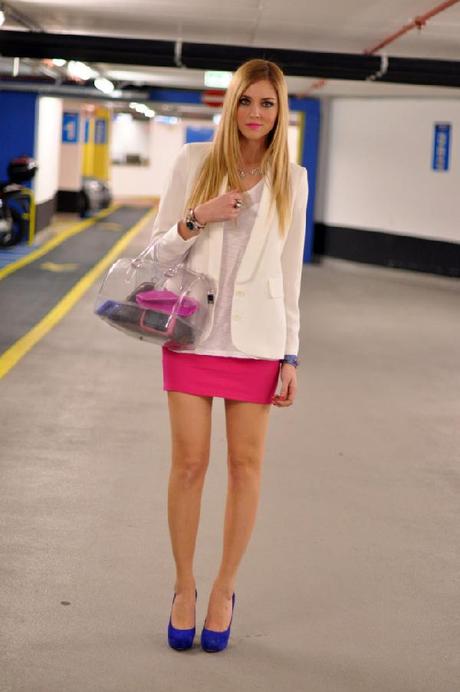 (Image courtesy of Beatriz from Necklace of Pearls.) Este es mi look favorito. Beatriz siempre va ideal pero el contraste que hace la falda rosa con la camiseta blanca y el collar no podía ser mejor. Si todavía no conocéis su blog tenéis que visitarlo, aquí. /

This is my favorite look. Beatriz always dress ideal but the contrast that make the honeysuckle skirt with the white t-shirt and the necklace couldn't be better. If you don't know her blog you got to visit it

hear. 
Animaros porque es un tono que queda muy bien, y favorece mucho. Además el madreselva cuando tienes la piel un poco bronceada, provoca un efecto muy elegente. /

Cheer up to wear it because it looks so great. Plus the honeysuckle when you have your skin tan make a elegant effect.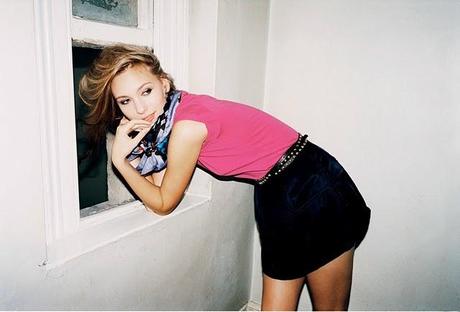 Sources: Vogue.com, Just Jered,

Sannaknows

,

The Blonde Salad

,

Zara.com

, Zimbio, Style.com, Ifema,

Style anywhere

,

Harper and Harley

,

Parisienne

,

Fashion Gone Rouge

,  Chiquisimo,

Fashion Squad

,

Stockholm Street Style

,

Yvan Rodic

,

Little Snob thing

,

Fashion Vibe

,

Bershka

,

Tras la pista de Paula Echevarría

,

Nyether 24

, 

Necklace of Pearls

.