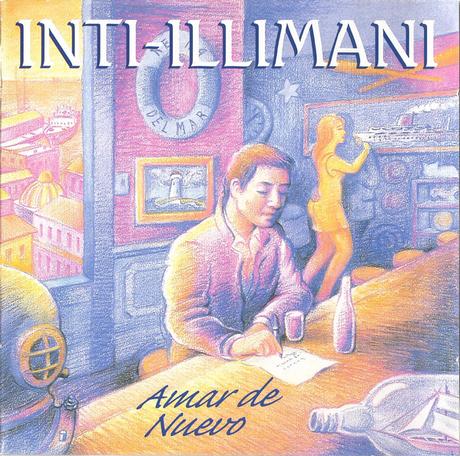 #Músicaparaelencierro. Ya nos vamos preparando para el fin de semana, y empezamos con otro aporte de uno de nuestros cabezones, que nos envió este disco para reseñarlo como es debido. Los Inti-Illimani con su versión de la Nueva Canción Chilena, con un repertorio latinoamericano en un disco de amor y querencias, de encuentros y desencuentros, pero principalmente un disco muy de esta parte de la tierra, con mucha identidad y mucha raíz, ya que el álbum rinde homenaje a la música criolla latinoamericana. Aquí vuelve "Amar de Nuevo" al blog cabezón, y espero que lo disfruten en este fin de semana.
Artista: Inti-Illimani
Álbum: Amar de Nuevo
Año: 1998
Género: Folk ecléctico
Duración: 1998
Nacionalidad: Chile
Acá vamos con otro disco de Inti Illimani, una de las bandas más conocidas de Chile, que ha encantado a las audiencias de todo el mundo durante tres décadas. Su música es un vínculo entre pueblo y pueblo, vivificado en el movimiento de Nueva Canción Chilena (un movimiento que ayudaron a fundar).
"Amar de Nuevo" se inspira en el repertorio popular clásico de América Latina, lleno de instrumentales exóticos y con un cuerpo de trabajo es una profunda reflexión sobre una de las etapas más importantes de la historia de 30 años de historia de la banda.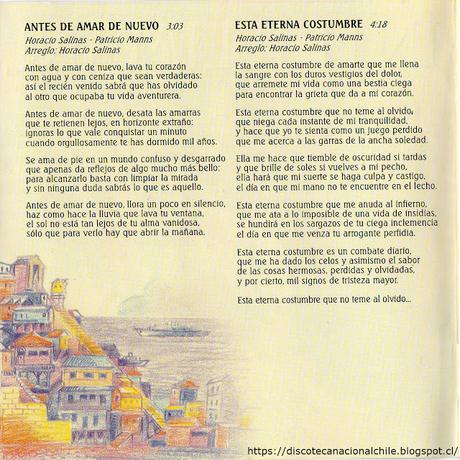 El conjunto de canciones contiene desde boleros hasta rancheras mexicanas, valses peruanos, así como un vallanato colombiano y un lando ecuatoriano, compuesto en su mayor parte por el guitarrista / cantante Horacio Salinas y el poeta y letrista Patricio Manns,pero la sonoridad del grupo se aleja de lo que uno piensa como típico del grupo, es un disco alejado de las quenas, de las zampoñas y de los charangos; para ser un disco lleno de canciones de amor y desamor, de vientos, de cuerdas, de violines solistas, de voces soñadoras.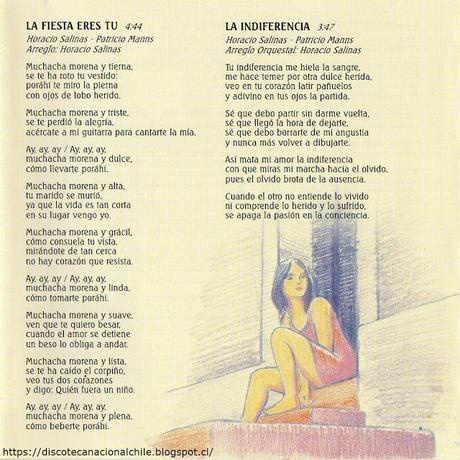 Por otra parte, Inti-Illimani es reconocido por su apoyo a las causas de los derechos humanos. Pero eso ya es harina de otro costal. También lo es que este disco haya sido compartido por uno de los cabezones, ahora no recuerdo el nombre porque lo cedió hace tiempo, pero aún así no puedo dejar de agradecerle.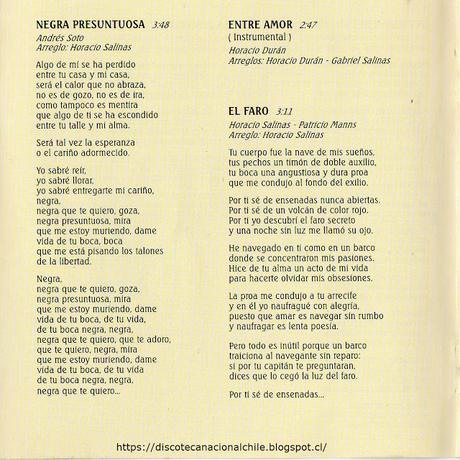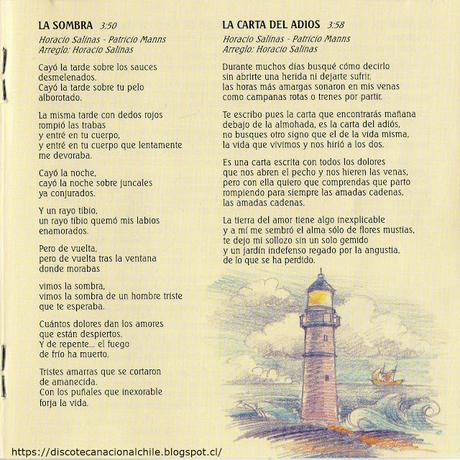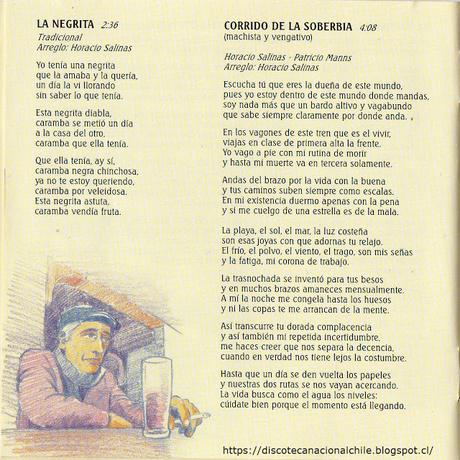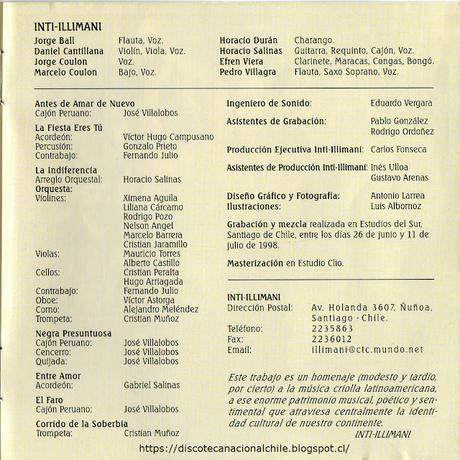 When Amar de Nuevo was recorded in Santiago, Chile, in 1998, Inti-Illimani had been together for 31 years. But the Chilean band was showing no signs of losing its freshness. After all those years, Inti-Illimani was still taking chances and continued to experiment with a variety of Latin styles. The music of South American Indians -- Chilean and Peruvian as well as Bolivian -- was still Inti-Illimani's foundation, and the band was still uniting that foundation with styles from all over Latin America. On this CD, South American music is successfully fused with everything from Afro-Cuban salsa ("Negra Presuntuosa," "La Fiesta Eres Tu") to Mexican ranchero ("Corrido de la Soberbia"). On the instrumental "Entre Amor," the Chileans combine Andean music with elements of tango. Those who have admired the band's previous releases will find Amar de Nuevo to be equally rewarding.
Alex Henderson
Since the Sixties, when the original members met as students in Chile's Santiago Technical University, Inti-Illimani (pronounced "intee-E-gee-mane") has been one of the most widely known Chilean bands across the world. Throughout their long and fruitful career, the members of Inti-Illimani have been associated with both Chilean traditional music and Latin American progressive politics.
In Amar de Nuevo, their fourth album on the Xenophile label, Inti-Illimani explores the passionate world of Latin American Creole music (to which they have dedicated the CD). Combining the sounds of a myriad of instruments — guitar, flute, violin, clarinet, charanga, saxophone — and using the youthful vocals of their newest member, Daniel Cantillana, they play these songs with a verve and a light, masterful smoothness that is entirely intoxicating.
Composed mostly by singer and guitarist Horacio Salinas and poet and lyricist Patricio Manns, the songs of this CD span virtually every aspect of love and sex as well as the many hardships that arise from the two. The music spans various Latin American genres: the tense, slow bolero; the sensual, fast-paced salsa, and the Latin orchestra- backed serenade, among many other styles. The lyrics, written mostly by the poet Patricio Manns, are amazing pieces of art on their own.
The first track, a light bolero called "Antes de Amar de Nuevo" (Before Loving Again) gives advice for the newly single:
Before loving again, wash your heart With water and ash that are true That way the newcomer will know that you have forgotten The other one who filled up your adventurous life
"La Fiesta Eres Tu" (The Party is You) is a fast-paced, tremendously sensual song in which the narrator serenades the woman of his desire: "Girl, brown-skinned and loving/Your dress has been torn/Perchance I see your leg/With the eyes of a wounded wolf."
Later, in "Negra Presuntuosa" (Presumptuous Black Lady), the narrator implores, over a beguiling, interlocking clarinet and violin duet:
Black lady, Black lady that I love, enjoy Presumptuous black lady, look That I am dying, give me Life from your mouth, a mouth That is stepping on my heels of liberty
The vocals themselves contribute a fascinating rhythm to this song, as the first words of each new statement actually comprises the last word of each sung line (an effective trick that Alanis Morisette seems to have picked up somewhere as well). But Inti-Illimani saves most of their emotional power for the sorrowful songs. In the crooning song "La Indiferencia" (Indifference), we witness, over a lush string orchestra, the slow, painful drift of two lovers:
That is how indifference kills my love So that you watch my road towards oblivion Since forgetting comes from absence
The bolero "El Faro" (The Lighthouse) contains a fascinating interplay between on-the-beat clarinets and a hyper-syncopated guitar. The singer, an obsessed lover, laments his "shipwrecked" love.
The disappointed narrator of "La Carta del Adios" (The Letter of Good-bye) solemnly leaves his lover with these poetic words:
The land of love has something unexplainable And for me it only sowed the soul with withered flowers I leave you my sobbing without a single moan And a defenseless garden bathed in anguish From that which it lost
The last song of this CD is the only one with any sort of political overtones and no real connection to the subject of love. "Corrido de la Soberbia" (Ballad of Arrogance) is a humorous manifesto narrated by a down-and-out musician ("a proud bard and vagabond") who complains bitterly of the apparently better-off "owners of the world. Sung with a carousing, almost drunken exuberance (making it a little unclear who exactly who represents the "arrogance" from the title), the lyrics artfully reflect many of the complaints of the down-trodden:
In the boxcars of this train that is life
You travel in first class with your head high
I wander on foot with my routine of dying
And even my death rides in third class only
At the end of the song, he warns ominously that "Until one day the roles are reversed … Be careful because the moment is arriving."
Celebrating (if not cursing as well) the ways of love, this recording is an excellent representation of some gorgeous Latin music and lyric. Although all of the singing is in Spanish, the liner notes give both the original lyrics as well as the English translations. They also provide full documentation of the many, many musicians involved with the recording. The poetry of Manns' lyrics, the artful arrangements of Horacio Salinas, the fine musicianship of the entire band, all combine to make this CD an amazing piece of art.
Brendan Foreman

Así seguimos este jueves preparándonos para que tengan varias cosas para disfrutar en este fin de semana....
Lista de Temas:
1. Antes de amar de nuevo
2. Esta eterna costumbre
3. La fiesta eres tú
4. La indeferencia
5. Negra presuntuosa
6. Entre amor
7. El faro
8. La sombra
9, La carta del adiós
10. La negrita (Tradicional)
11. Corrido de la soberbia (machista y vengativo)

Alineación:
- Jorge Ball
- Daniel Cantillana
- Jorge Coulon
- Marcelo Coulon
- Horacio Duran
- Horacio Salinas
- Efren Viera
- Pedro Villagra