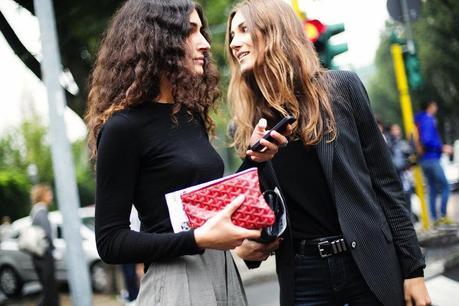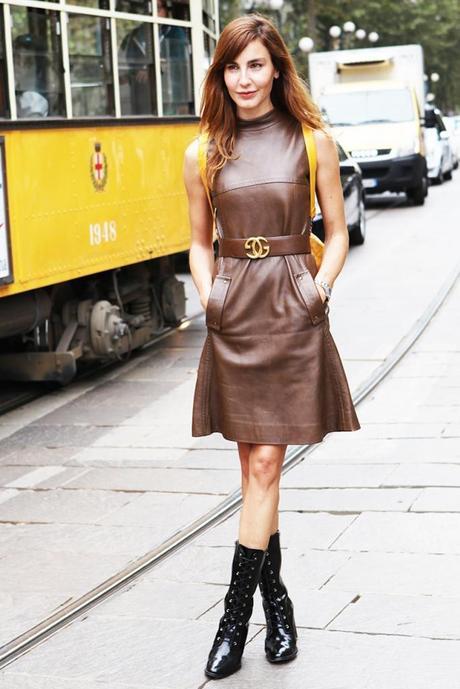 Repitiéndome hasta la saciedad pero sin ningún tipo de intención en hacerlo, vuelvo a centrarme, un septiembre mas, en los estilismos de las semanas de la moda. Terminado el verano, y con el inicio de otoño, es momento de ver que se lleva y que se llevara para hacer nuestras apuestas de estilismo en la nueva temporada. /

Going all over again into the same tune but without any intention to do it, I focus again, another September, into the street style of the fashion weeks. Finishing summer, and starting fall is time to take a look at what is in and what will be in to set out bets into the looks of the new season.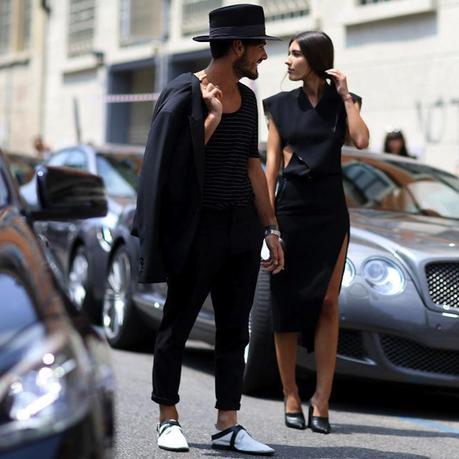 Muchas adoramos el verano, otras prefieren esta época del año, sea cual fuere tu preferencia, hay que ver el lado bueno de las cosas, y disfrutar de cada momento. Ahora toca ponernos con nuevas prendas, cambiar de armario, coger nuevas ideas y renovarnos. Pero tranquila, todo a su tiempo. /

Many love summer, others prefer this time of the year, no matter what you kike, is time to look at the bright side and enjoy each moment. Now is time to wear new clothing, change our closet, get new ideas and renew. But relax, all in good time.


Esos looks. / Those looks.
- Este look es de lo mas original, y mi favorito. Un short muy estiloso y chic acompañado de un kimono corto, y unos salones plateados preciosos. Divino! /

This look is so creative, my favorite. A really stylish and chic short match a short kimono, and beautiful silver shoes. Gorgeous!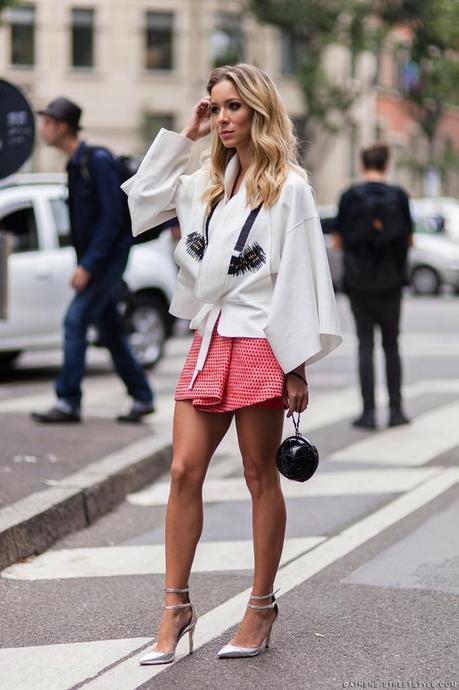 - Entre elementos decorativos que pretenden simular tachuelas, cortes asimétricos de lo mas fashion y toques dorados y plateados, este look es de lo mas especial. Piezas ideales que nos encantaría incorporar a nuestros armarios, o no? /

Decorative elements that intent to simulcasted studs, fashion asymmetric cuts and silver and gold touch this look is so special. Ideal pieces we would love to add to our closet, don't we?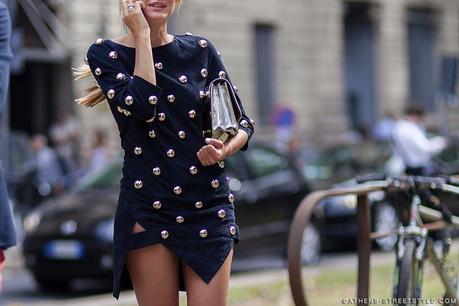 - El look que lleva Erika Labanauskaite es muy juvenil, me chifla! El top sudadera es perfecto, estiloso con diseño, un short negro desenfadado y botas bajas. Es de esos estilismos que parece que no están pensados pero es ideal. / The look that Erika Labanauskaite is wearing is so young, I love it! The sweatshirt top is gorgeous, stylish with design, the black short is relaxed and the low boots. Is one of those looks that seams spontaneous but are divine!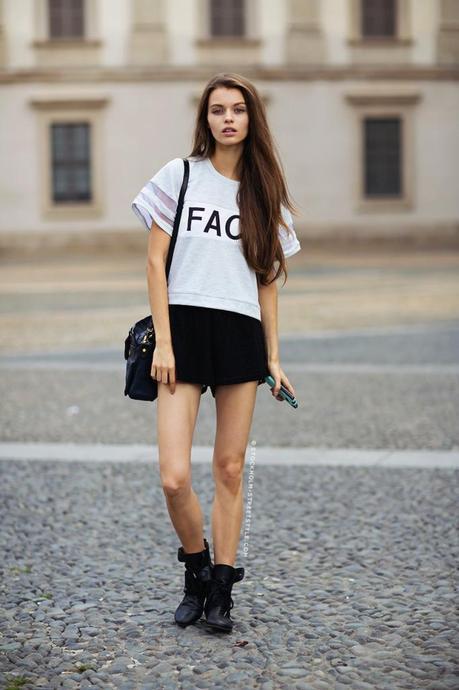 - Con un look para la bailar la canción de Coyote Dance, este conjunto de chaqueta y falda de seda con bordados es muy especial. En ocasiones merece la pena apostar por prendas únicas, especiales y estilosas. Adoro Zara pero de vez en cuando es bueno salir de esa rutina.( Vestido de Custo Barcelona, Falda de Maje, blazer de Asos) /

With a look perfect to dance Coyote Dance song, this silk outfit with embroidery of jacket and skirt is very special. Sometimes is better to spend money on special, unique and stylish pieces. I love Zara but once in a while is good to step outside. (

Custo Barcelona dress

,

Maje skirt

,

Asos blazer

).




- Bonito, futurista, coqueto y monisimo. Dos piezas pueden sorprender y crear estilismos mas creativos que con cualquier vestido. Prueba tus faldas con los tops o jerseys que tengas por casa, y mira que diferencia; en moda lo mejor es juegar, crear y lograr estilismos no pensados que te hagan verte divina! (Opciones: Falda Asos, falda Zara, jersey Zara, top Asos, top de Asos) /

Pretty, futuristic, cosy and cute, Two pieces can surprise and create more creative outfits than with any dress. Try your skirts with the tops and sweaters you got at home, and see the difference; in fashion the best to do is to play, create and get looks you have never think of that will make you look gorgeous! (Options:

Asos skirt

,

Zara skirt

,

Zara sweater

,

Asos top,

Asos top).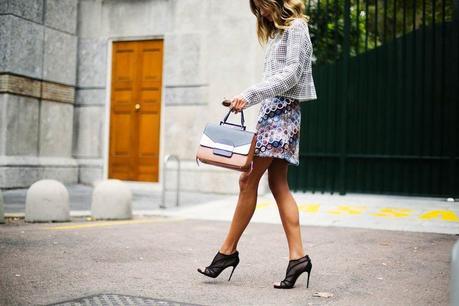 - Christine Centenera apusta por la falda entre midi y larga, una tendencia que vamos a ver mucho este otoño aunque no me convence nada./ Christine Centenera bet for the midi or long skirt, a trend we will see a lot this fall although I don't like it at all.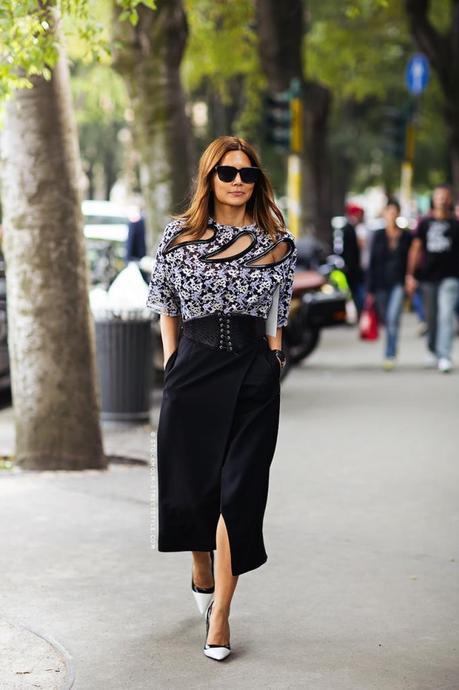 - Las chaquetas bomber vuelven a cobrar importancia este otoño. Hay quien dice que se trata del nuevo blazer, sea su sustitutivo o no, es una prenda muy apropiada para este tiempo; en la imagen un modelo de Missoni (Mango, Hoss Intropia, Dolores Promesas, Asos también apuestan por ella). A juego lleva prendas casuales con aire sport, y botas altas; pieza que va ha ser tendencia este otoño-invierno. / Bomber jackets become important again this fall. It's said is the new blazer, a substitute or not, is a proper clothing for this weather; in the picture the model is by Missoni (Mango, Hoss Intropia, Dolores Promesas, Asos also have models)

.

Matching the look, she is wearing casual garments with a sport touch, and over-the-knee boots; this last one is a trend piece this fall-winter.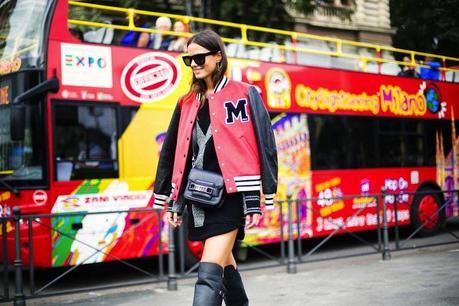 - Capa sobre capa, y una prenda poco utilizada por nosotras; el bermuda. El look es ideal porque es especial y muy creativo: top trasparente de encaje, con una chaqueta para darle un toque de estilo, bermuda claro con bordado y corte masculino, gafas blancas cat-eye, y bolso de cadena de Chanel. ( Camisa de Asos, bermudas de Asos) /

Layer over layer, and a non popular garment; the bermuda short. The look is great because is very special and creative: lace sheer top under a short sleeve jacket to give it a touch of style, light color bermudas short with embroidered and male cut, cat-eye sunglasses and chain Chanel purse. (

Asos shirt

,

bermudas by Asos

).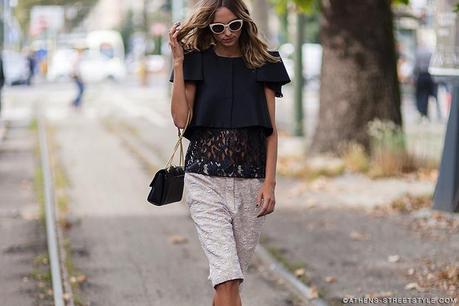 - El look de Olivia Palermo es un poco soso, pero muy trendy, con ese toque masculino y esos tonos. Para darle un toque de color escoge un collar con tonos verdes y granates, y para darle un aire mas juvenil se peina con una trenza desenfada que cae por un lado de su cara. El estilismo es muy normalito, pero seguro que tienes prendas aunque sean en el armario de tu chico o tu padre, que puedes reciclar y sacar partido. (Vestido de Asos, collar de Zara, vestido de Mango, blazer de Asos, americana de Mango). /

Olivia Palermo's looks is a bit bland but very trendy, with that masculine touch and the colors. To give it a color touch she has chosen a green and maroon necklace, and to give it a more young look she wear a relaxed side braid. The look as nothing but I am positive you have garments you can use to copy it, even if you have to go through your boyfriend or father closet. (

Asos dress

,

Zara necklace

,

Mango dress

,

Asos blazer

,

Mango blazer

).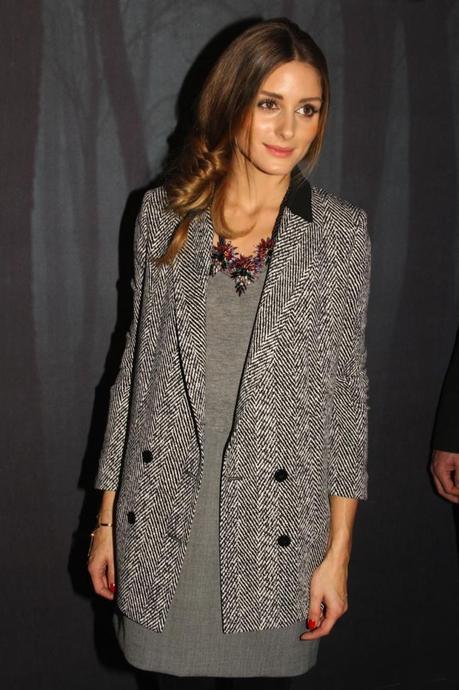 - No dejemos los colores solo para el verano y la primavera, el color anima, da alegría, vida, y puede influir en nosotros mas de lo que imaginamos, y sino hablemos de color-terapia. El verde se asocia a la naturaleza, por ello reduce el estress y hace que nos relajemos. Y el rosa a la felicidad y el romance, por lo que genera calma. El look que lleva Zhanna Romashka es todo de Dior, pero si te gusta el vestido Zara tiene uno similar en naranja. / Colors are not only for summer and spring, color cheer, give joy, life and can influence in us more than we imagine, let's talk about color therapy. Green is related to nature, it reduce stress and relax us. Pink is related to happiness and romance, it give us calm. The look that Zhanna Romashka is wearing is all Dior's but you can find a similar dress in orange at Zara.


- El khaki va a ser el tono del otoño, en todos los catálogos de las casas de moda aparecen un gran numero de prendas en este tono (Zara, Mango, Asos, H&M) . No tendrás excusa para no llevarlo! / Military green is this fall color, in all the lookbooks of the fashion brands are many pieces with this tone ( Zara,. Mango, Asos, H&M) You won't have any excuse!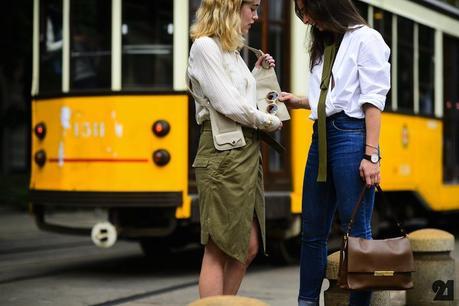 - Melusine Ruspoli lleva look de Fendi. Los pantalones en invierno son cada vez mas populares, la excusa el frio, el odio a las medias, la comodidad... Este otoño apuesta por ellos pero llévalos con camisa, aunque te parezca que es de lo mas clásico, iras totalmente a la moda. / Melusine Ruspoli is wearing a total look by Fendi. Pants (or trousers if you preffer that word) are each day more popular in winter but wear them with a shirt, even it might seems is too classic, you will look so trendy.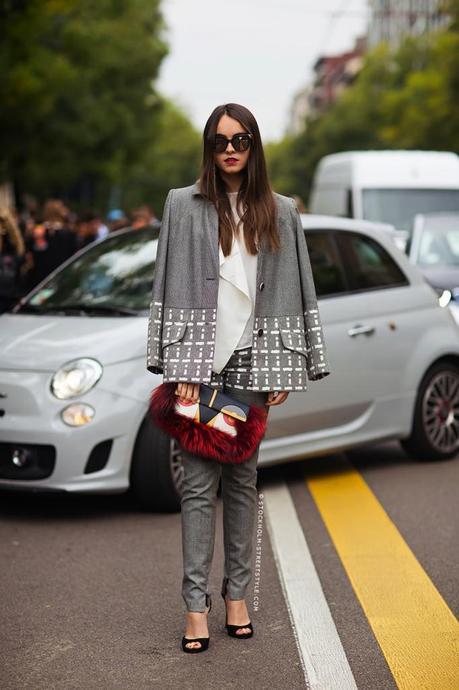 - Darya Kamalova opta por prendas sencillas que a la vez parecen demasiado complicado. El truco: optar por un top con un corte original, que en este caso es una manga asimetrica que cae a modo de capa. Del resto, destacar su bolso vintage. / Darya Kamalova bet for simple clothing but at the same time complicated. The tip: go for a top with an original cut, this time teh difference is made by an assymetric sleeve that falls as if were a cape. For the rest, hight light the vintage purse she is wearing.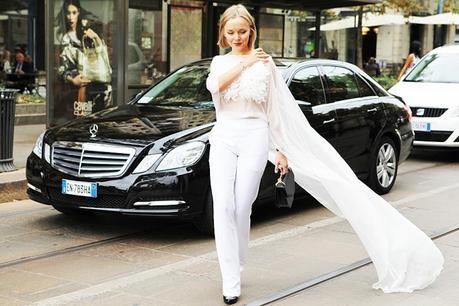 - Kasia Ayerden no abandona las prendas veraniegas y escoge un total look de Missoni. Lo mejor: la tela de la falda y la caída que tiene. /  Kasia Ayerden still wearing summer clothing, this time a total Missoni look. The best: the quality of the skirt's fabric and the fall it had.


- Guapisima y con un look con personalidad poso Linda Tol en las calles de Milan. Linda lleva un conjunto de Isabel Marant de jersey y falda, botas altas de Jimmy Choo, gafas de Furla y bolso de Giancarlo Petriglia. (falda de asos, falda de Zara). / Beautiful with so personal look was Linda Tol walking through Milan. Linda is wearing a Isabel Marant  sweater and skirt with over the knee by Jimmy Choo, Furla sunglases and Giancarlo Petriglia

purse (Asos skirt, Zara skirt).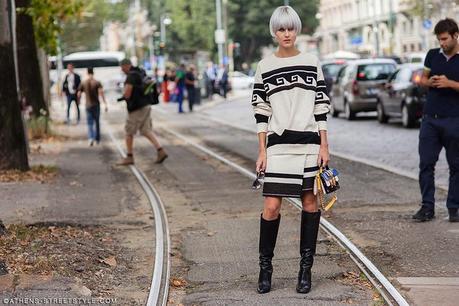 Espero que te haya gustado el post, y puedas aprovechar las reseñas que te hago. /

Hope you enjoy the post and can use the notice I give you.


Cioa Bella!!!Mia


Sources: All-theprettybirds, Theblondesalad, Styletao, Le-21eme, Athens-streetstyle, Vogue.