Ayer colgaba la
lista de los nominados a los Premios Razzie 2011
(
los anti-Oscars, vamos...
), y hoy es el turno de los nominados para la 83 edición de los premios de la
Academia de Artes y Ciencias Cinematográficas de Hollywood
, a celebrarse el  
27 de febrero de 2011
. No hay demasiadas sorpresas, la verdad, aunque hecho de menos una nominación como mejor director para
Christopher Nolan
.
El Discurso del Rey
acumula 12 nominaciones, seguida de
True Grit (Valor de Ley)
con 10, mientras que
Origen
y
La Red Social
acumulan hasta 8 nominaciones.
The Fighter
se ha quedado en 7 y
The Black Swan
en 5.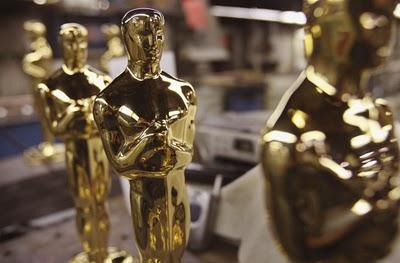 AQUI

Mejor Película
"127 Hours
"Black Swan"
"The Fighter"
"Inception"
"The Kids Are All Right"
"The King's Speech"
"The Social Network"
"Toy Story 3"
"True Grit"
"Winter's Bone"
Mejor Actor
Javier Bardem, "Biutiful"
Jeff Bridges, "True Grit"
Jesse Eisenberg, "The Social Network"
Colin Firth, "The King's Speech"
James Franco, "127 Hours"
Mejor Actriz
Annette Bening, "The Kids Are All Right"
Nicole Kidman, "Rabbit Hole"
Jennifer Lawrence, "Winter's Bone
Natalie Portman, "Black Swan"
Michelle Williams, "Blue Valentine"
Mejor Actor de Reparto
Christian Bale, "The Fighter"
John Hawkes, "Winter's Bone"
Jeremy Renner, "The Town"
Mark Ruffalo, "The Kids Are All Right"
Geoffrey Rush, "The King's Speech"
Mejor Actriz de Reparto
Amy Adams, "The Fighter"
Helena Bonham Carter, "The King's Speech"
Melissa Leo, "The Fighter"
Hailee Steinfeld, "True Grit"
Jacki Weaver, "Animal Kingdom"
Mejor Director
Darren Aronofsky, "Black Swan"
Ethan Coen y Joel Coen, "True Grit"
David Fincher, "The Social Network"
Tom Hooper, "The King's Speech"
David O. Russell, "The Fighter"
Mejor Guión Original
"Another Year": Mike Leigh
"The Fighter": Scott Silver, Paul Tamasy, Eric Johnson
"Inception": Christopher Nolan
"The Kids Are All Right": Lisa Cholodenko, Stuart Blumberg
"The King's Speech": David Seidler
Mejor Guión Adaptado
"127 Hours": Danny Boyle, Simon Beaufoy
"The Social Network": Aaron Sorkin
"Toy Story 3": Michael Arndt, John Lasseter, Andrew Stanton, Lee Unkrich
"True Grit": Joel Coen, Ethan Coen
"Winter's Bone": Debra Granik, Anne Rosellini
Mejor Animación
"How to Train Your Dragon"
"L'illusionniste"
"Toy Story 3"
Mejor Película en Lengua Extranjera
"Biutiful" (2010): Alejandro González Iñárritu (Mexico)
"Kynodontas" (2009): Giorgos Lanthimos (Grecia)
"Hævnen" (2010): Susanne Bier (Dinamarca)
"Incendies" (2010): Denis Villeneuve(Canada)
"Hors-la-loi" (2010): Rachid Bouchareb(Algeria)
Mejor Fotografía
"Black Swan" (Fox Searchlight) Matthew Libatique
"Inception" (Warner Bros.) Wally Pfister
"The King's Speech" (The Weinstein Company) Danny Cohen
"The Social Network" (Sony Pictures Releasing) Jeff Cronenweth
"True Grit" (Paramount) Roger Deakins
Mejor Banda Sonora
"127 Hours" (2010): A.R. Rahman
"How to Train Your Dragon" (2010): John Powell
"Inception" (2010): Hans Zimmer
"The King's Speech" (2010): Alexandre Desplat
"The Social Network" (2010): Trent Reznor, Atticus Ross
Mejores Efectos Visuales
"Alice in Wonderland" (2010)
"Harry Potter and the Deathly Hallows: Part 1" (2010)
"Hereafter" (2010)
"Inception" (2010)
"Iron Man 2" (2010)