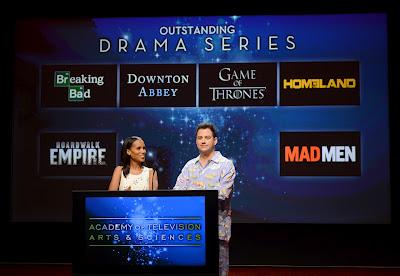 Por fin han salido las esperadas nominaciones a los Emmys de este año y el principal motivo de indignación es la ausencia de The Good Wife como mejor serie de drama, una apuesta que muchos dábamos por segura.
En cuanto a comedia, se han salido un poco de las típicas nominaciones de todos los años. Girls, Curb y Veep son grandes sorpresas (Big Bang Theory no tanto), pero siguen olvidando grandes joyas como Parks and Recreation o Community, que ha ganado los Critics'
Choice Awards
este año y había esperanza.
Y aquí la lista de nominados: 
MEJOR DRAMA
Boardwalk Empire 
Breaking Bad 
Downton
Abbey 
Game of Thrones 
Homeland 
Mad Men 
MEJOR ACTOR DE DRAMA 
Hugh Bonneville (Downton Abbey) 
Steve Buscemi (Boardwalk Empire) 
Bryan Cranston (Breaking Bad) 
Michael C. Hall (Dexter) 
Jon Hamm (Mad Men) 
Damian Lewis (Homeland) 
MEJOR ACTRIZ DE DRAMA 
Kathy Bates (Harry's Law)
Glenn Close (Damages)
Claire Danes (Homeland) 
Michelle Dockery (Downton Abbey) 
Julianna Margulies (The Good Wife) 
Elisabeth Moss (Mad Men) 
MEJOR ACTOR SECUNDARIO DE DRAMA 
Aaron Paul (Breaking Bad) 
Giancarlo Esposito (Breaking Bad) 
Brendan Coyle (Downton Abbey) 
Jim Carter (Downton Abbey) 
Jared Harris (Mad Men) 
Peter Dinklage (Game Of Thrones)
MEJOR ACTRIZ SECUNDARIA DE DRAMA 
Archie Panjabi (The Good Wife) 
Anna Gunn (Breaking Bad) 
Maggie Smith (Downton Abbey) 
Joanne Froggatt (Downton Abbey)
Christina Hendricks (Mad Men) 
Christine Baranski (The Good Wife) 
MEJOR COMEDIA
Curb Your Enthusiasm
Girls 
30 Rock 
Veep 
Modern Family 
The Big Bang Theory 
MEJOR ACTOR DE COMEDIA
Larry David (Curb Your Enthusiasm)
Jon Cryer (
Two And A Half Men
)
Louis C.K (Louie)
Jim Parsons (The Big Bang Theory)
Don Cheadle (
House Of Lies
)
Alec Baldwin (
30 Rock
)
MEJOR ACTRIZ DE COMEDIA (este año son 7)
Zooey Deschanel (New Girl)
Lena Dunham (Girls)
Edie Falco (Nurse Jackie)
Amy Poehler (Parks And Recreation)
Tina Fey (30 Rock)
Julia Louis-Dreyfus (Veep)
Melissa McCarthy (Mike & Molly)
MEJOR ACTOR SECUNDARIO DE COMEDIA
Ed O'Neill (Modern Family) Jesse Tyler Ferguson (Modern Family) Ty Burrell (Modern Family) Eric Stonestreet (Modern Family) Bill Hader (Saturday Night Live)
Max Greenfield (New Girl)
MEJOR ACTRIZ SECUNDARIA DE COMEDIA
Mayim Bialik (The Big Bang Theory)

Merritt Wever (Nurse Jackie)
Julie Bowen (Modern family)
Kristen Wiig (Saturday Night Live)
Sofia Vergara (Modern Family)
Kathryn Joosten (Desperate Housewives)
MEJOR MINISERIE O PELÍCULA PARA TELEVISIÓN
American Horror Story
El juego del cambio
Hatfields & McCoys
Hemingway & Gelhorn
Sherlock
Luther
MEJOR ACTRIZ DE MINISERIE
Connie Britton (American Horror Story)
Ashley Judd (Missing)
Julianne Moore (El juego del cambio)
Emma Thompson (The song of lunch)
Nicole Kidman por (Hemingway & Gelhorn)
MEJOR ACTOR DE MINISERIE
Kevin Costner (Hatfields & McCoys)
Benedict Cumberbatch  (Sherlock)
Idris Elba (Luther) Woody Harrelson (El juego del cambio)
Clive Owen (Hemingway & Gelhorn)
Bill Paxton (Hatfields & McCoys)